Women Have Been Winning Elections For a While: The Politics Daily – The Atlantic
It's Wednesday, January 15.The 2010s were the hottest decade ever recorded in the modern era, and 2019 was the second-hottest year.
Did Virginia just amend the U.S. Constitution with this afternoon's Equal Rights Amendment vote?
In today's newsletter: The "are women electable" question bursts to the fore. Plus: The Space Force returns.
*
« TODAY IN POLITICS »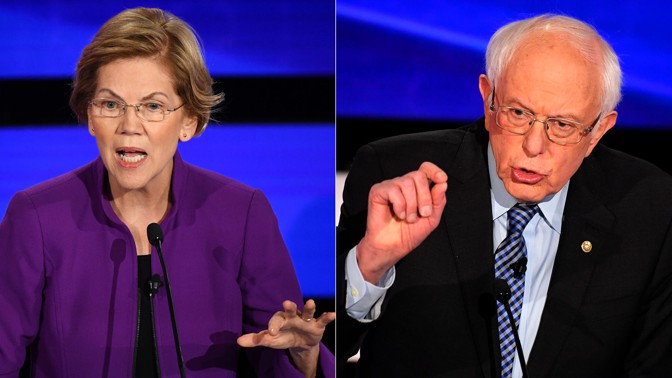 (Robyn Beck / AFP / GETTY)
Some Democrats still shell-shocked by 2016 are turning the political logic of electability on its side: Instead of supporting the candidate they like best, they're supporting the candidate they think their neighbors would vote for.
Which candidate does this obsession with electability seem to hurt most?
As my colleague Russell Berman writes—citing research—voters are bearish on Elizabeth Warren's electability not necessarily because of her unabashed liberal politics, but because of her gender.
The "are women electable?" question burst to the fore this week. News reports surfaced about a 2018 private meeting between Warren and Bernie Sanders, during which Sanders said he didn't feel a woman could win the presidency. When asked about the hubbub at Tuesday's Democratic debate, Warren sidestepped, and then had a rejoinder: Actually, women are more electable.
The argument has some wings:
‣ Democrats snatched back control of the House of Representatives in 2018. Women led that so-called blue wave: A record number of women won big races, setting a record for the number of women lawmakers in Congress.
‣ Suburban white women—historically fairly reliably Republicans—have left the party in droves since 2016. The president's own standing with this group seems only to have soured since then: One poll found that after the confirmation hearings for Brett Kavanaugh, Trump's net support among Republican women dropped by 19 points.
‣ Blue-collar white woman could become influential. While working-class men are more firmly MAGA-aligned, "clearly the women are in a different place," one pollster told my colleague Ron Brownstein.
—Saahil Desai
*
« SNAPSHOT »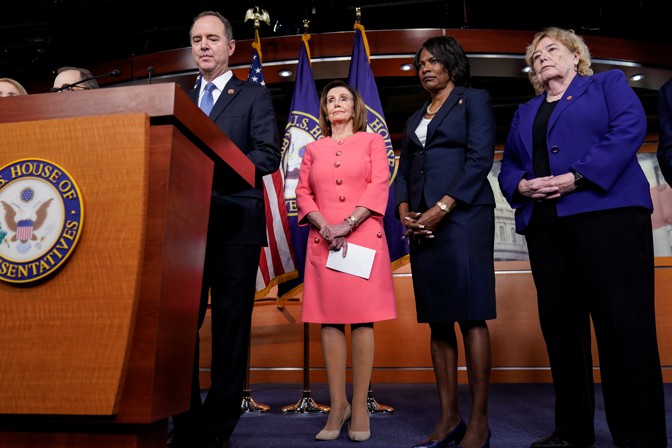 (Joshua Roberts / Reuters)
Meet some of your impeachment managers: Adam Schiff of California, Val Demings of Florida, and Zoe Lofgren of California.
Speaker Nancy Pelosi announced her seven picks to be House of Representatives managers—they'll serve as the prosecutors arguing the case to remove the president in the Senate trial that begins next week. Stay tuned.
*
« IDEAS AND ARGUMENTS »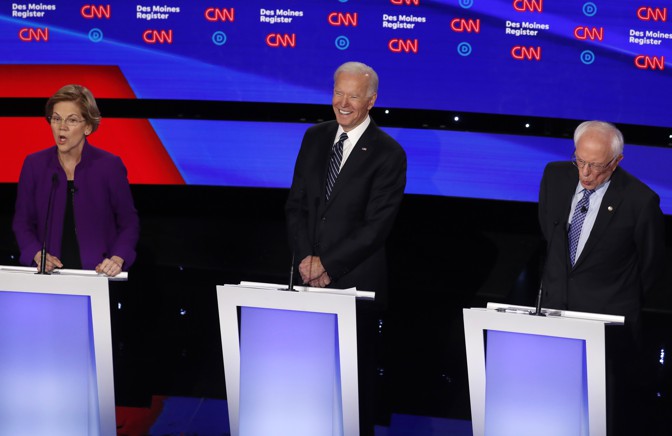 (SHANNON STAPLETON / REUTERS)
1. "No one really seized the opportunity, giving Biden a sort of win by default."
After the debate hall had cleared and the candidates had left the stage, the sense of Joe Biden's inevitably seemed to cling in the air, David Graham argues: He's running as an incumbent, and his opponents are treating him like one.
2. "The candidates agree that Donald Trump has gutted traditional American foreign policy. Where they diverge is in how to respond to that destruction."
An exchange between Biden and Warren last night over the number of troops they would leave in the Middle East is representative of a larger split between the progressives in the race and everyone else, Uri Friedman writes: What is the future role of America in a world it has thrown into chaos?
3. "Even if so, Americans should remember that whether a president intends to prolong old, stupid wars or to trigger costly new ones is less important than whether his actions have those effects."
After last week's conflict with Iran, the political right has had to reevaluate where they stand on Trump's foreign policy. While the president says he wants to stop endless wars, his actions speak louder, Conor Friedersdorf argues.
---
*
« EVENING READ »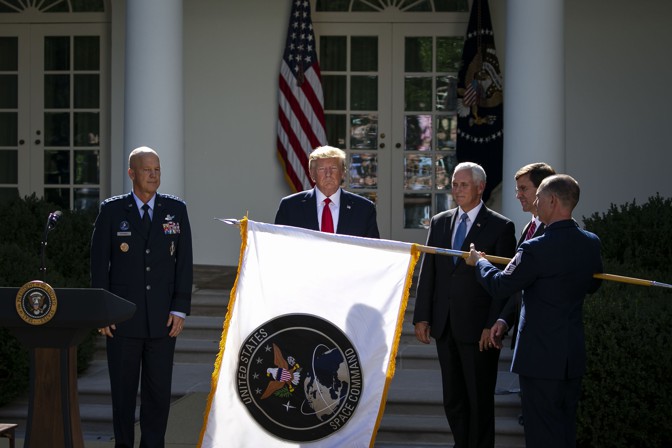 (AL DRAGO / BLOOMBERG VIA GETTY)
Episode VII: The Space Force Awakens
The Space Force is not a joke. It exists now. Our space reporter Marina Koren writes:.
Between the holiday season and more pressing military news, the creation of the Space Force did not initially make a big impression. But the president seems pleased with his newest armed service. "Everybody's excited about that," Trump said at a campaign rally in Ohio last week. The crowd responded with boisterous chants of "U-S-A." Vice President Mike Pence celebrated "America's heritage as the world's greatest spacefaring nation" yesterday, as he swore in General Jay Raymond as chief of space operations.
It even enjoyed its inaugural controversy.
---
*
Today's newsletter was written by Saahil Desai, an associate editor on our Politics team and Christian Paz, a Politics fellow. It was edited by Shan Wang, who oversees newsletters.

You can reply directly to this newsletter with questions or comments, or send a note to politicsdaily@theatlantic.com.

Your support makes our journalism possible. Subscribe here.
We want to hear what you think about this article. Submit a letter to the editor or write to letters@theatlantic.com.
Green Party in turmoil, leader resists calls to step down
Canada's Green Party was increasingly mired in an internal dispute over its position on Israel on Tuesday, and a news report said the bloc would hold a vote next month on whether to oust its leader, Annamie Paul, who was elected just eight months ago.
The Canadian Broadcasting Corp (CBC) reported that the Greens had triggered a process that could remove Paul, the first black person to head a mainstream Canadian party, beginning with a vote next month.
A Green Party spokesperson declined to comment on the report, but said the party's "federal council" would meet later on Tuesday. Earlier in the day, Paul, 48, rejected calls from the Quebec wing of the party for her to resign after a member of parliament left the Greens due to the Israel controversy.
"I believe that I have been given a strong mandate. I believe that I have been given the instructions to work on behalf of Canadians for a green recovery," Paul said at a news conference in Ottawa.
Paul herself is not a member of parliament. The Greens – who champion the environment and the fight against climate change – had only three legislators in the 338-seat House of Commons and one, Jenica Atwin, abandoned the party last week to join the governing Liberals.
Atwin has said that her exit was in large part due to a dispute over the party's stance on Israel. Atwin on Twitter has criticized Israel's treatment of Palestinians, while a senior adviser to Paul, Noah Zatzman, has posted on Facebook that some unspecified Green members of parliament are anti-Semitic.
The party's executive committee voted last week not to renew Zatzman's contract, local media reported. Paul converted to Judaism some two decades ago after she married a Jewish man.
While the Greens are the smallest faction in parliament, they perform well in British Colombia and hold two seats there. The current turmoil may favor their rivals ahead of a national election that senior Liberals say could be just a few months away.
The Greens would win about 6.7% of the vote nationally if a vote were held now, according to an average of recent polls aggregated by the CBC.
(Reporting by Steve Scherer and Julie Gordon; editing by Jonathan Oatis)
Hope, anger and defiance greet birth of Israel's new government
Following are reactions to the new government in Israel, led by Prime Minister Naftali Bennett.
BENJAMIN NETANYAHU, FORMER ISRAELI PRIME MINISTER
"We'll be back, soon."
JOE BIDEN, PRESIDENT OF THE UNITED STATES
"On behalf of the American people, I congratulate Prime Minister Naftali Bennett, Alternate Prime Minister and Foreign Minister Yair Lapid, and all the members of the new Israeli cabinet. I look forward to working with Prime Minister Bennett to strengthen all aspects of the close and enduring relationship between our two nations."
NABIL ABU RUDEINEH, SPOKESMAN FOR PALESTINIAN PRESIDENT MAHMOUD ABBAS
"This is an internal Israeli affair. Our position has always been clear, what we want is a Palestinian state on the 1967 borders with Jerusalem as its capital."
BORIS JOHNSON, BRITISH PRIME MINISTER VIA TWITTER
"On behalf of the UK, I offer my congratulations to
@naftalibennett and @yairlapid on forming a new government in Israel. As we emerge from COVID-19, this is an exciting time for the UK and Israel to continue working together to advance peace and prosperity for all."
TOR WENNESLAND, U.N. MIDDLE EAST PEACE ENVOY VIA TWITTER
"I look forward to working with the Government to advance the ultimate goal of a lasting peace between Israelis and Palestinians."
CHARLES MICHEL, EUROPEAN COUNCIL PRESIDENT VIA TWITTER
"Congratulations to Prime Minister @naftalibennett and to Alternate PM & MFA @yairlapid for the swearing in of the new Israeli government. Looking forward to strengthen the partnership for common prosperity and towards lasting regional peace & stability."
FAWZI BARHOUM, HAMAS SPOKESMAN
"Regardless of the shape of the government in Israel, it will not alter the way we look at the Zionist entity. It is an occupation and a colonial entity, which we should resist by force to get our rights back."
BENNY GANTZ, ISRAELI DEFENCE MINISTER
"With all due respect, Israel is not a widower. Israel's security was never dependent on one man. And it will never be dependent on one man."
CHUCK SCHUMER, U.S. SENATE MAJORITY LEADER
"So, there's a new Administration in Israel. And we are hopeful that we can now begin serious negotiations for a two-state solution. I am urging the Biden Administration to do all it can to bring the parties together and help achieve a two-state solution where each side can live side by side in peace."
JUSTIN TRUDEAU, PRIME MINISTER OF CANADA
"Congratulations on the formation of a new Israeli government, Prime Minister @NaftaliBennett and Alternate Prime Minister @YairLapid. Together, let's explore ways to further strengthen the relationship between Canada and Israel."
MANSOUR ABBAS, ARAB MEMBER OF NEW ISRAELI GOVERNMENT
"We are aware that this step has a lot of risks and hardships that we cannot deny, but the opportunity for us is also big: to change the equation and the balance of power in the Knesset and in the upcoming government."
DAPHNA KILION, ISRAELI IN JERUSALEM
"I think it's very exciting for Israel to have a new beginning and I'm hopeful that the new government will take them in the right direction."
EREZ GOLDMAN, ISRAELI IN JERUSALEM
"It's a sad day today, it's not a legitimate government. It's pretty sad that almost 86 (out of 120 seats) in the parliament, the Knesset, belong to the right-wing and they sold their soul and ideology and their beliefs to the extreme left-wing just for one purpose – hatred of Netanyahu and to become a prime minister."
SEBASTIAN KURZ, CHANCELLOR OF AUSTRIA, VIA TWITTER
"Congratulations to PM @naftalibennett and alternate PM @yairlapid for forming a government. I look forward to working with you. Austria is committed to Israel as a Jewish and democratic state and will continue to stand by Israel's side."
(Reporting by Stephen Farrell; Editing by Andrew Heavens, Daniel Wallis and Lisa Shumaker)
Boris Johnson hails Biden as 'a big breath of fresh air'
British Prime Minister Boris Johnson hailed U.S. President Joe Biden on Thursday as "a big breath of fresh air", and praised his determination to work with allies on important global issues ranging from climate change and COVID-19 to security.
Johnson did not draw an explicit parallel between Biden and his predecessor Donald Trump after talks with the Democratic president in the English seaside resort of Carbis Bay on the eve of a summit of the Group of Seven (G7) advanced economies.
But his comments made clear Biden had taken a much more multilateral approach to talks than Trump, whose vision of the world at times shocked, angered and bewildered many of Washington's European allies.
"It's a big breath of fresh air," Johnson said of a meeting that lasted about an hour and 20 minutes.
"It was a long, long, good session. We covered a huge range of subjects," he said. "It's new, it's interesting and we're working very hard together."
The two leaders appeared relaxed as they admired the view across the Atlantic alongside their wives, with Jill Biden wearing a jacket embroidered with the word "LOVE".
"It's a beautiful beginning," she said.
Though Johnson said the talks were "great", Biden brought grave concerns about a row between Britain and the European Union which he said could threaten peace in the British region of Northern Ireland, which following Britain's departure from the EU is on the United Kingdom's frontier with the bloc as it borders EU member state Ireland.
The two leaders did not have a joint briefing after the meeting: Johnson spoke to British media while Biden made a speech about a U.S. plan to donate half a billion vaccines to poorer countries.
NORTHERN IRELAND
Biden, who is proud of his Irish heritage, was keen to prevent difficult negotiations between Brussels and London undermining a 1998 U.S.-brokered peace deal known as the Good Friday Agreement that ended three decades of bloodshed in Northern Ireland.
White House national security adviser Jake Sullivan told reporters aboard Air Force One on the way to Britain that Biden had a "rock-solid belief" in the peace deal and that any steps that imperilled the accord would not be welcomed.
Yael Lempert, the top U.S. diplomat in Britain, issued London with a demarche – a formal diplomatic reprimand – for "inflaming" tensions, the Times newspaper reported.
Johnson sought to play down the differences with Washington.
"There's complete harmony on the need to keep going, find solutions, and make sure we uphold the Belfast Good Friday Agreement," said Johnson, one of the leaders of the 2016 campaign to leave the EU.
Asked if Biden had made his alarm about the situation in Northern Ireland very clear, he said: "No he didn't.
"America, the United States, Washington, the UK, plus the European Union have one thing we absolutely all want to do," Johnson said. "And that is to uphold the Belfast Good Friday Agreement, and make sure we keep the balance of the peace process going. That is absolutely common ground."
The 1998 peace deal largely brought an end to the "Troubles" – three decades of conflict between Irish Catholic nationalist militants and pro-British Protestant "loyalist" paramilitaries in which 3,600 people were killed.
Britain's exit from the EU has strained the peace in Northern Ireland. The 27-nation bloc wants to protect its markets but a border in the Irish Sea cuts off the British province from the rest of the United Kingdom.
Although Britain formally left the EU in 2020, the two sides are still trading threats over the Brexit deal after London unilaterally delayed the implementation of the Northern Irish clauses of the deal.
Johnson's Downing Street office said he and Biden agreed that both Britain and the EU "had a responsibility to work together and to find pragmatic solutions to allow unencumbered trade" between Northern Ireland, Britain and Ireland."
(Reporting by Steve Holland, Andrea Shalal, Padraic Halpin, John Chalmers; Writing by Guy Faulconbridge; Editing by Giles Elgood, Emelia Sithole-Matarise, Mark Potter and Timothy Heritage)