Xiaomi Mi 11 first sale rakes in over 1.5 billion yuan in 5 minutes – gizmochina
Just as scheduled, Xiaomi Mi 11 officially went on sale for the first time in China at 0:00 on January 1. As the first Snapdragon 888-powered flagship product, the Mi 11 was already the center of attraction in the tech circle. The device also came with an extremely decent price tag, starting at 3999 yuan (~$612) which further beamed the searchlight on the model. As we were already expecting, the first sale turned out to be a reflection of the device's popularity. Xiaomi's mobile phone division officially released the first sales report for the Mi 11 at 00:13, just 13 minutes after the first sales commenced. According to the details, its omnichannel sales exceeded 1.5 billion yuan in just 5 minutes. If calculated using the average price of 4,300 yuan, Xiaomi my have sold over 350,000 units of the device.
Already, the device is listed as out of stock on Xiaomi's official mall despite the company claiming that it is prepared well-enough to maintain stocks of the Mi 11.
As a reminder, the Mi 11 packs a 6.81-inch curved display with a hole in the top left corner of the screen and Corning Gorilla Victus protection. The screen is not only bigger than that of the Mi 10 5G but also sharper as it has a 2K (3200 x 1440) resolution. It also has a 120Hz refresh rate and a 480Hz touch sampling rate.
The phone crams a 4600mAh battery under the hood with support for 55W fast wired charging, 50W fast wireless charging, and 10W reverse wireless charging. It also supports Quick Charge 4+, Quick Charge 3+, and Power Delivery 3.0.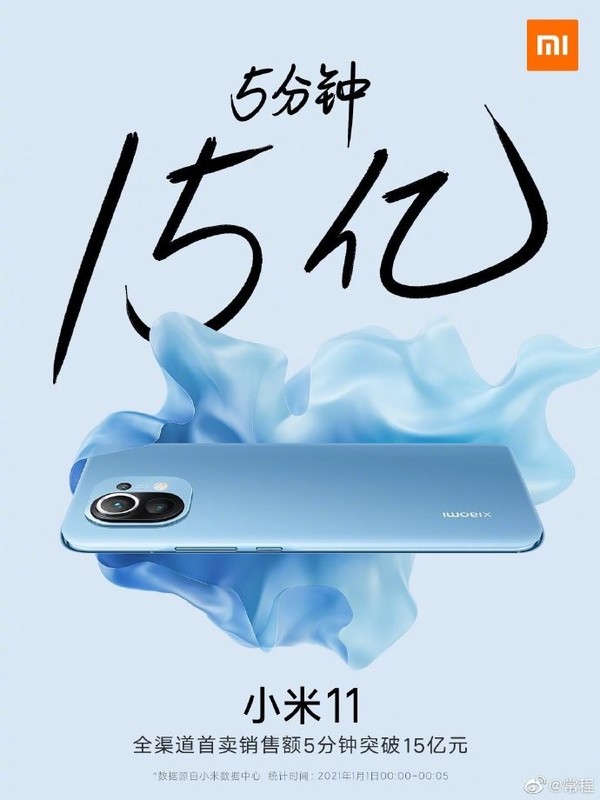 The 5nm Snapdragon 888 chipset powers the device and is paired with 8GB or 12GB of LPDDR5 RAM and up to 256GB of UFS 3.1 high-speed storage. There is also an in-display fingerprint scanner, which Xiaomi says can also measure your heart rate in addition to unlocking your phone and authorizing payments. There are stereo speakers tuned by Harman Kardon, dual nano-SIM support, NFC, IR blaster, enhanced WiFi 6, and Bluetooth 5.2 with Qualcomm TrueWireless Stereo Plus. It runs MIUI 12 based on Android 11 out of the box.
The Xiaomi Mi 11 has three rear cameras. The main camera is a 108MP 1/1.33″ sensor with an f/1.85 aperture, a 7P lens, and a 1.6μm pixel size. There is a 13MP super wide-angle lens with a 123° field of view and the third camera is a 5MP 50mm telephoto macro camera. The front-facing camera is a 20MP sensor.
UP NEXT: New Honor Smart Screen X1 TV features a 75 inch display, reservations now open
ALWAYS BE THE FIRST TO KNOW – FOLLOW US!
Italy consumer association sues Apple for planned iPhone obsolescence – The Globe and Mail
Italian consumer association Altroconsumo said on Monday it had told Apple it has launched a class action against the U.S. tech giant for the practice of planned obsolescence.
In a statement Altroconsumo said it was asking for damages of €60-million ($73-million) on behalf of Italian consumers tricked by the practice which had also been recognised by Italian authorities.
Altroconsumo said the lawsuit covers owners of the iPhone 6 and 6 Plus, 6S and 6S Plus, sales of which in Italy totalled some 1 million phones between 2014 and 2020.
Apple said in an email that it had never done anything to intentionally shorten the life of any Apple product, or degrade the user experience to drive customer upgrades.
Two similar lawsuits against Apple have been filed in Belgium and Spain for the planned obsolescence of iPhones. European consumer association Euroconsumers, which is coordinating the three lawsuits, said it was also planning to launch a class action in Portugal in the coming weeks.
Be smart with your money. Get the latest investing insights delivered right to your inbox three times a week, with the Globe Investor newsletter. Sign up today.
Cyberpunk 2077's new 1.1 update introduces a game-breaking bug – The Verge
Cyberpunk 2077's big new 1.1 patch has introduced a game-breaking bug. Eurogamer reports that the "Down on the Street" quest appears to be broken for some players. The quest includes a holocall that's supposed to trigger progress through the main part of Cyberpunk 2077's storyline. Unfortunately, some players are reporting that the call remains silent, and it blocks progress of the game.
Developer CD Projekt Red has published a workaround for the issue, but it requires players to have an earlier save of the game to try to get the holocall to work correctly. Here are the steps:
Load a gamesave before Takemura and V leave Wakako's office
Finish the conversation with Takemura outside the office right away
Right after the finished conversation and when the quest was updated, skip 23h
See if the holocall triggers and the dialogue with Takemura starts
Cyberpunk 2077 has been plagued by bugs since its release on December 10th, and CD Projekt Red has released three hotfixes to try to fix some of the early problems. Thankfully, most of the bugs and issues haven't been game-breaking like the one players have discovered this week.
This new 1.1 update was supposed to be the first big patch to introduce stability improvements, not game-breaking bugs. CD Projekt Red is also planning another major 1.2 patch that is supposed to be a "larger, more significant update" that will arrive "in the weeks after" this latest 1.1 patch. It's not yet clear if there will be a quick hotfix to resolve this latest issue, though.
Apple faces yet another class action suit over throttling iPhones – The Verge
A consumer advocacy group in Europe has filed the latest class action lawsuit against Apple saying the company intentionally throttled older iPhones in Italy. First reported by TechCrunch, the new lawsuit seeks €60 million (roughly $73 million) in compensation — or about €60 per device — for owners of iPhone 6, 6 Plus, 6S, and 6S Plus models sold in Italy between 2014 and 2020. Euroconsumers, an umbrella advocacy organization in the EU that includes Italy's Altroconsumo, says the €60 compensation is the average amount consumers paid to replace their devices' batteries.
"When consumers buy Apple iPhones, they expect sustainable quality products. Unfortunately, that is not what happened with the iPhone 6 series" Els Bruggeman, head of policy and enforcement at Euroconsumers, said in a statement. "Not only were consumers defrauded, and did they have to face frustration and financial harm, from an environmental point of view it is also utterly irresponsible."
Euroconsumers filed two similar lawsuits in December on behalf of member orgs Test-Achats in Belgium and OCU in Spain. The group said in a press release that it plans a fourth lawsuit in Portugal.
"We have never — and would never — do anything to intentionally shorten the life of any Apple product, or degrade the user experience to drive customer upgrades," an Apple spokesperson said in an email to The Verge. "Our goal has always been to create products that our customers love, and making iPhones last as long as possible is an important part of that."
Apple agreed to a $500 million settlement in the US last March, after it admitted slowing down older iPhones. It compensated consumers who bought an iPhone 6 or 7, which were throttled to preserve battery life. The case grew out of the tech giant's "Batterygate" controversy, when iPhone users discovered in 2017 that iOS limited processor speeds as iPhone batteries aged. Apple didn't reveal to consumers that the feature — meant to address problems with phones' performance — existed. Users said if they had known about the slowdown feature they would have simply replaced the battery rather than buying an all-new phone, as many did.
The company agreed to a second settlement in November — this time, with 34 US states —for an additional $113 million. The state attorneys general said Apple "fully understood" that by concealing the intentional slowing down of older phones, the company could profit from people buying new phones rather than replacing the batteries. Apple did not admit to any of the allegations in that settlement.
Update January 25th, 10:45AM ET: Adds comment from Apple spokesperson.