Young Designer Max Donahue Knows the Importance of the Art of Transformation – Cultured Magazine
Chloe Lewis: Tell us about the process of your designs: what inspires your art and where does that take you?
Max Donahue: My thoughts, intentions and dreams in the present guide me through my making process. Lately I've been starting with material. I find materials that I'm drawn to and, at that moment, I begin dreaming of what I'll create. Then I drive that vision until it becomes reality. I try not to define my process too much, because I find that to be limiting. How can you manifest a pure abstraction into reality if you're caught up on how you must make it real? In the case of creating art from a dream, you can't define what's real before it is. I have an idea of what I'll do along the way,but I never attach myself to theseideas too intently. What if in a future present moment, I find a new way to approach the dream? I keep my mind open throughout the whole process and let whatever comes come.
Also—everything is a dress. Pants, shirts, tops, skirts, all of it is a dress. The dress as a symbol, the dress as an energy, The dress as a vessel for higher understanding and pure expression. Elegance, mystery, strength, beauty. The dress is the culmination of everything I am. I'll share it with you soon.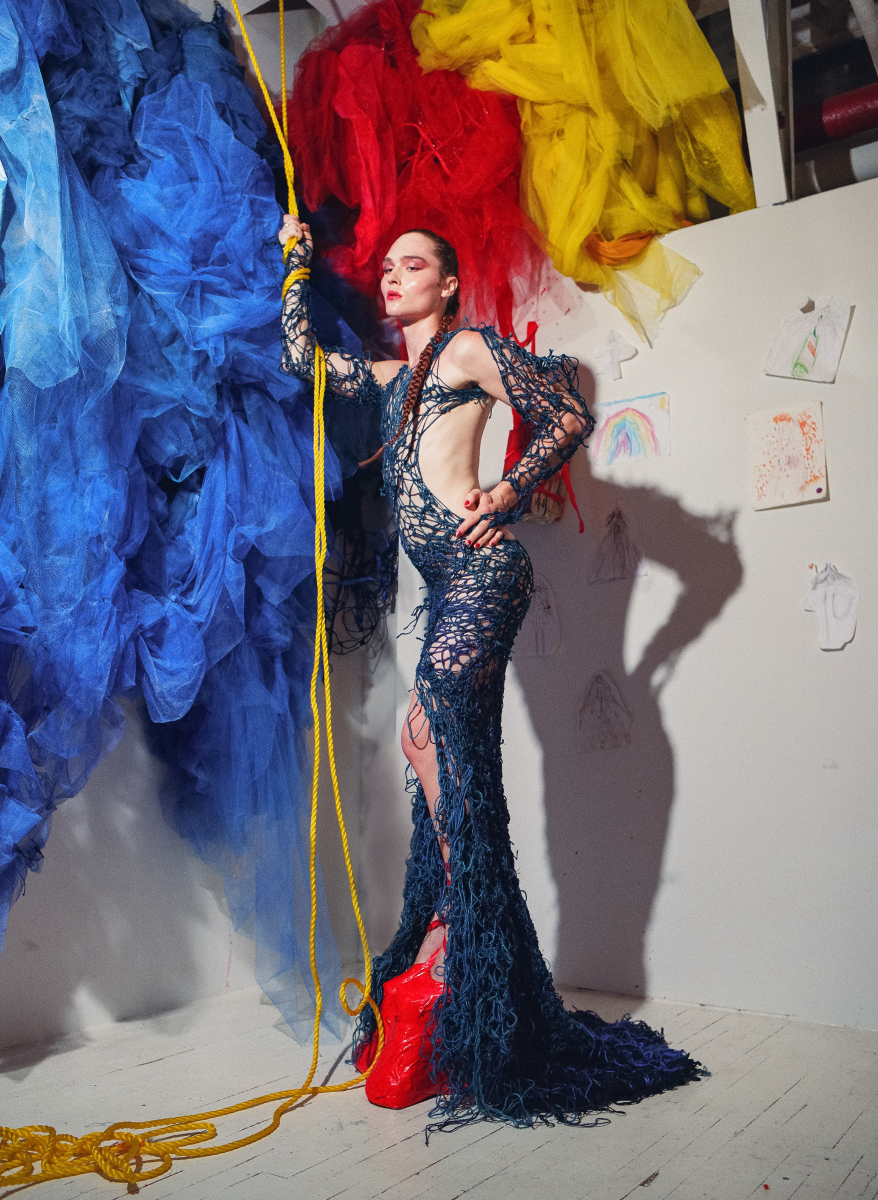 CL: What's your favorite medium to work with, and why?
MD: Right now, I'm drawn to taffeta, spandex and mohair. I love the weight and texture of taffeta; it's mysterious. Spandex I love for its versatility. Mohair is gentle and peaceful, and when knit in yardage it has a heavy drape that I love to play with. In terms of mediums that will always be a part of my practice, rope is an essential material. Anything that I can tie with my hands is a major part of what I create. When I tie my dresses, the direction is uninhibited.
CL: How has coming of age in this pandemic time influenced your work?
MD: Coming of age in this time has completely shifted my perception of my work and my life. When the pandemic began, I was 21, and at the height of confronting my identity. Every day I was asking myself who I wanted to be, examining my purpose. The pandemic showed me how to facilitate personal growth through my artwork. I began using my body to create my garments, which opened up my understanding of self, mind and body.
Finding myself through my work has also taught me how to apply these thoughts to other people—I love working with clients and making dresses that match their energy, that embody what they need in the moment. My entire creative process haschanged over the last 18 months, and I'm so grateful for the growth I've experienced. The journey is the destination, as they say.
CL: If you could collaborate with any peer, who would it be?
MD: Kim Kardashian comes to mind first. She has mastered the art of the present moment. To make a dress for her would be a great challenge. Philip Glass is a dream collaborator as well. His music exudes the energy I feel when I make and I would love to speak with him about his process. Fabiola Gianotti, a physicist at CERN, also really intrigues me. I hope she could teach me about quantum mechanics… the intersection of physics and art is a collaboration I find essential. And, lastly, Pierpaolo Piccioli. I have so much to learn. To work with Pierpaolo and the team at Valentino would teach me great lessons that I am eager to discover.
CL: What are you currently exploreing in your work?
MD: All things big—things I don't fully understand, hard to grasp concepts like quantum mechanics, metaphysics, time. I find immense beauty in wondering, in reaching to understand what may never be understood.
Sign Up for the Cultured Newsletter
Sure, we can be close friends. Unfiltered access awaits.
Artists Invited To Enter Artwork In Florida Strawberry Festival Fine Art Show – Osprey Observer
A call to artists has been issued by the East Hillsborough Art Guild (EHAG) for the 2022 Florida Strawberry Festival Fine Art Show, which runs from Thursday, March 3 through Sunday, March 13 at the Festival Grounds in Plant City. The show will be held in the Milton E. Hull Building.
Adults are divided into professional groups (entry fee is $15) and amateur groups (entry fee is $12). Adults can enter oils, acrylics, watercolors, graphic/mixed media and sculptures. The entry fee for miniature art (2D media) and sculptures (3D art) is $12.
The youth divisions are by ages. Youth can enter oils, acrylics, watercolors, graphic/mixed media and sculptures. The entry fee is $5.
Adults can enter up to four entries, but no more than two in the same division. Youth can enter up to two entries.
Entries are eligible for substantial monetary awards. This includes $100 for the Strawberry Theme Award (an entry must include strawberries or reflect the current festival theme of '#1 for FUN!'). There is also $300 for Best of Show.
There are prizes for first ($150) and second ($100) place in all adult and youth divisions. Adult amateurs, miniature and sculpture entries receive $100 for first place and $75 for second. Adults who receive third and fourth place receive rosette ribbons.
For youth, first place receives $25 and second place receives $15. Entries who win third and fourth place receive a rosette ribbon. All youth participants receive participation ribbons.
Artists who do not win one of the above prizes are eligible for a Business Leaders Choice Award. Area residents can also become sponsors for the In Honor Award and select a winning artist who will receive a ribbon and $50.
Space is limited and entries are accepted on a first-come, first-serve basis. Early entries are accepted until Friday, February 11. Artists can mail their entry form and fee to East Hillsborough Art Guild, P.O. Box 3055, Plant City, FL 33564. Artwork must be brought to the Festival Grounds on Saturday, February 19 from 12 Noon-6 p.m.
Chairperson Karen Crumley said, "Our entry day was moved to Saturday to allow easier access to more working people or parents with school age children."
Entry forms and rules can be found at www.flstrawberryfestival.com. If you have questions, please email Crumley at kscrumley@yahoo.com or call 924-3829.
Citi's Precious Art Collection Should Stay in Mexico, AMLO Says – BNN
(Bloomberg) — Mexico's President Andres Manuel Lopez Obrador wants the extensive art collection held by Citigroup Inc.'s local unit to remain in the country as the bank exits part of its business.
The U.S. bank is preparing to sell its Mexican retail operation, known as Citibanamex, and the fate of the art and heritage pieces owned by its Fomento Cultural Banamex foundation have become the focus of debate. The institution, headquartered in an 18th century baroque palace in Mexico City's downtown, is one of Mexico's biggest patrons of arts and culture in the country and manages historical buildings.
"We're talking about buildings and art collections of the best painters of Mexico and of the world," AMLO, as the president is known, said at a press briefing on Monday, his first day back in public after recovering from Covid-19. "It's cultural patrimony, and we're looking for it to stay in our country."
The sale of one of Mexico's oldest banks is testing AMLO's nationalist impulses since its announcement a week ago, with the president calling for the bank to be acquired by a Mexican investor. On Sunday, Foreign Affairs Minister Marcelo Ebrard proposed on Twitter that the foundation's collection be turned over to the state, to make up for a 1990s bank bailout that saddled the federal government with debt.
Nevertheless, the president, who has directed his administration to go after tax evaders to boost budget revenue, said that his government would not try to a put a wrench in a sale that could generate a significant sum for state coffers.
"We're going to look at the legal aspects but we do not want to create problems for the sale or create obstacles, because we want to show that in Mexico there is true rule of law and there are guarantees for investors," he said.
©2022 Bloomberg L.P.
Art thieves make off with sculptures from Kelowna gallery – CBC.ca
Kelowna RCMP are investigating a brazen early morning art heist at Gallery 421 in the city's South Pandosy district.
Gallery co-owner Ken Moen said two masked men took a crowbar to the front doors just before 2 a.m. Saturday and made off with almost $70,000 of Canadian fine art.
"It was a total of three minutes. They were in, they were out," he said.
"All things considered, we feel fairly lucky because they did zero vandalism. We have paintings on the walls they didn't touch. It was very targeted."
Moen said the criminals immediately ran for the most expensive, heaviest works on display at the back of the gallery: two bronze sculptures by noted Calgary area cowboy artist Vilem Zach, each weighing about 40 kilograms.
The thieves quickly loaded up a vehicle, re-entered and snatched three smaller bronze sculptures cast by Summerland's Michael Hermesh, three glass bowls blown by Jeff Holmwood, and two soapstone bear carvings from Vance Theoret.
"They knew what they were getting," Moen told CBC News.
"I think someone has a shopping list and they sent them here … somebody probably said go grab the most expensive sculptures and get in and get out."
Moen says the bronze has little value smelted down or sold as scrap. Selling the works of art will be difficult at any Canadian galleries or auction houses.
The break and enter was caught on the gallery's security cameras.
The RCMP are seeking information on two male suspects.
"One suspect is described as wearing a red bandana over his face, a grey tuque, grey sweater, black track pants with white pin stripes and white shoes. The second male suspect is described as wearing a mask over his face, a black hoodie, grey sweatpants and with black Adidas shoes," said RCMP Cst. Solana Paré.