Yukon Permanent Art Collection celebrates 40 years – CBC.ca
The Main Gallery at the Yukon Arts Centre opened on Monday for the 40th exhibition of the Permanent Art Collection.
This year's exhibit, titled Collective Memory, celebrates the last four decades with all of the changes, evolutions and developments seen in the territory's artistic community.
Garnet Muething, the art curator for the Department of Tourism and Culture, said there's a wide variety of artistic mediums, from beadwork to carvings, sculptures, large canvases and more.
"For the first time, we're showing more than 20 new acquisitions to the collection that haven't been shown before. So, people get to see these brand new pieces alongside pieces that have been collected since the early 1980s," she said.
The Permanent Art Collection was founded in 1981 to preserve, honour and share the visual artwork by local artists.
With the new acquisitions, the collection now has more than 500 works by 275 artists, most of which are Yukoners.
"We also have artists who have either had an encounter with the North or come and spent time here," explained Muething.
The collection also includes a range of artists, from established talent to people who are in early stages of their careers.
A few pieces from this year's new acquisition list come from artists never featured before like Cécile Girard from the Association Franco-Yukonnaise (AFY).
In 2017, for Canada's 150th, Girard and the AFY created De fil en histoire, a community project that recreated, in the form of dolls, the Francophone characters who marked the history of the territory.
"When we started the project we didn't know how it was going to turn out, but they were so beautiful we wanted to keep them together," said Girard who moved to the Yukon four-decades ago.
The 14 dolls include characters from the Gold Rush and other historic moments and they will now be preserved permanently at the collection.
"These dolls celebrate the history of the French community and the French history here in the Yukon, so to know that it's in the permanent art collection has a really beautiful meaning to me and I'm sure for the community, too," said Girard.
Although the Permanent Art Collection includes hundreds of pieces, Muething the art curator, said only one third of the art is on display at all times. That includes about 80 pieces at the Main Gallery, a few in the communities across Yukon, and the others are stored in a climate-controlled storage vault at the Yukon Art Centre.
"This is a really unique opportunity to see this much of the collection because normally we're able to curate smaller pieces of it," said Muething.
The Collective Memory exhibition will be open to the public until Feb. 25, 2022.
Art thieves make off with sculptures from Kelowna gallery – CBC.ca
Kelowna RCMP are investigating a brazen early morning art heist at Gallery 421 in the city's South Pandosy district.
Gallery co-owner Ken Moen said two masked men took a crowbar to the front doors just before 2 a.m. Saturday and made off with almost $70,000 of Canadian fine art.
"It was a total of three minutes. They were in, they were out," he said.
"All things considered, we feel fairly lucky because they did zero vandalism. We have paintings on the walls they didn't touch. It was very targeted."
Moen said the criminals immediately ran for the most expensive, heaviest works on display at the back of the gallery: two bronze sculptures by noted Calgary area cowboy artist Vilem Zach, each weighing about 40 kilograms.
The thieves quickly loaded up a vehicle, re-entered and snatched three smaller bronze sculptures cast by Summerland's Michael Hermesh, three glass bowls blown by Jeff Holmwood, and two soapstone bear carvings from Vance Theoret.
"They knew what they were getting," Moen told CBC News.
"I think someone has a shopping list and they sent them here … somebody probably said go grab the most expensive sculptures and get in and get out."
Moen says the bronze has little value smelted down or sold as scrap. Selling the works of art will be difficult at any Canadian galleries or auction houses.
The break and enter was caught on the gallery's security cameras.
The RCMP are seeking information on two male suspects.
"One suspect is described as wearing a red bandana over his face, a grey tuque, grey sweater, black track pants with white pin stripes and white shoes. The second male suspect is described as wearing a mask over his face, a black hoodie, grey sweatpants and with black Adidas shoes," said RCMP Cst. Solana Paré.

Cold comfort: film, music, art and more to combat the winter blues – The Guardian
Letters: Art in the time of COVID – Richmond News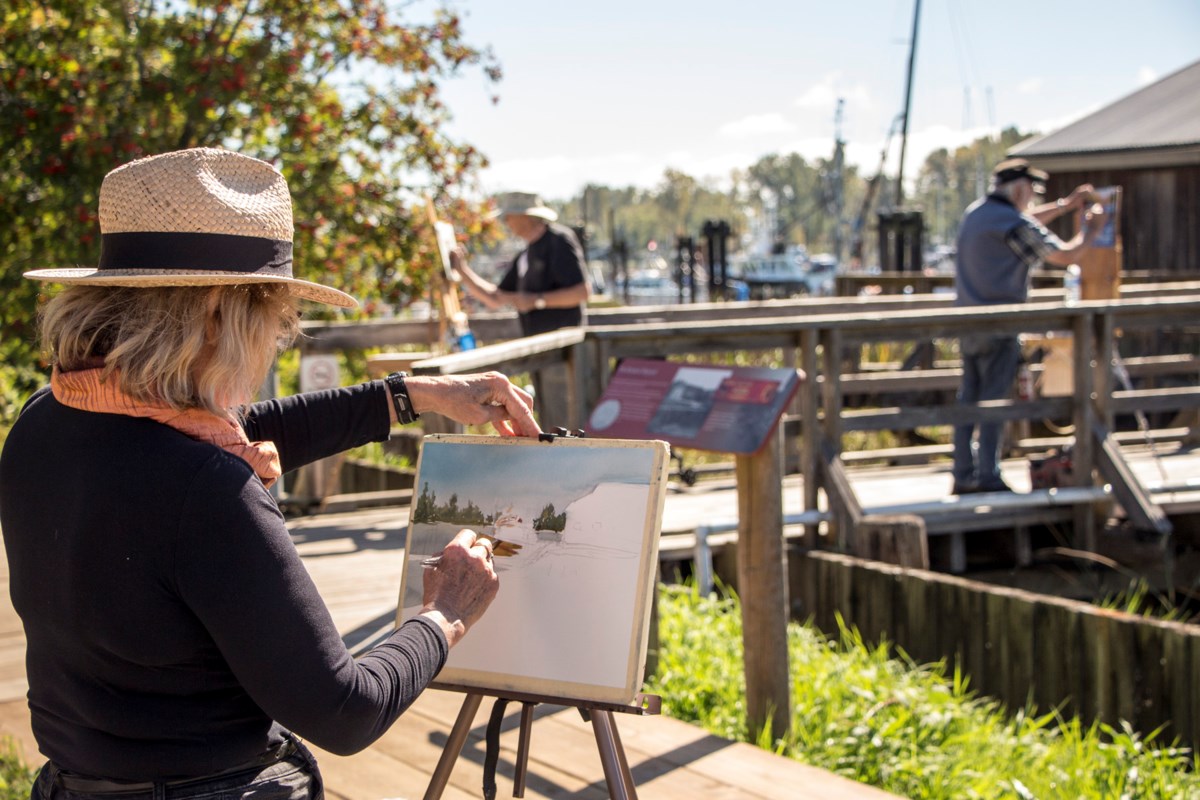 Dear Editor,
During WWII, Britain's Prime Minister Winston Churchill was asked to cut the arts programs to adequately fund the war effort, to which he responded, "Then what are we fighting for?"
Many of us feel as though these past two years have been akin to a war, or at least a battle. If you are like me, it often feels like we take a few steps forward, followed by a few more steps back, particularly as new variants, such as Delta and Omicron, rear their ugly heads.
Two years later, I don't think I am alone in feeling like I have been in the midst of a war zone, trying to keep myself, my family, my friends and my community safe during uncertain and unpredictable times.
While we collectively try to preserve and protect our physical health, we cannot lose sight of our mental wellness. At times during this pandemic, I have felt sad, scared, anxious, depressed, forlorn, hopeless, mad and defeated — often feeling more than one of these emotions at once.
Reflecting on Churchill's quote, I have come to realize that the man was onto something, and art might be a much-needed respite to our ongoing struggle. Will we solve the world's problems with a bit of paint and paper? No. Might art bring us some light and happiness in these dark, cold, Covid-laden days? Yes, I think so, and there is solid evidence to back this conviction.
Last month, I ordered some coloured pencils, crayons, and sketching paper on a whim. I hadn't done much drawing and colouring since I left elementary school, but I thought, "what the heck!"
When it came in the mail, my heart was delighted, and as I started to colour my less than realistic, stick-figured tree, my soul felt lighter and happier.
I am not claiming that art can solve our problems, but it might help keep our spirits lifted and preserve our mental health. We must hold our public officials accountable for protecting us. But we must also work together to protect our physical and mental wellness so that we can emerge from this pandemic strong and ready to continue our pursuit of a better tomorrow.
Jack Trovato (he/his)
RICHMOND