ZeniMax's 'Orion,' and how it will boost Microsoft's Xbox xCloud streaming tech – Windows Central
Microsoft shook the industry this week when it revealed its $7.5 billion acquisition of ZeniMax Media, which gives it the rights to legendary IP like The Elder Scrolls, DOOM, Fallout, and all of the talented studios known for making these epic, lasting experiences. One of the biggest criticisms of Xbox since practically forever has been the quality of its internal portfolio, which leaned incredibly heavily on Halo as its primary exclusive offering. With ZeniMax under its belt, that narrative is well and truly shattered — but there's another vastly important aspect to this acquisition that is being overlooked.
At its 2019 E3 showcase, Bethesda revealed Orion, its patented cloud streaming SDK, which it says its easy to integrate into existing games. Bethesda claims Orion allows games to run at "max settings" with minimal bandwidth usage, even if you live far away from a data center. To demonstrate these claims, Bethesda and id Software who are leading development of this SDK, demonstrated DOOM 2016 at 4K 60 frames per second, running on a smartphone. We've uploaded the presentation clip so you can take a look below.
ZeniMax has several job listings related to the Orion SDK on its website, and has a public test offering on its website as well, although it's unclear if the closed tests are still open to new users.
Microsoft's own streaming tech Project xCloud is potent in of its own right, but it only streams at 720p, up to 30 FPS, and even then, most of the time you can feel the latency. While this makes it perfectly usable for turn-based experiences and games that don't require pinpoint precision, like brawlers maybe, 3D shooters do suffer a fair bit unless you're in absolutely optimal conditions.
This could be a shot of adrenaline Project xCloud needs
Some of the biggest barriers to xCloud isn't necessarily the speed of your network, but the conditions too, namely 5GHz WiFi, or high-quality 5G (with a compatible smartphone). Bethesda's Orion demo showcases DOOM 2016 running at 4K, with 60 frames per second, with "no perceptible latency," which is most likely the ideal end-goal of Microsoft's xCloud tech for Xbox Game Pass Cloud Gaming.
If it truly works as Bethesda describes, this could be a shot of adrenaline Project xCloud needs to propel the user experience into meetings Xbox lead Phil Spencer's vision of "console-quality" game streaming. The patents associated with this technology and the sole rights to distribution to the SDK will give Microsoft's xCloud another big leap over Google Stadia.
Stadia is struggling to catch up on the basics right now — namely content — even if they have the technology and server infrastructure down. The acquisition shows that Microsoft isn't complacent to the idea that one day, Google or one of Microsoft's other competitors could pull ahead in this space.
It all just further slams home that ZeniMax was a perfect acquisition for Microsoft, with almost every aspect of the operation fitting nicely into Microsoft's wider goals for its gaming division in 2021 and beyond. You can try Project xCloud gaming for yourself right now on an Android device, with Xbox Game Pass Ultimate.
Today's the day
Experience next-gen gaming for less.
Microsoft serves the next-generation for less with its budget-friendly Xbox Series S. The console packs the same high-performance CPU and SSD technology as Xbox Series X, while scaling back the GPU and removing the disc drive.
Act fast
The full next-generation experience.
Xbox Series X is Microsoft's new flagship, as its most powerful console with over 12TF GPU performance and a custom SSD. It boasts up to 4K resolution and 120 FPS, full backward compatibility across four generations, and ray-tracing support.
French iPhone 12 comes in two boxes to accommodate EarPods – GSMArena.com news – GSMArena.com
In 2020 Apple took a stand against unnecessary carbon emissions (and spending money on accessory production) and took away the charger and earbuds from the iPhone 12 and 12 Pro retail package, as well as from that of the iPhone 11, SE (2020) and XR. But France requires manufacturers to ship headphones with phones by law, so Apple had to accommodate the EarPods with its iPhones.
But because Apple's new smaller iPhone retail box is standard across the globe, it packed it inside a bigger box that contains the EarPods. Note that Apple still doesn't include a charger, just the earbuds.

Big box holds EarPods and new standard small iPhone box
Apple advises its customers to use existing chargers and EarPods, but also sells a new $19/€25 20W wired charger and $39/€45 wireless MagSafe charger and has deducted $10 from the price of EarPods – now $19/€19.
[embedded content]
iPhone 12 Models Use Qualcomm's X55 Modem – MacRumors
Apple's iPhone 12 lineup appears to be equipped with Qualcomm's Snapdragon X55 modem, which is in line with rumors that we heard about the new devices prior to their launch.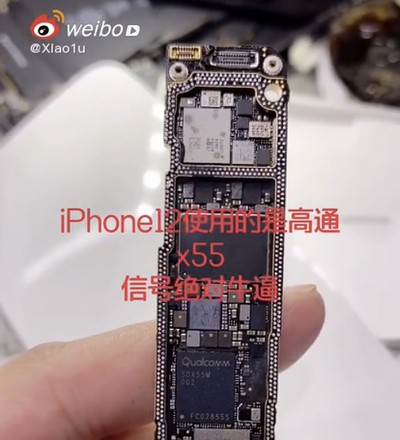 An iPhone 12 teardown video on Chinese social networking site Weibo gives a close look at the L-shaped logic board and the modem chip.
The X55 offers support for both 5G mmWave networks and 5G Sub-6GHz networks, along with 5G/4G spectrum sharing, and it is Qualcomm's second-generation 5G chip after the X50.
Reports in 2019 indicated Apple would use the X55 modem in its ‌iPhone 12‌ lineup, and at the time, the X55 was Qualcomm's fastest and newest 5G modem. Qualcomm in February 2020 introduced the X60 modem built on a 5-nanometer process, which is more power efficient than the 7-nanometer X55.
There was some speculation that Apple could adopt the X60 for the ‌iPhone 12‌ lineup, but the X60 likely came out too late in the ‌iPhone 12‌ development process to be considered for the new devices.
Next year's iPhones will likely use the Snapdragon X60 modem from Qualcomm, which is the third-generation 5G modem chip that Qualcomm has manufactured. It will bring notable performance improvements in terms of battery draw, component size, and connectivity speed because it offers carrier aggregation for combined mmWave and sub-6GHz networks.
Apple used Intel chips for the iPhone 11 lineup, but switched to Qualcomm's technology after it became clear that Intel would not be able to manufacture 5G modem chips. Apple settled a long-running legal battle with Qualcomm to get access to Qualcomm's chip technology.
Early iPhone 12 Teardown Features Smaller Taptic Engine, Magnet Ring and L-Shaped Logic Board – MacRumors
The iPhone 12 and 12 Pro are set to be delivered to customers this Friday, but there are already a few out in the wild. Leaker DuanRui this morning shared a video featuring a short teardown of the new ‌iPhone 12‌, giving us a quick look at the internals.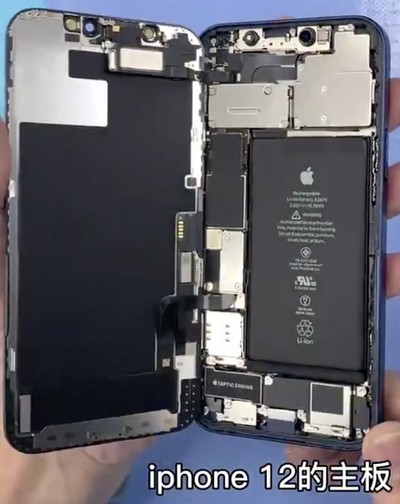 In the video, the ‌iPhone 12‌ is taken apart component by component, with comparisons to corresponding iPhone 11 parts provided. The new ‌iPhone 12‌ has an L-shaped logic board, which we initially saw in a leak in May. The ‌iPhone 12‌ logic board isn't identical to the leaked logic board, so that leaked version is likely from another one of the ‌iPhone 12‌ models.
‌iPhone 12‌ teardown video. pic.twitter.com/XuOJxfuoQh
— DuanRui (@duanrui1205) October 21, 2020
The logic board is longer than the logic board that was used in the ‌iPhone 11‌, and it has the aforementioned L design rather than just a straight design.
There's a 2,815mAh battery in the ‌iPhone 12‌, which was seen in Brazilian regulatory filings last week. Comparatively, the ‌iPhone 11‌ has a higher capacity 3,110mAh battery. Apple lists similar battery lengths for both iPhone models, though, due to efficiency improvements introduced through the A14.
‌iPhone 12‌ pic.twitter.com/4lXm6cs7G3
— 有没有搞措 (@L0vetodream) October 21, 2020
Smaller batteries may have been included because Apple may have needed extra space for the 5G components in this year's iPhones, but there have already been some concerning early tests about faster than normal battery drain when using 5G networks. That's not necessarily a surprise because it's well known that 5G drains battery faster, but it's something ‌iPhone 12‌ and 12 Pro users should be aware of.
The Taptic Engine, which provides haptic feedback, is a good deal smaller in the ‌iPhone 12‌, and the teardown also shows off that magnetic ring that works with MagSafe accessories.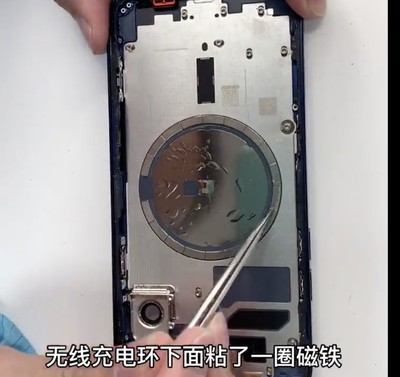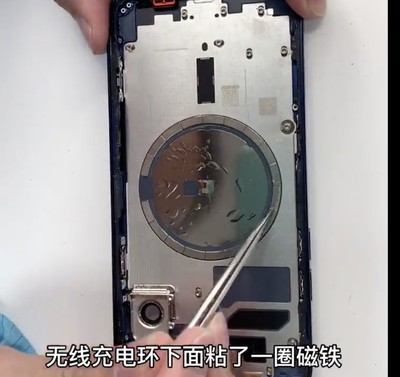 There are also comparisons between other components such as the display, dual-lens camera setup, flash, and more, which those interested can see in the video.
iFixit will have in-depth teardowns of both the ‌iPhone 12‌ and 12 Pro coming in the future, which we can count on seeing after the new devices are released.