2nd company says it's interested in North Atlantic refinery, as anxious workers worry about jobs – CBC.ca
While the permanent closure of the Come by Chance oil refinery is not a done deal just yet, job cuts are coming this week, according to the union representing workers at the site.
While sources initially told CBC News on Monday night the refinery was definitely shutting its doors for good, North Atlantic Refinery Limited says it is considering its options and trying to find ways to cut costs and save money before moving to close the refinery.
That information was contained in a letter to workers, seen by CBC News on Tuesday.
The company confirmed a proposed deal with Irving Oil — a transaction many had hoped would give the aging facility new life — had all but fallen through,
North Atlantic Refinery Limited said in its internal message to workers that it "does not expect the sale of the refinery [to Irving Oil] to go forward."
North Atlantic said it is trying to remain economically viable when it comes to the refinery, and absent that, it "will proceed with permanent closure." It's not clear how long the company is prepared to carry on before shutting down the refinery.
Glenn Nolan, president of United Steelworkers Local 9316, told CBC it's an anxious time as uncertainty swirls.
He said he had a call with Premier Andrew Furey and Industry, Energy and Technology Minister Andrew Parsons.
"We're asking what the options are and we're hoping that in the next couple of days, they'll get back to us and let us know where we stand," he said.
Nolan said the devastation to the economy, families and livelihoods cannot be overstated if the refinery closes.
"Our futures are all over … and when I say 'futures,' I mean future of Newfoundland and Labrador," he said.
Another company interested in refinery
The situation involving the refinery continues to evolve almost hourly.
A meeting with union employees working at the refinery concluded Tuesday morning shortly before 11 a.m. NT. Workers declined to comment, and resumed work at the site.
There may be another glimmer of hope for the facility.
Shortly after 12:30 p.m., Origin International Inc. — a private U.S. company that specializes in recycling used oil —issued a statement saying it remains "interested in the refinery."
"We are limited in the commentary we can provide at this point as we have had no opportunity to do any due diligence and are not aware if any new sale process has begun," reads the statement provided to CBC News.
"We appreciate how important Come by Chance is to the Newfoundland and Labrador economy."
The company said it is awaiting further clarity on the status of the refinery from North Atlantic.
It isn't the first time Origin International has expressed interest in the refinery.
The company's CEO wrote a letter in June to then provincial natural resources minister Siobhan Coady.
"In the event the Irving transaction stakeholders deem appropriate an assessment of alternatives to acquire NARC, Origin stands willing and able to re-engage in its bid for NARC," Nicholas Myserson wrote.
"We just wanted to make decision-makers aware of our interest in the province and a key asset in the event circumstances changed."
'We'll have to move away'
If a permanent closure were to happen, it would see 500 direct jobs axed and mean less work for dozens of contract employees.
In the past, the refinery has contributed to as much as five per cent of the province's economy.
Denis Furlong of Arnold's Cove has worked at the refinery for 22 years. He was laid off in April and had hoped to get back to the refinery, but said he isn't shocked at the latest developments, given the economic climate.
"It's totally different times now. Small businesses, big businesses, doesn't matter. The profits aren't there for any of them anymore," Furlong told CBC News on Tuesday afternoon.
"That's it. You have to be able to roll with the punches."
His wife, Mary Whelan, fought back tears as she talked to CBC, saying the couple can't survive financially on her salary alone if the refinery does close.
"I don't know what going to happen.… We'll have to move away, I'd say," she said sombrely.
Daniel Baker, who works for an industrial maintenance company, said the indirect economic blowblack would be massive.
"You're looking at 600 or 700 families," he said.
"There's a lot of spinoff jobs from this.… You take this little coffee shop, it's going to be hard on them," he added, pointing to a building behind him.
Jeff Slade was laid off from the refinery in March. His wife and two kids are in Arnold's Cove, but if the site is closed for good, he figures he will have to move by the spring.
"Probably head back to B.C.… Hopefully something comes out of it, [I'll] see what happens, you know. It's a pandemic — it's a bad time, a bad time," Slade told CBC News.
North Atlantic said it will continue to operate the fuel tank farm at the refinery and supply various fuels throughout the province.
The chain of North Atlantic service stations and Orange Stores will also continue to operate.
"The company will not be providing comment on internal, confidential matters at this time," North Atlantic Refining said in a statement Monday evening.The refinery appeared to be on the upswing prior to the global pandemic, which forced the owners to stop refining fuels in March.
Read more from CBC Newfoundland and Labrador
This IPO is a measure of China's growing strength – CNN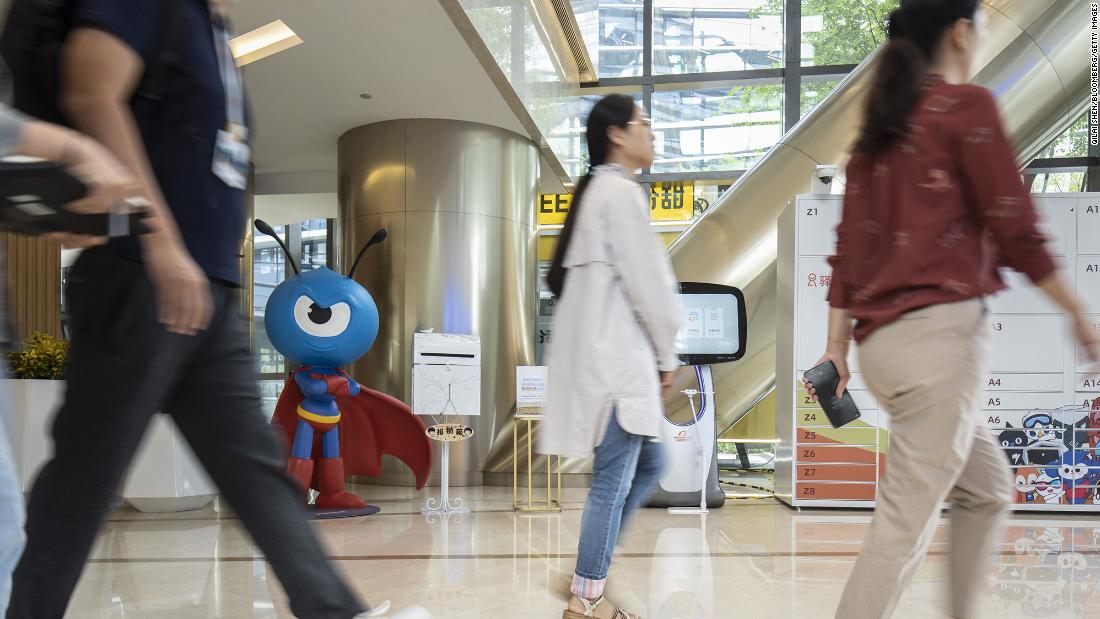 A version of this story first appeared in CNN Business' Before the Bell newsletter. Not a subscriber? You can sign up
right here
.
What's happening: In finance and tech,
China's clout
is growing just as its economy recovers from the pandemic in better shape than other big players.
Ant is the crown jewel of Jack Ma's tech empire, best known for its Alipay app that has more than 730 million monthly active users. On Tuesday, it's expected to announce that it will surpass the $29.4 billion Saudi Aramco's float raised last December by selling shares both in Hong Kong and on Shanghai's Star Market, China's answer to the Nasdaq.
For Beijing, which wants to encourage more seasoned investors to park their money in Chinese stocks and more Chinese tech companies to list their shares at home, it's poised to be a huge win.
"The Chinese government is more than happy to host a national champion on one of its major capital markets domestically at a time when many Chinese companies are facing greater political headwinds overseas," Xiaomeng Lu, senior geotechnology analyst at Eurasia Group, told me.
Lu said Beijing has been trying to send a message to China's top tech companies: "This is a difficult time, and we have your back."
A growing number of firms are listening as US-China tensions ramp up. There's little clarity on whether the presidential election in November will reset the relationship.
US threats and restrictions against Chinese tech companies like TikTok and WeChat send a warning. On Wall Street, Chinese firms also face additional scrutiny. Luckin Coffee was kicked off the Nasdaq following the disclosure of major accounting irregularities. US lawmakers, government agencies and stock exchanges have since taken steps aimed at limiting Beijing's access to America's vast capital markets.
"Chinese companies consider repatriation both to please [Beijing] and to insulate themselves from potential US action," Brock Silvers, chief investment officer at Kaiyuan Capital and former chief investment officer at Adamas Asset Management, told me.
In such an environment, a company like Ant has good reason to pursue a listing at home. Over the long term, that should be to China's benefit.
Ant's decision to opt for the Star Market, a pet project of Chinese President Xi Jinping, will give it a huge boost in legitimacy and value, Lu said, noting that the massive IPO will push the market capitalization of the Shanghai Stock Exchange, which includes the Star board, close to that of the Tokyo Stock Exchange. Silvers points out that the listing also gives China "greater control over an important company in a cutting edge sector."
Watch this space: China's markets are still "fairly immature" and "highly volatile," per Lu. But a listing like Ant's will certainly help raise their profile.
Can Big Tech keep up its winning streak?
Apple
(AAPL)
,
Facebook
(FB)
,
Microsoft
(MSFT)
,
Amazon
(AMZN)
and Google parent
Alphabet
(GOOGL)
now account for 23% of the market value of the S&P 500 — so you can bet that when all five companies report earnings this week, investors will be paying close attention.
In the second quarter, Big Tech served up a solid rebuttal to those who fear shares in these firms are overvalued.
See here: Amazon, which has benefited from surging demand for deliveries, posted quarterly revenue of $88.9 billion, a 40% increase from the prior year and a staggering $8 billion more than Wall Street expected.
Companies like Amazon and Microsoft likely maintained their momentum between July and September as work from home boosted demand for products like cloud services. The consensus on the Street is that Amazon's revenue will rise 32% compared to the same period in 2019.
But as pressure to regulate tech companies grows in Washington, strong results cut both ways.
Last week, the Trump administration sued Google in the largest antitrust case against a tech company in more than two decades. The Justice Department made sweeping allegations that Google has stifled competition to maintain its powerful position in the marketplace for online search and advertising.
For now, Wall Street views the risk that Washington could break up Big Tech companies as fairly limited. Growing financial clout, however, could put a larger target on these companies' backs.
Monday: New US home sales; Germany business climate; Hasbro earnings
Tuesday:
Ant Group prices IPO; US consumer confidence; Microsoft,
3M
(MMM)
,
BP
(BP)
,
Caterpillar
(CAT)
,
Eli Lilly
(LLY)
,
Merck
(MKGAF)
,
Pfizer
(PFE)
and
Xerox
(XRX)
earnings
Wednesday:
Bank of Canada meeting;
Boeing
(BA)
,
Dine Brands
(DIN)
,
GE
(GE)
,
Mastercard
(MA)
,
UPS
(UPS)
,
Beyond Meat
(BYND)
,
Etsy
(ETSY)
,
Ford
(F)
,
Gilead Sciences
(GILD)
,
Pinterest
(PINS)
and
Visa
(V)
earnings
Thursday:
US third quarter GDP; Japan consumer confidence; Initial US jobless claims; European Central Bank meeting;
Alibaba
(BABA)
, Alphabet, Amazon, Apple, Facebook,
Anheuser-Busch InBev
(BUD)
,
Comcast
(CCZ)
,
Dunkin
(DNKN)
,
Kellogg
(K)
,
Kraft Heinz
(KHC)
,
Moderna
(MRNA)
,
Molson Coors
(TAP)
,
Spotify
(SPOT)
,
Yum! Brands
(YUM)
,
Activision Blizzard
(ATVI)
,
Starbucks
(SBUX)
and
Twitter
(TWTR)
earnings
Samsung chairman Lee Kun-Hee dies at 78 – Global News
SEOUL, Korea, Republic Of — Lee Kun-Hee, the ailing Samsung Electronics chairman who transformed the small television maker into a global giant of consumer electronics, has died. He was 78.
A Samsung statement said Lee died on Sunday with his family members, including his son and de facto company chief Lee Jae-yong, by his side.
Lee Kun-Hee had been hospitalized since May 2014 after suffering a heart attack and the younger Lee has run Samsung, the biggest company in South Korea.
"All of us at Samsung will cherish his memory and are grateful for the journey we shared with him," the Samsung statement said. "Our deepest sympathies are with his family, relatives and those nearest. His legacy will be everlasting."
Lee Kun-hee inherited control from his father and during his nearly 30 years of leadership, Samsung Electronics Co. became a global brand and the world's largest maker of smartphones, televisions and memory chips. Samsung sells Galaxy phones while also making the screens and microchips that power its rivals, Apple's iPhones and Google Android phones.
Samsung helped make the nation's economy, Asia's fourth-largest. Its businesses encompass shipbuilding, life insurance, construction, hotels, amusement park operation and more. Samsung Electronics alone accounts for 20% of the market capital on South Korea's main stock market.
Lee leaves behind immense wealth, with Forbes estimating his fortune at $16 billion as of January 2017.
His death comes during a complex time for Samsung.
When he was hospitalized, Samsung's once-lucrative mobile business faced threats from upstart makers in China and other emerging markets. Pressure was high to innovate its traditionally strong hardware business, to reform a stifling hierarchical culture and to improve its corporate governance and transparency.

1:15


Samsung boss could end up in jail, again



Samsung was ensnared in the 2016-17 corruption scandal that led to then-President Park Geun-hye's impeachment and imprisonment. Its executives, including the younger Lee, were investigated by prosecutors who believed Samsung executives bribed Park to secure the government's backing for a smooth leadership transition from father to son.
In a previous scandal, Lee Kun-Hee was convicted in 2008 for illegal share dealings, tax evasion and bribery designed to pass his wealth and corporate control to his three children.
The late Lee was a stern, terse leader who focused on big-picture strategies, leaving details and daily management to executives.
His near-absolute authority allowed the company to make bold decisions in the fast-changing technology industry, such as shelling out billions to build new production lines for memory chips and display panels even as the 2008 global financial crisis unfolded. Those risky moves fueled Samsung's rise.
Lee was born Jan. 9, 1942, in the southeastern city of Daegu during Japan's colonial rule of the Korean Peninsula. His father Lee Byung-chull had founded an export business there in 1938 and following the 1950-53 Korean War, he rebuilt the company into an electronics and home appliance manufacturer and the country's first major trading company.
Lee Byung-chull was often called one of the fathers of modern industrial South Korea. Lee Kun-Hee was the third son and his inheritance of his father's businesses bucked the tradition of family wealth going to the eldest. One of Lee Kun-Hee's brothers sued for a bigger part of Samsung but lost the case.
When Lee Kun-Hee inherited control from his father in 1987, Samsung was relying on Japanese technology to produce TVs and was making its first steps into exporting microwaves and refrigerators.
The company was expanding its semiconductor factories after entering the business in 1974 by acquiring a near-bankrupt firm.
A decisive moment came in 1993. Lee Kun-Hee made sweeping changes to Samsung after a two-month trip abroad convinced him the company needed to improve the quality of its products.
In a speech to Samsung executives, he famously urged, "Let's change everything except our wives and children."
Not all his moves succeeded.

4:57


Has Apple's iPhone met its match? Samsung releases its latest version of the Galaxy watch



A notable failure was the group's expansion into the auto industry in the 1990s, in part driven by Lee Kun-Hee's passion for luxury cars. Samsung later sold near-bankrupt Samsung Motor to Renault. The company also was frequently criticized for disrespecting labour rights. Cancer cases among workers at its semiconductor factories were ignored for years.
In 2020, Lee Jae-yong declared heredity transfers at Samsung would end, promising the management rights he inherited wouldn't pass to his children. He also said Samsung would stop suppressing employee attempts to organize unions, although labour activists questioned his sincerity.
South Koreans are both proud of Samsung's global success and concerned the company and Lee family are above the law and influence over almost every corner of society.

5:12


Tech Talk: Samsung Galaxy Z



Critics particularly note how Lee Kun-Hee's only son gained immense wealth through unlisted shares of Samsung firms that later went public.
In 2007, a former company lawyer accused Samsung of wrongdoing in a book that became a bestseller in South Korea. Lee Kun-Hee was subsequently indicted on tax evasion and other charges.
Lee resigned as chairman of Samsung Electronics and was convicted and sentenced to a suspended three-year prison term. He received a presidential pardon in 2009 and returned to Samsung's management in 2010.
__
This story contains biographical material compiled by former AP business writer YouKyung Lee.
© 2020 The Canadian Press
Cenovus to buy Husky Energy for $3.8B, designed to 'weather the current environment' – CBC.ca
Cenovus Energy Inc. has agreed to buy rival Husky Energy Inc. in an all-stock deal valued at $3.8 billion as weak oil prices and a collapse in demand driven by the pandemic force the industry to consolidate.
The merged Cenovus Energy Inc. will remain headquartered in Alberta. The deal would combine the companies into a new integrated oil and gas business with increased and more stable cash flows, the statement said.
Cenovus's deal for Husky is valued at $23.6 billion, including debt, the companies said in a joint statement.
Cenovus CEO Alex Pourbaix will head the combined company, with Husky chief financial officer Jeff Hart taking on that role at the new entity.
"We will be a leaner, stronger and more integrated company, exceptionally well suited to weather the current environment and be a strong Canadian energy leader in the years ahead," Pourbaix said in the statement.
"The diverse portfolio will enable us to deliver stable cash flow through price cycles, while focusing capital on the highest-return assets and opportunities. The combined company will also have an efficient cost structure and ample liquidity."
The deal is the latest sign of consolidation in an energy sector that has been battered by the twin crises of the COVID-19-related economic slowdown and low crude oil prices.
Last Monday, ConocoPhillips announced it would buy shale producer Concho Resources in a deal valued at $9.7 billion U.S. that would create one of the largest U.S. oil producers.
Earlier in the month, one analyst pointed to the acquisition of a 17.6 per cent stake in Calgary oil and gas producer NuVista Energy Ltd. by rival Paramount Resources Ltd. as part of a trend toward "forced" consolidation in the troubled Canadian energy sector.
Ending oil curtailment quotas
News of the Cenovus-Husky deal follows a Friday announcement from Alberta's government that the province would end its oil curtailment quotas, a temporary measure intended to support oil prices.
Spokespeople for both companies said Friday they welcomed the move. Indeed, Cenovus had already been producing above its curtailment levels with credits purchased from other companies.
Combining the companies will create annual savings of $1.2 billion, largely achieved within the first year and independent of commodity prices, the companies said.
"Bringing our talented people and complementary assets together will enable us to deliver the full potential of this resilient new company," Husky CEO Rob Peabody said in the statement.
"The integration of Cenovus's best-in-class in situ oil sands assets with Husky's extensive North American upgrading, refining and transportation network … will create a low-cost competitor and support long-term value creation."
The combined company will be the third-largest Canadian oil and natural gas producer, based on total company production, Cenovus said. It will have low exposure to oilsands benchmark crude, which typically trades at a discount to North American benchmark West Texas intermediate.
The transaction has been approved by both boards and is expected to close in the first quarter of 2021, pending shareholder and regulatory approvals.
Husky shareholders will receive 0.7845 of a Cenovus share plus 0.0651 of a Cenovus share purchase warrant in exchange for each Husky common share.