4 Takeaways From Canadiens' Pre-Draft Media Availability – The Hockey Writers
The 2022 NHL Draft is finally upon us as members from all 32 NHL teams begin arriving in Montreal for one of the biggest weeks on the hockey calendar. To kick off the festivities, Montreal Canadiens general manager Kent Hughes and Vincent Lecavalier, special advisor to hockey operations, met with the media on Monday to discuss the team's plan heading into a very important few days for the future of the franchise.
Here are the highlights from the 45-minute press conference which covered a variety of topics regarding the draft and the Habs' offseason approach.
A Three Horse Race
To no one's surprise, Hughes continues to play a good game of poker when it comes to who the Canadiens will be selecting with the no. 1 overall pick at the Bell Centre on Thursday night. It's not in his best interest to unveil his plans to keep his leverage in trade discussions with his colleagues. The uncertainty surrounding the first pick is suiting the Habs just fine right now.
Hughes did confirm that the decision will come down to three players: Shane Wright, Juraj Slafkovsky, and Logan Cooley. With their scouts now all together in Montreal, the plan was to meet with everyone on Monday night to ensure that each person around the table can contribute to this crucial choice as well as the overall strategy. In other words, with 72 hours to go before round one, the Canadiens still don't know who they are taking, and the suspense lives on.
They aren't looking to draft the best player right now, but rather who they project will be the best players four or five years down the road and help the team win when they hopefully enter their contending window. Hughes also mentioned that character would be an important factor in the decision. Beyond their talent and intangibles, they need to determine which player is most suited to handle the pressure that comes with being Montreal's first overall pick.
Lecavalier has spoken with Wright about how he is handling everything that comes with being the projected top pick and shared some words of wisdom with the 18-year-old about his own experience as a former no. 1 overall pick himself. The intention is to have the same type of conversation with Slafkovsky and Cooley before Thursday.
Hughes Keeping All His Options Open
It's safe to say that Hughes is ready to explore any and every scenario from now until Friday, including leaving the door open to trading the first pick if an offer he can't refuse comes his way. There's even a chance the Canadiens could end up with both picks one and two.
Related: Who Canadiens Would Target with a Second Top-10 Draft Pick
There's a stronger possibility that the Habs will use their plethora of selections in this year's draft, which includes picks no. 26 and no. 33, to move up in the first round. It has been reported they are actively looking to acquire a second Top 10 pick and they have the assets to make that hope a reality.
The fact that these options are even on the table could make for an interesting week for the home team.
The Assistant Coach Search Has Begun
In other offseason business, Hughes indicated that head coach Martin St. Louis has begun speaking to potential candidates for the now-vacant assistant coach position behind the Canadiens' bench following the departure of Luke Richardson who was recently named head coach of the Chicago Blackhawks.
Related: Canadiens' Candidates to Replace Richardson as Assistant Coach
Hughes and executive vice president of hockey operations, Jeff Gorton will also meet with the candidates once the dust settles on the draft and free agency to determine who will ultimately be appointed.
Looking for Financial Flexibility
In addition to a successful draft, the Canadiens' top priority this offseason is to create some financial flexibility and ease their salary cap woes. This means they'll be looking to subtract players from their current roster before adding to it.
It's been well-documented that the player most likely to be moved is Jeff Petry, but Hughes said Monday that the veteran defenseman may very well be in the Habs' lineup come October if he doesn't get back the pieces he's looking for. This is not the same situation as the Tampa Bay Lightning found themselves in with Ryan McDonagh, who was traded to the Nashville Predators over the weekend for a minimal return. The Habs can hang on to Petry. It might be more beneficial if they do because he's a rare commodity and will be difficult to replace.
If Petry stays put, Josh Anderson, Christian Dvorak, and Mike Hoffman are all potential trade bait, but Hughes isn't going to just give them away to save money.
Given all the intrigue surrounding the Canadiens right now, Hughes and company are well-positioned to set off a few fireworks in front of their fans later this week. After months of speculation and preparation, all that's left is to sit back and enjoy the show.
Melissa has been covering the Montreal Canadiens for The Hockey Writers since March of 2020. She is also THW's Social Media & Marketing Manager as well as co-host of Chicks & Sticks, a weekly show produced by THW. In 2006, she spearheaded the social media initiatives for Tennis Canada and Rogers Cup and was the primary person responsible for their upkeep for over 10 years. She has written articles for multiple tennis websites and interviewed the likes of Roger Federer and Serena Williams. While her career in sports started in tennis, her first love has always been hockey. She has a journalism degree from Concordia University.
TAIT: Lisa LaFlamme's unfortunate ouster a reminder of Canada's changing media landscape – Edmonton Sun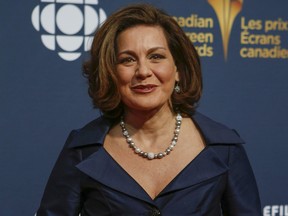 Article content
Now, I'm nervous.
Article content
This Thursday will mark my 43rd anniversary in the news business. I wonder if the phone might ring with some news.
How about that for a segue?
Monday afternoon: a quiet news day, most of the 2,236 weeks I've been a keyboard captain.
Then, late Monday afternoon — a minute before I was set to email my buddy Coffee Chad to say I didn't have a column — the tweet zoomed across my screen.
It is from Lisa LaFlamme. It said: "I have some news."
Big deal, I thought.
Maybe Donald Trump said something that we could, honestly, believe … maybe, there was a peace treaty finally signed between Russia and Ukraine … maybe that illusive test tube, thankfully, emerged that will end all cancers.
No problem, I told myself. Stay up late. Watch LaFlamme on CTV News.
Article content
But then it kicked in: that news sense that loudly rings in my ear, screaming to check everything — no matter how insignificant it might sound — make a phone call, or in today's world, click.
So click I did.
And forget, for a few words, I am a reporter.
As a Canadian I am sad.
I'm sad I had to watch a video, on Twitter no less, of LaFlamme telling her story.
I am sad about that image of her sitting in what seems to be a cosy rustic cottage, perhaps.
I am sad she shared news that Bell-Media informed her June 29 her contract as CTV chief correspondent would not be renewed.
LaFlamme is 58 and has decades of news experience.
Knowing what is news — and more importantly what is not — isn't something you gloriously discover at the bottom of a crackerjack box.
Article content
It's a feeling.
A sense.
A skill, frankly, not everyone has.
LaFlamme had it, absolutely.
She reported some of the biggest stories we will ever hear, with — and I'd bet the farm on this — COVID-19 is near the top.
In my mind, her seniority, calm voice and sincere compassion touched us all no matter how rough the nightly news line-up was, with reassurance, as we drifted off to sleep, that everything would be OK.
The media landscape has changed so significantly in the past 10 years.
We knew that.
What we did not realize is that many great people, with even greater skills, would leave our favourite radio stations, TV stations and, alas, newspapers without producing or writing their last piece.
Business decisions happen all the time. We must respect that.
But we need to remind everyone being a news personality is a noble profession.
When our time comes — on our own call or from ivory tower corporate offices — saying thank you to viewers, listeners and readers closes a chapter gracefully.
Rather than — forgive the aforementioned news voice — wondering why.
Longtime CTV anchor Lisa LaFlamme 'blindsided' as Bell Media ends contract – The Globe and Mail
Lisa LaFlamme was let go as anchor of CTV National News after 35 years at the network in a decision that the veteran journalist said blindsided her and one that prompted shock from colleagues and viewers.
CTV's parent company, Bell Media, said Ms. LaFlamme's removal was a business decision intended to meet changing viewer habits, though it did not elaborate.
Ms. LaFlamme, who has been the face of CTV's national broadcast since 2011, posted a two-minute video to Twitter on Monday in which she said she was told on June 29 that the network was ending her contract. She said she was told to stay quiet until departure details were finalized.
"I'm still shocked and saddened," she said. "At 58, I still thought I'd have a lot more time to tell more of the stories that impact our daily lives. Instead, I leave CTV humbled by the people who put their faith in me to tell their story."
The long-time anchor and foreign correspondent spent her career reporting on some of the biggest stories in Canada and the world, including the Iraq war and other conflicts, natural disasters such as Hurricane Katrina, and global spectacles such as the Olympic Games and the Queen's Diamond Jubilee. More recently, Ms. LaFlamme covered Russia's war against Ukraine and the Pope's historic apology for the role of the Catholic Church in Canada's residential school system.
Bell Media announced her departure in a news release on Monday and said Omar Sachedina will replace Ms. LaFlamme on Sept. 5. Mr. Sachedina is a national affairs correspondent for CTV News who joined the network in 2009.
"Recognizing changing viewer habits, CTV recently advised LaFlamme that it had made the business decision to move its acclaimed news show, CTV National News, and the role of its chief news anchor in a different direction," the company said.
Bell Media did not make anyone available for an interview to explain the decision and instead referred The Globe and Mail to company news releases.
Earlier this year, Ms. LaFlamme was named the Best National News Anchor at the Canadian Screen Awards, having also won the previous year. In 2019, she was named to the Order of Canada and has many other honours attached to her name.
She assumed the top news anchor role in 2011 when Lloyd Robertson retired at 77. He had spent more than four decades as a national news anchor and reminisced on a storied career before signing off for the final time during a newscast on Sept. 1 of that year.
In her Twitter video, Ms. LaFlamme thanked her colleagues, viewers and loved ones for their "unwavering support" and said the video was likely her official sign-off from CTV. "While it is crushing to be leaving CTV National News in a manner that is not my choice, please know reporting to you has truly been the greatest honour of my life," she said.
Her exit from the network ignited outrage on social media from industry colleagues and supporters, with some questioning whether gender discrimination played a role in her removal. Jeffrey Dvorkin, former director of the University of Toronto's journalism program, said it's a fair criticism and one that Bell Media will need to consider.
"I think they're looking for a younger, different demographic and Omar Sachedina fulfills that," said Mr. Dvorkin. "But I think Bell Media may not have appreciated, properly, the kind of loyalty that people have in radio and television audiences. There's a real intimacy in broadcast journalism."
Shari Graydon, the CEO and catalyst of Informed Opinions, an organization that advocates for women's voices in media, called the treatment of Ms. LaFlamme "deeply troubling."
"When you contrast Lloyd Robertson leaving at 77 and Lisa LaFlamme being essentially two decades younger than that, the optics are really bad," she said in an interview, noting that Mr. Robertson had the opportunity to say his goodbyes on the network – as opposed to on social media.
Ms. Graydon also emphasized the significance of Ms. LaFlamme's prior role within the public perception, both for women and girls considering the aspirations they can reach for, but also for boys and men, showing them that "women are as capable, as authoritative, as knowledgeable as their male colleagues."
Concerns of discrimination against on-air journalists are not new. Almost 40 years ago, American TV anchor Christine Craft won a prominent case against her Kansas City station, alleging it demoted her for being "too old, unattractive and not deferential enough to men." In 2019, five female anchorwomen sued the parent company of NY1, a well-known station in New York, alleging gender- and age-based discrimination. The anchors, who ranged in age from 40 to 61 at the time, settled their suit in 2020.
Robert Hurst, former president of CTV News, said in an interview on Monday that he was surprised at the announcement about Ms. LaFlamme but has no knowledge of what led to the decision. He declined to comment on the optics of her departure but spoke fondly of her career, having hired her at CTV many years ago.
"She was just a fabulous reporter travelling the country and the world for us and when it was time for Lloyd Robertson to step down, she was the obvious choice. I was obviously a big fan when we put Lisa into the anchor chair," said Mr. Hurst. "Journalism was in her blood."
Ian Hanomansing, who is one of the anchors of the competing CBC News national broadcast The National said on Twitter that Ms. LaFlamme's departure left him speechless. "Lisa is among the very best at what she does. I know surprisingly arbitrary decisions can be made in this business but Lisa, you deserve better than this. Way better," he wrote on Twitter.
Anchor Dawna Friesen of Global National similarity expressed shock. "Since we started working together years ago at CTV, I've watched you work your butt off and earn the respect of colleagues, competitors and viewers. None of us last in these gigs forever but seems to me you deserve better than this."
Current and former politicians also sounded off on social media about Ms. LaFlamme being shown the door. Alberta NDP Leader Rachel Notley called her "a massive voice in Canadian media." Former Liberal MP Catherine McKenna called the move to end her contract an "appallingly shoddy way to treat an incredible journalist."
Former NDP MP Peggy Nash on Twitter that Ms. LaFlamme deserved respect and appreciation for her many years of hard work and success. "Instead, you got disrespect and dismissal," Ms. Nash wrote.
Our Morning Update and Evening Update newsletters are written by Globe editors, giving you a concise summary of the day's most important headlines. Sign up today.
Being Thrown Off Social Media Was Supposed to End Alex Jones's Career. It Made Him Even Richer – Bloomberg