AI Solves 50-Year-Old Biology 'Grand Challenge' Decades Before Experts Predicted – ScienceAlert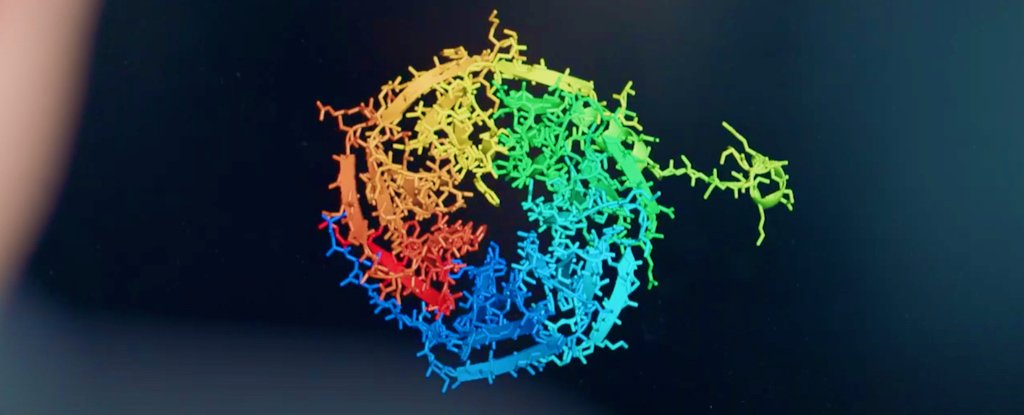 A long-standing and incredibly complex scientific problem concerning the structure and behaviour of proteins has been effectively solved by a new artificial intelligence (AI) system, scientists report.
DeepMind, the UK-based AI company, has wowed us for years with its parade of ever-advancing neural networks that continually trounce humans at complex games such as chess and Go.
All those incremental advancements were about much more than mastering recreational diversions, however.
In the background, DeepMind's researchers were seeking to coax their AIs towards solving much more fundamentally important scientific puzzles – such as finding new ways to fight disease by predicting infinitesimal but vitally important aspects of human biology.
Now, with the latest version of their AlphaFold AI engine, they seem to have actually achieved this very ambitious goal – or at least gotten us closer than scientists ever have before.
[embedded content]
For about 50 years, researchers have strived to predict how proteins achieve their three-dimensional structure, and it's not an easy problem to solve.
The astronomical number of potential configurations is so mind-bogglingly huge, in fact, that researchers postulated it would take longer than the age of the Universe to sample all the possible molecular arrangements.
Nonetheless, if we can solve this puzzle – known as the protein-folding problem – it would constitute a giant breakthrough in scientific capabilities, vastly accelerating research endeavours in things like drug discovery and modelling disease, and also leading to new applications far beyond health.
For that reason, despite the scale of the challenge, for decades researchers have been collaborating to make gains in developing solutions to the protein-folding problem.
A rigorous experiment called CASP (Critical Assessment of protein Structure Prediction) began in the 1990s, challenging scientists to devise systems capable of predicting the esoteric enigmas of protein folding.
[embedded content]
Now, in its third decade, the CASP experiment looks to have produced its most promising solution yet – with DeepMind's AlphaFold delivering predictions of 3D protein structures with unprecedented accuracy.
"We have been stuck on this one problem – how do proteins fold up – for nearly 50 years," says CASP co-founder John Moult from the University of Maryland.
"To see DeepMind produce a solution for this, having worked personally on this problem for so long and after so many stops and starts wondering if we'd ever get there, is a very special moment."
In the experiment, DeepMind used a new deep learning architecture for AlphaFold that was able to interpret and compute the 'spatial graph' of 3D proteins, predicting the molecular structure underpinning their folded configuration.
The system, which was trained up by analysing a databank of approximately 170,000 protein structures, brought its unique skillset to this year's CASP challenge, called CASP14, achieving a median score in its predictions of 92.4 GDT (Global Distance Test).
That's above the ~90 GDT threshold that's generally considered to be competitive with the same results obtained via experimental methods, and DeepMind says its predictions are only off by about 1.6 angstroms on average (about the width of an atom).
"I nearly fell off my chair when I saw these results," says genomics researcher Ewan Birney from the European Molecular Biology Laboratory.
"I know how rigorous CASP is – it basically ensures that computational modelling must perform on the challenging task of ab initio protein folding. It was humbling to see that these models could do that so accurately. There will be many aspects to understand but this is a huge advance for science."
It's worth noting that the research has not yet been peer-reviewed, nor published in a scientific journal (although DeepMind's researchers say that's on the way).
Even so, experts who are familiar with the field are already recognising and applauding the breakthrough, even if the full report and detailed results are yet to be seen.
"This computational work represents a stunning advance on the protein-folding problem, a 50-year old grand challenge in biology," says structural biologist Venki Ramakrishnan, president of the Royal Society.
"It has occurred decades before many people in the field would have predicted."
The full findings are not yet published, but you can see the abstract for the research, "High Accuracy Protein Structure Prediction Using Deep Learning", here, and find more information on CASP14 here.
Alberta family searches for answers in teen's sudden death after COVID exposure, negative tests – CBC.ca
A southern Alberta mother and father are grappling with the sudden, unexplained death of their 17-year-old daughter, and with few answers, they're left wondering if she could be the province's youngest victim of COVID-19.
Sarah Strate — a healthy, active Grade 12 student at Magrath High School who loved singing, dancing and being outdoors — died on Monday, less than a week after being notified she'd been exposed to COVID-19.
While two tests came back negative, her parents say other signs point to the coronavirus, and they're waiting for more answers.
"It was so fast. It's all still such a shock," said Sarah's mother, Kristine Strate. "She never even coughed. She had a sore throat and her ears were sore for a while, and [she had] swollen neck glands."
Kristine said Sarah developed mild symptoms shortly after her older sister — who later tested positive for COVID-19 — visited from Lethbridge, one of Alberta's current hot spots for the virus.
The family went into isolation at their home in Magrath on Tuesday, April 20. They were swabbed the next day and the results were negative.
'Everything went south, super-fast'
By Friday night, Sarah had developed fever and chills. On Saturday, she started vomiting and Kristine, a public health nurse, tried to keep her hydrated.
"She woke up feeling a bit more off on Monday morning," Kristine said. "And everything went south, super-fast."
Sarah had grown very weak and her parents decided to call 911 when she appeared to become delirious.
"She had her blanket on and I was talking to her and, in an instant, she was unresponsive," said Kristine, who immediately started performing CPR on her daughter.
When paramedics arrived 20 minutes later, they were able to restore a heartbeat and rushed Sarah to hospital in Lethbridge, where she died.
"I thought there was hope once we got her heart rate back. I really did," recalled Sarah's father, Ron.
"He was praying for a miracle, and sometimes miracles don't come," said Kristine.
Searching for answers
At the hospital, the family was told Sarah's lungs were severely infected and that she may have ended up with blood clots in both her heart and lungs, a condition that can be a complication of COVID-19.
But a second test at the hospital came back negative for COVID-19.
"There really is no other answer," Ron said. "When a healthy 17-year-old girl, who was sitting up in her bed and was able to talk, and within 10 minutes is unconscious on our floor — there was no reason [for it]."
The province currently has no record of any Albertans under the age of 20 who have died of COVID-19.
According to the Strate family, the medical examiner is running additional blood and tissue tests, in an effort to uncover the cause of Sarah's death.
'Unusual but not impossible'
University of Alberta infectious disease specialist Dr. Lynora Saxinger, who was not involved in Sarah's treatment, says it is conceivable that further testing could uncover evidence of a COVID-19 infection, despite two negative test results.
However, she hasn't seen a similar case in Alberta.
"It would be unusual but not impossible because no test is perfect. We have had cases where an initial test is negative and then if you keep on thinking it's COVID and you re-test, you then can find COVID," she said.
According to Saxinger, the rate of false negatives is believed to be very low. But it can happen if there are problems with the testing or specimen collection.
She says people are more likely to test positive after symptoms develop.
"The best sensitivity of the test is around day four or five of having symptoms," she said. "So you can miss things if you test very, very early. And with new development of symptoms, it's always a good time to re-test because then the likelihood of getting a positive test is a little higher. But again, no test is perfect."
Sarah deteriorated so quickly — dying five days after she first developed symptoms — she didn't live long enough to make it to her follow-up COVID-19 test. Instead, it was done at the hospital.
'An amazing kid'
The Strate family now faces an agonizing wait for answers — one that will likely take months — about what caused Sarah's death.
But Ron, who teaches at the school where Sarah attended Grade 12, wants his daughter to be remembered for the life she lived, not her death.
Sarah was one of five children. Ron says she was strong, active and vibrant and had plans to become a massage therapist after graduating from high school.
She played several sports and loved to sing and dance as part of a show choir. She was a leader in the school's suicide prevention group and would stand up for other students who were facing bullying.
"She's one of the leaders in our Hope Squad … which goes out and helps kids to not be scared," he father said.
"She's an amazing kid."
Sarah would often spend hours helping struggling classmates, and her parents hope her kindness is not forgotten.
"She'd done so many good things. Honestly, I've got so many messages from parents saying, 'You have no idea how much your daughter helped our kid,'" said Ron.
"This 17-year-old girl probably lived more of a life in 17 years than most adults will live in their whole lives. She was so special. I love her so much."
China launches key module of space station planned for 2022
BEIJING (Reuters) -China launched an unmanned module on Thursday containing what will become living quarters for three crew on a permanent space station that it plans to complete by the end of 2022, state media reported.
The module, named "Tianhe", or "Harmony of the Heavens", was launched on the Long March 5B, China's largest carrier rocket, at 11:23 a.m. (0323 GMT) from the Wenchang Space Launch Centre on the southern island of Hainan.
Tianhe is one of three main components of what would be China's first self-developed space station, rivalling the only other station in service – the International Space Station (ISS).
The ISS is backed by the United States, Russia, Europe, Japan and Canada. China was barred from participating by the United States.
"(Tianhe) is an important pilot project in the building of a powerful nation in both technology and in space," state media quoted President Xi Jinping as saying in a congratulatory speech.
Tianhe forms the main living quarters for three crew members in the Chinese space station, which will have a life span of at least 10 years.
The Tianhe launch was the first of 11 missions needed to complete the space station, which will orbit Earth at an altitude of 340 to 450 km (211-280 miles).
In the later missions, China will launch the two other core modules, four manned spacecraft and four cargo spacecraft.
Work on the space station programme began a decade ago with the launch of a space lab Tiangong-1 in 2011, and later, Tiangong-2 in 2016.
Both helped China test the programme's space rendezvous and docking capabilities.
China aims to become a major space power by 2030. It has ramped up its space programme with visits to the moon, the launch of an uncrewed probe to Mars and the construction of its own space station.
In contrast, the fate of the ageing ISS – in orbit for more than two decades – remains uncertain.
The project is set to expire in 2024, barring funding from its partners. Russia said this month that it would quit the project from 2025.
Russia is deepening ties with China in space as tensions with Washington rise.
Moscow has slammed the U.S.-led Artemis moon exploration programme and instead chosen to join Beijing in setting up a lunar research outpost in the coming years.
(Reporting by Ryan Woo and Liangping Gao; Editing by Christian Schmollinger, Simon Cameron-Moore and Lincoln Feast.)
NASA Pays Rich Homage To Apollo 11 Astronaut Michael Collins – Gadgets 360
NASA on Thursday paid a rich tribute to Michael Collins, the American astronaut who was the command module pilot for the Apollo 11 mission to the moon. Collins, 90, passed away on Wednesday after battling cancer, his family said. Sharing a photograph on Instagram, NASA said the picture was clicked by Collins, who spent seven years of his career as an astronaut with them. The photograph shows the lunar module, "Eagle," returning to the command module, "Columbia," after landing on the Moon. The Earth can be seen in the background of the picture. NASA said the picture had all of the humanity in it, save for Collins who captured it.
Collins kept the command module flying while Neil Armstrong and Buzz Aldrin became the first humans to walk on the moon. "We remember Michael Collins, @NASA astronaut and crew member of Apollo 11, who passed away on April 28, 2021," NASA said.
In the post, NASA also quoted what Collins had said during a transmission to Mission Control on the trip back to Earth from the Moon on July 21, 1969. "This trip of ours to the Moon may have looked, to you, simple or easy… All you see is the three of us, but beneath the surface are thousands and thousands of others, and to all those I would like to say, thank you very much."
NASA further shared what the mission control stated during Apollo 11. "Not since Adam has any human known such solitude as Mike Collins is experiencing during the 47 minutes of each lunar revolution when he's behind the Moon with no one to talk to except his tape recorder aboard Columbia. While he waits for his comrades to soar with Eagle from Tranquility Base and rejoin him for the trip back to Earth, Collins, with the help of Flight Controllers here in Mission Control Center has kept the Command Module's system going."
Besides, the space agency also released a statement, saying the nation had lost a "true pioneer and lifelong advocate for exploration" in Collins. NASA Administrator Steve Jurczyk said that as the pilot of Apollo 11 some referred to him as the "loneliest man in history".
"While his colleagues walked on the Moon for the first time, he helped our nation achieve a defining milestone. He also distinguished himself in the Gemini Program and as an Air Force pilot," he said.
Jurczyk shared that Collins would say, "Exploration is not a choice, really, it's an imperative," adding "What would be worth recording is what kind of civilisation we Earthlings created and whether or not we ventured out into other parts of the galaxy."
Jurczyk added that Collins' own signature accomplishments, his writings about his experiences, and his leadership of the National Air and Space Museum helped gain wide exposure for the work of all the men and women who have helped our nation push itself to greatness in aviation and space. "There is no doubt he inspired a new generation of scientists, engineers, test pilots, and astronauts."
---
We dive into all things Apple — iPad Pro, iMac, Apple TV 4K, and AirTag — this week on Orbital, the Gadgets 360 podcast. Orbital is available on Apple Podcasts, Google Podcasts, Spotify, and wherever you get your podcasts.