Al Gore's 'eco-friendly' investment firm owns shares in polluting companies: report
The "green-friendly" investment firm co-founded and run by former Vice President Al Gore, 74, owns a portfolio of more than $26 billion worth of shares in nearly two dozen companies that were found to have increased greenhouse gas emissions in recent years, according to a report.
Gore, whose Oscar-winning film "An Inconvenient Truth" cemented his status as the most prominent doomsayer on climate change, chairs the London-based Generation Investment Management, which touts a "stated emphasis on sustainable investment options."
But a recent analysis by Bloomberg News found that Generation's Global Equity fund, which numbers a total of 42 companies, includes 18 firms which emitted increasingly more greenhouse gases annually between 2015 and 2021.
Bloomberg ranked Generation, which has $40.4 billion worth of assets under its management, as among the companies that owned the greatest share of greenhouse gas-emitting firms when compared to other funds that placed a priority on so-called ESG — environmental, social and governance — investing.
The push into ESG has become a political hot potato. Republican politicians have hit out at firms such as BlackRock, the world's largest asset manager, for touting ESG.
In October, several Republican state treasurers withdrew a total of $1 billion from BlackRock accounts in protest of its commitment to ESG.
Texas Gov. Greg Abbott banned state investments in businesses that shunned oil and gas firms. Another Republican head of state, Florida Gov. Ron DeSantis, imposed a similar measure.
The Post has sought comment from Generation.
On the company's website, Generation bils itself as a "mission-led firm."
"We seek transformational change to drive to a net zero, prosperous, equitable, healthy and safe society," the company states on its site.
In determining which companies to invest in, Generation, which employs around 110 workers, examines factors such as the size of the firm's carbon footprint and the diversity of its corporate board, including female representation.
Generation's Global Equity fund includes blue-chip firms such as Adidas, Microsoft, Amazon, Carlisle and Charles Schwab.
Microsoft is one company that has seen its greenhouse gas emissions increase, according to Bloomberg News.
Becton Dickinson & Co, a medical device maker listed in Generation's Global Equity fund, has seen its carbon footprint grow by more than 20% between 2015 and 2021, according to Bloomberg's analysis.
Amazon, the e-commerce goliath, is the biggest climate culprit. The Seattle-based giant only began releasing data about the amount of greenhouse gas it emits in 2019.
In 2021, as Amazon's profits soared during the pandemic, so did the tonnage of greenhouse gases that it released into the air, according to the company's own sustainability report. That year, Amazon's carbon footprint grew by one-fifth.
Generation recently announced a shit in investment priorities. The firm sold off some of its holdings in Chinese e-commerce giant Alibaba while scooping up an additional 2.2 million shares in US chip manufacturer Texas Instruments, according to SEC filings.
Generation also sold more than 774,000 shares of Alibaba in the fourth quarter of last year, according to filings cited by Barron's.
The firm more than quintupled its investment in Texas Instruments, SEC filings show. Generation now owns a total of 2.7 million shares of the US-based semiconductor manufacturer.
Gore's firm also appears to be pivoting away from Asia due to geopolitical tensions along the Taiwan Strait.
Generation sold off stakes in Taiwan Semiconductor Manufacturing, the world's largest contact chip maker.
By the end of the third quarter, Generation owned more than 326,000 shares of TSM. But the firm sold them off by the end of the fourth quarter, according to SEC filings.
Canadian defence investments have 'changed the tone' of U.S. relations: ambassador – Global News
Canada's ambassador to the United States says she's seen a change of tone in how Washington views its northern ally's commitment to defence thanks to a slew of new investments — reducing a potential thorny point of discussion ahead of this week's presidential visit to Ottawa.
U.S. President Joe Biden on Thursday will make his first trip to Canada since being sworn into office over two years ago, sitting down with Prime Minister Justin Trudeau to discuss a range of issues before addressing Parliament.
North American defence is sure to be a top priority for the summit after the recent flight of a Chinese spy balloon over the continent last month and incursions by China and Russia in the Arctic, along with Russia's ongoing war in Ukraine.
But after years of calls from Washington for Canada to meet its defence spending obligations and modernize its military, Ambassador Kirsten Hillman says she's beginning to see a shift.
"There is no doubt that the U.S. will always be looking to Canada and other allies to do as much as they can," she told Mercedes Stephenson on The West Block Sunday.
"But I have noticed that, as we have made our announcements with respect to the investments in NORAD modernization, the purchase of the F-35s, the fact that we are now in the middle of another defence policy review … I think it's changed the tone from where I sit in Washington to a pretty important degree."
0:33
U.S. President Joe Biden to visit Canada in late March
The federal government has committed nearly $40 billion in investments over the next 20 years to modernize NORAD, something Canada's military brass and Defence Minister Anita Anand pointed to as crucial in the wake of the Chinese spy balloon and the subsequent detection and shootdown of three other unidentified objects over North American airspace in February.
However, it remains unclear how much of that spending is actually new money.
Among the first priorities that are being fast-tracked is over-the-horizon radar systems, which will broaden NORAD's surveillance capabilities further north and detect modern foreign threats in the Arctic.
Hillman suggested a continued focus on the Arctic will further strengthen Canada-U.S. relations when it comes to defence.
"The Arctic is a really important contribution that we can make to the continental defence that other partners are less able to make," she said. "So I think focusing in on that, as we're doing, makes a lot of sense and is deeply appreciated by the Americans."
Yet the Canadian Armed Forces is also facing a personnel crisis and recruitment challenge that has stretched the military thin between its commitments to Ukraine and NATO.
Chief of the Defence Staff Gen. Wayne Eyre has said the lack of capacity would make it "challenging" to deploy a new mission to somewhere like Haiti, which has become engulfed in gang violence — another top priority for Trudeau and Biden to discuss as pressure grows for Canada to lead a security mission there.
Trudeau has repeatedly said "outside intervention" won't lead to long-term stability in the country and that Canada is focused on supporting local police and sanctioning those who enable the gangs, which Hillman reiterated.
"We talk with the Americans about the situation in Haiti, if not every day, several times a week," she said.
"At this point, what we're focusing on — and this is because of what the Haitians are telling us — is that what they really need is for their police services to be properly trained to deal with the security situation. That's where we're focusing. That's what we're talking to the U.S. about and other partners in the region who would help us in that."
Asked if sending an RCMP mission to Haiti was a possibility, Hillman said it "might be," but quickly added she could not speak on behalf of the police force or the military.
Safe Third Country Agreement up for discussion
Insecurity in countries like Haiti and many others has also sparked a global refugee crisis that has impacted both the U.S. and Canada and is being felt at their shared border.
Quebec and federal Conservatives are calling for Ottawa to close the Roxham Road border crossing where more than 39,000 migrants were intercepted by RCMP last year, according to federal statistics — compared with 4,095 in 2021.
Republicans in the U.S., meanwhile, are highlighting a surge in encounters with people trying to cross the opposite way. U.S. statistics suggest the number of attempted illegal crossings into the U.S. from Canada has more than doubled.
The Safe Third Country Agreement allows both Canada and the U.S. to turn away asylum claimants from a third country who try to make a claim for asylum at an official entry point. Trudeau has said the 2004 agreement should be renegotiated so migrants aren't incentivized to cross irregularly into Canada, which Hillman says will be up for discussion with Biden this week.
"I think that we are in a place where we can talk to the U.S. administration, the Biden administration, about all the tools that we have" to address migration, she said.
"I think that the administration will be open and is open to talking about all those tools, including the Safe Third Country Agreement."
Meanwhile, over two million migrants crossed into the U.S. from Mexico in the most recent fiscal year — something Hillman says further underscores the issue of hemispheric migration that should also be addressed.
"They will talk about the root causes of that migration, they will talk about these people that are in danger and whose lives are at risk," she said. "Then they will talk about the implications of that for our borders, for the U.S. southern border and of course for the Canada-U.S. border and the Roxham Road situation, as well as other crossings where people come."
4:48
Trudeau says Safe 3rd Country Agreement needs renegotiation amid Roxham Road illegal crossings
Finally, Hillman says continued cooperation on trade and economic opportunities for both countries will also be discussed, building on talks and agreements signed at the so-called "Three Amigos" summit earlier this year with Mexican President Andrés Manuel López Obrador.
Despite a continued push by the Biden administration for so-called "Buy American" initiatives that prioritize U.S.-based manufacturing, Hillman says Canada is still being included on things like electric vehicle production and critical minerals.
Those Canadian-made materials will be eligible for tax incentives under the U.S. Inflation Reduction Act, she said, but has prompted concerns that the incentives will make it difficult for Canada to attract investors in its own electrification and minerals strategies.
"I think one of our big messages to the Americans next week is going to be, this is good, but let's make sure we're doing it in a way that moves us both forward as much as possible, as fast as possible, and isn't a sort of zero-sum game where we try and outcompete each other," she said.
Saudi National Bank loses over $1 billion on Credit Suisse investment – CNBC
Signage for Credit Suisse Group AG outside a building, which houses the company's branch, in Tokyo, Japan, on Monday, March 20, 2023. UBS Group AG agreed to buy Credit Suisse Group in a historic, government-brokered deal aimed at containing a crisis of confidence that had started to spread across global financial markets.
Kosuke Okahara | Bloomberg | Getty Images
Saudi National Bank is nursing major losses in the wake of Credit Suisse's failure after a deal was reached for UBS to buy the embattled Swiss lender for $3.2 billion.
Saudi National Bank — Credit Suisse's largest shareholder — confirmed to CNBC on Monday that it had been hit with a loss of around 80% on its investment.
The Riyadh-based bank holds a 9.9% stake in Credit Suisse, having invested 1.4 billion Swiss francs ($1.5 billion) in the 167-year-old Swiss lender in November of last year, at 3.82 Swiss francs per share.
Under the terms of the rescue deal, UBS is paying Credit Suisse shareholders 0.76 Swiss francs per share.
The significant discount comes as regulators try to shore up the global banking system. The scramble for a rescue follows a tumultuous few weeks which saw the collapses of U.S.-based Silicon Valley Bank and First Republic bank as well as major stock price downturns across the banking sector internationally.
Shares of UBS, Switzerland's largest bank, traded down 10.5% at 9:28 a.m. London time, while Europe's banking sector was around 4% lower. Credit Suisse was down a whopping 62%.
The Saudi National Bank (SNB) headquarters beyond the King Abdullah Financial District Conference Center in the King Abdullah Financial District (KAFD) in Riyadh, Saudi Arabia, on Tuesday, Dec. 6, 2022.
Bloomberg | Bloomberg | Getty Images
Despite the loss, Saudi National Bank says its broader strategy remains unchanged. Shares of the lender were up 0.58% on Monday at 9:30 a.m. London time.
"As at December 2022, SNB's investment in Credit Suisse constituted less than 0.5% of SNB's total Assets, and c. 1.7% of SNB's investments portfolio," the Saudi National Bank said in a statement.
It said there was "nil impact on profitability" from a "regulatory capital perspective."
"Changes in the valuation of SNB's investment in Credit Suisse have no impact on SNB's growth plans and forward looking 2023 guidance," it added.
The Qatar Investment Authority, Credit Suisse's second-largest investor, holds a 6.8% stake in the bank and also suffered a steep loss. QIA did not reply to a request for further details.
Saudi shareholder 'shot themselves in the foot'
Credit Suisse's demise was a long time coming, with a culmination of years of scandals, multi-billion dollar losses, leadership changes and a strategy that failed to inspire investor confidence. In February, the bank — Switzerland's second-largest — reported its biggest annual loss since the 2008 financial crisis after clients withdrew more than 110 billion Swiss francs ($120 billion).
In December 2022, Credit Suisse raised some $4 billion in funding from investors, including major Gulf banks and sovereign wealth funds like Saudi National Bank, the Qatari Investment Authority and the Saudi Olayan Group. Norway's sovereign wealth fund, Norges Bank Investment Management, is also a major shareholder.
SNB's feeling right now is probably like all shareholders in CS — utter anger that management have let the situation get to this point.

Simon Fentham-Fletcher

Chief investment officer, Freedom Asset Management
The sharp and sudden downturn that began last week and led to the bank's emergency sale is partially the fault of Saudi National Bank itself, some argue.
Saudi National Bank chairman Ammar Al Khudiary on Wednesday was asked by Bloomberg if it would increase its stake in the troubled Swiss lender. His reply was "absolutely not, for many reasons outside the simplest reason, which is regulatory and statutory."
The comment triggered investor panic and sent Credit Suisse shares down 24% during that session, even though the statement wasn't in fact new; the Saudi bank said in October that it had no plans to expand its holdings beyond the current 9.9%.
"Even though the situation at Credit Suisse was not perfect and investors had a lot of question marks about the future of the bank, SNB didn't help calm down investors and shot themselves in the foot" with the chairman's comments, one UAE-based investment banker, who requested not to be named due to professional restrictions, told CNBC.
"As the largest shareholders in the bank, they had the most to lose if the bank goes under, and this is exactly what happened," the banker said.
The Saudi National Bank chairman did attempt to calm the situation the following day, telling CNBC's Hadley Gamble in Riyadh that "if you look at how the entire banking sector has dropped, unfortunately, a lot of people were just looking for excuses."
"It's panic, a little bit of panic. I believe completely unwarranted, whether it be for Credit Suisse or for the entire market," Al Khudairy said. His comments ultimately failed to stem the bank's continued rout.
The messy fallout, which spilled over across the entire banking sector, has ruptured market confidence and stoked fears of another global banking crisis. Swiss Finance Minister Karin Keller-Sutter set out to reassure angry taxpayers during a press conference Sunday, stressing that "this is a commercial solution and not a bailout."
"SNB's feeling right now is probably like all shareholders in CS — utter anger that management have let the situation get to this point," Simon Fentham-Fletcher, chief investment officer at Abu Dhabi-based Freedom Asset Management, told CNBC.
"For years CS lurched from crisis to regulatory fine and changed management as it emerged in a new path. Finally the bank ran out of time," he said.
He said that shareholders, specifically large ones like Saudi National Bank, will likely now want to reappraise the way they make investments and "where the stake is as large as it was here, will probably want to start embedding people so they properly understand what is happening inside their investments."
"This might see a rise in activist shareholders not just wanting a board seat but real eyes and ears," he added, noting that the last few weeks of market turmoil will undoubtedly put a significant dent in investor desire for risk.
From a risk perspective, Fentham-Fletcher said, "generally I think that we will see a pull back in all risk appetite as confidence has just taken a severe beating, and this combined with the apparent upending of the capital structure rules will undoubtedly make people pause."
Enbridge: Investment Grade Company Offering 7.6% Bond (NYSE:ENB)
Author's note: All financial data in this article is presented in Canadian dollars.
Enbridge Inc. (NYSE:ENB), a North American energy transportation and distribution giant is currently finding itself near a 52-week low. Income investors may see the rising dividend yield, now at 7.1%, as a reason to scoop up shares. Interestingly, Enbridge has an extensive offering of corporate debt, and the longest dated maturity of 2083, is currently priced below par and offering a yield of greater than 7.6%. While many high yield investors may not be interested, it's important to note that Enbridge holds an investment grade credit rating, which typically offers fixed income returns of almost 200 basis points lower.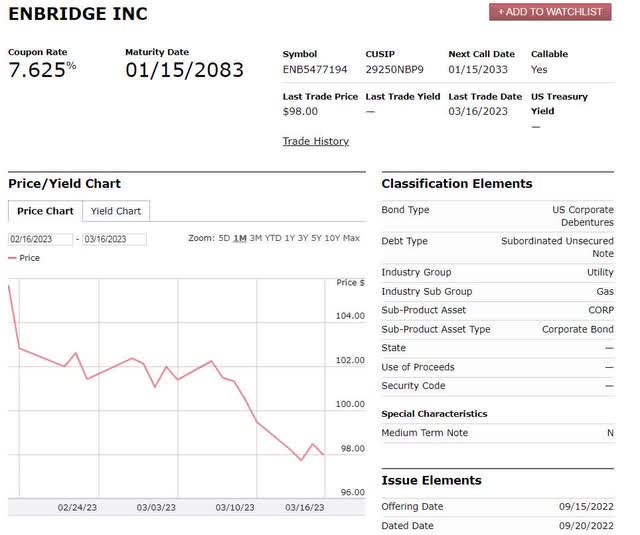 Enbridge's operation continued to grow in 2022 with revenues up $6 billion from 2021. The company's expenses outpaced revenue growth, but that was mainly due to the $3 billion write off of assets and intangibles. Had the write offs not occurred, operating income would have been higher in 2022 than in 2021, but nevertheless, the $5.2 billion in operating income was sufficient to cover the company's interest expenses.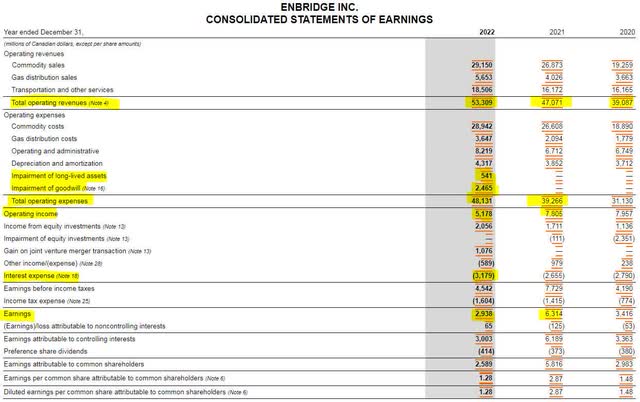 While earnings of Enbridge looked healthy last year, the balance sheet tells a slightly different story. The business increased its total debt by more than $5 billion and shareholder equity declined by $1 billion. The company did succeed in building up some cash, but its current liabilities are $8 billion higher than current assets. This working capital deficit will likely lead to new debt issuance or refinancing in the next 12 months.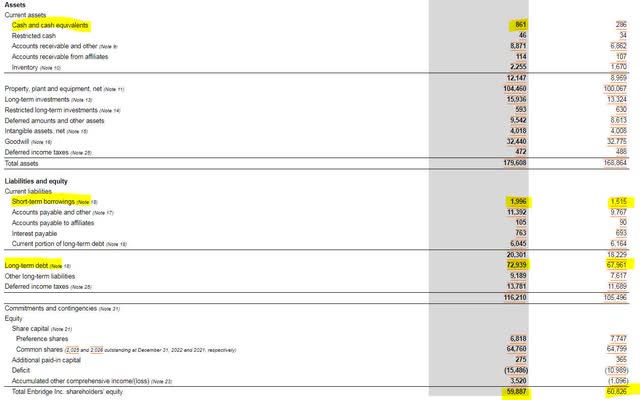 From a cash flow standpoint, debt investors need to see that Enbridge can generate the cash needed to pay down debt. In 2022, Enbridge grew operating cash flow by $2 billion and generated an impressive $6.6 billion in free cash flow. If Enbridge generated so much cash, why did debt increase in 2022? The answer lies in a combination of investing and financing activities. Enbridge invested $2 billion in investments and acquisitions that were not related to capital expenditures. On top of that, the company shelled out $7.3 billion in preferred and common share dividends, and redeemed $1 billion in preferred shares. The culmination of these activities led to the company needing to borrow more than $3 billion. (Note: I believe $2 billion in additional debt was placed on the balance sheet from other investing activities)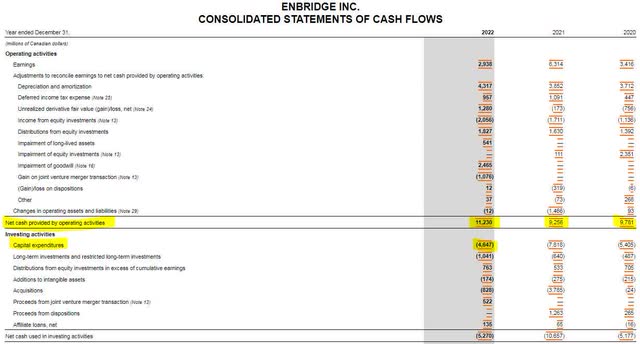 Under Enbridge's current operating structure, additional capital is needed by either borrowing or selling assets to maintain the common share dividends. While the dividends on the preferred shares are very safe, they are actually yielding less than the coupon yield on the 2083 notes. Investors in long-term debt of Enbridge are getting a safer security for more income.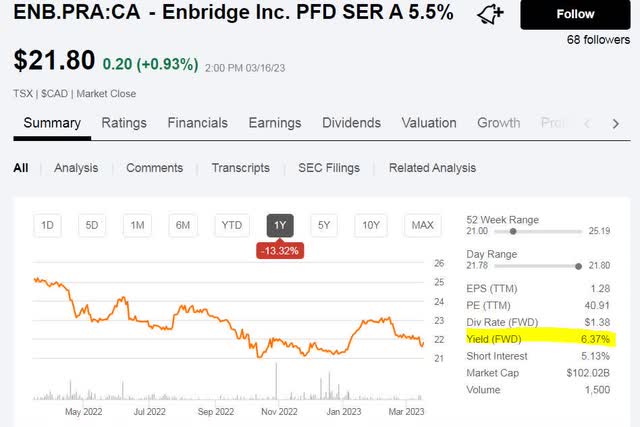 Complicating Enbridge's future further is the fact that the company has over $14 billion worth of debt maturing over the next 2 years. The need to refinance this debt in a higher interest rate market combined with a working capital deficit is going to put pressure on the dividend. Enbridge may have to choose between its existing dividend and maintaining its credit rating. Fortunately for debt holders, the company does have over $9 billion in liquidity to work with among its existing credit facilities.


Even if Enbridge is downgraded into junk territory, the company's 2083 notes are still trading at a higher return than the benchmark BB corporate yield. As in any case in life, there is a catch to what may be considered a "too good to be true" trade. These long term notes were underwritten with an automatic conversion covenant. In the event of a bankruptcy or related event of insolvency, the 2083 bonds would be automatically converted into preferred shares. This strange provision is the likely contributor behind the higher return on the notes.

While swings and uncertainties in the energy markets over the next several years could greatly change the risk landscape for Enbridge, I believe the company's strong free cash flow makes it capable of weathering bear markets. Should the company need additional cash flow, it could reduce common share dividends and not impair the value of its bonds.
Note: These notes are not available with all brokerage sites, but they have been traded in increments as low as $5,000, therefore they are available to retail holders.
CUSIP: 29250NBP9
Price: $99.00
Coupon: 7.625%
Maturity Date: 01/15/2083
Yield to Maturity: 7.63%
Credit Rating: (Moody's/S&P): Baa3/NR