NASA is mapping duststorms from space with this new high-tech device
In the Mediterranean, it's called "Sirocco," and in the Canary Islands, "La Calima," while it goes by "Harmattan" in West Africa, and "Haboob" in Sudan. But these varied names all describe the same thing: dust storms.
Sand and dust storms are a global phenomenon. These fine dust particles can be carried by winds across thousands of miles, impacting health and livelihoods.
According to the UN, dust storms have dramatically increased in recent years due to climate change, land degradation and drought.
Climate scientist Natalie Mahowald hopes that by learning more about dust storms, we can plan for the future. An engineering professor at Cornell University in the US, she's spent the last two decades tracking dust across the globe – and now, is working with NASA on a new instrument called EMIT.
The first-of-its-kind, space-borne imaging spectrometer is helping to map dust colors. Scientists can use the data in their climate models to work out how different minerals heat or cool the planet, explains Mahowald. Each type of dust has its own unique light-reflecting signature: for example, white dust reflects solar radiation, or heat, while "red and the dark dust absorbs it," she says.
EMIT (the Earth Surface Mineral Dust Source Investigation) will "revolutionize what we can do," says Mahowald. "We can use that (data) to better understand what the impact of desert dust is."
A mineral map
Launched in July 2022, EMIT is attached to the International Space Station and orbits the Earth 16 times a day, mapping the mineral composition of the planet's surface by gathering data on spectra, the different light wavelengths that are emitted by different colors.
This information allows researchers to determine the mineral and chemical composition of substances on the surface. Scanning 50-mile-wide strips in a matter of seconds, the gadget will provide scientists with billions of data points to use in climate model predictions – greatly expanding the current data set which comes from just 5,000 sampling sites, says Mahowald.
Most of the existing data comes from agricultural land, where detailed soil information was valuable for farming and commercial purposes. The wealth of information provided by EMIT, which includes data from the world's most arid regions, will help scientists learn much more about dust and its impact on climate – an issue which Mahowald says has been largely overlooked until now.
A vicious cycle
The UN estimates that 2,000 million tons of sand and dust are emitted into the atmosphere annually.
Sand and dust storms are vital for the planet, carrying nutritious soils across countries and continents and helping plant life to flourish – for example, dust from the Sahara Desert feeds trees in the Amazon rainforest, where the soil lacks the necessary nutrients.
"Ecosystems actually rely on dust aerosols," says Diana Francis, a climate scientist at Khalifa University in Abu Dhabi.
But if dust storms become more frequent and intense, they could accelerate global warming: a report from the UN highlights how changing storm patterns could alter the distribution of Earth's minerals and reduce rainfall, while dust aerosols can act like greenhouse gases in the atmosphere by absorbing solar radiation.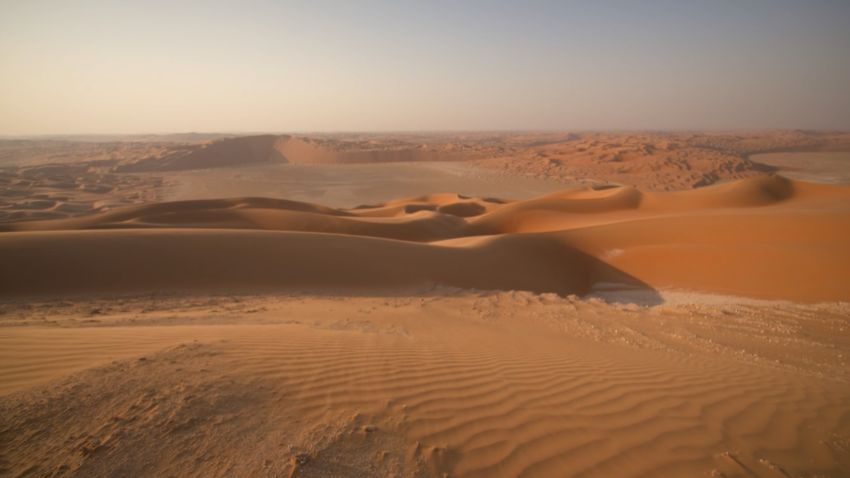 Tracking dust storms across the world's largest sand desert
This could create a feedback loop, in which climate change causes more extreme dust storms through land degradation and drought, and dust storms exacerbate climate change. There's evidence this is already happening, says Francis, pointing to "Godzilla," the biggest dust storm worldwide in 20 years, which crossed the Atlantic in June 2020, darkening skies from the Caribbean to the US state of Texas.
Dust storms can cause respiratory illnesses, damage livestock and crops, and disrupt transport. In the Middle East and North Africa region, they are estimated to cost the economy $13 billion a year.
And the number and severity of storms in the Sahara Desert is on the rise, says Francis. In some of her earlier research, she found that dust from the Sahara had reached the Arctic, due to changes in atmospheric circulation.
"We noticed that during the last two decades, the darkening of the ice in the Arctic was becoming significant," says Francis, highlighting another feedback loop. "We know that when the ice is dark it'll reflect less of the solar light, and therefore it'll melt faster."
More than just dust
EMIT has delivered 5,000 data sets so far – each containing over 1.4 million spectra. Scientists at NASA are using the data to help map dust and soil composition across the globe.
But EMIT's data is also being used to map another factor affecting climate change: methane.
Although it makes up just a fraction of greenhouse gas emissions, methane is estimated to have 80 times more warming power than carbon dioxide over the first 20 years after it enters the atmosphere.
Methane absorbs infrared light in a unique pattern, providing a "spectral fingerprint" that EMIT's imaging spectrometer can pinpoint precisely. While NASA knew that EMIT's imaging technology would be able to spot greenhouse gas emissions, it's performing "better than expected," says Robert Green, senior research scientist at NASA's Jet Propulsion Laboratory and the principal investigator on the EMIT mission.
So far, EMIT has spotted 50 "super-emitters" across the world, mostly coming from fossil fuel, waste and agricultural facilities, in locations including the US, Iran and Turkmenistan.
While carbon dioxide lingers in the atmosphere for centuries, methane dissipates after a decade, which means that reducing methane emissions is a fast route to slowing climate change. NASA hopes that this information will encourage countries to stem their methane emissions.
While EMIT's mission was initially scheduled to last just 12 months, Green says that there are now plans to extend the project.
Mahowald is excited for the future. "The EMIT project is testing the waters, and really showing what is possible," she says. "We're going to go from 5,000 to billions of pieces of data, and much higher resolution. That's going to help us tremendously."
Going back to the moon: 'This is Canada on the world stage, doing big things' – Halifax.CityNews.ca
WASHINGTON — Ask Marc Garneau if he'd go back to space and the first Canadian to ever make the trip doesn't hesitate: "In a wink."
It's another matter entirely, of course, whether the now-retired former astronaut and Quebec MP — at 74, he finally gave up his seat in the House of Commons just three weeks ago — still has the right stuff.
"You always wonder, when you reach a certain age, whether you would still have that capability that you had when you were younger," said Garneau, who flew three Space Shuttle missions between 1984 and 2001.
"Having flown three times, I consider myself blessed beyond any reasonable expectation in life."
Now the country's pre-eminent "elder statesman" of space, Garneau has long waited for the day when he'll be joined in the pantheon of pioneering explorers by the next astronaut to earn the "first Canadian" honorific.
Who will it be? The world finds out Monday.
That's when NASA and the Canadian Space Agency will introduce the four astronauts — three from the U.S., one from Canada — who will steer the next stage of an ambitious plan to establish a long-term presence on the moon.
Scheduled to blast off as early as November 2024, Artemis II will be the first crewed mission to the moon since the final Apollo mission took flight in 1972. It will also be the first time a Canadian has ventured beyond Earth's orbit.
Canada's astronaut corps currently comprises four people, including David Saint-Jacques, an astrophysicist and medical doctor from Montreal and the only member of the group who's already been to space.
Saint-Jacques, 53, flew to the International Space Station in 2018. He was selected for the corps in 2009 alongside Jeremy Hansen, 47, of London, Ont., a colonel and CF-18 pilot in the Royal Canadian Air Force.
Joining them in 2017 were test pilot and Air Force Lt.-Col. Joshua Kutryk, 41, from Fort Saskatchewan, Alta., and Jennifer Sidey, 34, a mechanical engineer and Cambridge University lecturer from Calgary.
"I'm not in any way jealous or envious," Garneau said. "I'm just so excited that we are now taking Canada on what I would say is a major, major step forward."
It's not quite the giant leap of 1969, but it's close — about 7,400 kilometres away, to be precise.
The four Artemis astronauts will encircle their home planet before sling-shotting into deep space for a figure-8 manoeuvre around the moon, making Canada and the U.S. the only two countries to ever pass over the dark side of the lunar surface.
"When I think back on 1984, when I first flew, we didn't know what might happen after that," Garneau said.
"To now have the opportunity for Canada to be only the second country to have an astronaut go on a lunar mission — this is extraordinary."
It's also the product of a tremendous amount of hard work and investment, said Western University professor Gordon Osinski, director of the school's Institute for Earth and Space Exploration.
Osinski spent the bulk of last week in Houston, taking part in simulated spacewalks to better learn and understand how best to conduct the geological work future astronauts will be required to do on the lunar surface.
While that research isn't directly related to Artemis, it's bound to be a key factor down the road as the ultimate mission continues to evolve into something that will bear little resemblance to its Apollo ancestors.
"I can do field geology on Earth with a Star Trek-like instrument that tells me the chemistry of a rock. It wasn't even imagined 50 years ago," Osinski said.
"So as we progress in the whole Artemis program, I think you'll really see 21st-century space exploration like we might imagine from Star Trek and things."
Even now, Osinski is still incredulous that Canada managed to secure a spot on Artemis II — and he credits everything from the country's geographical and economic ties with the U.S. to the ongoing work of the Canadian astronaut corps.
Then there's the Canadarm, the articulated remote manipulators that became a fixture of Space Shuttle and International Space Station missions and a point of national pride for countless Canadians of a certain age.
"The U.S. has let go and said, 'OK, Canada, we trust you enough that we'll literally put the lives of our astronauts in your hand,'" Osinski said.
"So that trust maybe goes a long way to explain how we did it."
The plan is to put a man and woman on the moon in 2025 in service of the ultimate goal: eventually dispatching astronauts to Mars. And Canada is expected to play a critical role going forward.
"We're going back to the moon. The moon, that's a big thing," Innovation Minister François-Philippe Champagne said last week.
"This is Canada on the world stage, doing big things."
That, ultimately, could be Artemis II's biggest legacy for Canada: inspiring the next generation of astronauts in much the same way that Apollo did all those years ago.
This time, though, the visuals will be spectacular.
"As much as we get excited about robots and the Canadarm and things, having a personal experience in that could be a huge moment and a big milestone for the Canadian space program," Osinski said.
"There's just something about having an astronaut do that."
This report by The Canadian Press was first published April 2, 2023.
James McCarten, The Canadian Press
After sunset, see the 5 planets in the sky
How to see 5 planets
This week (late March 2023), you can see five planets lined up in our evening sky: Venus and Uranus, Jupiter and Mercury and Mars. Gianluca Massi of the Virtual Telescope Project in Rome, Italy, showed them through a telescope earlier today (March 29). To enjoy his presentation, watch the video below. In addition, you can see them in the sky, perhaps, if your sky conditions are very good, and you have a sharp eye.
As soon as the sun sets, the planets are positioned in a gentle arc across the evening sky, following the sun's path across our sky. Likewise, the Moon and the planets also follow the eclipse.
How can we see the planets? Go out around sunset and look west. Among them you can easily spot the bright planet Venus.
Then use binoculars to scan the planet Uranus next to Venus.
Then aim your binoculars low in the sky, near the point where the sun is setting. That is where you will find Jupiter and Mercury.
Then look high in the sky — still see the eclipse or the path of the Sun — to Mars.
Guide to Planetary Viewing
Venus and Uranus. Of these five planets, Venus is the brightest and Uranus is the dim. These two are close together in the sky. Venus is easily visible to the eye. It is the first "star" (actually, planet) to come into view. Uranus shines at +5.8 magnitudes. This is theoretically obvious. But, in practice, you need a dark sky and a telescope to find it. It was roughly 1.5 degrees or three moon widths from Venus earlier this week. Uranus will be closest to Venus on Thursday, March 30.
Thursday and Wednesday. Jupiter is the 2nd brightest planet. But it is now near sunset and visible only in bright twilight. Bright twilight skies make Jupiter more difficult to find. But Jupiter is still visible to the naked eye very close to sunset. And Wednesday? It is fainter than Jupiter (though still brighter than most stars). But it is near sunset. Shortly after sunset, start looking for the pair on the western horizon. You need clear skies and an unobstructed western view to catch them. A telescope should help. They disappear only 30 minutes after sunset. So, when the sun sets, the clock chimes.
tuesday, now the 5th planet in the evening sky, was easy to spot earlier this week because it's not far from the Moon in our sky's dome. A bright red light near the moon on Tuesday evening, March 28, 2023. Mars is bright. It is brighter than most stars. And it is clearly red. Even after the sun goes away, you can still spot Mars by its color and by the fact that it doesn't shine like stars.
Some inventor charts
Visit stellarium.org for accurate views from your location.
Bottom line: You have a chance to see five planets tonight and throughout this week. Here are illustrations and information, including where to look in the video.
Artemis 2's Canadian astronaut got their moon mission seat with 'potato salad'
It took four years of negotations for Canada to get a seat on NASA's upcoming moon mission.
That mission, Artemis 2, will send a Canadian and three Americans around the moon no sooner than November 2024. The Canadian seat comes courtesy of a big contribution to NASA's Artemis program: Canadarm3, a robotic arm that will service the planned Gateway moon-orbiting space station. (The identities of the Artemis 2 crewmembers are currently unknown but will be revealed on Monday, April 3, in a live NASA event that you can watch here at Space.com.)
Canadarm3 was announced in 2019 as part of a big push in Canadian federal government circles to reprioritize space exploration. The government pledged US $1.56 billion USD in space spending over 24 years ($2.05 billion CAD under 2019 exchange rates). That's $65 million USD a year, a fairly significant amount for a space agency that specializes in niche projects.
Much of that Canadian Space Agency (CSA) money was for Canadarm3, but some was also earmarked for a business incubator known as the Lunar Exploration Acceleration Program (LEAP). Other support went to food and health tech development contests designed to assist future deep space astronauts.
Getting all that funding and securing a seat on Artemis 2, however, took four years of behind-the-scenes negotiations. To introduce what happened, let's talk about something that may not sound all that space-y at first: potato salad.
Canada is a powerful tech specialist that has been supplying highly capable space robotics since 1981 — Canadarm for the space shuttle program; Canadarm2 for the International Space Station (ISS), along with a "handy robot" named Dextre; and Canadarm3, which will be built by the company MDA. These are all crucial tools used for applications such as spacewalking, satellite repairs and space station servicing.
Ken Podwalski, a senior CSA official involved with the Artemis 2 and Gateway negotiations, likens the reputation of Canada's space robotics to the dinner guest who comes armed with a divine side dish: "People look at Canada and say, 'Canada, you guys make the best potato salad, bar none. It's the best potato salad you can get. Nobody does it like you.'"
His confidence comes from decades of space experience. NASA's Hubble Space Telescope, for example, would not be running today without Canadarm, which was used on five space shuttle servicing missions to the iconic observatory from 1993 to 2009. Nor would the ISS exist in its current form without Canadarm2, which berths cargo ships, assists in construction and even starred in a spectacular 2007 emergency spacewalk to fix a torn ISS solar panel.
(opens in new tab)
But in 2015, when the future of the ISS collaboration was being discussed within Canada, the U.S. and other nations, there were lots of questions about what would happen next. Canada was just changing over from a Conservative to a Liberal government for the first time in nearly a decade, following the 2015 election.
The U.S. was on the eve of the 2016 election, which brought in a new presidential administration as well. Numerous ideas were batted about concerning the direction of NASA's human spaceflight program over the coming years. Would the agency work toward a crewed visit to an asteroid? A moon mission? How quickly and with whom? And within Canada, no space plan for government spending direction had been formulated for many years, making roadmaps similarly uncertain — until a high-level strategy document came out in 2019.
The multinational space groups Canada is a part of all agreed on one thing, Podwalski said: Mars was the ultimate destination. The question simply came down to which pathway to take. The CSA created its own planning group that used the ISS agreements as a starting point. Gateway, though changing design and scope periodically, was a solid enough target to plan discussions with NASA during the 2015 to 2018 negotiations, he said.
"We were going through this quite intensive time. We were doing presentations with the partners and trying to understand what the right fit was," Podwalski recalled. "We were [also] doing presentations with our government, trying to make sure that we're taking the right approach."
(opens in new tab)
Building the new Canadarm3 was established as the primary aim. Podwalski, citing what he calls the "potato salad speech" he brings out in such planning meetings, said he always told people that focus was essential.
"Everybody expects Canada to bring the potato salad," he said. "The potato salad gets you in the door, no problem … and it doesn't stop you from bringing anything else. You're now a part of the party. Now's a good time to bring up other things."
He thus urged his collaborators to deprioritize expensive and newer work that Canada could undertake, such as space modules or large rovers. But they also sought other avenues where modest investments could have a powerful impact and involve many smaller companies in related industries to space. Through these conversations, a mini moon rover (announced in 2021), a lunar utility vehicle (announced in the Canadian federal budget on March 28) and the CSA LEAP incubator program (renewed in the 2023 federal budget) all eventually came to be as well.
Canadarm3 was also designed to align with the priorities of the Canadian government. Serving remote communities in the north, especially Indigenous groups, through spinoff medical technology? Check. Continuing to grow Canada's artificial intelligence community, a key tech direction for the country? Another big check, as Canadarm3 will be autonomously operating without astronaut crews nearby for at least 11 months a year. Preparing for Mars? Absolutely, as the artificial intelligence and robotics will also be beneficial on a more faraway planet, Podwalski said.
(opens in new tab)
Podwalski emphasized how important it was to stay flexible through the negotiations, which extended through several U.S. election and Canadian cycles across 2015 to 2018, not to mention policy changes in the European Space Agency, the Japan Aerospace Exploration Agency and other partners.
"It is difficult to pull together these multibillion-dollar programs and get all these partners with all their own agendas about what they want to do in space, what technologies they want to develop and what they want to do with their industry," he said.
Formulations also will continue to change on the key hardware, he emphasized, and negotiations are always undertaken with that flexibility in mind. For example, he said, it's possible that Gateway may alter again after SpaceX's Starship achieves its first spaceflight as soon as this month, given that Starship could carry a considerable amount of cargo to lunar realms.
But for Canada, the benefits from Canadarm3's "potato salad" approach have been considerable so far. The Artemis 2 seat, when offered by NASA, met the CSA's goal of having an early moon mission with an astronaut on board to build industry and scientific momentum for other moon ventures, Podwalski said.
So far, NASA has also promised a long-duration Gateway mission to Canada sometime in the future. Other astronaut lunar journeys may come, including a landing mission, in negotiations down the road.
The ISS journey will continue alongside Artemis, too. Canada last month committed to extending its ISS participation to 2030 alongside other partners who agreed to that last year, most crucially NASA. (Russia has said it aims to exit the ISS partnership sometime after 2024.) Canada will also fly an astronaut to the ISS again in 2024 or 2025, the Canadian federal budget confirmed a few days ago.
Podwalski urged the community to keep watching for new announcements. "We're a partner in good standing," he said of the ISS and Artemis consortiums. "We're part of the initial [moon] foray; we're part of the trailblazers. It really does position Canada in a good way."