Alcohol tax in Canada: How it impacts Ontario
The price of alcohol is set to rise in just over a month with a tax increase on tap for Ontario, along with the rest of the country.
A 6.3 per cent federal tax on beer, wine and spirits will go into effect on April 1.
This excise tax automatically climbs every year in accordance with the rate of inflation. When it was introduced in 2017, the federal tax on alcohol rose by two per cent.
The Liquor Control Board of Ontario (LCBO) told CTV News Toronto that their prices are based on a variety of factors: the supplier's price plus federal import and export duties, freight, levies, a standard mark-up, HST and container deposit.
"Our suppliers set their own pricing (subject to minimum retail prices) and have the option to adjust their pricing up or down throughout the year in response to currency fluctuations, federal taxes or freight rate changes, or price changes by their competitors," an LCBO spokesperson said.
Retail price increases are determined by alcohol producers, the provincial liquor board explained. Meaning, price hikes that come into effect on April 1 at Ontario liquor stores will vary product-by-product.
"What we are forecasting is if this goes ahead, the price of a 12 pack in Ontario, given everything going on, would go up about 10 per cent," CJ Hélie, President of Beer Canada, told CTV News Toronto. That increase would be due to a compilation of cost increases across the board for the beer sector, including the price of barley, corn and transportation, alongside the tax.
"It would be more of a gradual thing," Hélie said about the potential price hike. "That sticker shock is too much. Breweries would look to do it in increments throughout the year."
In an effort to avoid that scenario, he is pushing for a freeze on the tax until inflation returns to Canada's two per cent target. "It's just the worst time to pile on and make things worse," Hélie said, pointing to the rough patch of pandemic years when the hospitality sector shutdown, dragging sales down by about 3.5 per cent last year.
Advocacy for the tax freeze comes as a new report, funded by Health Canada, found consuming more than two drinks per week constituted a moderate health risk due to evidence linking alcohol to cancer. These guidelines marked a significant change from the previous understanding that men could have up to 15 drinks per week with low risk, and women up to 10.
Restaurants Canada, a national not-for-profit association representing the industry, is also calling for a deferral of the upcoming federal tax increase in order to grant food and beverage businesses more room to "absorb another tax increase at this vulnerable time," the organization said earlier this week.
Canada's Chamber of Commerce has called on the federal government to repeal the automatic tax increase or at minimum, freeze it.
5 things to know before the stock market opens Tuesday – CNBC
1. Relief rally
UBS' "shotgun wedding" with Credit Suisse might have done the trick, at least for now, as U.S. equities markets rallied Monday following the latest moves to shore up the global banking system. Now, Wall Street's focus is almost entirely on what'll come of the Federal Reserve's policy-setting meeting, which kicks off Tuesday and concludes Wednesday. The money is still on a quarter-point rate hike, even though many are arguing for a pause on increases, given the recent banking sector tumult. At this point, though, markets are more likely to react to what the Fed and its chairman, Jerome Powell, say about what's next in the central bank's battle with inflation. Follow live markets updates.
2. First Republic's last resort?
Yes, but what about First Republic? The regional bank – which, like Silicon Valley Bank, caters to clients with big, uninsured deposits – is teetering. Shares of First Republic are down about 90% this month after another brutal session Monday, even after 11 banks announced last week they were depositing a total of $30 billion with the bank. Now, JPMorgan Chase, which led that effort, is advising First Republic on strategic alternatives, including a capital raise, which would dilute shareholders, or even a sale, according to CNBC's David Faber.
3. Pressure on Jassy
Amazon CEO Andy Jassy
F. Carter Smith | Bloomberg | Getty Images
Amazon will lay off another 9,000 employees over the coming weeks, the company said. These cuts come on top of the 18,000 layoffs the e-commerce and cloud computing giant executed between November and January, and some market observers think there could be more to come. The decision is the latest difficult moment for CEO Andy Jassy, who took over from founder Jeff Bezos nearly two years ago. Over that time, Amazon's shares have fallen 44%, as the company's big gains during the lockdown era of the pandemic were wiped away while life started to return to normal. So while he's now slashing costs, Jassy will face intense pressure to reignite growth, writes CNBC's Annie Palmer.
4. Virgin Orbit's existential crisis
The company's modified 747 jet "Cosmic Girl" in Mojave, California.
Virgin Orbit
Virgin Orbit seemed to have everything going for it. Name recognition. Wealthy backers. The excitement over a new space race fueled by private investment. Now it's on the verge of bankruptcy. A filing could come as soon as this week as the company struggles to find a buyer, according to CNBC space reporter Michael Sheetz. And many of the company's employees, from executives to engineers, are actively looking for new jobs. Virgin Orbit, which was spun out of Virgin Galactic, counts charismatic billionaire Richard Branson as its largest shareholder. After going public in December 2021 during the final stretch of the SPAC wave, its shares are now trading at around 50 cents a pop.
5. Xi and Putin strengthen their bond
In this grab taken from video, China's President Xi Jinping, left, speaks with Russian President Vladimir Putin during their meeting in Moscow, Russia, Monday, March 20, 2023.
Russian Presidential Press Office | AP
Chinese President Xi Jinping and Russian President Vladimir Putin will hold a second day of meetings Tuesday in Moscow. The two leaders are working to increase ties between their two countries in the face of economic, diplomatic and military opposition from the west, led by the United States. Xi invited Putin to visit China some time this year, while the two are expected to sign a series of pacts and discuss cooperation over Russia's war in Ukraine. Follow live war updates.
– CNBC's Yun Li, Jesse Pound, David Faber, Annie Palmer, Michael Sheetz and Holly Ellyatt contributed to this report.
— Follow broader market action like a pro on CNBC Pro.
Liquidation sales at Nordstrom stores set to start Tuesday – Ottawa Citizen
The upscale department store chain has a store at the Rideau Centre mall as well as a Nordstrom Rack location at the Ottawa Train Yards shopping centre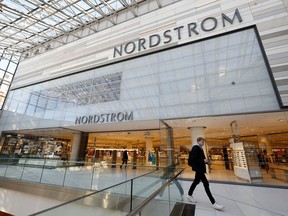 Article content
The liquidation sales at Nordstrom stores across Canada will begin Tuesday.
Article content
A spokesperson for Nordstrom confirmed the impending sales period Monday in an email to The Canadian Press, just after the Ontario Superior Court of Justice gave the U.S. retailer's Canadian branch permission to start selling off its merchandise.
The upscale department store chain that primarily sells designer apparel, shoes and accessories has six Canadian stores and seven discount Nordstrom Rack locations, including its Rideau Centre location and a Nordstrom Rack at the Ottawa Train Yards shopping centre, which sells merchandise at discounted prices.
When Nordstrom announced the move in early March, it said it expected the Canadian stores to close by late June and 2,500 workers to lose their jobs.
The company initiated the exit from the market because chief executive Erik Nordstrom said, "despite our best efforts, we do not see a realistic path to profitability for the Canadian business."
Article content
Nordstrom opened its first Canadian store in Calgary in 2014, followed by the Ottawa store at the Rideau Centre, which occupied the second and third levels of a former Sears location.
The Rideau Centre store has an alterations and tailoring shop and an energy drinks bar. Merchandise ranges from brand name to designer apparel, housewares, furnishings and beauty products, including brands such as Geox shoes, Gucci, Adidas and Adidas by Stella McCartney.
Later on came Nordstrom Rack, which made its Canadian debut in 2018 at Vaughan Mills, a mall north of Toronto. At the time, Nordstrom said as many as 15 more Rack locations could follow.
Nordstrom promised each Rack store would deliver savings of up to 70 per cent on apparel, accessories, home, beauty and travel items from 38 of the top 50 brands sold in its Canadian department stores.
Article content
Nordstrom had trouble with profitability because of its selection of products and the COVID-19 pandemic, said Tamara Szames, executive director and industry adviser of Canadian retail at the NPD Group research firm, a day after Nordstrom announced its exit.
"You would hear a lot of Canadian saying that the assortment wasn't the same in Canada that it was in the U.S.," she said.
She noticed Nordstrom started to shift its product mix away from some luxury brands around 2018 and saw it as a sign that the retailer was struggling to maintain its original vision and integrity.
The pandemic made matters worse because many stores were forced to temporarily close their doors to quell the virus and shoppers were less likely to need some of the items Nordstrom sells like dressy apparel because events had been cancelled.
Article content
Despite stores reopening and many sectors rebounding, Szames said the apparel business is the only industry NPD Group tracks that has yet to recover from the health crisis.
"The consumer has really been holding back in terms of spend…within that industry."
At a hearing at Osgoode Hall in Toronto, lawyer Jeremy Dacks, who represented Nordstrom, said the company has "worked hard to achieve a consensual path forward" with landlords, suppliers and a court-appointed monitor to find an orderly way to wind down the business.
The monitor, Alvarez & Marsal Canada, suggested five potential third-party liquidators and Nordstrom was approached by another five. The company decided to go with a joint venture comprised of Hilco Merchant Retail Solutions ULC and Gordon Brothers Canada, which were involved in the liquidation of Target, Sears and Forever 21 in Canada, Dacks said.
Article content
They will oversee the sale of merchandise, furniture, fixtures and equipment, but not goods from third parties, which removed products this past weekend, Dacks said. He added that all sales will be final and no returns will be allowed.
Lawyers for Nordstrom landlords Cadillac Fairview, Ivanhoe Cambridge, Oxford Properties Ltd. and First Capital Realty testified Monday that they were pleased with how "smoothly" and "organized" the process has gone so far.
In approving Dacks' liquidation request, Chief Justice Geoffrey Morawetz agreed, saying Nordstrom is facing a "difficult time, but this process is unfolding in a very cooperative manner."
Nordstrom required court approval to begin the liquidation because it is winding down its Canadian operations under the Companies' Creditors Arrangement Act, which helps insolvent businesses restructure or end operations in an orderly fashion.
With files from Joanne Laucius
Canadian Banks' AT1s join selloff after Credit Suisse rescue – BNN Bloomberg
Canadian financial institutions' regulator moved to reassure investors as the country's riskiest bank debt joined a global selloff after the value of some Credit Suisse Group AG bonds was wiped out in the bank's takeover by UBS Group AG.
Canada's "capital regime preserves creditor hierarchy which helps to maintain financial stability," the Office of the Superintendent of Financial Institutions said in statement on its website.
Prices of Canadian limited recourse capital notes, known as LRCNs, fell between 2 cents and 5 cents on the dollar Monday before OSFI's announcement, according to people familiar with the matter who asked not to be named. That has widened the spread on the notes by over 60 basis points compared with Friday's levels, the people said. Specific levels vary depending on the security.
The bonds are another form of so-called additional tier 1 securities, issued by financial institutions and designed to act as a shock absorber in the system. They can be converted to equity to bolster a bank's capital if it runs into trouble.
Over the weekend, Swiss regulators triggered a complete writedown of 16 billion francs (US$17.2 billion) of Credit Suisse's AT1 bonds as part of the rescue plan for the venerable bank. While it wasn't a surprise that the bonds were likely to take a loss, some investors in the instruments were shocked to be wiped out when Credit Suisse's shareholders were not.
Under Canada's capital regime "additional tier 1 and tier 2 capital instruments to be converted into common shares in a manner that respects the hierarchy of claims in liquidation," said OSFI, referring to a situation in which a bank would reach non-viability status. "Such a conversion ensures that additional tier 1 and tier 2 holders are entitled to a more favorable economic outcome than existing common shareholders who would be the first to suffer losses."
"Our view is that we don't expect LRCNs would be wiped out before common equity," said Furaz Ahmad, a Toronto-based corporate debt strategist at BMO Capital Markets. "OSFI has said that they would convert to common equity, since that is more consistent with traditional insolvency norms and respects the expectations of all stakeholders."
Earlier Monday, European authorities sought to restore investor confidence in banks' AT1s by publicly stating that they should only face losses after shareholders are fully written down. AT1s from UBS Group and Deutsche Bank AG fell by more than 10 cents earlier on Monday.