Art Beat: Inspirato shares its pandemic journey in weekend concerts – Coast Reporter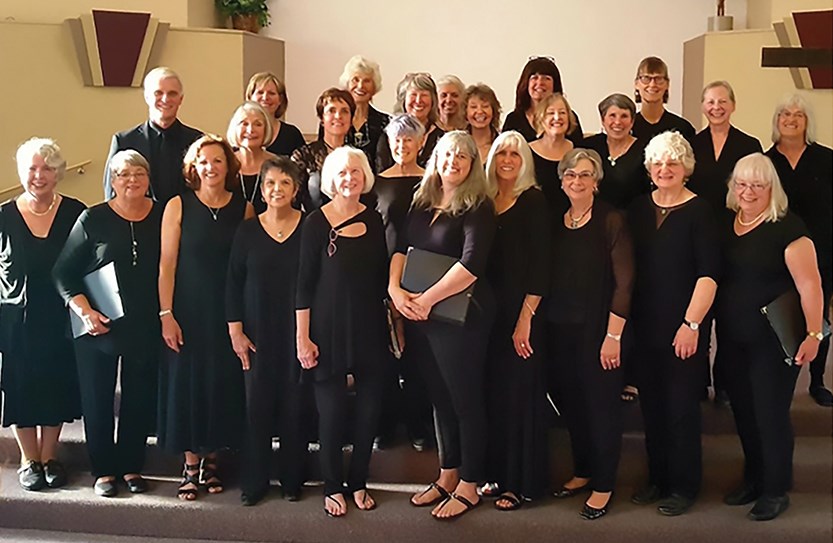 The Sunshine Coast's Inspirito Vocal Ensemble, with conductor Sarona Mynhardt and accompanist Toby Aldren, present two performances of Stars I Shall Find, at Calvary Baptist Church in Gibsons on Saturday, Nov. 27 at 6 p.m. and Sunday, Nov. 28 at 3 p.m. The concerts will feature internationally acclaimed flutist Bernard Blary, the ensemble's own Gwen Gingerich on percussion, and the debut of 10-year-old soloist Evy Fuller, of Gibsons. The narrative of the program will share the ensemble's journey over the past 20 months, "how our voices were suddenly silenced, how we faced the challenges, and how we grew closer together even though we were apart," said Mynhardt. Tickets are available at inspiritovocalensemble.ca.
Shari Ulrich
Singer-songwriter, multi-instrumentalist, Juno winner, and one of the Coast's favourite Bowen Island residents, Shari Ulrich, performs an afternoon concert at the Heritage Playhouse in Gibsons on Sunday Nov. 28 at 2 p.m. She will be joined by Cindy Fairbank on piano and accordion. Get tickets through the Playhouse website.
GG honours
Alberta author Norma Dunning has been awarded the 2021 Governor General's Literary Award for fiction for her book, Tainna: The Unseen Ones, published by Madeira Park's Douglas & McIntyre, (one of Howard and Mary White's publishing companies). Tainna, pronounced da-e-nn-a, is a collection of short stories about modern-day Inuit characters. The book "is both vivid and raw but infused with a sparkling poetry and the wisdom of the old ways," wrote the award program's peer assessment committee.
Audiobook release
Coast performer and writer Caitlin Hicks has just released an audiobook version of her 2015 debut novel, A Theory of Expanded Love. The book was selected as a Best New Fiction pick for iBooks just after it was released. Filmmaker and artist Gordon Halloran edited Hicks's reading of the audio version, curated the music, and produced the soundtrack. The audiobook is distributed by Findaway Voices.
Christmas craft shows
The 52nd Annual Roberts Creek Christmas Craft Fair runs this weekend, featuring local artisans, door prizes, gift-basket raffle, and goodies. Friday, Nov. 26, 5 to 9 p.m., Saturday, Nov. 27 and Sunday, Nov. 28, 10 a.m. to 5 p.m. Admission is $2.
Gibsons' St. Bart's Church Annual Holiday Food and Gift Bazaar will be held Saturday, Nov. 27, 9:30 a.m. to 1 p.m. Holiday baking, jams, and preserves, local arts and crafts, collectibles, chocolates by Hooray.
Potter Clair Wilkening and chocolatier Christabel Watson are having a Pottery and Chocolate Pop-Up Holiday sale at Wilkening's home studio at 1244 Roberts Creek Rd., Saturday and Sunday, Nov. 27 and 28, from 10 a.m. to 5 p.m.
On Sunday, Nov. 28, St. Hilda's Church in Sechelt is holding a fundraising Pre-Christmas & Mini-Bake Sale. Handmade items, gifts for all ages, lots of Christmas ornaments, toques, shawls, Christmas baking. It runs from 9 to 10 a.m. only, just prior to Sunday services.
More live music
The Sofa Kings play the Roberts Creek Legion on Friday, Nov. 26 at 8 p.m.
Charlotte Wrinch will play some originals and covers at Persephone in Gibsons on Saturday, Nov. 27 from 4 to 6 p.m.
The Billy Hillpicker Band kicks some bluegrass butt at the 101 Brewhouse in Gibsons on Saturday, Nov. 27 starting at 8 p.m. Reserved table seating. Tickets at eventbrite.ca.
The Topher Trick offers up original hip-hop, folk, pop and storytelling at Batch 44 in Sechelt on Saturday, Nov. 27, 8 to 11 p.m.
Poppa Greg plays the Pender Harbour Legion in Madeira Park on Sunday, Nov. 28 at 2 p.m.
Public art, vibrant cities subject of Thursday Windsor art gallery panel – Windsor Star
Article content
How does public art express the spirit of Windsor — and how does it help create a more interesting, vibrant city?
Article content
The Art Gallery of Windsor invites the community to think about these questions, and others, during a panel discussion Thursday on the role of art in public spaces.
"Public art impacts everyone. I don't think there is any such thing as starting the conversation too early in the process," said Valerie Dawn, one of Thursday's panelists for Drawing the Line: Creative Spaces and Places, hosted by the Art Gallery of Windsor.
"Prompting a conversation where we can be really open-ended and talk about impact on a broad scale, we're coming into those conversations (about public art) with a lot more perspective."
Dawn, principal architect for Glos Arch + Eng, will be joined by Shane Potvin, chair of the Ford City BIA, and Heather Grondin, vice-president of corporate affairs and external relations for the Windsor-Detroit Bridge Authority, in a panel discussion moderated by Windsor Star managing editor Craig Pearson.
Article content
The discussion will explore what public art brings to communities, where it should go and how the community can engage with public art.
"It expresses a sense that we care," Dawn said. "Art gives us perspective and pause and a sense of connection. It's important to any community. What kinds of art do we want and need, and what kind of art resonates with our community — that's something I imagine we'll dig into quite a bit more on Thursday."
Thursday's discussion will be the second in a series of monthly community conversations hosted by the Art Gallery of Windsor meant to help facilitate meaningful dialogue between members of the community on a variety of topics.
Article content
"I hope having the conversation offers a lot of new perspectives by bringing different people from different sides of the conversation together," Dawn said. "These are the conversations that tend to get people excited, and getting people excited is one really wonderful way to make things happen."
Drawing the Line: Creative Spaces and Places , will happen via Zoom on Thursday, Dec. 2 from 7 to 8:15 p.m. Find the link to register at agw.ca . Attendees are encouraged to ask curious, engaging and respectful questions and can read the gallery's code of conduct, found online, for more information.
Suzanne Lacy: What Kind of City? review – art that breaks down borders – The Guardian
Looking at Surrealist Art in Our Own Surreal Age – The New York Times
When viewed as a vehicle for various forms of liberation, the movement remains highly resonant even a century after its heyday.
"SURREALISM" IS ONE of those buzzwords, like "curate" or "groundbreaking," that has been rendered effectively meaningless through overuse. In his 1924 "Manifesto of Surrealism," the writer André Breton defined the term most succinctly as an attempt to resolve "these two states, dream and reality, which are seemingly so contradictory," though its true origins came earlier, with the rise of Dada, an artistic movement that emerged in Zurich in 1916, and which favored the absurd over the logical. It was the exact middle of World War I, and there was a sense among Dada's proponents that linear thinking hadn't gotten society anywhere good.
There has been much talk of late about our own surreal age. Certainly, there are parallels between the 1920s and now: The United States has just extricated itself, messily, from a war; nationalist fervor is part of the political mainstream; basic rights are being revoked; and some version of a pandemic that has killed millions lingers from one month to the next. And if Surrealism is, at its core, a kind of glitch in the status quo, a moment in which reality itself becomes vaguely unrecognizable, then yes, time is seeming pretty melty, and the days rather dreamlike.
It can't, therefore, be a coincidence that nearly every major museum in New York City currently has an exhibition that, at least to some extent, embraces a melty or dreamlike aesthetic. "Living Abstraction," a retrospective of the Swiss artist Sophie Taeuber-Arp, a key Dadaist, at the Museum of Modern Art (on view through March 12, 2022), emphasizes her influence across disciplines: She produced drawings, paintings, sculptures, textiles, marionettes, whimsical costumes (including asymmetrical patchwork pants that wouldn't look out of place at Bode), beaded bags and necklaces, stained-glass windows, furniture and more. The night of the 1917 opening of Zurich's Galerie Dada, the movement's de facto headquarters, she danced to the writer Hugo Ball's sound poems — absurdist compositions focusing on phonetic speech. (Ball later described her performance as having been "full of spikes and fish bones.")
Art historians would take issue with the pigeonholing of Taeuber-Arp as a Surrealist. Whereas Dada endeavored to explore nonrational thought, Surrealism was interested in the subliminal, in the strangeness beneath the surface of the everyday (one of the most famous examples of a Surrealist artwork remains René Magritte's 1929 "The Treachery of Images," a painting of a pipe captioned with the phrase "Ceci n'est pas une pipe"). Also, Taeuber-Arp's career preceded and outlived Zurich Dada, which fizzled out in the early 1920s, as those who'd sought refuge in the city during World War I went their separate ways, but she was an artist who looked inward as a means of arriving somewhere unfamiliar: "Only when we go into ourselves and attempt to be entirely true to ourselves will we succeed in making things of value, living things, and in this way help to develop a new style that is fitting for us," she wrote in 1922.
AT THE METROPOLITAN Museum of Art, "Surrealism Beyond Borders" (through Jan. 30, 2022) aims to expand viewers' understanding of the movement, which, though it was born in Paris, became a global phenomenon — with practitioners in Egypt, Japan, Mexico, the Philippines and elsewhere — one that aligned itself with new interpretations of and ideas about freedom that were concurrently being conceived around the world. The Cairo, Ill.-born artist, Beat poet and musician Ted Joans, despite being a generation younger than his friend Breton, found in Surrealism a framework for Black liberation. He discovered the aesthetic as a child, eventually buying a French dictionary to translate jettisoned issues of Surrealist journals like Minotaure that his aunt, who worked as a housekeeper, had gotten from her employers. Decades later, in 1963, one of the politically and psychologically charged collages from Joans's "Alphabet Surreal" series — this one showing a Black man and a white woman sitting side by side, a salamander-like creature hovering above them, and various iterations of the letter "X," the work's title and a reference to Malcolm X — appeared in another major Surrealist journal, La Brèche. Even many of the works displayed at the Whitney Museum of American Art as one half of "Mind/Mirror," a retrospective dedicated to Jasper Johns (through Feb. 13, 2022; also at the Philadelphia Museum of Art) have strong Surrealist leanings. In "The Bath" (1988), a Picasso painting within the painting (presumably hanging above Johns's tub, which is also shown in the frame) is juxtaposed with a rendering of wood planks at the work's left border. This can be seen as a reference, notes Whitney chief curator Scott Rothkopf, to Magritte's frequent incorporation of wood grain into his own paintings.
So what is Surrealism's legacy a century after its founding? Classic Surrealist works — such as "Téléphone-Homard" (1938), the Salvador Dalí sculpture that famously features a rendering of a bright orange lobster stretched across the handset of a rotary phone, or Dorothea Tanning's 1943 painting "Eine Kleine Nachtmusik (A Little Night Music)," in which a young girl in a hotel corridor stares down a massive sunflower — may feel a bit old-fashioned, but the idea that the means of rebelling against the present are already within us, if only we can learn to pay attention, is, in 2021, highly resonant. When understood in this way, as referring to a form of protest and escape, "surreal" becomes so much more — and so much more interesting — than shorthand for "strange," as it is commonly used today. As Stephanie D'Alessandro, a curator of the Met show, says, in an art context, anyway: "It's about something that sparks us … that wakes us up from the haze of our daily habits." It offers, she adds, whether for reasons political, social, sexual or artistic, "an opportunity to imagine something beyond the circumstances that someone has" and, as an idea, "it is there as an option, always."
"What branches grow / out of this stony rubbish? Son of man, / You cannot say, or guess," T.S. Eliot writes in "The Waste Land," his 1922 masterpiece, another Surrealist touchstone. But what we can do is seek alternate, better ways of seeing, thinking and living. Perhaps this is partly what Taeuber-Arp meant when she wrote of her belief that "the wish to produce beautiful things — when that wish is true and profound — falls together with [one's] striving for perfection." She made work up until her death in 1943, during another world war, and her nimble, irrepressible creativity is a reminder that art making, especially in times of strife, is an inherently optimistic act. This optimism might be the most overlooked aspect of Surrealism, given its often calamitous origins, but why invest in new realities if not to move forward? Art is something you do, says Anne Umland, a co-curator of "Living Abstraction," thinking: " 'I believe there will be a future. And even if there isn't, I've made something today.'"