Papier is Montreal's biggest — and hippest — art fair, by far – Montreal Gazette
Initially created as an alternative to the Art Toronto fair, Papier has become an essential meeting point for galleries here to foster an identity all their own.
Postmedia may earn an affiliate commission from purchases made through our links on this page.
Article content
"It's easy to be intimidated by contemporary art," said Karine Vanasse , "but hopefully that barrier is going away. We need new art lovers."
Article content
The Quebec actress is a spokesperson for the 14th edition of Papier, which runs Friday to Sunday at the Grand Quai in Montreal's Old Port. With 35 galleries showing works by about 400 artists, it's the city's biggest art fair by far, not to mention the hippest art happening of the year, every year. From high-end collectors to casual perusers, gallerists and established and up-and-coming artists, it is the convergence point for a who's who of Montreal's art world.
"It's really important for Montreal, but also for Quebec and Canada," said Antoine Ertaskiran, co-owner of the Bradley Ertaskiran gallery and vice-president of the board of the Association des galleries d'art contemporain, the Canadian non-profit organization that puts on Papier.
Article content
Initially created as an alternative to the spotlight-hogging Art Toronto fair, Papier has become an essential meeting point for galleries here to foster an identity all their own.
"Pre-pandemic, there were collectors and curators coming from all over Canada to Montreal for the fair," Ertaskiran said. "It's very important for galleries to showcase artists, meet clients, and for the vibrancy of the arts scene in Quebec."
As its name suggests, Papier's claim to fame is showcasing works on paper. It's a unique calling card that once made the event stand out from the crowd (and kept prices affordable), but that is changing with the times.
"The goal of Papier was to be a different kind of fair, so we chose one medium," Ertaskiran said. "It could have been photography. Over the past two years, we have opened up to other mediums."
Article content
The fair's parameters suggest that galleries show at least 50 per cent works on paper. Ertaskiran believes the fair may one day do away with the requirement entirely.
"I think that will be the evolution of Papier," he said. "I think Montreal is mature enough to have a real, full-fledged art fair — a bigger fair. We have great sponsors already, who I'm sure would be on board. Time will tell."
With more than 16,000 visitors annually, Papier is already a big deal. Ertaskiran sees the fair as a gateway to getting Montrealers interested in visiting the city's art galleries year-round.
"It should not just be one moment of the year," he said. "We want people to come to our galleries on a regular basis. With Papier, we're reminding people once a year, with a big event, that contemporary art exists, galleries exist."
Article content
For Vanasse, Papier's appeal is all about opening the art world to everyone.
"It's the fair atmosphere," she said. "It's contemporary art, but there's something very festive and accessible about it, with the mix of knowledgeable collectors who come knowing they have access to specific artists, who are going through the fair next to someone who might be visiting an art fair for the first time in their life. That mix is very interesting."
Papier is even more enticing this year, after last year's event was forced to go all-virtual due to the COVID-19 pandemic. This edition takes place in a hybrid format, offering both in-person and online options.
Among the attractions is Papier's series of educational talks, including The Uncollectible: Working With the Ephemeral Outside the Museum Walls (Friday at noon); Jean-Paul Riopelle: His Global and Contemporary Legacy (Friday at 2 p.m.); and Emergence/Transition: The Bronfman Fellows in Contemporary Art, a conversation with the 2020 and 2021 winners of the Claudine and Stephen Bronfman Fellowship in Contemporary Art, hosted by Eunice Bélidor , the Montreal Museum of Fine Arts' curator of Quebec and Canadian contemporary art, Saturday at noon.
AT A GLANCE
Papier runs Friday, Nov. 26 to Sunday, Nov. 28 at the Grand Quai in the Old Port. For tickets and more information, visit papiermontreal.com.
Black British painting, gay New York photography and Dr Eno will see you now – the week in art – The Guardian
Vancouver Island Symphony seeking art inspired by music inspired by art – Parksville Qualicum Beach News – Parksville Qualicum Beach News
The Vancouver Island Symphony is appealing to Island artists to help put together an art exhibition inspired by a piece of classical music inspired by an art exhibition.
In April the VIS is performing Pictures at an Exhibition by 19th-century Russian composer Modest Mussorgsky. It's a suite of 10 pieces inspired by an exhibition of paintings by a friend of the composer. Along with the performance, the VIS is also presenting a documentary, an education series and an art exhibition, all under the name the Pictures Project.
Vancouver Island artists have until Jan. 16 to listen to recordings of Pictures at an Exhibition and submit two-dimensional works inspired by the 10 movements. A panel of jurors will select the 10 works they feel best represent the pieces to be displayed throughout April and shown during the concert. The jury's favourite artist wins a $1,000 prize and the nine other finalists get $300 each.
VIS development officer Rebecca Woytiuk is overseeing the call for entries. She said what makes the VIS distinct is that many of its members live outside of Nanaimo and must travel to the Island or across the Island each month to perform. She therefore suggested that the landscape could be a source of inspiration as well.
"If you're a Vancouver Island artist you maybe look out your window every day and think, 'This is an inspirational subject,'" she said. "So as you listen to the music, as you look outside your window, enjoy the weather, whatever it is, how does living on Vancouver Island influence the art that you make?"
Woytiuk said she hopes the Pictures Project introduces people to symphonic music and helps them develop an appreciation for it through repeat listening. She said people listen to pieces they recognize because "they're layered and they're complex and you don't get all the enjoyment out of it the first time you listen to it."
"If you're going to sit there and listen to something over and over again, then you start to hear the instrumentation, you start to hear the nuances, you start to hear the complexity of that music," Woytiuk said. "And if you're just sitting there studying it in order to be inspired by it, then every time you listen to it you get a deeper experience of that music."
For more information and to submit, click here.
---

arts@nanaimobulletin.com
Like us on Facebook and follow us on Twitter
Art Beat: Inspirato shares its pandemic journey in weekend concerts – Coast Reporter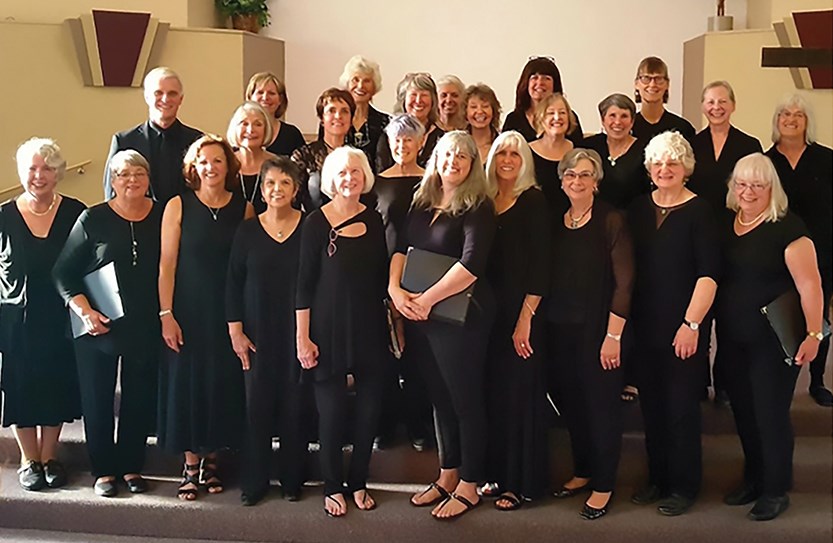 The Sunshine Coast's Inspirito Vocal Ensemble, with conductor Sarona Mynhardt and accompanist Toby Aldren, present two performances of Stars I Shall Find, at Calvary Baptist Church in Gibsons on Saturday, Nov. 27 at 6 p.m. and Sunday, Nov. 28 at 3 p.m. The concerts will feature internationally acclaimed flutist Bernard Blary, the ensemble's own Gwen Gingerich on percussion, and the debut of 10-year-old soloist Evy Fuller, of Gibsons. The narrative of the program will share the ensemble's journey over the past 20 months, "how our voices were suddenly silenced, how we faced the challenges, and how we grew closer together even though we were apart," said Mynhardt. Tickets are available at inspiritovocalensemble.ca.
Shari Ulrich
Singer-songwriter, multi-instrumentalist, Juno winner, and one of the Coast's favourite Bowen Island residents, Shari Ulrich, performs an afternoon concert at the Heritage Playhouse in Gibsons on Sunday Nov. 28 at 2 p.m. She will be joined by Cindy Fairbank on piano and accordion. Get tickets through the Playhouse website.
GG honours
Alberta author Norma Dunning has been awarded the 2021 Governor General's Literary Award for fiction for her book, Tainna: The Unseen Ones, published by Madeira Park's Douglas & McIntyre, (one of Howard and Mary White's publishing companies). Tainna, pronounced da-e-nn-a, is a collection of short stories about modern-day Inuit characters. The book "is both vivid and raw but infused with a sparkling poetry and the wisdom of the old ways," wrote the award program's peer assessment committee.
Audiobook release
Coast performer and writer Caitlin Hicks has just released an audiobook version of her 2015 debut novel, A Theory of Expanded Love. The book was selected as a Best New Fiction pick for iBooks just after it was released. Filmmaker and artist Gordon Halloran edited Hicks's reading of the audio version, curated the music, and produced the soundtrack. The audiobook is distributed by Findaway Voices.
Christmas craft shows
The 52nd Annual Roberts Creek Christmas Craft Fair runs this weekend, featuring local artisans, door prizes, gift-basket raffle, and goodies. Friday, Nov. 26, 5 to 9 p.m., Saturday, Nov. 27 and Sunday, Nov. 28, 10 a.m. to 5 p.m. Admission is $2.
Gibsons' St. Bart's Church Annual Holiday Food and Gift Bazaar will be held Saturday, Nov. 27, 9:30 a.m. to 1 p.m. Holiday baking, jams, and preserves, local arts and crafts, collectibles, chocolates by Hooray.
Potter Clair Wilkening and chocolatier Christabel Watson are having a Pottery and Chocolate Pop-Up Holiday sale at Wilkening's home studio at 1244 Roberts Creek Rd., Saturday and Sunday, Nov. 27 and 28, from 10 a.m. to 5 p.m.
On Sunday, Nov. 28, St. Hilda's Church in Sechelt is holding a fundraising Pre-Christmas & Mini-Bake Sale. Handmade items, gifts for all ages, lots of Christmas ornaments, toques, shawls, Christmas baking. It runs from 9 to 10 a.m. only, just prior to Sunday services.
More live music
The Sofa Kings play the Roberts Creek Legion on Friday, Nov. 26 at 8 p.m.
Charlotte Wrinch will play some originals and covers at Persephone in Gibsons on Saturday, Nov. 27 from 4 to 6 p.m.
The Billy Hillpicker Band kicks some bluegrass butt at the 101 Brewhouse in Gibsons on Saturday, Nov. 27 starting at 8 p.m. Reserved table seating. Tickets at eventbrite.ca.
The Topher Trick offers up original hip-hop, folk, pop and storytelling at Batch 44 in Sechelt on Saturday, Nov. 27, 8 to 11 p.m.
Poppa Greg plays the Pender Harbour Legion in Madeira Park on Sunday, Nov. 28 at 2 p.m.