Art is always close to the heart for Brianna LaPlante
Brianna LaPlante often draws upon life experiences while pursuing her passion for art.
Consider the merger of culture and creativity that led to her designing the reimagined basketball courts — known as The Yard — at Regent Park, only five blocks from where she grew up.
"And my best friend, Savannah, lived five blocks away in the other direction," LaPlante notes. "That was kind of our central meeting point when it came to hanging out.
"We have so many little memories from spending time there. I didn't realize that it meant so much to me. Doing the mural gave me closure, in a sense, because it related so much to my teenage-hood or my young-woman-hood. Now I'm just going into my adulthood."
LaPlante, 23, is in her fourth year of working toward a fine arts degree at the First Nations University of Canada.
Previously, she attended Thom Collegiate and played basketball for the high school's iconic team, the Trojans.
Although she no longer plays the sport at a competitive level, the link to basketball is in some ways stronger than ever.

That became clear in September, when The Yard was unveiled. It is part of the Buckets & Borders initiative, which is designed to improve communities and bring people together.

The scope of the program goes beyond simply restoring long-standing outdoor basketball courts. There is an accompanying emphasis on aesthetics, which leads to the involvement and celebration of artists such as LaPlante.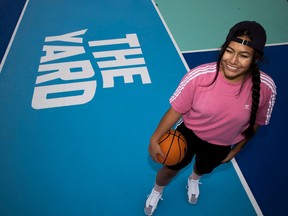 Buckets & Borders put out a call for artists earlier this year, with the submission deadline being July 22. LaPlante's application quickly impressed members of the adjudication committee.
"Brianna quickly became a part of the Buckets & Borders team," co-founder Justin Lee says. "Her passion for both art and basketball made her the perfect fit to be a part of the project as the chosen artist.
"Brianna's artistic ability coupled with her love of basketball and understanding of the game enabled her to create not only a beautiful art piece, but also a piece that is fluid with how the game is played.

"We're happy and grateful to have Brii as part of the Buckets & Borders team and proud of the incredible work she completed. The Yard would not be the same without Brianna LaPlante.

"Honestly, at the end of the day, we were just lucky to have someone who has such a deep love for art, basketball and her community."

LaPlante is equally proud of the association.

"When it came to applying to Buckets & Borders and their court restoration for my home community, I really liked the idea that people could quite literally experience my art through the curves and the lines that I chose," she says.
"The reason I positioned those certain circles and flowers where they are is because it's actually practice. It's so ingrained in me.

"In high school, a lot of people don't make very big cuts. They kind of just go straight to the basket, because that's the goal. But these lines are positioned in a way that if you were to follow them, they would be your great deep cuts or great round cuts.

"I was really considering how it would be to interact with the lines within the artwork."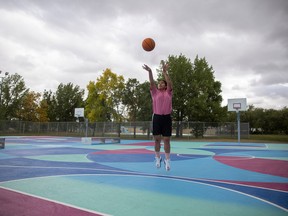 This specific artwork is different from the perspective that it is not displayed on a wall or in a gallery. It is a gigantic canvas that can be walked upon.
"I just wish I was 10 feet tall," LaPlante says with a laugh, "so I could have a better view."
So much of what she does reflects the viewpoint she has acquired to this point in her young life, with an emphasis on her Anishinaable/Nehihaw/Michif heritage.
Reflection on that journey takes her back to when she was a young girl, drawing a picture of her aunt's dog.

"I remember asking my aunt for an eraser," LaPlante says. "Auntie Jena said, 'OK, here you go,' and then I said, 'When I grow up, I'm going to fix all my mistakes.'

"That was kind of the first profound story. That's when I first started drawing."

And she hasn't stopped.

"When I'm in the middle of the process, I really like being on that roll where nothing else exists," LaPlante says.

"Life is too short to not be doing what I love, and what I love is art. I get into a trance or into a zone when it comes to making my marks on a paper. Drawing is so expressive, so that's why drawing is one of my main techniques. I feel like I'm in my element."
That is where she would like to stay.

"I really want to keep meeting people," LaPlante says. "At the same time as meeting people, I want to maintain relationships through sports, through art.

"This is a great intersectional experience for me as somebody of many hats, because it brings a lot of people together. So, in a sense, I want art to take me into those places that keep bringing my people together."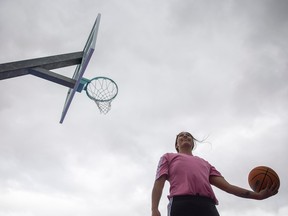 An accompanying goal is to pursue education and embrace art beyond the receipt of her first university diploma. A longer-term goal is to pursue a master's degree and eventually teach.
"I will never stop learning for the rest of my life," LaPlante says. "I guess being a life-long learner means that I will also want to be a life-long teacher."
Would it logically follow, then, that she would like to become an art teacher?

"I hope so," she responds. "I just want to pass on the things that I'm good at, because I started somewhere with people who took time with me.

"Art is so indivisible from the Indigenous culture. I kind of feel that way towards my art. I never really woke up and decided 'I want to be an artist.' I always drew. I always emulated what I saw in front of me. I emulated what I wanted to see in front of me.

"There was no 'aha!' moment. It was always part of my life."

And it always will be.
How Brexit Is Still Impacting the British Art Market
At first, it was frustration, then it was confusion, and now… well, no one really knows. It's been more than five years since the U.K. voted to leave the European Union (EU) and the U.K. art market, like the country as a whole, is still wondering what Brexit actually means.
Dealers are tired of talking about Brexit, but they also can't ignore it as the British art market enters an uncertain 2023. That's because, for collectors, gallerists, and dealers in the U.K., a combination of legislative, bureaucratic, and economic factors brought about by leaving the EU are making it more costly and less efficient to buy and sell art. The impact of Brexit, it turns out, is ongoing.
Not only does the U.K. begin the year facing the "worst and longest" recession of any country in the G7, but two staples of London's art fair circuit, Masterpiece London and the Art & Antiques Fair Olympia, recently announced that they were canceling their summer editions. Both fairs cited escalating costs and a decline in the number of dealers, and both organizers mentioned the impact of Brexit as a contributing factor.
Installation view of Masterpiece London, 2022. Courtesy of Marc Straus.
The cancellation of Masterpiece, which is owned by Art Basel's parent company MCH Group, felt particularly significant.
"It's very sad for the London art world—and London more generally," said William Summerfield, head of sales and a specialist in modern British and 20th-century art at the auction house Roseberys. "The fair had a very particular style that was entirely 'Chelsea' and I think a lot of non-'artworld' buyers and visitors were more comfortable with [it] than some of the other, larger fairs."
It's unclear what the spillover of the fair's cancellation will be for the British art market more broadly. Yet, as Summerfield cautioned, "losing a major yearly event always has a knock-on."
But there's also the question of what this says about the British art market today. There were already signs that the European presence at Masterpiece was wilting, with stands from the continent falling by almost 60% between 2018 and 2022, according to the Financial Times. The cancellation may have been a shock, but it wasn't a huge surprise.
"The organizers were rather circumspect, talking about less international attendance, but what that translates into is that the Europeans aren't coming anymore," said Gregor Kleinknecht, a partner at Keystone Law and specialist in art law and dispute resolution for clients that include collectors, galleries, institutions, and dealers. "That's both the exhibitors and the trade who would normally take up stands at the fair, but also the collectors. There is less incentive to come to London with all the complications after Brexit."
Masterpiece is the latest art world example of how Brexit is crystallizing and exacerbating difficulties for an already febrile British economy, which can no longer blame COVID-19 lockdowns for its woes.
"Effectively, the U.K. has pulled out of the world's largest and most effective trade agreement and, predictably, that has consequently made trade more difficult," said James Ryan, CEO of Grove Gallery, which has spaces in London, Switzerland, New York, and Australia. "Quite aside from the unpleasantness of directly rebuffing those nations we do the most trade with, it has served to reduce that trade, including the trade in art and antiques—which has been negative for all those involved."
Brexit legislation is impacting the art trade in a number of ways, touching on everything from taxation to employment all the way through to data protection, dispute resolution, and copyright. It's led to heaps of red tape, all amounting to the basic fact that the free movement of people and goods between the U.K. and EU no longer exists in the fluid way that it once did. Art—and artists—have become more difficult and more expensive to move across the continent.
The British art market is still adjusting to this new normal, but the impact has already been drastic. In the two years since the U.K. formally left the EU's single market and customs union, its share of the global art market has plummeted to its lowest level in a decade. Dealers complain about extra VAT (value-added tax) and shipping costs, which can mean spending more than four times than before on logistics. Smaller galleries are overburdened with extra paperwork. Christie's has noted a "drop-off" in EU consignments in London, and collectors are being disrupted, too.
Fiorenzo Manganiello, an Italian-based private collector and patron of the Lian Foundation, told Artsy that the administrative aspect of importing works from London has become "cumbersome" since Brexit: "I have experienced logistical issues and work being blocked sometimes for months at a time," he said.
EU countries such as France, meanwhile, are seizing on the fallout. Last year was a banner year for the French market: The country hosted a shiny new international art fair, enjoyed record-breaking results at its auction houses, and enacted policies that, ominously, aim to "take up the challenge of the French reconquest of the art market," according to the Art Law Review.
So far, so bleak for the U.K. art market. But is it all disaster ahead? While everyone that Artsy spoke to for this piece acknowledged the difficulties caused by Brexit, many were quick to find optimism in the reputation and heritage of the British market, as well as its enviable ability to produce top artistic talent. Galleries continue to open, museums continue to host world-class shows, work continues to sell, and London remains a leading light of the international art market, they say.
"For me, London is the place where innovations in art still take place, surrounded by top-tier art schools and universities," said Manganiello. Britain still remains a "top-tier destination" to acquire artworks, meet artists, and discover emerging galleries, he added, noting that he's increasing the number of works from London galleries.
For those in the trade, meanwhile, a typically British attitude characterizes the current mood: Yes, Brexit is a pain, but things aren't going to change anytime soon. We may as well get on with it.
"Frustrated? Yes. Pessimistic? Yes!," said Katie Terres, COO of Artiq, a London-based art agency that curates collections around the world. While Brexit has added an extra layer of "frustration" and cost, the company, like many others, has had to adapt. "We've found ways of working with it and working within the regulations for our clients. We're trying to make it as easy a process as possible."
The cancellation of Masterpiece isn't the first post-Brexit hurdle that the British art market has faced—others include EU funding cuts and unclear government guidance, to name a few—and it's unlikely to be the last. But as long as the collectors keep coming, the auctions keep hammering, and the galleries keep selling, there's no reason to write off Britain's integral place in the art world just yet.
Metro Vancouver art instructor found not guilty of child molestation, despite judge's concerns with case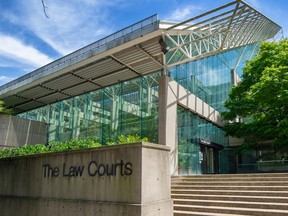 A Metro Vancouver art instructor has been found not guilty of molesting a young student, despite the judge ruling that she strongly suspected the accused touched the girl "under her pants as she described".
According to a Supreme Court of B.C. ruling, the teacher was arrested last March after the student reported the alleged incidents to her mother.
The girl testified that during the course of art classes at the man's home he put his hand down her pants, under her underwear, and that he placed her hand on his penis, over his pants.

He was subsequently charged with touching a child (count one) and inviting a child to touch him (count two) for a sexual purpose — to which he pleaded not guilty.

The teacher said the only touching that occurred was to correct the student's sitting position or posture as she drew and painted. He said he was a strict teacher who often admonished the student and had at one point put his hands on her torso to pull her back into her seat.
Justice Heather Holmes said the girl was a credible witness and that key areas of her testimony "had the ring of truth".

"I accept (the student's) evidence that (the teacher) touched her inside her pants, in the way she described, during the final Sunday lesson and on at least one other occasion, likely a number of other occasions."

In reference to the alleged penis touching, Holmes wrote "(the student's) uncertainty or discomfort in remembering or describing this conduct do not reduce the credibility of her evidence.

"However, together with the associated absence of detail, they leave her evidence about this allegation as little more than a bare assertion of the conduct she described, with a little context against which to assess its reliability."
In conclusion, Holmes wrote that if she were to choose between the evidence of the student and evidence of the teacher regarding count 1, "I would conclude (the student's) evidence is more credible and more reliable than (the teachers).

"However, that is not the task. For an accused person to be found guilty of a criminal offence, the evidence must establish their guilt beyond a reasonable doubt. This is a very high standard. It does not require absolute certainty, but it does require more than strong suspicion.

"The evidence in this case leaves me strongly suspecting that (the teacher) touched (the student) under her pants as she described. However, the evidence does not give me confidence on that point beyond a reasonable doubt. (The teacher's) evidence is not compelling, for the reasons I have given, but I cannot reject it entirely. It leaves me with a reasonable doubt."

As a result, the teacher was found not guilty on both counts.

The accused name, the location of the art studio and the ages of all parties have not been reported due to a publication ban put in place to protect the girl's identity.
Goalie mask art exhibit on display at Kelowna Rotary Centre for the Arts
Madison Erhardt
Goalie masks are the centre of an art exhibit at the Rotary Centre for the Arts, all made by a former UBC Okanagan fine arts student.
Rylan Broadbent's series, Behind my Mask, I am Secure is a collection of ceramic goalie masks. They are currently on display at the Alternator Centre for Contemporary Art.
"This whole journey started with wanting to engage with some of my hockey equipment. I have a Master's of Fine Arts, so I am primarily an artist, but I also play hockey outside of this and I wanted to marry the two things together for this project."
The artist and goalie says it has been rewarding being able to put his artwork on display.
"It has been really excellent to put the mask in front of people. To me that sort of completes the circle of spending all that time making the piece and then it is really rewarding actually put it in front of people," Broadbent said.
He says his artwork took three months to complete.
"I started with one of my own goalie masks and took it all apart. I ended up making a plaster mould of it and then taking clay and pushing that into the mould then basically pulling masks back out and then finding ways to engage with them to open up different doors," he added.
Broadbent hopes maybe one day an NHL goalie may call him up to help create a mask.
"I certainly wouldn't hesitate if one of them wanted to pick one up and it would be great to get a goalie's reaction."
The hockey lover says he plans on expanding his exhibit in the near future.
The masks are on display until March 11.