As Meta news block takes its toll, local media not unified on a path forward
Though Meta's block of news availability on the social media giant's platforms is already taking its toll on web traffic to news sites, local media outlets aren't united on a path forward.
Just over two weeks ago, Meta — which owns Facebook and Instagram — began ending the availability of news on those sites in Canada in response to the passage of Bill C-18, the Online News Act, which takes effect by the end of this year.
Paul MacNeill of Island Press Limited, which publishes several weekly community papers in Prince Edward Island, and Jeff Elgie, whose company Village Media publishes around 21 community news websites in Ontario, both spoke on CBC's The House, which aired Saturday.
MacNeill, publisher of Island Press, told guest host Tom Parry that his company's web traffic has been down by around a quarter since the start of the Meta block.
Elgie said he expects Village Media traffic to decline by around 15 per cent.
MacNeill, whose papers still have a robust print subscriber base, said the main drawback of decreased traffic was the chance to amplify his publications' work beyond their rural P.E.I. base.
Elgie said the bill would severely hamper any chance of future growth.
"What this bill has done is we've put a halt on any new market expansions and hiring more journalists in those markets," Elgie said.
Social media giant Meta has made good on its promise to start blocking news content on its popular Facebook and Instagram social media platforms. Guest host Tom Parry talks to two local news publishers — Island Press Limited's Paul MacNeill in PEI and Jeff Elgie of Village Media in Sault Ste. Marie, Ontario — and to digital policy expert Sue Gardner about how the ongoing clash between the federal government and Meta will play out.
Elgie and MacNeill, though both operating in the local news industry, expressed widely different positions on C-18, which is meant to force Meta and Google to enter into agreements to compensate news agencies for content that appears on their platforms.
"I hate it," Elgie said.
The government says C-18 is about ensuring tech companies pay their "fair share" to media organizations. Meta has countered that the only reasonable way to comply with the bill is to end news access in Canada.
CBC has joined two other groups in asking the Competition Bureau to investigate Meta's news blocking.
"I don't object to the notion that Google and Facebook should support journalism," Elgie said. "But the premise of C-18, what we said, which is basically, 'They steal our content, they're immoral, they don't do anything for the publishing industry,' is all false."
Meta, the owner of Facebook and Instagram, says it is going ahead with a plan to remove news content from its platforms in Canada. It signalled the move was coming when the government passed Bill C-18, known as the Online News Act.
Elgie's argument is that the transfer of value between social media sites and news outlets actually flows the opposite way: media sites benefit from free traffic and amplification when their content is posted on tech platforms.
"To me, really the goal right now is to get Meta back to the table, because my fear is the longer they're out, the easier it will be for them to stay out permanently," he added.
MacNeill, though, gives Meta less credit for its role in the media ecosystem.
"I think it's the bully on the playground, isn't it? …  I think there's a place for everyone on the playground, but walking away and basically sulking isn't going to solve any issues," he said on The House.
"We do need legislation like C-18, there's no question, because if you're a small operator, even a modest amount of money can mean the difference between … surviving or not."
The standoff between the federal government and Meta has dragged on for much longer than the temporary block that the company put in place in Australia in 2021, after that country passed a similar law.
C-18 called an 'epic miscalculation'
That's no coincidence, said Sue Gardner, a digital policy analyst.
"Since then, they've had a couple years to think about it," Gardner, who used to run CBC's digital site and the organization that operates Wikipedia, said on The House. "They've had a couple of years to sort of look at their operations and see what kind of role news plays in it.
"And they've had a couple of years to imagine what happens if this kind of law comes into effect all around the world. It's one thing to pay out a couple $100 million in Australia. It would be something very different to pay out many, many multiples of that in countries around the world."
Gardner dubbed C-18 an "epic miscalculation" by the government, saying she was concerned the bill is "not going to help the country. It's actually going to make things worse for the news industry and for news audiences."
The government has positioned itself as a global leader on the issue, saying in a statement, "The world is watching Canada."
But Gardner warned that Canada might find itself as a cautionary tale, rather than a trailblazer.
"Other countries are watching what is happening in Canada, but rather than considering Canada to be a role model that they might follow, I think it's encouraging them … to step back and maybe take a different approach."
For MacNeill, however, the short-term pain is still worth it for what he believes will be a healthier media ecosystem.
"You know, democracy trickles uphill. And when local media are closed, or shuttered or stripped of assets, which has unfortunately been a model by large corporations in this country, the oversight of communities across this country is diminished, and that hurts."
Chris Christie has a message for Donald Trump after latest social media attacks – CNN
We use cookies and data to
Deliver and maintain Google services
Track outages and protect against spam, fraud, and abuse
Measure audience engagement and site statistics to understand how our services are used and enhance the quality of those services
If you choose to "Accept all," we will also use cookies and data to
Develop and improve new services
Deliver and measure the effectiveness of ads
Show personalized content, depending on your settings
Show personalized ads, depending on your settings
If you choose to "Reject all," we will not use cookies for these additional purposes.
Non-personalized content is influenced by things like the content you're currently viewing, activity in your active Search session, and your location. Non-personalized ads are influenced by the content you're currently viewing and your general location. Personalized content and ads can also include more relevant results, recommendations, and tailored ads based on past activity from this browser, like previous Google searches. We also use cookies and data to tailor the experience to be age-appropriate, if relevant.
Select "More options" to see additional information, including details about managing your privacy settings. You can also visit g.co/privacytools at any time.
Who is Lachlan Murdoch, heir apparent of Rupert Murdoch's media empire?
For Lachlan Murdoch, this moment has been a long time coming. Assuming, of course, that his moment has actually arrived.
On Thursday, his father Rupert Murdoch announced that in November he'll step down as the head of his two media companies: News Corp. and Fox Corp. Lachlan will become the chair of News Corp. while remaining chief executive and chair at Fox Corp., the parent of Fox News Channel.
The changes make Rupert's eldest son the undisputed leader of the media empire his father built over decades. There's no real sign that his siblings and former rivals James and Elisabeth contested him for the top job; James in particular has distanced himself from the company and his father's politics for several years. But Rupert, now 92, has long had a penchant for building up his oldest children only to later undermine them — and sometimes to set them against one another — often flipping the table without notice.
Given Rupert Murdoch's advanced age, this might be his last power move. But there's a reason the HBO drama "Succession" was often interpreted as a thinly disguised and dark satire of his family business. In Murdoch World, as in the fictional world of the Roy family, seemingly sure things can go sideways in an instant, particularly when unexpected opportunities arise.
Lachlan Murdoch has lived that first hand. Born in London, he grew up in New York City and attended Princeton, where he focused not on business, but philosophy. His bachelor's thesis, titled "A Study of Freedom and Morality in Kant's Practical Philosophy," addressed those weighty topics alongside passages of Hindu scripture. The thesis closed on a line from the Bhagavad Gita referencing "the infinite spirit" and "the pure calm of infinity," according to a 2019 article in The Intercept.
Béatrice Longuenesse, Lachlan's thesis advisor at Princeton, confirmed the accuracy of that report via email.
After graduation, though, Lachlan plunged headlong into his father's business, moving to Australia to work for the Murdoch newspapers that were once the core of News Corp.'s business. Many assumed he was being groomed for higher things at News Corp., and they were not wrong. Within just a few years, Lachlan was deputy CEO of the News Corp. holding company for its Australian properties; shortly thereafter, he took an executive position at News Corp. itself and was soon running the company's television stations and print publishing operations.
Lachlan's ascent came to an abrupt halt in 2005, when he resigned from News Corp. with no public explanation. According to Paddy Manning, an Australian journalist who last year published a biography of Lachlan Murdoch, the core problem involved two relatively minor issues on which Lachlan disagreed with Roger Ailes, who then ran Fox News.
"The real point was that Lachlan felt Rupert had backed his executives over his son," Manning said in an interview. "So Lachlan felt, 'If I'm not going to be supported, then what's the point?'" Manning did not have direct access to Lachlan for his book "The Successor," but said he spoke in depth with the people closest to his subject.
Lachlan returned to Australia, where he has often described feeling most at home, and founded an investment group that purchased a string of local radio stations among other properties.
While he was away, News Corp. entered choppy waters. The U.K. phone-hacking scandal, in which tabloid journalists at the News of the World and other Murdoch-owned publications had found a way to listen to voicemails of the British royal family, journalistic competitors and even a missing schoolgirl, had seriously damaged the company. The fracas led to resignations of several News Corp. officials, criminal charges against some, and the closure of News of the World as its finances went south.
Manning said that the damage the scandal inflicted on News Corp. — and on both Lachlan Murdoch's father and his brother James, chief executive of News' British newspaper group at the time — helped pull Lachlan back to the company.
"He was watching the family tear itself apart over the phone-hacking scandal," Manning said. Lachlan was "instrumental in trying to circle the wagons and turn the guns outwards, and stop Rupert from sacking James."
While it took more convincing, Lachlan eventually returned to the company in 2014 as co-chairman of News Corp. alongside James.
Not long afterward, Ailes was forced out of his job at Fox News following numerous credible allegations of sexual harassment.
Lachlan Murdoch has drawn criticism from media watchdogs for what many called Fox News' increasingly conspiratorial and misinformation-promoting broadcasts. The network hit a nadir following the 2020 election when voting machine company Dominion Voting Systems sued Fox News for $1.6 billion, alleging that Fox knowingly promoted false conspiracy theories about the security of its voting machines.
Fox settled that suit for $787.5 million in March of this year. A similar lawsuit filed by Smartmatic, another voting-machine maker, may go to trial in 2025, Fox has suggested.
In certain respects, though, Lachlan Murdoch's behavior suggests some ambivalence about his role at News Corp. In 2021 he moved back to Sidney and has been mixing commuting and remote work from Australia ever since. "I think there's a legitimate question about whether you can continue to do that and for how long" while running companies based in the U.S., Manning said.
Ukraine war: US to give Kyiv long-range ATACMS missiles
US President Joe Biden plans to give Ukraine advanced long-range missiles to help Kyiv with its ongoing counter-offensive, US media report.
They quote US officials familiar with the issue as saying Ukraine will get some ATACMS missiles with a range of up to 190 miles (300km).
This would enable Kyiv to hit Russian targets deep behind the front line.
A Ukrainian military source told the BBC that the attack in the port of Sevastopol used Storm Shadow missiles, which are supplied by Britain and France.
Such missiles have a range of just over 150 miles.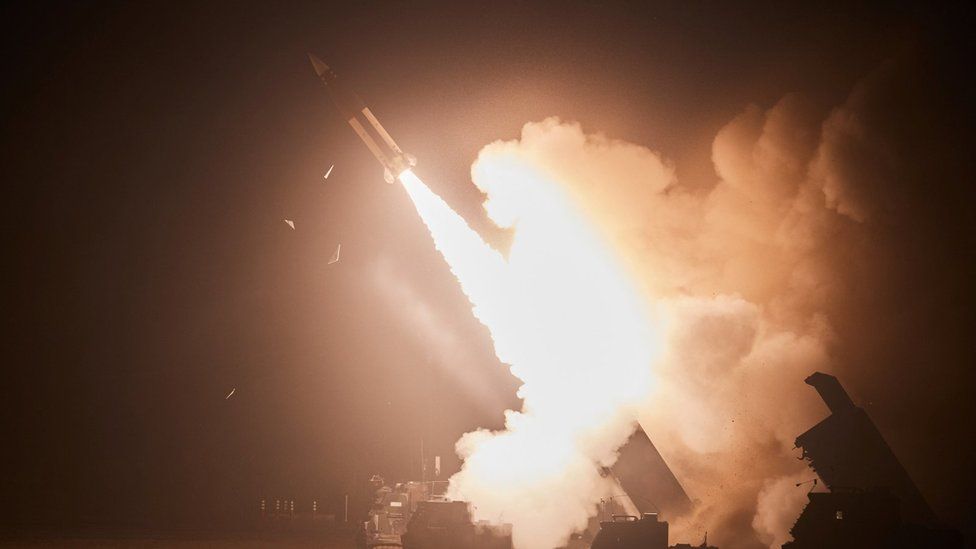 NBC News and the Wall Street Journal quote unnamed US officials as saying Mr Biden told his Ukrainian counterpart Volodymyr Zelensky that Kyiv would get "a small number" of ATACMS (Army Tactical Missile System) missiles. The two leaders met at the White House on Thursday.
The WSJ adds that the weapons will be sent in the coming weeks.
Meanwhile, the Washington Post cited several people familiar with the discussions as saying Ukraine would get ATACMS armed with cluster bomblets rather than single warheads.
Neither the US nor Ukraine have officially confirmed the reports.
After the Biden-Zelensky talks Washington announced a new tranche of $325m (£265m) in military aid – including artillery and ammunition – for Ukraine. America's Abrams tanks will be delivered to Kyiv next week.
However, both presidents have been evasive on the ATACMS issue.
"I believe that most of what we were discussing with President Biden yesterday… we will be able to reach an agreement," Mr Zelensky said on Friday during a visit to Canada.
"Yes, [this is] a matter of time. Not everything depends on Ukraine," he added.
Kyiv has for months been pushing for ATACMS to boost its tough and bloody counter-offensive in the south.
It says key Russian supply lines, command positions and other logistical hubs deep behind the front line would then be within striking distance, forcing Moscow to move them further away and thus making it harder to resupply troops and weaponry.
Russian positions in the occupied Ukrainian regions in the south – including Crimea – would be particularly vulnerable, Ukraine says.
President Vladimir Putin launched a full-scale Russian invasion of Ukraine in February 2022, and the Biden administration was initially hesitant to provide Ukraine with modern weaponry.
But its stance has since shifted dramatically, with Kyiv getting high-precision Himars long-range rocket systems and Patriot air defence missiles.
President Biden has been hesitant on ATACMS amid fears that such missiles could bring a direct clash with nuclear-armed Russia closer.