Australia commits to media law despite Facebook news ban, Canada to follow – DW (English)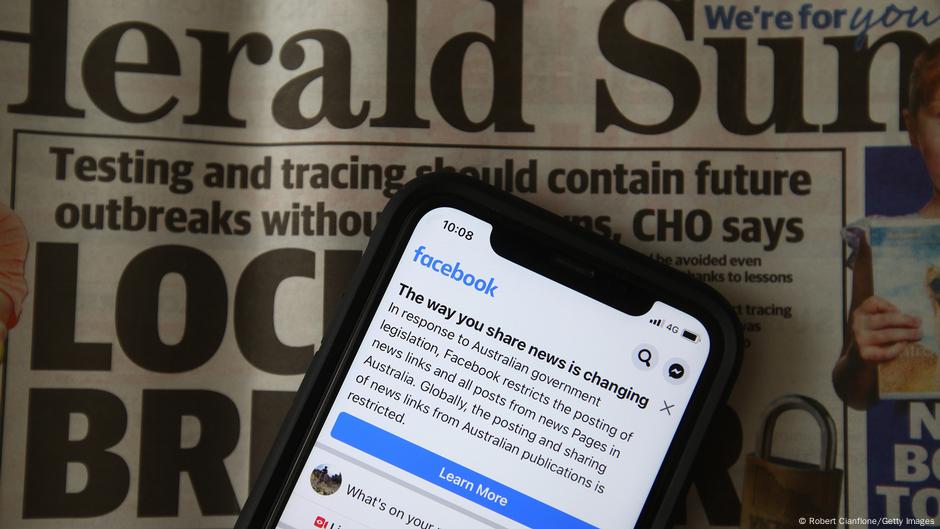 Australia's prime minister has called on Facebook to lift its news blockade in the country and negotiate deals with media outlets. He said other countries could soon adopt its model in making tech giants pay for news.
Australian Prime Minister Scott Morrison on Friday said the government remained committed to implementing the proposed law forcing Facebook to pay news outlets for content despite the social media giant's decision to blackout all news media in the country.
Morrison said he had received the support of world leaders and urged Facebook to lift the blockade of Australian users and return to the negotiating table with news organizations.
"There is a lot of world interest in what Australia is doing," the prime minister told reporters in Sydney.
"That is why I invite … Facebook to constructively engage because they know that what Australia will do here is likely to be followed by many other Western jurisdictions."
Morrison blasted Facebook for taking down pages of domestic and foreign news outlets for Australians as well as several state government and emergency department accounts.
"The idea of shutting down the sorts of sites they did yesterday, as some sort of threat, well, I know how Australians react to that and I thought that was not a good move on their part," Morrison said.
"They should move quickly past that, come back to the table and we'll sort it out," he added.
What is the proposed law?
The blockade came in response to the nation's House of Representatives passing a proposed News Media Bargaining Code on Wednesday night that would make Facebook and Google pay Australian media companies for using their content.
The legislation is set to become law after it is passed by the Senate within the next week.
Google responded by quickly working out licensing content deals with major Australian media companies under its own News Showcase model.
Global backlash
Facebook's move prompted a backlash from publishers and politicians around the world, with one British lawmaker describing it as an attempt to bully a democracy.
"This action — this bully boy action — that they've undertaken in Australia will, I think, ignite a desire to go further amongst legislators around the world," Julian Knight, chair of the British Parliament's Digital, Culture, Media and Sport Committee, told news agency Reuters.
Canada vows to be next
Canadian Heritage Minister Steven Guilbeault said late Thursday that his country would be next in making sure Facebook paid for news content.
Guilbeault, in charge of drafting similar media legislation that is to be unveiled in the coming months, condemned Facebook's action in Australia and said it would not deter Ottawa.
"Canada is at the forefront of this battle … we are really among the first group of countries around the world that are doing this," he told reporters.
Canada could adopt the Australian model, which requires Facebook and Google to reach deals to pay news outlets whose content drive activity on their services or face compulsory arbitration, he said.
Another option would be to follow the example of France, which requires large tech platforms to open talks with publishers seeking remuneration for use of news content.
"We are working to see which model would be the most appropriate," Guilbeault said, adding he spoke last week to his French, Australian, German and Finnish counterparts about working together on ensuring fair compensation for web content.
"I suspect that soon we will have five, 10, 15 countries adopting similar rules… is Facebook going to cut ties with Germany, with France," he asked, saying that at some point Facebook's approach would become "totally unsustainable."
adi/sri (Reuters, AP)
The Best Mixed-Media Paper Pads for Ink, Paint, Collage, and More – ARTnews
Working with different media on the same paper can present problems. To get fine detail and depth of shading with ink and graphite, you need a relatively smooth surface. But to work well with wet media like paint, your sheet should have sufficient tooth, or texture, to hold the pigment. That's where a great mixed-media paper comes to save the day. The recommendations that follow have the right thickness, tooth, and brightness to stand up to whatever you lay down, and they come in handy pads for easy use, transport, and storage.
1. Strathmore 400 Series Mixed Media Pad
These heavy-duty, 184-pound sheets are extremely high quality. The vellum surface, with a medium tooth, grabs dry media but also does well with watercolor and gouache. It won't buckle even under layers of paint. The design of this pad is well thought out, too: The sheets stay firmly in the glue-bound pad but tear out cleanly and easily, and the cover flips all the way over and stays out of the way while the pad is in use. These top-of-the-line sheets are a great choice for presentation-ready artwork.
2. Canson XL Mixed Media Paper
For an excellent economical option, we love Canson's mixed-media paper, which is acid free and has a weight of 98 pounds. It can be used with both dry and wet media, though it's best suited for projects that are mostly dry with a light addition of paint. (In fact, with charcoal it works better than some top-shelf papers.)
3. Pacon UCreate Mixed Media Journal
This spiral-bound sketch pad will likely meet or exceed the needs of every budding artist. The inexpensive pad contains 50 sheets of 72-pound paper. Each acid-free page is bright white and holds both wet and dry media, with a surface smooth enough to be pleasant for sketching. The pad's heavy chipboard back allows users to draw on the go, then finish with paint or whatever else they choose later. Keep in mind that the pages are not perforated; this is meant to be a practice pad.
4. Bellofy Artist Pro Series Mixed Media Pad
This hefty pad provides page after page of artistic potential. At 98 pounds, the 100 sheets are heavier than those in the Pacon pad but lighter than Fabriano's, still a good weight for heavier media. Though the paper is spiral-bound, the pages are micro-perforated, ready to be removed for finished artwork. The porous paper absorbs paint and ink readily, which means smudging is kept to a minimum. The downside of this perk is that the paper has a greater tendency to start to pull apart than some of the competition.
5. Fabriano Fat Mixed Media Pad
Like Italian cars and Italian coffee, Fabriano's made-in-Italy paper feels luxurious. The heavyweight (108-pound) sheets are bright white and smooth (the back feels marginally smoother), allowing sharp details with a drafting pencil and delightful depth of shading with charcoal. With some heavy washes or layers of paint, the paper will warp, but it then flattens out. As an extra, the paper is eco-friendly, made not just with sustainably sourced wood pulp but also with hydropower.
No borders when it comes to social media beauty trends – CKOM News Talk Sports
Can't find your favourite moisturizer or mascara in a store? Social media may be to blame.
Videos featuring beauty products are more popular than ever and people are buying them up.
Marjorie Delbaere, associate dean of research and associate professor at the Edwards School of Business, says social media influencers are helping us decide where to spend our money. And she says the trend is something marketers are constantly trying to learn more about.
"When people we admire talk about different brands on social media platforms, that has a very big influence on our decisions as consumers in terms of what brands we actually use and what we go out and buy," Delbaere said.
And she says it's because we think we have a relationship or friendship with people we commonly see on social media, whether that's real or just how we feel.
"People that are active online and on social media talking about different beauty trends and beauty products, they have really large followings and it's because they have this recognized expertise or really deep interest in that topic of beauty and so we listen to them and we trust them when they say things," Delbaere said.
The most popular kinds of videos are "hauls," in which influencers talks about a bunch of things they just bought or when they list off their favourite products.
Social media influence is not limited to geography so we are seeing these outages and trends in Saskatchewan.
One product that's hard to come by locally is CeraVe, which makes cleansers, moisturizers and serums.
According to one Saskatoon Shoppers Drug Mart, the products are out of stock due to excessive consumer demand from social media activity. Supply challenges are expected to continue for months.
There will be 3.09 billion social media users by the end of the year – Financial Post
Learn how to run successful social media marketing campaigns for under $40
Postmedia may earn an affiliate commission from purchases made through our links on this page.
Article content
This article was created by StackCommerce. Postmedia may earn an affiliate commission from purchases made through our links on this page.
Social media is one of the most versatile and effective tools for marketing on the planet. It enables a brand to directly correspond with their audience, grow users, and convert sales — without having to spend a penny. It doesn't matter if you run a small local shop or a big national company, social media marketing is a must.
Not convinced? The data speaks for itself — the number of worldwide social media users is expected to hit 3.09 billion by the end of 2021. That's a ton of brand ambassadors, potential clients and customers looking for your products or services.
Consider strategy
Don't throw good money after bad. When allocating your marketing dollars, you need to know what you want to broadcast and how. Do you want to build brand awareness? Anticipation for a product launch? Or are you established and looking to increase email subscribers, boost sales, or change a narrative? Your strategy will define your path.
Advertisement
This advertisement has not loaded yet, but your article continues below.
Article content
Platform performance
Building a brand or boosting sales not only depends on your messaging, but it also depends on your audience. You need to broadcast your message on the right platform to reach your target demographic and make those marketing dollars work for you. Think of where your customers hang out on social media and engage with them there. If your intended audience is nearing retirement age, you may not want to run a paid campaign on TikTok.
Article content
Stellar execution
Many people all across the world spend a generous portion of their days looking at one social media platform or another. However, it's a useless tool if you don't know how to execute a social media marketing campaign with precision. Understanding the technical limitations of different platforms is a must for any new or growing business.
A little social media knowledge can go along way. With the right training, you can be assured your customers will not only see what you're putting out there (despite ever-changing algorithms) but also be receptive to your message. The 2021 Social Media Marketing Bootcamp Certification Bundle gives you the know-how to execute social media marketing with accuracy to see an expected return on your investment.
You will learn the tools and tips you need to get the best results from your paid and organic campaigns, explore advanced Facebook features and functions, how to run successful ads on Facebook, discover how to maximize your Instagram business strategy, boost your LinkedIn reach and create an outstanding professional impression, and much more.
Social media is a great marketing resource that gives you real-time feedback on your efforts. The 2021 Social Media Marketing Bootcamp Certification Bundle retails for over $2500 and is on sale for $37.99, a discount of 98 per cent.
Prices subject to change.