B.C. parent launches class-action lawsuit against makers of Fortnite video game
VANCOUVER — A Vancouver parent has launched a proposed class-action lawsuit against the makers of Fortnite, saying the popular video game is designed to be "as addictive as possible" for children.
In the lawsuit filed in B.C. Supreme Court on Friday, the plaintiff identified only as A.B. says her son downloaded Fortnite in 2018 and "developed an adverse dependence on the game."
The statement of claim says the game incorporates a number of intentional design choices such as offering rewards for completing challenges and making frequent updates, which encourages players to return repeatedly.
The statement says Fortnite creator Epic Games enriches itself by making content and customization options purchasable via an in-game currency, which are purchased with real cash.
The class-action lawsuit would still need approval from the court and none of the allegations have been proven in court.
The plaintiff is seeking damages alleging the game breaches the B.C. Business Practices and Consumer Protection Act,  as well as for "unjust enrichment" and medical expenses for psychological or physical injuries, among other claims.
The lawsuit would cover all persons affected by Fortnite in Canada except Quebec, where in February Epic lost its attempt to appeal the court's decision there to authorize a similar class-action suit.
This report by The Canadian Press was first published March 20, 2023.
The Canadian Press
Alberta United Conservatives win majority government, NDP makes inroads in Calgary
Canadanewsmedia has projected a United Conservative Party majority government in Alberta.
Leader Danielle Smith and her party rode a wave of rural support to victory, but the NDP made inroads in the traditional conservative stronghold of Calgary.
UCP Leader Danielle Smith won her seat in Brooks-Medicine Hat and other key cabinet members were also returned, including Education Minister Adriana LaGrange, Agriculture Minister Nate Horner, Indigenous Relations Minister Rick Wilson and Affordability and Utilities Minister Matt Jones.
NDP Leader Rachel Notley won her seat in Edmonton-Strathcona for a fifth time and her party was on track to sweep the capital.
No election winner had been called more than two hours after polls closed at 8 p.m. Elections Alberta said in a statement it was moving as fast as possible.
"We are not seeing any issues at this time, but understand that people are keen to see the results," said Elections Alberta in a statement.
"Processing the votes takes some time. The hand count of today's ballot is occurring."
To win, the NDP needed to flip 20 seats in the 87-seat legislature and early results showed promise in multiple Calgary constituencies outside of traditional UCP core support in the south end of the city.
UCP cabinet heavyweights in the city were facing stiff challenges from the NDP, including Justice Minister Tyler Shandro in Calgary-Acadia and Health Minister Jason Copping in Calgary-Varsity.
Calgary cabinet minister Nicholas Milliken, responsible for mental health and addiction, was defeated in Calgary-Currie by the NDP's Janet Eremenko.
Smith's two deputy premiers were also in tough against Notley's crew: Kaycee Madu in Edmonton-South West and Nathan Neudorf in Lethbridge-East.
The UCP was seeking a second mandate while the NDP was fighting to regain the majority government it lost to the UCP in 2019.
Voter turnout was expected to be strong, given advance polls set a record of 758,540 votes cast, eclipsing the previous record of more than 700,000 in 2019.
The campaign took place alongside a record-breaking spring for wildfires in Alberta. Ten communities were under evacuation orders Monday.
Elections Alberta set up alternate voting locations for those displaced. Evacuation was added as an eligible reason to vote by special ballot and mobile voting stations were placed in evacuation centres.
To win, the NDP would have to continue its dominance in Edmonton, flip the majority in Calgary and hope for some help in smaller cities, while defeating scores of UCP incumbents including cabinet ministers.
The UCP won 63 seats under then-leader Jason Kenney in 2019 to 24 for Notley's NDP in the 87-seat legislature.
Polls suggested the UCP should continue its near total domination in rural areas and smaller centres, giving it a cushion of up to 40 or so seats to reach the 44 needed to form a majority government.
The month-long campaign was dominated by the economy and health care.
Albertans are struggling with high costs for consumer goods, a shortage of family doctors and long waits in emergency rooms.
Smith promised to keep Alberta the lowest tax regime in Canada.
Her government, she said, would introduce a law to mandate a referendum before any personal or corporate income tax hikes. There would also be tax changes to benefit those making more than $60,000 a year, at a cost of $1 billion annually to the treasury.
The NDP promised to maintain Alberta's status as Canada's lowest tax regime. It pledged to end the tax on small businesses and raise the corporate income tax to 11 per cent from eight per cent, which it said would help pay for investments in health and education while keeping the books balanced and maintaining the lowest corporate rate in Canada.
The NDP also promised legislation to counteract UCP policies that hiked the cost of utilities, auto insurance, a range of fees and tuition.
Both leaders promised to preserve the publicly funded health system while creating more primary care teams — physicians accompanied by related specialists such as nurses and therapists — so more Albertans are able to access a family doctor and not clog emergency wards for care.
Polls showed trust was a key issue, with Notley viewed more favourably than her party and vice versa for Smith.
Smith was dogged during the campaign by past comments she made comparing those who took the COVID-19 vaccine to credulous followers of Adolf Hitler. A report also came out mid-campaign from the province's ethics commissioner that concluded Smith undermined the rule of law by pressuring her justice minister to end the criminal court case of a COVID-19 protester.
The future isn't clear for Jennifer Johnson, the winning UCP candidate in Lacombe-Ponoka.
During the campaign, Johnson apologized for comments last year comparing transgender students to feces. Smith has said Johnson would not sit in the UCP caucus because of the remarks but later said, when asked about Johnson, that she believes in redemption and second chances.
This report by The Canadian Press was first published May 29, 2023.
More coming.
Apocalyptic Canada wildfire video captures driver's near miss – BBC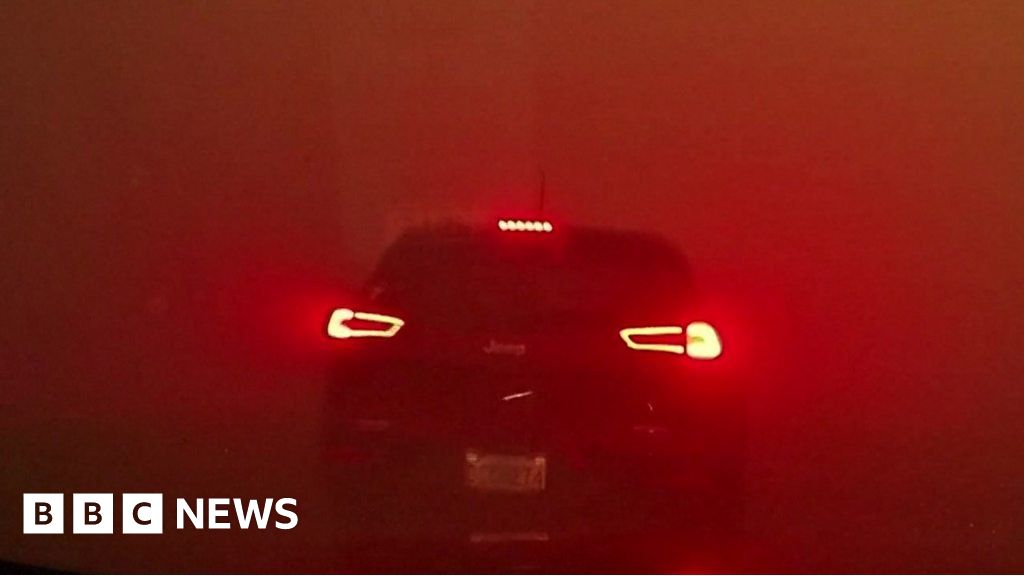 Dashcam footage has captured the moment a car drove through a wildfire, with flames and smoke on both sides of a highway, in Hammonds Plains, Nova Scotia, Canada.
Video shows the car nearly colliding with another vehicle ahead obscured by thick smoke.
The eastern Canadian city of Halifax has declared a local state of emergency after the wildfire caused evacuations and power outages.
This month, the western province of Alberta declared a provincial state of emergency, after wildfires forced tens of thousands of people from their homes.
Wildfire risks across Canada with fires burning
Wildfires have burned more than2 million hectares of land across Canada so far this year, during what has been one of the earliest fire seasons on record.
According to the National Wildland Fire Situation Report, the fires in Yukon, B.C. Alberta, Northwest Territories, Saskatchewan and Manitoba are among the nearly 1,600 recorded so far this year.
Experts use the Canadian Forest Fire Danger Rating System to identify where in Canada people should take precautions.
"Forest fire danger is ageneral term used to express a variety of factors in the fire environment, such as ease of ignition and difficulty of control," the government's website reads.
Many parts of Canada are blanketed in red or yellow, indicating a high degree of fire risk, according to the Natural Resources of Canada interactive fire risk map.
The above graph was made using data from current and archived reports from Natural Resources Canada. Data was available from May to November for some of the entries and May to October for others. (Natasha O'Neill/ CTVNews.ca)
WHERE ARE THE RISKS OF FIRE?
With dry and sunny weather across the country, the risk of new fires is spreading, including in Northern Ontario and in Nova Scotia, where some Halifax-area residents are among the evacuees due to anout-of-control fire burning near Upper Tantallon.
In Alberta, where a brief period of cool, wet weather brought temporary respite, conditions changed over the weekend and fires threatened northern communities.
Parts of the Prairies have a heightened fire risk, and there are other parts of Canada that have been labelled as having an "extreme" risk of forest fires.
The highest risk of wildfires is labelled as "extreme," a category that includes a fast-spreading, high-intensity fire that does not respond to suppression tactics from fire crews.
Portions of B.C., Alberta and northern Saskatchewan are under these conditions. Much of Northern Ontario and part of Southwestern Ontario are also under extreme wildfire warnings.
As of May 29, the risk of fires starting is lower in portions of Yukon, Northwest Territories, the area around Regina, most of Manitoba and northern Quebec, the Natural Resources of Canada map shows. This means any fires sparked are "likely to be self-extinguishing" and new ignitions are unlikely, the government website reads.
Despite some areas being labelled low-risk, in the Northwest Territories, for example, there are still out-of-control wildfires burning.
The term "moderate risk" describes areas where fire crews can "easily" contain fires with pumps of hand tools. These areas can often be seen as the buffer between low- and higher-risk forest fire areas. Currently, communities like Lac Mistassini and Lac Manouanis in northern Quebec have a moderate fire risk.
High-risk fire warnings are used in areas that would be difficult for crews to battle and where flames could spread quickly, such as in dense, old-growth forests. Large equipment would be needed, like bulldozers, tanker trucks and aircraft to transport water, to fight any fires that broke out.
As of May 29, communities in B.C., Alberta and most of Ontario are in the high-risk classification.
Area around Carnaby, Red Rose and Boulder City, B.C., are in this category, as well as communities outside of Edmonton including Drayton Valley, Barrhead and Fort Saskatchewan.
Communities in Ontario with a high risk of fires include Fort Albany, Timmins, Barrie and towards Lake Ontario in Oshawa and Belleville.
A separate "very high" risk classification is for areas with conditions beyond the abilities of ground crews, with needed air attacks of fire retardant. Communities around Calgary and in Yellowknife are in this category, with officials warning fires could spread out of control.
The above map from Natural Resources Canada uses data from government agencies and may not show the current fire situation. (Screenshot)