B.C. to provide Christmas Eve update on COVID-19 cases, deaths and outbreaks – CTV News Vancouver
VANCOUVER —
B.C. health officials will provide their last update on the COVID-19 pandemic for the week Thursday afternoon.
The update from Health Minister Adrian Dix and provincial health officer Dr. Bonnie Henry will come in the form of a written statement detailing new cases, deaths and outbreaks that have been recorded over the last 24 hours.
On Wednesday, Henry and Dix provided an update on the province's modelling of the coronavirus pandemic, saying B.C.'s growth in new cases has "started to slow down."
"What we are doing is working, but we cannot let up," Henry said, warning British Columbians not to develop a false sense of security.
Wednesday's update included 518 newly confirmed cases of COVID-19 and 19 more deaths, bringing B.C. to 796 deaths and more than 48,000 infections since the pandemic began.
A total of 9,137 cases of the coronavirus were considered active as of Wednesday, and there were 348 people in hospital.
After the Christmas Eve statement, there will be no more updates on the pandemic from B.C. health officials until next week, when Henry and Dix are scheduled to hold a live briefing on Tuesday, Dec. 29.
This is a developing story. Check back for updates.
With files from CTV News Vancouver's Kendra Mangione
Ontario working to adapt to the delay of Pfizer BioNTech vaccines: Public health officials – SooToday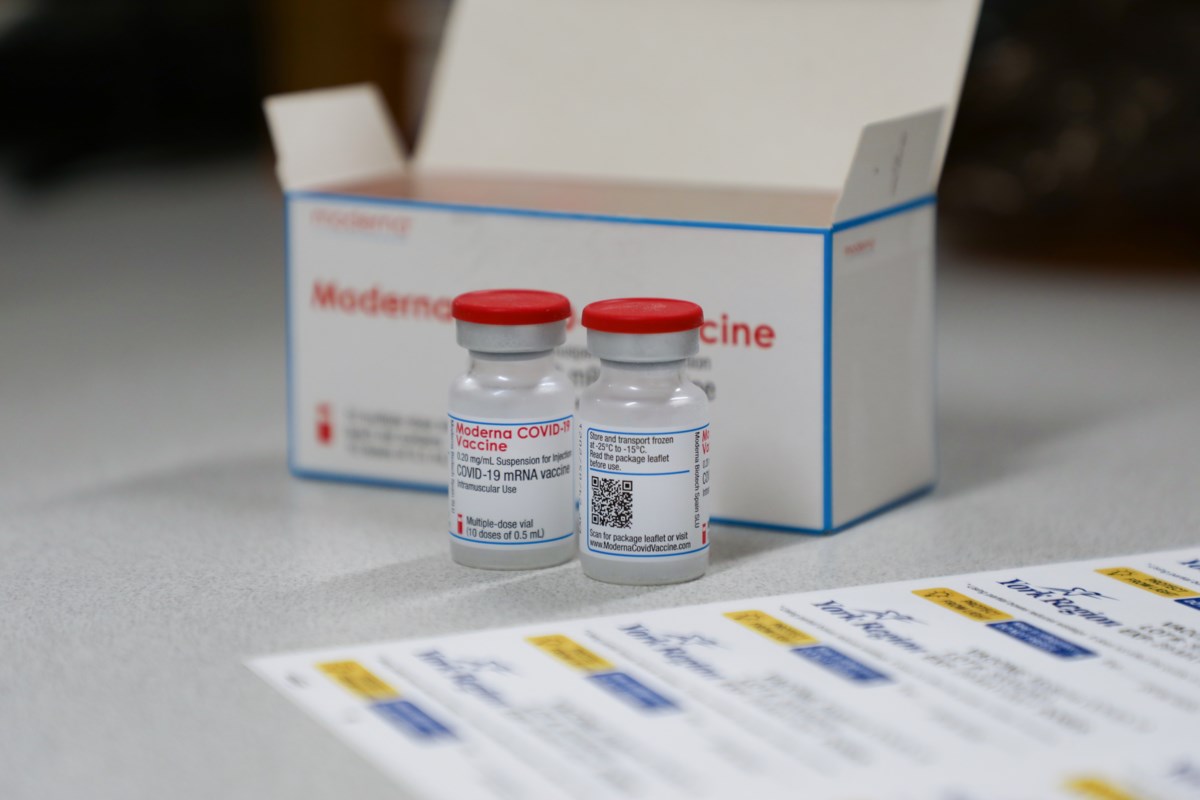 In response to the Pfizer BioNTech delay in delivering vaccines to Ontario, public health officials in this province could extend the interval between the two doses that are given to some less-vulnerable vaccine recipients. Pfizer revealed last week it had to shut down production for one week so it could scale ups European manufacturing capacity.
Both the Pfizer BioNTech and Moderna vaccines that are provided in Ontario are double-dose vaccines, meaning the first dose is administered one day and then the follow-up second dose is delivered 21 to 28 days later.
Despite the shortage, Ontario officials told a technical briefing Monday that the plan is to accelerate the vaccines going out to long-term care homes, to high risk retirement homes and to First Nations elder care homes.
"With uncertainty and reduced allocations we will be reallocating vaccines to 14 public health unit regions that haven't received any vaccine yet so that they can begin to vaccinate their vulnerable populations, starting this week," said a public health official.
She said Ontario is working on a new strategic approach. This will include a focus on areas where Ontario can reduce risk of illness and death for the most vulnerable populations.
"We're accelerating the vaccination of residents in long-term care homes, high-risk retirement homes and First Nations elder care homes," she added.
Ontario is also planning to expand the time allocation between first and second dosages on the Pfizer BioNTech vaccine.
"We will be extending the interval between doses in some situations and only as needed to support the vaccinations of the most vulnerable populations. For resident groups, in long-term care, in high-risk retirement homes and elder care homes, we will be maintaining the recommended maximum interval of 21 to 27 days and for all other groups, we will expand that interval to no more than 42 days."
The idea of expanding the time interval was taken into account during the vaccine trial studies and was proven effective with time intervals from 19 days to 42 days, the briefing was told.
The health ministry official said this measure is supported by the World Health Organization as well as the Centers for Disease Control, based in the United States.
The effort is also being accelerated for remote and isolated First Nations communities.
Despite the one-week delay from Pfizer, the company has stated it will live up to the contractual obligation to provide Canada with a total of four million doses of vaccine by the end of March, the briefing was told.
In response to a media question about the reliability of the Moderna vaccine delivery, the briefing was told that Moderna delivers its vaccines every three weeks, and in both instances, the vaccines from Moderna had arrived on time in Ontario. The next delivery, of about 80,000 doses, is expected on Monday February 1, 2021. There has been no indication that Moderna's delivery schedule will be changed.
Provinces set back COVID-19 vaccinations as deliveries grind to halt – Abbotsford News
Some provinces were forced to push back vaccination for health-care workers and vulnerable seniors on Monday as deliveries from a major manufacturer ground to a temporary halt.
Canada is not due to receive any Pfizer-BioNTech vaccines this week as the company revamps its operations, and deliveries are expected to be slow for the next few weeks.
Prime Minister Justin Trudeau has stressed that the delay is only temporary and that Canada is expected to receive 4 million doses of the Pfizer vaccine by the end of March.
As Parliament resumed Monday, Trudeau faced a barrage of questions from MPs of all parties as they blasted the Liberal government for what they described as a botched approach to rolling out vaccines.
Both Trudeau and Procurement Minister Anita Anand repeated the government's promise that by the end of September, all Canadians wishing to be vaccinated will have received their shots.
Trudeau added that the country is still receiving shipments of the Moderna vaccine.
READ MORE: B.C. dentists argue for COVID-19 vaccine priority after 'disappointing' exclusion from plan
Earlier Monday, Deputy Prime Minister Chrystia Freeland said there is "tremendous pressure" on the global supply chain for vaccines that the government has tried to mitigate.
"We are working on this every single day, because we know how important vaccines are to Canadians, to first and foremost the lives of Canadians and also to our economy," she told a news conference in Ottawa by video.
Despite the vaccine delay, some provinces continued to report encouraging drops in the number of new cases and hospitalizations.
Ontario reported fewer than 2,000 cases, as well as fewer people in hospital. It was a similar story in Quebec, where hospitalizations dropped for a sixth straight day.
Newfoundland and Labrador also reported no new cases of COVID-19 for a third straight day.
CoronavirusFederal Politicsvaccines
B.C.'s COVID-19 vaccine supply temporarily 'dramatically reduced' – News 1130
VANCOUVER (NEWS 1130) — B.C. will be working with an "extremely limited" supply of COVID-19 vaccine for a short period of time, according to the provincial health officer.
Dr. Bonnie Heny explained Monday that the province received further information that the number of doses it thought it was receiving was "dramatically reduced."
"We, right now, do not know how much, if any, vaccine we'll be receiving the following two weeks in February," she said.
Because of the "extremely limited" supply, Henry said B.C. is temporarily delaying the second dose to a maximum of 42 days after the first.
"This means we can use what little supply we have right now to finish our long-term care home immunizations and to address the outbreaks that are happening in our hospitals and our communities," she added.
#BREAKING Provincial Health Officer Dr. Bonnie Henry confirms 2nd vaccine dose delivery is being delayed to 42 days from 35 because of ongoing shortages.

Since Friday, 119,850 doses administered including 3193 2nd doses. #bcpoli @NEWS1130 @pfizer

— Marcella Bernardo (@Bernardo1130) January 25, 2021
Before these supply issues, the second dose was being given within 35 days from the first in B.C.
Shipments of the vaccine from Pfizer have been impacted due to upgrades at its facilities, so there aren't any deliveries coming this week. It's also a week Moderna vaccines aren't arriving in B.C.
Over 60% of the vaccine we've had to date has gone to protecting the most vulnerable in LTC/assisted living, Dr. Henry says.

— Lasia Kretzel (@lkretzel1130) January 25, 2021
Henry assured the province will make up for the doses and provide the second shot to everyone who needs it "as soon as we possibly can."
To date, 119,850 doses of the vaccine have been given to British Columbians.
BC's #covid19 update Jan 25
The bad: 26 more deaths (avg 10 BCers dying/day Jan)
New cases steady at 500-ish/day which leaves BC at risk of a sudden surge
The good: LTC new & active cases finally coming down – 300 fewer residents w active cases than a week ago.#bcpoli @NEWS1130 https://t.co/P9VNNwETWj pic.twitter.com/RcvlegNxGS

— LizaYuzda (@LizaYuzda) January 26, 2021
This comes as the province reported 26 people died from the coronavirus over the weekend and 1,344 more people tested positive.
There is a COVID-19 outbreak at Nanaimo Regional General hospital, but Henry noted 11 outbreaks in other health and long-term care facilities are over.
"This brings a moment of happiness to us all and relief for many of the care providers and the families with loved ones in these facilities, and I think, it is a reflection, as well, of how important the immunization program that we've had in long-term care over these last few weeks is, and the difference that is going to make and continues to make."
There are 29 active outbreaks in healthcare, and Henry noted the community outbreak at the Surrey Emergency Response Centre.
On COVID-19 variants (of concern):
UK variant: (B1-17) 5 cases in B.C. all related to travel or close contact with traveler|

South African variant (B1-351): 3 cases in B.C. all related to community infection, and not linked to each other so is of concern, according to Dr. Henry.

— Lasia Kretzel (@lkretzel1130) January 25, 2021
As for variants, Henry confirmed five cases of the one connected to the U.K. in the province, which were all either linked to travel or a close contact with a traveller.
There are three cases of the South African variant, all transmitted in the community.
"So they were not linked to travel, which is, of course, something we are concerned about," Henry added.
Meanwhile, Henry reported six cases of multisystem inflammatory syndrome in children (MIS-C), a rare syndrome related to COVID-19. The infected range from one to 15 years old and they have all either fully recovered or are recovering.
Nineteen other cases of children with symptoms of COVID-19 were investigated, but none of those turned out to be the virus.