Best smartphones in Canada 2019 – Google, Apple, Samsung, LG, Huawei – MobileSyrup
At MobileSyrup, we have the opportunity to test out a variety of flagships throughout the year. We've made a list of all the best smartphones you can currently get in Canada, and why we think they're so great. Let us know your favourite smartphones of the year in the comments below.
iPhone 11
While the iPhone 11 Pro and 11 Pro Max are Apple's flagship, high-end smartphones this year, the standard iPhone 11 has a lot to offer, just like its predecessor, the iPhone XR.
The smartphone, unfortunately, lacks the 11 Pro and 11 Pro Max's OLED screen, instead opting for LCD. It also doesn't feature the more premium design or third 12-megapixel 2x zoom lens, but still packs the functionality the average iPhone user likely cares more about.
This includes bright colours like 'Green,' 'Purple,' and 'Yellow,' along with the device's excellent 12-megapixel f/1.8 wide and 12-megapixel f/2.4 ultrawide camera. The iPhone 11 also sports Apple's excellent A13 Bionic processor, just like the more expensive iPhone 11 Pro and iPhone 11 Pro Max.
While the iPhone 11 does have a few shortcomings, it's the all-around best Apple smartphone for the average iPhone user.
The iPhone 11 is available for $979 outright for the 64GB version of the smartphone. For more on the iPhone 11, check out our review.
---
iPhone 11 Pro/Pro Max
The iPhone 11 Pro and 11 Pro Max, Apple's 5.8-inch and 6.5-inch highest-end 2019 smartphones, have a lot in common with the iPhone 11. The devices ditch LCD screen technology for a modern OLED screen and feature a more premium design that includes a matte rear that's resistant to dust, fingerprints and grease, as well as slightly smaller bezels.
The device also sports three shooters this time around, resulting in a sizable camera bump on its rear that looks far better in person than it does in pictures (trust us on that one). The three-camera array measures in as follows: a 12 megapixel, f/1.8, 26mm wide shooter, a 12-megapixel, f/2, 52mm telephoto lens and a f/2.4 13mm ultrawide angle camera.
All of these cameras combine to offer the best photography package Apple has ever included in an iPhone. The cameras are so good that they're able to match the Pixel 4 in terms of quality in most situations.
The iPhone 11 Pro starts at $1,379, while the iPhone 11 Pro Max starts at $1,519, and check out the full review, here.
---
OnePlus 7T
OnePlus had a standout year where it stepped its devices up to the level of flagships from other manufacturers. While the OnePlus 7 Pro is the flashier of the two smartphones, with its pop-up camera and full-screen display, the lower cost OnePlus 7T is the handset most people should buy.
The 7T features the same excellent camera, screen and build quality as the 7 Pro, but has a cheaper price tag, and a slightly smaller size that makes it more comfortable to use.
The camera isn't the only improvement that catapulted this device into flagship-level. The Chinese company implemented a high-end haptic engine that makes physically interacting with the handset a joy. Each keypress, copy/paste and back gesture swipe felt responsive and premium in a way that not many Android phones often are.
Since you spend most of your time interacting with the phone's screen, this is one of the best improvements a manufacturer can make to a device. It's also great that the smartphone runs Android 10 out of the box.
The OnePlus 7T retails for $799 in Canada. Read our review to discover what else makes this handset one of the best smartphones of 2019.
---
Samsung Galaxy S10+
It's not shocking that both Samsung's flagships made the list. While similar, they're excellent in different ways. This is why both devices are getting separate entries this year.
The Samsung Galaxy S10+ features a candy bar design with rounded edges. Additionally, the phone sports dual front-facing cameras in the top right corner. What is cool is that Samsung didn't design the Galaxy S10 with a notch or much of a top bezel. Instead, the phone features an Infinity-O hole-punch camera, optimizing the device's screen real estate.
What's probably the most celebrated design element of the S10+ is its 3.5mm headphone jack on the bottom, giving users the choice to use standard headphones with the smartphone. The Galaxy Note 10+, on the other hand, doesn't feature a 3.5mm headphone jack, making it Samsung's first Note not to feature the port.
Spec-wise the handset features a 6.4-inch AMOLED display with a 1440 x 3040 pixel resolution, Snapdragon 855 chipset, up to 12GB of RAM and 1TB of memory. On the rear, the phone sports a triple rear-facing camera setup with a 12-megapixel sensor and a variable aperture with sizes ranging from f/1.5 to f/2.4. Additionally, there's another 12-megapixel camera with a f/2.4 aperture and 2x optical zoom, as well as a 16-megapixel ultrawide shooter that features f/2.2.
This handset also includes an in-display ultrasonic fingerprint scanner, allowing users to unlock the phone with just their thumb. The ultrasonic fingerprint scanner is a tad slower than the optical variants featured in phones like the OnePlus 7T, but this version of the technology is more secure.
The phone's display quality is also superb, which makes videos and pictures look amazing on it.
Another great thing about the S10+ is the phone's One UI Android skin. OneUI is intuitive, works great and is very different from Samsung's beleaguered Touch Wiz.
The Galaxy S10+ starts at $1,219 at the Samsung Experience Store. You can read our review here to learn more about one of the best phones in Canada.
---
Samsung Galaxy Note 10+
The Note 10+ is very similar to the Galaxy S10+ in several ways, however, design-wise it's quite different.
Instead of the rounded corners, the Note 10+ is far more rectangular. Additionally, the handset features a centred hole punch front-facing camera. Many prefer the Galaxy Note 10+'s form factor and camera placement and believe the phone is more comfortable to hold. Furthermore, thanks to the rectangular display, the device sports even more screen real estate, coming in at 6.8-inches.
The camera setup in the Note 10+ is similar to the S10+, except the Note 10+ features a time-of-flight sensor for depth.
Additionally, the Note 10+ features an S Pen stylus with Bluetooth integration that allows for dedicated gestures and controls. The S Pen lets users navigate through the phone and snap pictures without holding the device. It's also great for taking notes.
The Samsung Galaxy Note 10+ outright costs $1,459.99. You can read our review of the smartphone here.
---
Huawei P30 Pro
Even though Huawei is dealing with several issues related to the U.S. government, the P30 Pro is a flagship smartphone with top-of-the-line specs, one of the best cameras on the market and an excellent battery.
The P30 Pro's 4,200mAh battery was able to squeeze out almost 17 hours of screen-on time just by using the phone's battery saving settings.
The camera is capable of snapping pictures from 190 metres away thanks to its 50x digital zoom. Night images are also awe-inspiring and brighten up photos to make them clear, even in darkness.
The phone also features a curved display as well, so it fits perfectly in your hand.
Unfortunately, EMUI 9.1 isn't the greatest, it's advisable slapping a third-party launcher on the P30 Pro. The P30 Pro sports a 6.47-inch OLED display a 1080 x 2340 pixel resolution alongside a triple rear-facing camera setup.
The primary camera features a 40-megapixel sensor with an f/1.6 aperture, allowing users to take pictures in the dark. Additionally, it sports an 8-megapixel periscope camera with an f/3.4 aperture and up to 5x optical zoom. There's also a 20-megapixel ultrawide camera and a time-of-flight sensor.
Furthermore, the P30 Pro features an optical under-display fingerprint scanner and a waterdrop notch.
The P30 Pro is available outright for as low as $1,200. Check out our review of the device to learn more.
---
Google Pixel 4 XL
The Pixel 4 X — not the Pixel 4 to be specific — sports one of the best cameras on the market. It feels great when you're holding it in your hand and sports a pure Android experience.
The Pixel 4 XL features top of the line specs, including a 6.3-inch display with a 1440 x 3040-pixel resolution and a fantastic 90Hz refresh rate. The higher refresh rate results in scrolling that feels incredibly smooth, making the phone a joy to use. In fact, after using the Pixel 4 XL, it's hard to switch back to other handsets that don't feature a high display refresh rate.
Similar to the Huawei P30 Pro, the device snaps fantastic pictures even at night thanks to its excellent 'Night Sight' mode. Furthermore, selfie pictures look great.
The device also sports face unlock, allowing users to authenticate and access the phone with just their face. Further, there's Motion Sense, which works both passively and actively. Passively, for example, is when your alarm or a timer goes off and you begin reaching for your device. The phone automatically reacts and quiets the alarm. Motion Sense's active functionalities include swiping to dismiss alarms, timers and changing songs in specific apps.
The Pixel 4 XL also receives Google's updates right away, and sports a Snapdragon 855 processor with 6GB of RAM and a fast-charging battery.
The Pixel 4 XL starts at $1,129. Check out our review of the smartphone, here.
---
LG G8X Dual Screen
The LG G8X is what we'd consider a sleeper hit. The device's secondary display is great for multitasking, and it helps users play games like PUBG Mobile.
The G8X's secondary screen attachment is an exact copy of the main phone's 6.4-inch display. It even sports a waterdrop notch, which is odd considering there's no camera in the secondary display.
The G8X rarely experienced any slowdowns even while jumping between apps. The phone can also easily survive the day with about 35 percent battery when the secondary screen is not attached.
LG designed the handset for mobile gamers or anyone who enjoys multi-tasking. You can use one screen with an app like Instagram and the other for Google docs, allowing you to work and play at the same time.
Additionally, the G8X features top-of-the-line specs, including 6GB of RAM, a 4,000mAh battery and a 3.5mm headphone jack.
The phone costs $1,150 outright. You can find more about the LG G8X in our review.
---
Asus ZenFone 6 / ROG Phone II
The Asus ZenFone 6 sports a full display with a unique flip-up camera. Within the flip-up, the ZF6's camera setup features a 48-megapixel sensor and a 13-megapixel sensor with an ultrawide angle lens.
The Asus ZenFone 6 also features a 5,000mAh battery with 18W quick charging. The phone's battery lasts for nearly two days. Additionally, the phone features a Snapdragon 855 processor with Zen UI 6, along with a slim user interface that's both intuitive and unobtrusive.
The ZenFone 6 costs $799 outright. If you want to learn more about this device, check out the review for the handset.
We've paired this for the ROG Phone 2 because that phone works similarly to the ZenFone 6 but is faster and lacks the flip-up camera.
The ROG Phone features a Snapdragon 855+ processor, with up to 12GB of RAM and 512GB of storage (in Canada). The ROG Phone 2's screen is also capable of refresh rates up to 120Hz, coupled with 240Hz touch sensing. Due to the high refresh rate, the handset's display looks and feels incredibly smooth.
The display and touch sensing help make the phone feel incredibly quick, especially compared to other Android devices on the market. The touch sensing and refresh rate are especially great for gaming, offering an experience that is smooth and quick.
The ROG Phone 2 costs $1,482 CAD on Amazon.
---
Samsung Galaxy S10e
While it may not seem like much, Samsung's 'budget' flagship is arguably one of the best smartphones of 2019. It gets a lot right and doesn't break the bank.
First and foremost, the S10e is just a bit smaller than the S10 and S10+ thanks to its 5.8-inch display. But while the screen may be smaller, it's still a large, excellent display. Plus, thanks to the small bezels, the S10e manages to feel more minuscule than it actually is. If you like small phones that aren't actually that small, it's a great way to go.
Plus, the S10e sports a 'flat' display instead of the curved 'edge' style seen on the S10 and S10+. Some may favour the curved screen, but I'm not a fan and the flat display is much easier to use.
The final note about the display is that the S10e features a hole-punch cutout for the selfie camera. Again, some might not like it, but compared to a notch, it looks way better. It's one of the things that makes the S10e so unique and pleasing for me to use. The hole-punch really adds to the overall experience and looks fantastic.
All that said, the S10e isn't perfect. It lacks the third telephoto camera found on its bigger brothers, it has a smaller 3,100mAh battery, and it doesn't have an in-screen fingerprint scanner. However, for the price, these are all things that are easy to forgive for excellent performance, great in-hand feel and a superior price.
You can find the S10e for $869.99 outright in Canada or for as low as $0 on a plan with most major Canadian carriers. Check out the review for the S10e here.
---
Honorable Mention: Samsung Galaxy Fold
While Samsung's Galaxy Fold isn't a perfect smartphone, the fact that a device with a foldable display is finally available in Canada is something to be excited about. While the pricey smartphone initially wasn't set to make its way to Canada following a string of issues related to the device's display, Samsung changed its plans and dropped the Fold here in early December.
Despite its several drawbacks including the Fold's thickness, price tag and lack of other features currently featured in other modern smartphones like water-resistance, Galaxy Fold is an undeniably exciting smartphone. The Galaxy Fold costs $2,635 and is only available at Samsung Experience stores across Canada.
---
Honorable Mention: Google Pixel 3a
While the Pixel 3a might not be one of the best phones of the year spec-wise, when it comes to value, it's incredible. And if you like quick Android updates, then the 3a series delivers.
Additionally, it packs a fantastic camera, great battery life and most of the awesome Pixel-specific features like Google's 'Now Playing' passive music detection software, camera software like Night Sight, and much more. It even has a headphone jack!
It might be missing wireless charging and premium-feeling build quality, but if you can look past some of these shortfalls, it's an excellent phone at a reasonable price.
Canada's C-Suite flocks to emerging audio app Clubhouse, but long-term appeal unclear – BNN
TORONTO – When earnings season rolls around, Duncan Fulton spends days preparing for calls with media, analysts and investors, but hardly ever gets a chance to deliver his messages directly to the people who frequent his Tim Hortons coffee shops or Popeyes drive-thrus.
That changed in February when the chief corporate officer of Restaurant Brands International joined chief executive Jose Cil on Clubhouse – an emerging audio platform that gives anyone with an iPhone and an app the ability to host and access discussions on every topic imaginable.
"It's like reimagined talk radio with calls, but we are the producer," said Fulton, who hosted an "open kitchen" talk the day after RBI released its latest quarterly earnings.
"Our guests don't care about our adjusted EBITDA. They care about real stuff, about our food, our brands, and so we said, 'Why don't we use Clubhouse?"'
Fulton and Cil are the latest Canadian executives to turn to the app started by San Francisco serial entrepreneurs Paul Davidson and Rohan Seth last spring as a new way to host public conversations.
As COVID-19 spread throughout the globe and lockdowns kept millions of people at home, executives from top venture capital and tech firms began to jockey for access to the invite-only audio platform.
By the start of 2021, hundreds of business leaders and other Canadians had joined Clubhouse, which has offered increasing numbers of invites since late last year.
Members have been able to hear SpaceX CEO Elon Musk discuss whether he believes in aliens, Shopify executives Tobi Lutke and Harley Finkelstein wax poetic about entrepreneurship and Wattpad founder Allen Lau talk about his recent decision to sell the company.
"It's really democratizing corporate Canada and corporate America in a way," says Fulton, "because normally consumers wouldn't get this access to senior business leaders."
He pitched a Clubhouse talk to Cil after being introduced to the platform by Ottawa restaurateur Stephen Beckta, who got his invite from Finkelstein.
After dipping into music conversations, Fulton found he liked the exploratory nature of the platform and that moderators have control over who can speak and when.
"If you're a business leader that wants the safety of not taking questions, you can still go on there, share your views, and there's lots of people that are happy to not participate, not ask questions and just listen," he said.
Richard Lachman, a digital media professor at Ryerson University, agreed the platform can be helpful for executives wanting to manage their image, but said users will quickly drop out of conversations if a speaker is boring them or recognize when someone is too scripted.
Though executives go through media training, he said a few "embarrassments" will likely arise on the app if people don't know how to respond to "aggressive" questions or can't kick someone out of a discussion fast enough.
While the app doesn't overtly market itself as private, its invite-only nature has built a casual atmosphere, even as its userbase grows.
Clubhouse did not respond to a request for comment, but has a "rule" banning transcribing, recording or sharing personal information heard on the app. The company recently removed a bot it found sneaking into discussions to restream them to people without the app.
Still, a quick search on social media reveals dozens of recordings and quotes from the app available online.
Prominent venture capitalists faced criticism last year when audio leaked of them ridiculing New York Times journalist Taylor Lorenz and complaining that so-called cancel culture – sometimes described as withdrawing support for someone caught misbehaving or using outmoded language and expressions – had gone too far.
There have also been privacy complaints from users who opted not to give the app access to their contact lists, but say it is detecting their sign-ups and alerting friends whose numbers they have stored.
Once on the app, some users reported they stumbled upon misogyny and racism in discussions, despite rules against abuse and bullying and a feature to report problematic users.
"Some of the challenges (Clubhouse) is facing is that this content is very unmoderated and we are not in 2003 in (Facebook founder) Mark Zuckerberg's dorm room, pretending that anything we make we know where it'll go and we'll just let the market figure it out," said Lachman.
"We know what might happen. Online spaces can be incredibly toxic, they can be harsh and we know that things can be taken out context very quickly and easily duplicated on other platforms."
Despite the issues, Deepak Anand, chief executive of medical cannabis company Materia Ventures, joined the app. He hosts several pot discussions on it every week, but is careful in his approach.
He doesn't share anything on Clubhouse he wouldn't be comfortable with if it were leaked, but has seen several instances of people not realizing how public the app is.
"People generally like to share more than they normally would on the platform because it's easy to get carried away and it almost seems like you're having a conversation with friends," he said.
Among the positives, Anand says Clubhouse has helped him discover new ways to network while stuck at home during the pandemic and increased his social media followers.
He's unsure the app will continue to be his go-to because a competitor, Twitter Spaces, has caught his eye.
Tech Crunch reported that users who mined Twitter's coding have found Spaces, which is still in pilot mode, experimenting with ways to embed tweets into discussions, offer transcription for users with disabilities and enhance blocking capabilities.
Facebook is said to be developing a similar platform, but hasn't formally released any details.
The number of emerging audio apps and the flood of new Clubhouse users will make it even tougher for executives to stand out, Lachman predicted.
"This might have value right now, but in a year or two from now, that might get lost."
How to use the LiDAR scanner in iPhone 12 Pro – AppleInsider
You've got a LiDAR scanner if you've got an iPhone 12 Pro, iPhone 12 Pro Max, or an iPad Pro, but Apple doesn't appear to give you any way to use it. Here's how you can, what you need, and why LiDAR is so useful.
LiDAR is part of the iPhone 12 Pro, the iPhone 12 Pro Max, and the iPad Pro, but you could be forgiven for not even noticing. Apple barely mentions it at all, and there is no LiDAR app on the phone for you to try.
Given that one of its key uses is in photography, you'd expect some kind of LiDAR controls in the Camera app, or at least something in Settings. But there's neither.
There's also little incentive to go looking for such controls because until you've seen it in action, it's hard to grasp just what LiDAR can do for you. The technology scans your environment, building up a 3D image of it, and that's going to change how well AR and VR works.
For now, Apple seems happy to let LiDAR subtly help you out by how it supplements existing apps and functions.
How you're already using LiDAR
If you've previously given up on using Apple's Measure app, try it again. The app is now aided by LiDAR and that's improved it noticeably.
Measure is now faster to start using, because it senses its surroundings quicker. And because LiDAR is working to scan your whole environment, measurements you make are more accurate.
That's the theory and in practice, you find that Measure is just more useful than it used to be. Rather than an app you used for rough measurements when you didn't have a tape measure, it's now good enough, and quick enough, to use anywhere.
Next, while it's harder to see, LiDAR has also made your Camera's autofocus work faster. Again, it's because LiDAR maps out the environment around you, so it's begun calculating just how far or near an object is, as you tap the button to take the shot.
If Measure and autofocus are the only two discernible uses of LiDAR from Apple, though, there are already third-party apps that will do much more. There are very many of these, and most feel like experiments in finding out what's possible.
But broadly, they also tend to be good at one of two things. Either they are great at capturing a photograph-like 3D image of your environment, or they're better at capturing an image of an object.
It's a balance between scanning slowly enough to avoid blur, and quickly enough to finish while the app can still store the data
Capturing your whole environment
Use Canvas: Pocket 3D Room Scanner for iPhone — free on the iOS App Store — and you can scan your surroundings. Stand in the middle of the room, tap the Measure-like controls, and then slowly turn around.
What you see through the Canvas screen is like standing in a "Star Trek" holodeck. Alongside a camera view of what's immediately in front of you, there's a grid next to it. As you turn, the grid gets filled in which an image of your surroundings.
Move too quickly, and the resulting image is low on detail. Move too slowly, and the app can run out of memory before you complete the scan. So it's a compromise between detail and completeness, but what it gets you is a 360 degree image of your room.
Right there on the iPhone, you can choose to zoom out to see an isomorphic projection of the room, rotate it with a gesture, and zoom in to see it from any angle. Swipe to show the room in closeup full screen, and you can then either swipe to move around — or physically move the phone.
Physically moving the phone shows you what the captured environment looks like as you turn around. But you don't have to be in that same environment that you captured.
You can instead take your phone and examine the scan anywhere else. Stand outside in field, for instance, and see your office on your iPhone screen. Move around the field, and the screen looks as if you're moving around the office.
No question — police officers are going to be taking LiDAR scans of crime scenes in the future. It's only a matter of time before such a scan delivers the deciding clue in an episode of "NCIS."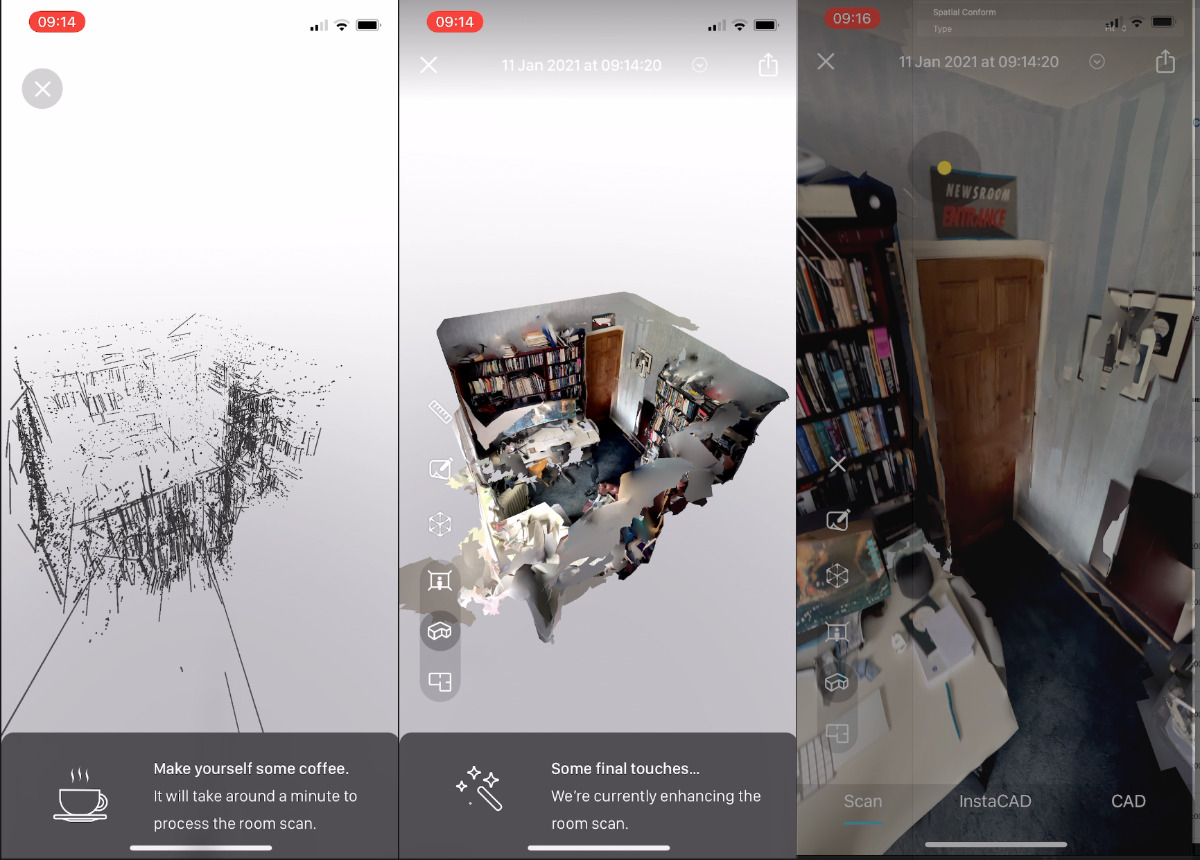 Even a hurried scan lets you go back in later to measure objects in the environment
Scanning objects with LiDAR
You've already seen this with selected Apple devices. Through AR, and scanned images, your iPhone can show you what, say, a Mac Pro would look like on your desk. LiDAR scanners let you capture an object's image and do exactly that yourself.
Canvas is capable of this, though in our testing it felt optimized for scanning rooms. Equally, the free 3D Scanner App can and does do rooms, but it seems best at capturing objects.
Again, though, there are increasing numbers of LiDAR scanning apps, with many of them free to try.
And again, 3D Scanner App resembles a holodeck in how it presents a grid over your object, which gets filled in and replaced as you scan.
What you can do with LiDAR scans
Next time you move house, take a LiDAR scan of any new property you're considering buying. We're not at the stage yet where apps make it very easy to take a scan of a room, and then drop in separate scans of your furniture, but you can do it.
More usefully, you can get a better feel for the size of apartments when you're comparing them. Being able to effectively walk around each apartment is much more intuitive than relying on floor plans and measurements.
Or if you're slowly clearing out a storage rental, then taking a quick LiDAR scan is visually much more useful than listing how many boxes are left.
These are all uses that benefit you, as the user who took the LiDAR scans, or the measurements and photographs. If someone else has the same app as you, you can typically send them the scan.
And ones, such as Canvas, include an option to send a scan online. It's not the same as being able to turn your phone around as you walk about a virtual room. But you can see a 360 degree scanned image on your Mac.
What's next for LiDAR
Apps will get more sophisticated as developers explore the technology — and as it becomes more worth their while when LiDAR becomes commonplace. That will surely also extend to new ways of sharing or downloading such scans.
And maybe then we'll see more, maybe then we'll also have more Apple AR, too.
Xiaomi CEO confirms Super AMOLED displays for Redmi Note 10 series – GSMArena.com news – GSMArena.com
After plenty of speculation, Xiaomi India CEO Manu Kumar Jain finally confirmed that the upcoming Redmi Note 10 series will feature Super AMOLED displays. It remains to be seen if all three models (vanilla, Pro and Pro Max) get this feature or if it's only reserved for the more expensive variants. Either way, these will be the first devices with AMOLED panels in the Redmi Note series.
📢 BOOOOM!

Excited to share that #RedmiNote10 series will feature #SuperAMOLED display – 1st TIME EVER ON a #RedmiNote! 🔥

Undoubtedly the single-most #10on10 anticipated reveal of all-time!

RT and share this epic news!

I ❤️ #Redmi #AMOLED pic.twitter.com/NSlgPAQqSJ

— Manu Kumar Jain (@manukumarjain) March 2, 2021
The Redmi Note 10 series will be announced on March 4 and based on past rumors and leaks we're expecting a 6.43-inch FHD+ panel on the Redmi Note 10 alongside a 48MP primary camera and the Snapdragon 678 chipset.
The Note 10 Pro should arrive with the Snapdragon 750G with 6/8GB RAM, 128GB storage and a 6.67-inch SuperAMOLED display. The Pro Max should offer even better specs but we're short on details at the moment. Make sure to tune in to our homepage on Thursday when we'll have all the specs and details.