BlackRock's shift to 'net-zero' investments is accelerating, CEO Larry Fink says – The Globe and Mail
BlackRock Inc., the world's largest fund manager, is accelerating its push to reduce the risks of climate change for clients, asking corporate leaders to disclose how their companies will fare in a "net-zero" economy and selling its stakes in those that fail to live up to heightened standards.
BlackRock chief executive officer Larry Fink said in his annual letters to the CEOs of companies in the firm's portfolio and to BlackRock clients that the COVID-19 pandemic has intensified the reallocation of capital to investments with lower-climate risk. Activity boomed as countries made new pledges to get to net zero – when greenhouse gas emissions are simultaneously reduced and offset – as they plotted economic recovery.
From January to November last year, investors around the world plowed US$288-billion into mutual funds and exchange-traded funds with sustainable assets, nearly double the the tally of 2019, he said.
Mr. Fink's comments show how New York-based BlackRock, which manages US$8.7-trillion in assets on behalf of pension funds, sovereign wealth funds and other clients, has quickly built on its market-moving pronouncements of a year ago. Mr. Fink made headlines by saying BlackRock would part ways with companies that generate more than 25 per cent of their sales from thermal coal, and set up new ETFs that filter out fossil fuel investments.
It was seen as a wake-up call for the corporate world, and several other major investors have since made similar announcements. On Tuesday, Mr. Fink described the change in investor preference for more sustainable opportunities as a "tectonic shift."
"Given how central the energy transition will be to every company's growth prospects, we are asking companies to disclose a plan for how their business model will be compatible with a net zero economy – that is, one where global warming is limited to well below 2 degrees Celsius, consistent with a global aspiration of net-zero greenhouse gas emissions by 2050," Mr. Fink wrote in his letter to CEOs.
"We are asking you to disclose how this plan is incorporated into your long-term strategy and reviewed by your board of directors."
Governments in the European Union, China, Japan, South Korea and Canada have pledged to achieve net-zero emissions in the coming decades. Under new President Joe Biden, the United States has committed to rejoining the Paris Agreement on battling climate change. No company will be unaffected by the transition, and gathering and assessing data will be key, Mr. Fink said.
"Of course, investors cannot prepare their portfolios for this transition unless they understand how each and every company is prepared both for the physical threats of climate change and the global economy's transition to net zero," Mr. Fink said.
Last year, BlackRock asked all companies in its portfolio to disclose information about climate-change risk and social and governance issues in step with guidelines established by the Sustainability Accounting Standards Board and the Task Force on Climate-related Financial Disclosures.
Mr. Fink said he is urging all companies to begin disclosing climate data in line with the TCFD standard before regulators begin to mandate such reporting. Last week, an Ontario government task force recommended the Ontario Securities Commission require companies to adopt such disclosure.
In its active investing portfolios, BlackRock is adopting a "heightened scrutiny model," applying its risk-management tools to identify particularly high climate risk among companies owing to high carbon intensity and insufficient preparation for the energy transition.
"Where we do not see progress in this area, and in particular where we see a lack of alignment combined with a lack of engagement, we will not only use our vote against management for our index portfolio-held shares, we will also flag these holdings for potential exit in our discretionary active portfolios because we believe they would present a risk to our clients' returns," Mr. Fink wrote in his letter to clients.
"Conversely, we believe companies that distinguish themselves in terms of their emissions trajectory, transition preparedness and governance will often represent an opportunity for our clients."
Jeffrey Jones writes about sustainable finance and the ESG sector for The Globe and Mail. Reach him at jeffjones@globeandmail.com.
COVID-19: BC seniors aged 90+ can start to sign up for vaccination on March 8 – Victoria News – Victoria News
B.C. seniors born in 1931 or earlier will be first up for the COVID-19 community vaccination program, with registration for appointments starting next week, public health officials said Monday.
Anticipating a huge demand from seniors living at home and their relatives for the coronavirus vaccine, the province has arranged a rolling schedule by age for people to contact their regional health authority for appointments. It begins with people aged 90 and up booking appointments starting March 8, with appointments starting March 15. Then 85 and up can call starting March 15, with vaccinations starting March 22. People aged 80 and up or their relatives can call starting March 22, with vaccinations starting March 29.
Phone numbers will be activated starting March 8, officials said at a news conference March 1. Health authority call centre information and a step-by-step process are available on the provincial website at gov.bc.ca/bcseniorsfirst and also on websites for Fraser Health, Interior Health, Northern Health, Island Health and Vancouver Coastal Health. Relatives or friends of elderly people are allowed to call for appointments on their behalf when they are eligible.
Appointment bookings start with seniors 90+ #COVID19BC pic.twitter.com/2ivlXVVQ3w

— Tom Fletcher (@tomfletcherbc) March 1, 2021
The Fraser Health region, with more people and more seniors than the other four B.C. regions, will have online bookings available as well, in an effort to ease a rush of phone calls that provincial call centre staff may be unable to keep up with at first.
Provincial health officer Dr. Bonnie Henry said almost complete vaccination of staff and residents in long-term care and assisted living facilities has provided almost blanket protection for frail elderly residents, and immunization is nearing completion for remote Indigenous communities. Indigenous people aged 65 are included in the community vaccination program set for those 80 and up in the general population, due to higher risk that has been shown.
Callers are urged to wait until their age group is eligible for appointments, and have the necessary information ready: First and last name, date of birth, postal code, B.C. personal health number, and contact information (email or mobile phone number of the senior or support person). People will be given a list of clinics close to home.
Vaccine has protected long-term care residents #COVID19BC pic.twitter.com/IwIvvffWkQ

— Tom Fletcher (@tomfletcherbc) March 1, 2021
Officials warn everyone that health authority call centres will never ask for a social insurance number, driver's licence number or banking and credit card details. If anyone asks for that, hang up immediately and contact your local health authority.
Henry said Health Canada's approval of a third vaccine from AstraZeneca may allow an earlier vaccination date for people under age 80, assuming the delivery dates for all manufacturers are met. First shipments of that vaccine will be targeted to paramedics and other first responders not yet reached by the first stages of protection for health care workers and seniors.
"This is a vaccine that is fridge-stable, which means we can use it in the community in a much more agile way," Henry said.
Results from first doses of Pfizer and Moderna vaccines are better than expected, and have allowed the province to extend the time between doses up to four months, Henry said.
---
@tomfletcherbc
tfletcher@blackpress.ca
Like us on Facebook and follow us on Twitter.
COVID-19 Today: A look at the numbers for Newmarket, York Region, Ontario – NewmarketToday.ca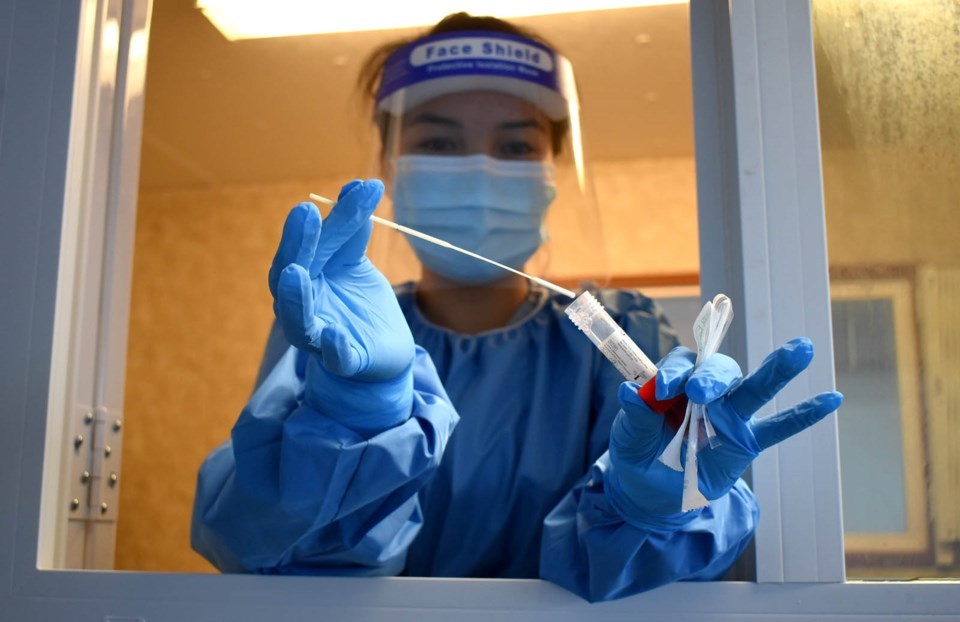 Newmarket (reported Sunday, Feb. 28 at 5 p.m.)
1,596 cases of COVID-19
2 more cases since Feb. 27
33 (+1) variant cases

2 (+0) B.1.1.7. U.K.; local transmission
31 (+1) lineage not yet determined; 21 (+1) close contact, 5 (-1) local transmission, 5 workplace

1,512 (+6) cases resolved (94%)
47 (-3) active cases
0 more deaths, totalling 37
7 (+1) hospitalized, 1 (+0) in ICU
5 (+0) institutional outbreaks

Outbreak #2 declared Feb. 26 at Amica Newmarket Retirement Home (1 health-care worker)
Outbreak #2 declared Feb. 22 at Eagle Terrace Long-term Care Home (4 staff)
Outbreak declared Feb. 19 at Inn From the Cold (1 resident, 1 staff)
Outbreak declared Feb. 3 at The Newmarket Residence (54 residents, 10 staff)
Outbreak #3 Jan. 4 at Southlake Regional Health Centre (27 patients, 16 health-care workers)

3 (+0) school surveillances

Surveillance #2 declared Feb. 26 at Dr. J.M. Denison Secondary School (1 staff)
Surveillance declared Feb. 26 at Poplar Bank School (1 student)
Surveillance #2 declared Feb. 25 at Denne Public School (1 staff)

1 (+0) child care outbreak

Outbreak declared Feb. 6 at Brightpath Newmarket (5 children, 5 staff)

0 (-1) workplace outbreak
37 (-2) new cases in last 7 days
281 tests on Feb. 25, 5 positive (1.8% positivity) update N/A
The Nitty Gritty
742 (+2) cases close contact, or 46%
311 (+0) cases institutional outbreak, or 20%
389 (+2) cases community transmission, or 24%
11 (-1) cases under investigation, or 1%
40 (+0) cases travel, or 3%
91 (+0) cases workplace outbreak, or 6%
395 (+1) cases age 19 to 34, 25%
277 (+0) cases age 35 to 44, or 17%
239 (+0) cases age 45 to 54, or 15%
205 (+1) cases age 55 to 64, or 13%
143 (+0) cases age 65 to 79, or 9%
118 (+0) cases age 80+, or 8%
103 (+0) cases age 4 to 13, or 7%
79 (+1) cases age 14 to 18, or 5%
37 (+0) cases age 0 to 3, or 2%
York Region (reported Sunday, Feb. 28 at 5 p.m.) at red control zone
28,829 confirmed cases of COVID-19
66 new cases since Feb. 27
617 (+20) variant cases

79 (+0) B.1.1.7 U.K.
538 (+20) lineage not yet determined

27,509 (+104) cases resolved (95%)
796 (-42) active cases
0 more deaths, totalling 524
137 (+5) cases are hospitalized, 25 (+1) patients in ICU
380 (+1) workplace outbreaks, 15 (+0) active, 3,120 (+1) cases
Recovery Measures
Cases in schools, child care centres
59 (+0) school outbreaks, 2 (+0) active
409 (+5) school surveillances, 30 (+5) active
59 (+0) child care outbreaks, 3 (+0) active
1,161 (+8) total school and child care cases
789 (+5) student/children cases
372 (+3) staff cases
Institutional Outbreaks
260 (+1) institutional outbreaks, 26 (+1) active

Outbreak #5 declared Feb. 27 at Revera Elginwood LTC, Richmond Hill (1 health-care worker)
Nitty Gritty
14,838 (+106) cases, or 51%, close contact
8,493 (+33) cases, or 29%, community transmission
3,051 (+2) cases, or 11%, institutional outbreak
238 (-29) cases, or 1%, under investigation
454 (+3) cases, or 2%, travel
1,575 (+12) cases, or 5%, workplace outbreak
7,484 (+14) cases age 19 to 34, or 26%
4,908 (+7) cases age 45 to 54, or 17%
4,356 (+14) cases age 55 to 64, or 15%
4,020 (+7) cases ages 35 to 44, or 14%
2,651 (+6) cases age 65 to 79, or 9%
1,708 (+1) cases age 80+, or 6%
1,742 (+10) cases age 4 to 13, or 6%
1,451 (+3) cases age 14 to 18, or 5%
509 (+0) cases age 0 to 3, or 2%
Around the region:
Vaughan 12,144 (+31) cases, 307 (-21) active
Markham 7,572 (+14) cases, 190 (-5) active
Richmond Hill 3,774 (+15) cases, 145 (+2) active
Newmarket 1,596 (+2) cases, 47 (-3) active
East Gwillimbury 617 (+0) cases, 29 (-1) active
Aurora 939 (+2) cases, 24 (-1) active
Georgina 672 (+1) cases, 21 (-6) active
Whitchurch-Stouffville 810 (+1) cases, 20 (-5) active
King 645 (+0) cases, 12 (-2) active
Ontario (reported at 10:30 a.m. on March 1, for Feb. 28)
301,839 confirmed cases of COVID-19
1,023 new cases since Feb. 27
565 (+7) variant cases

535 (+7) U.K. variant
27 (+0) South African variant
3 (+10 Brazilian variant

6 more deaths, totalling 6,986
284,283 resolved 94.2% of cases
659 (+32) cases are hospitalized; 280 (-9) in ICU; 175 (-10) on ventilators (*about 10% of hospitals did not submit data)
35,015 more tests completed, with 13,416 awaiting results
2.3% positivity Feb. 25
Vaccines
17,424 daily doses administered Feb. 28
704,695 total doses
263,214 completed (people fully vaccinated)
Cases in children, youth
6,772 (+57) cases ages 4 to 8
9,091 (+47) cases ages 9 to 13
9,548 (+59) cases ages 14 to 17
Institutional Outbreaks
1,275 (+1) outbreaks at long-term care homes, 91 (-5) active
753 (+0) outbreaks at retirement homes, 57 (-4) active
416 (+1) outbreaks at hospitals, 31 (-4) active
3,865 (+1) long-term care resident deaths
14,958 (+0) cases are long-term care residents
35000 Eligible Residents Already Pre-Registered for COVID Vaccine, Two New Cases Identified in Eastern NL – VOCM
There are two new confirmed cases of COVID-19 in the province today.
Both are in the Eastern Health region and involve people under the age of 20 who are contacts of previous cases.
Eleven people are in hospital with the virus. There have been 27 new recoveries for a total of 236 active cases in Newfoundland and Labrador.
A previous case reported on February 22, has turned out to be a false positive.
Dr. Janice Fitzgerald says there has been great interest in preregistration for those 70 and older for the COVID vaccine. She says there's been good uptake with over 35,000 people already pre-registered.
Those with access to the internet are encouraged to fill out the form online and help others who may need assistance. Or you may call 1-833-668-3930 or 709-273-3930 8 a.m. to 8 p.m. daily.
In the meantime, Fitzgerald is strongly discouraging people from non-essential travel in and out of the metro region while it remains in Alert Level 5. Visits to the cabin or a snowmobile run are not considered to be essential, she suggests.
NL Reviewing AstraZeneca Vaccine Following Health Canada Approval
The province is still reviewing the evidence surrounding the AstraZeneca vaccine, which received Health Canada approval late last week.
Chief Medical Officer of Health Dr. Janice Fitzgerald says the vaccine meets Health Canada's standards for safety and efficacy and quality.
The vaccine is effective in preventing serious illness as a result of COVID-19 says Fitzgerald and they're still reviewing the evidence to see where it will fit into the province's strategy.
Premier Andrew Furey expressed optimism knowing that the Johnson & Johnson vaccine is "not too far behind" in getting Health Canada approval.
[embedded content]