Boeing left out of NASA's lunar lander competition – Asia Times
And then there were three — and this time, Boeing has been left out.
NASA has selected three US aerospace firms to design and develop human landing systems for the agency's Artemis program, one of which will land the first woman and next man on the surface of the moon by 2024, Xinhua reported.
The three companies are Blue Origin of Kent, Washington; Dynetics of Huntsville, Alabama; and SpaceX of Hawthorne, California.
Cutting Boeing out of a key NASA spaceflight effort deals a blow to the aerospace giant's space wing, which for decades has been a key International Space Station contractor and more recently a secondary provider in NASA's efforts to launch humans to the station under its Commercial Crew Program, Reuters reported.
NASA said it removed Boeing and another company as bidders for the lunar lander award early on in the selection process, though a specific reason was not immediately clear.
The three companies, which include firms of tech billionaires Elon Musk and Jeff Bezos, will share US$967 million — Blue Origin's contract is worth US$579M, SpaceX's US$135M and Dynetics will receive US$253M, The Guardian reported.
Blue Origin proposes a three-stage lander that would abandon its landing engines on the moon's surface to lighten the load when it is time to return to Earth. SpaceX wants to use its general purpose "Starship" spacecraft, which it says could also be used for Mars missions. Dynetics plan an innovative lander that could be launched on any rocket, The Guardian reported.
"With these contract awards, America is moving forward with the final step needed to land astronauts on the Moon by 2024, including the incredible moment when we will see the first woman set foot on the lunar surface," said NASA Administrator Jim Bridenstine.
"This is the first time since the Apollo era that NASA has direct funding for a human landing system, and now we have companies on contract to do the work for the Artemis program," he said.
NASA's commercial partners will refine their lander concepts through the contract base period ending in February 2021. During that time, the agency will evaluate which of the contractors will perform initial demonstration missions, Reuters reported.
Unlike the Apollo program that put astronauts on the moon nearly 50 years ago, NASA is gearing up for a long-term presence on Earth's satellite that the agency says will eventually enable humans to reach Mars, leaning heavily on private companies built around shared visions for space exploration.
Picking three providers allows NASA to have redundancy in case one company falls behind in development, Lisa Watson-Morgan, NASA's human landing system program manager, told reporters on Thursday.
"I am confident in NASA's partnership with these companies to help achieve the Artemis mission and develop the human landing system returning us to the Moon" said Watson-Morgan.
"We have a history of proven lunar technical expertise and capabilities at Marshall and across NASA that will pave the way for our efforts to quickly and safely land humans on the Moon in 2024."
NASA says it is returning to the Moon for scientific discovery, economic benefits, and inspiration for a new generation.
Working with its partners throughout the Artemis program, the agency hopes to fine-tune precision landing technologies and develop new mobility capabilities that allow robots and crew to travel greater distances and explore new regions of the Moon.
The agency has proposed building a new habitat and rovers, testing new power systems and much more to get ready for human exploration of Mars.
"I think we've got the potential for an incredibly exciting future in space with a base on the moon, and ultimately sending people and having a self-sustaining city on Mars," Musk, who also leads electric car firm Tesla, told Reuters on Thursday.
A Strawberry Moon rises along with a partial eclipse on Friday – CTV News
TORONTO —
A Strawberry Moon will rise on Friday and will pass through part of the shadow of the Earth in what is called a partial penumbral eclipse of the moon.
But don't expect a red-hued moon resembling a "blood moon," which occurs when there is a total lunar eclipse.
Rather, the Strawberry Moon gets its name for the time of year the full moon appears, according to NASA.
The space agency said the Algonquin tribes named the Strawberry Moon as such because it occurs during the relatively short season for harvesting strawberries in the north-eastern United States.
In Europe, NASA said the full moon has been called the Mead Moon or the Honey Moon after the fermented drink.
In appearance, the Old Farmer's Almanac said the Strawberry Moon will appear large and golden-hued when it rises above the horizon. NASA said the moon will appear full for about three days, from early Thursday morning into early Sunday morning.
While the full moon will be a sight in and of itself, celestial watchers will be treated to an accompanying partial eclipse of the moon on Friday, depending on where they live.
Unfortunately for those in North America, the penumbral lunar eclipse won't be visible because the moon becomes full during daylight hours when it's below the horizon.
For observers in Europe, Asia, Africa and Australia, however, the moon will appear ever-so-slightly darker than normal as it passes through the outer edge of Earth's shadow (the penumbra). The dimming effect won't be as a dramatic as a total eclipse and will be difficult to detect for the casual watcher staring up at the sky.
The partial penumbral eclipse of the moon will occur on Friday afternoon at 3:12 p.m. Eastern.
Although moon-gazers in North America won't be able to witness the partial eclipse in person, they can still livestream the lunar event thanks to the Virtual Telescope Project, which will stream the view above Rome's skyline in Italy beginning at 3 p.m. Eastern.
SpaceX rings in Falcon 9's 10th anniversary with a rocket reusability first – Teslarati
Today is the tenth anniversary of SpaceX's inaugural Falcon 9 launch, marking a decade of largely uninterrupted success that the company has rung in with a record-breaking Starlink launch and rocket landing.
Just one day shy of the occasion, booster B1049 lifted off on its fifth orbital launch and Falcon 9's 86th launch overall, successfully placing the eighth batch of 60 SpaceX Starlink satellites in orbit and becoming the first booster ever to complete five orbital-class launches and landings. Designed to fly no fewer than 10 times each, that means that SpaceX is already half of the way to achieving a major goal of the rocket's Block 5 upgrade just 24 months after its launch debut.
With Starlink-8 under its belt, Falcon 9 B1049 has officially become the fastest orbital-class rocket or spacecraft in history to perform five launches, beating out Space Shuttles Columbia (~27 months), Challenger (~24 months), Discovery (~22 months), Atlantis (~26 months), and Endeavour (~29 months) with launches in ~20 months. Over the 10 years it's been operational, thanks in large part to the unprecedented leaps SpaceX has made while independently developing booster reusability, Falcon 9 has become the most affordable source of large orbital launches and has come to dominate the commercial launch market and the company's lead is only likely to grow in the coming years.
Lifting off just hours after SpaceX completed Port Canaveral recovery operations with the first astronaut-proven Falcon 9 booster (B1058), B1049's fifth successful launch and landing means that the company will soon be able to attempt the sixth launch of an orbital-class booster for the first time ever. All but guaranteed to support one of the 20-24 Starlink missions SpaceX has planned for 2020, B1049 could be ready for its sixth launch as early as late July or August.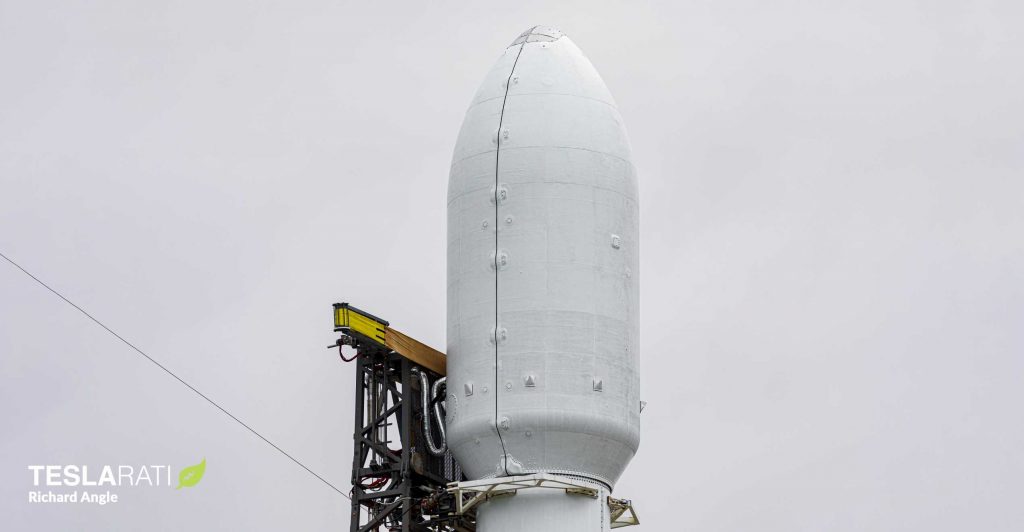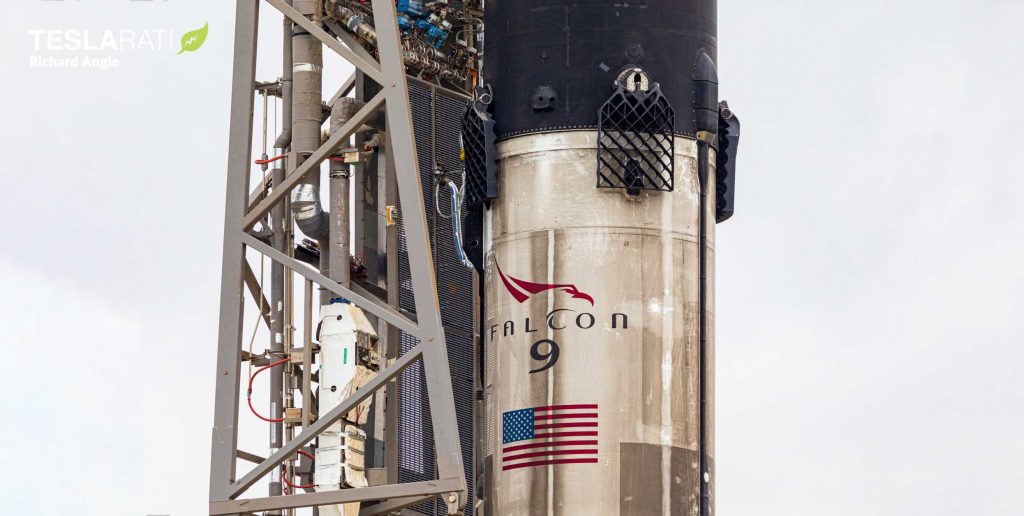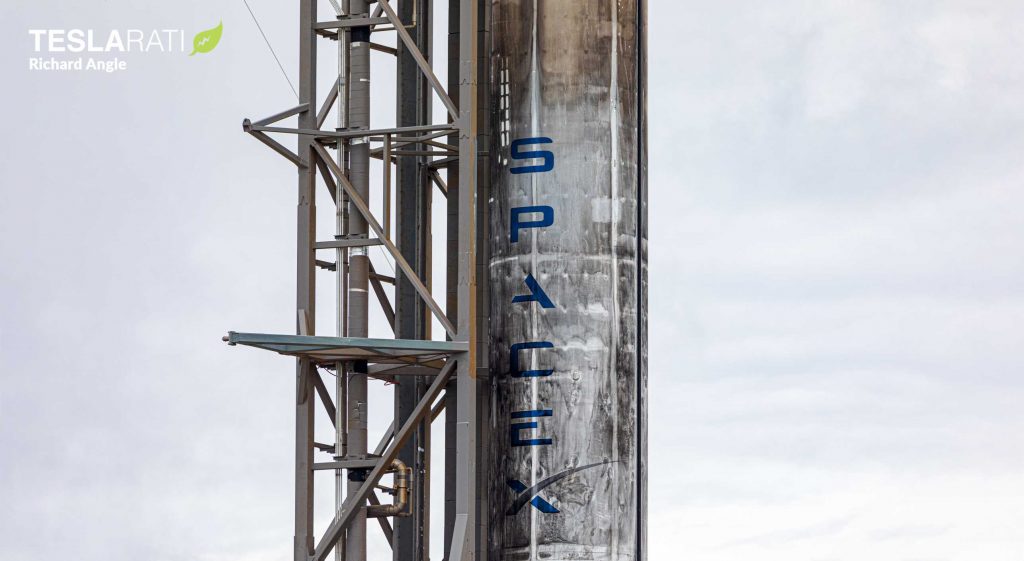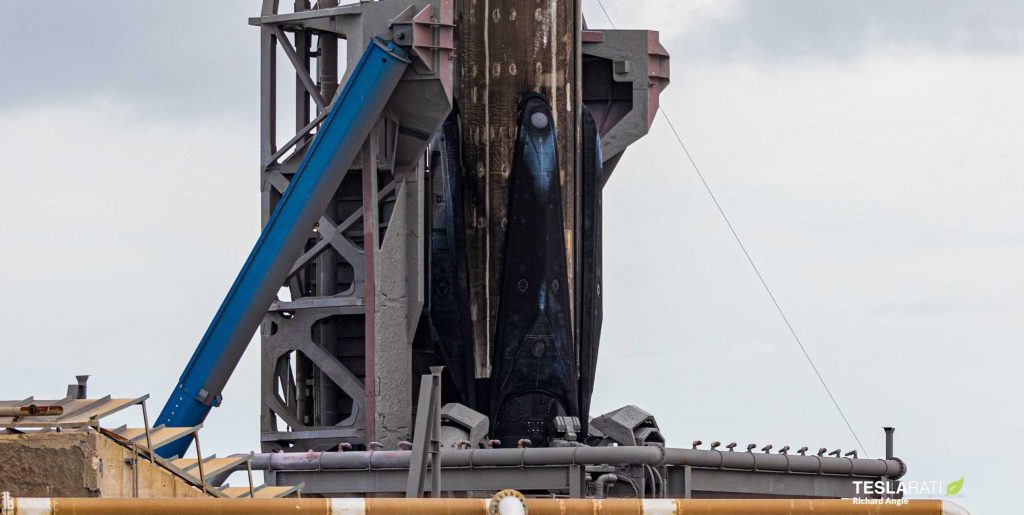 Just like the booster's two prior launches, B1049 was carrying a ~16 metric ton (~35,000 lb) batch of 60 Starlink communications satellites. Thanks to Falcon 9's exceptional cost-to-performance ratio the rapid expansion of Starlink launch activities, SpaceX's workhorse rocket has already launched almost 450 metric tons (~1 million lb) of satellites and cargo into orbit over 10 years of service and 85 launches.
If things go according to plan, the Starlink launch campaign SpaceX needs to complete the massive satellite constellation will rapidly double (and almost triple) the total mass SpaceX has placed in orbit. The first major phase of 4400 satellites – currently 9.5% complete – will collectively weigh more than 1100 metric tons (~2.5 million lb), while the combined second and third phases will raise that by almost a full magnitude. Falcon 9 may forever be famous thanks to the leaps it's made in reusability, affordability, and reliability, but it will likely end up being best known for its foundational role in the deployment of SpaceX's vast Starlink internet constellation within a few years.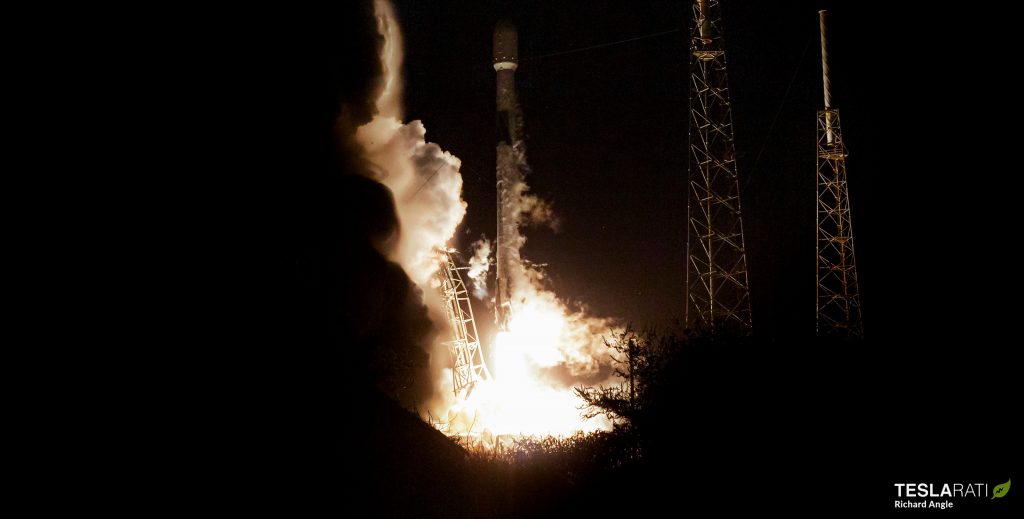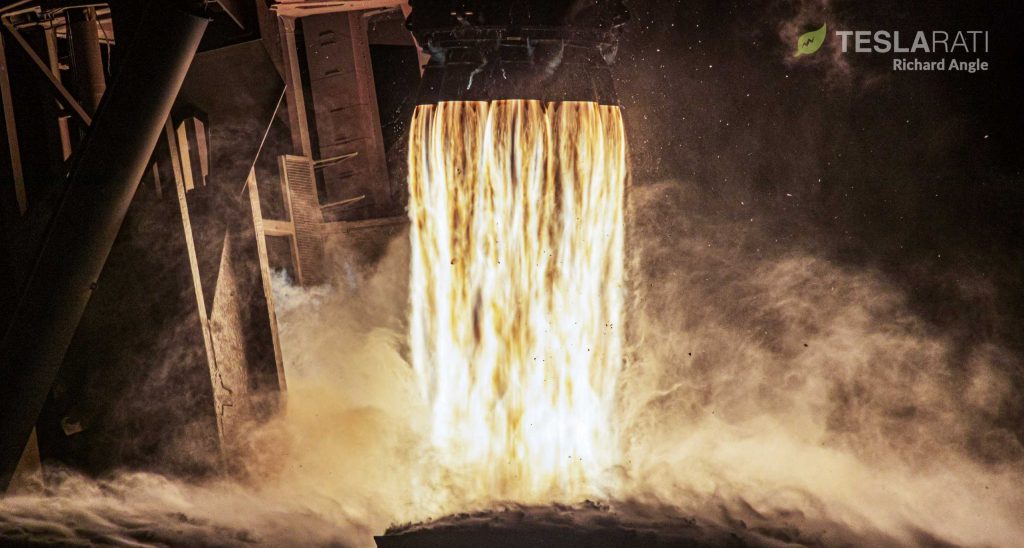 After B1049.5 safely returns to Port Canaveral aboard drone ship Just Read The Instructions (JRTI) sometime next week, SpaceX can offload the rocket, transport it to a nearby hangar, and begin preparing it for launch #6 – a first for the company. If SpaceX can average 90-day turnarounds for the booster over its next several flights, B1049 could potentially become the first Falcon 9 first stage to achieve its 10-flight design goal before the end of next year.
Meanwhile, SpaceX is already preparing to launch its (ninth) Starlink mission as early as June 12th, beating the pad's current turnaround record by almost three days (~25%). All things considered, a full decade in, SpaceX and its Falcon 9 rocket are just getting started.
Check out Teslarati's newsletters for prompt updates, on-the-ground perspectives, and unique glimpses of SpaceX's rocket launch and recovery processes.
SpaceX rings in Falcon 9's 10th anniversary with a rocket reusability first


<!–
–>
Full 'Strawberry' Moon coincides with a penumbral lunar eclipse tonight – Daily Mail
Full 'Strawberry' Moon coincides with a penumbral lunar eclipse TONIGHT – but rain clouds in parts of the UK may ruin the celestial spectacle
The Strawberry Full Moon will hit its peak in the UK before sunset at 20:12 BST
It coincides with a penumbral lunar eclipse that will see the Moon dim slightly
The Moon won't appear pink unless it is close to the horizon as the name comes from the fact it coincides with the annual strawberry harvest not its colour
A 'Full Strawberry Moon' will appear in the sky tonight and it will coincide with a subtle penumbral lunar eclipse, according to astronomers.
While it is called a Strawberry Moon, that doesn't mean it will appear red or pink, the name comes from the fact strawberries are ready to harvest this time of year.
However, the Moon, which will reach its peak at 20:12 BST, will appear slightly dimmer than a normal full Moon due to the special type of eclipse.
A penumbral eclipse is the most subtle form, it occurs when the earth, sun and moon are all aligned – with the Earth casting a slight shadow over the Moon.
While it is called a Strawberry Moon, that doesn't mean it will appear red or pink as the name comes from the fact strawberries are ready to harvest this time of year
A penumbral eclipse is the most subtle form, it occurs when the earth, sun and moon are all aligned – with the Earth casting a slight shadow over the Moon
For skygazers in parts of the UK rain clouds will dampen the spectacle, and make the dimming effects harder to spot, according to weather forecasters.
Zoltan Toth-Czifra, founder of Under Lucky Stars, says the Full Strawberry Moon will be a stunning sight if the skies are clear.
"This year has been full of astronomical events with the supermoons over the past few months and it doesn't end there,' he said.
He said the Moon will rise and be visible every night over the weekend and that Moons always rise in the east and set in the west.
'Unlike its name, the moon won't be red or pink in colour,' said Toth-Czifra.
THE STRAWBERRY FULL MOON DOESN'T APPEAR PINK OR RED
Despite its name, the moon is unlikely to be turning a hue of strawberry red.
In recent years, traditional Native American names for the full moons have become more common in modern day parlance.
According to the Maine Farmer's Almanac – which first published the Native American names for the full Moons in the 1930's – the name comes from the relatively short season for harvesting strawberries in northeastern North America.
The name is applied to the full Moon in June or the last full Moon of Spring, but the same full moon went under many other traditional names in other parts of the world.
'But it will be a breath-taking full moon, so you may even see it cast moon shadows on the ground,' he said.
'This moon is named Strawberry Moon as a reference to the time of harvesting strawberries in North America, originally from Native American tribes who used the moon as an indicator of when the fruit would be ripe.'
Toth-Czifra said the lower than average level of pollution due to lockdown, combined with clear skies in some parts of the UK, will make the Moon clearer than usual.
'As always, the moon will affect the Earth's ocean, and the extra gravitational pull means we should brace ourselves for some spectacular tides worldwide,' he said.
The eclipse won't be obviously visible as it is a penumbral eclipse – unlike a full or partial version, this won't actually block out part of the Moon.
Astrophysicist Dr David Gozzard, from the University of Western Australia International Centre for Radio Astronomy Research said the eclipse will last around three hours.
'A strawberry moon is a name for a full moon in June and lunar eclipses like these always happen at the full moon,' he said.
'It's called a penumbral eclipse so the Earth's shadow has a fuzzy outer region where you only get a partial shadow and not a full shadow of the sun. That's called a penumbra and that is the area the moon will pass through.'
The Strawberry Full Moon is named that way because it coincides with the strawberry harvest – it won't appear pink by default but could look more pink if it is low on the horizon
'Lunar eclipses come in pairs or sometimes triplets so this will have a corresponding sibling eclipse in May next year. It will be a more spectacular eclipse with a total or partial eclipse of the shadow of the earth,' Dr Gozzard said.
The Strawberry Full Moon, which will appear an hour before sunset tonight, has also been called the Rose Moon in Europe due to it arriving as roses begin to bloom.
It won't be easily visible for everyone in the UK, but some will get a clear view.
The Met Office forecast for tonight says there will be sunny spells and showers for many, some heavy with isolated thunder.'
'Heavy rain and gales developing across northern Scotland, edging south later.'