Boeing to cut 20% of workforce by end of 2021
.css-94m6rd-HeadingWrapperborder-bottom:solid 1px #BABABA;padding-bottom:1.5rem;.css-94m6rd-HeadingWrapper > *:not([hidden]):not(style) ~ *:not([hidden]):not(style)margin-top:1rem;
.css-1c1994u-StyledHeadingfont-family:ReithSerif,Helvetica,Arial,freesans,sans-serif;font-weight:500;font-size:2rem;line-height:2.25rem;color:#3F3F42;@media (min-width:37.5rem).css-1c1994u-StyledHeadingfont-size:2.75rem;line-height:3rem;.css-1c1994u-StyledHeading:focusoutline-style:none;.css-1c1994u-StyledHeading:focus-visibleoutline-style:auto;
Boeing to cut 20% of workforce by end of 2021
.css-11c8au8-MetadataStripfont-family:ReithSans,Helvetica,Arial,freesans,sans-serif;font-weight:400;font-size:0.8125rem;line-height:1rem;margin-top:-0.25rem;color:#696969;
.css-8d0yke-MetadataStripItemdisplay:inline-block;white-space:nowrap;margin-top:0.25rem;max-width:calc(100% – 1em);.css-8d0yke-MetadataStripItem::aftercontent:";display:inline-block;height:1.25em;border-left:#BABABA 1px solid;margin:0 0.5em;vertical-align:-0.25em;.css-8d0yke-MetadataStripItem:last-childmax-width:100%;.css-8d0yke-MetadataStripItem:last-child::aftercontent:none;
Published.css-1n98t8y-MetadataContentdisplay:inline-block;max-width:100%;
.css-1hizfh0-MetadataSnippetdisplay:inline-block;max-width:100%;overflow:hidden;text-overflow:ellipsis;white-space:nowrap;vertical-align:bottom;.css-1n712b9-IconContainerdisplay:inline-block;width:1em;height:1em;vertical-align:-0.125em;padding-right:0.25em;54 minutes ago
.css-2yhany-StyledTagContainerfont-family:ReithSans,Helvetica,Arial,freesans,sans-serif;font-weight:400;font-size:0.875rem;line-height:1.125rem;
Related Topics.css-1emjddl-Clusteroverflow:hidden;
.css-1oubwgi-ClusterItemsdisplay:-webkit-box;display:-webkit-flex;display:-ms-flexbox;display:flex;-webkit-flex-wrap:wrap;-ms-flex-wrap:wrap;flex-wrap:wrap;margin:calc(0.5rem / 2 * -1);.css-1oubwgi-ClusterItems > *margin:calc(0.5rem / 2);
.css-dh1p3g-StyledTagdisplay:-webkit-box;display:-webkit-flex;display:-ms-flexbox;display:flex;white-space:nowrap;
.css-1sd1v8r-StyledLinkcolor:#3F3F42;border:1px solid #DB7F7F;font-weight:bold;padding:0.5rem;-webkit-text-decoration:none;text-decoration:none;.css-1sd1v8r-StyledLink:hover,.css-1sd1v8r-StyledLink:focusbackground:#B80000;color:#FFFFFF;Coronavirus pandemic
.css-r83t2i-ComponentWrappermargin:1.5rem 0;
.css-1759m9z-StyledFigurefont-family:ReithSans,Helvetica,Arial,freesans,sans-serif;font-weight:400;font-size:0.875rem;line-height:1.125rem;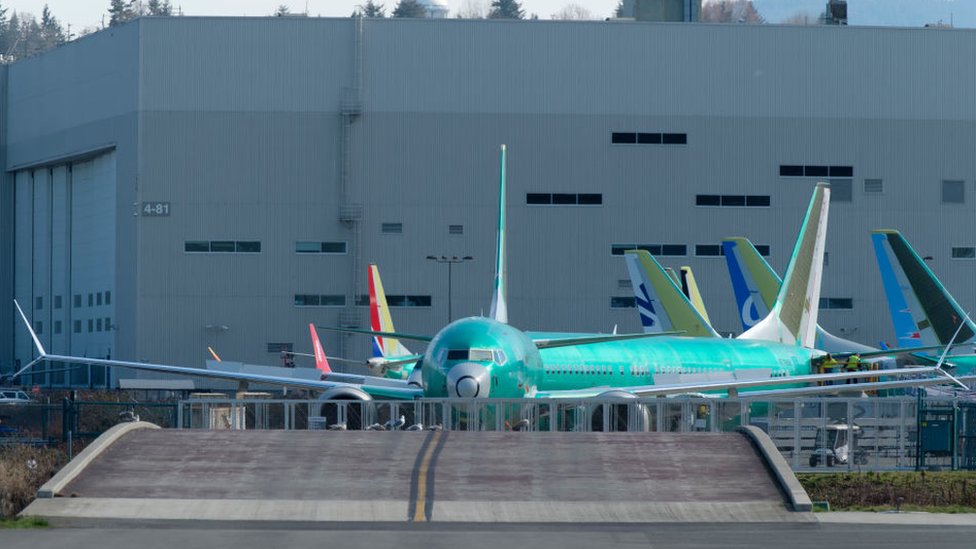 .css-uf6wea-RichTextComponentWrappermargin:1rem 0;max-width:36.25rem;
.css-83cqas-RichTextContainercolor:#3F3F42;.css-83cqas-RichTextContainer > *:not([hidden]):not(style) ~ *:not([hidden]):not(style)margin-top:1rem;
.css-14iz86j-BoldTextfont-weight:bold;Boeing is to cut another 7,000 jobs as its losses mount in the pandemic.
The US planemaker, which had already announced deep cuts, said its staff would be down to just 130,000 by the end of next year – 20% down on the 160,000 it employed before the crisis.
The coronavirus pandemic and safety concerns about its 737 Max jet have contributed to a slump in orders.
The firm posted a loss of $466m (£354m) for the three months to 30 September, its fourth straight quarterly decline.
However, it reaffirmed its expectation that US deliveries of the 737 Max would resume before the end of the year, albeit at deeply reduced production rates.
The fleet has been grounded since March 2019 after 346 people died in two separate air crashes.
.css-72p885-ComponentWrapper-CrossheadComponentWrappermargin:1.5rem 0;padding-top:1rem;
.css-1jlqpzd-StyledHeadingfont-family:ReithSerif,Helvetica,Arial,freesans,sans-serif;font-weight:500;font-size:1.5rem;line-height:1.75rem;color:#3F3F42;@media (min-width:37.5rem).css-1jlqpzd-StyledHeadingfont-size:2rem;line-height:2.25rem;.css-1jlqpzd-StyledHeading:focusoutline-style:none;.css-1jlqpzd-StyledHeading:focus-visibleoutline-style:auto;
Pressure
The pandemic added to the crisis, causing a huge drop in air travel, pushing major airlines to the brink of bankruptcy and forcing them to cut staff and drop plans for new aircraft.
As a result, Boeing has slashed production and also cut jobs. The firm announced a 10% reduction this spring and .css-yidnqd-InlineLink:linkcolor:#3F3F42;.css-yidnqd-InlineLink:visitedcolor:#696969;.css-yidnqd-InlineLink:link,.css-yidnqd-InlineLink:visitedfont-weight:bolder;border-bottom:1px solid #BABABA;-webkit-text-decoration:none;text-decoration:none;.css-yidnqd-InlineLink:link:hover,.css-yidnqd-InlineLink:visited:hover,.css-yidnqd-InlineLink:link:focus,.css-yidnqd-InlineLink:visited:focusborder-bottom-color:currentcolor;border-bottom-width:2px;color:#B80000;@supports (text-underline-offset:0.25em).css-yidnqd-InlineLink:link,.css-yidnqd-InlineLink:visitedborder-bottom:none;-webkit-text-decoration:underline #BABABA;text-decoration:underline #BABABA;-webkit-text-decoration-thickness:1px;text-decoration-thickness:1px;-webkit-text-decoration-skip-ink:none;text-decoration-skip-ink:none;text-underline-offset:0.25em;.css-yidnqd-InlineLink:link:hover,.css-yidnqd-InlineLink:visited:hover,.css-yidnqd-InlineLink:link:focus,.css-yidnqd-InlineLink:visited:focus-webkit-text-decoration-color:currentcolor;text-decoration-color:currentcolor;-webkit-text-decoration-thickness:2px;text-decoration-thickness:2px;color:#B80000;warned of the likelihood of deeper cuts through attrition, buyouts and layoffs over the summer. It does not expect travel to return to pre-crisis levels until about 2023.
It said its revenues were down 30% in the first nine months of the year, at $42bn.
Its third quarter loss, meanwhile, compares with a $1.2bn profit in the same period last year.
Boeing president and chief executive Dave Calhoun said the pandemic had "continued to add pressure" to the business .
But he added: "Our diverse portfolio, including our government services, defence and space programmes, continues to provide some stability for us as we adapt and rebuild for the other side of the pandemic."
The planemaker said it was making "steady progress" towards the safe return to service of the 737 Max, including "rigorous certification and validation flights" conducted by the US, Canadian and EU regulators.
It said the jet had now completed around 1,400 test flights and more than 3,000 flight hours.
.css-144ki52-SectionWrappermargin:1.5rem 0;padding-top:1.5rem;
Source:- BBC News
Former Fed Chair Janet Yellen reportedly Biden pick for Treasury Secretary – Yahoo Canada Finance
GlobeNewswire
Dublin, Nov. 24, 2020 (GLOBE NEWSWIRE) — The "Regenerative Medicine Market by Product (Cell Therapies (Autologous, Allogenic), Stemcell Therapy, Tissue-engineering, Gene Therapy), Application (Wound Care, Musculoskeletal, Oncology, Dental, Ocular), Geography – Global Forecast to 2025" report has been added to ResearchAndMarkets.com's offering. The Global Regenerative Medicine Market is Projected to Reach USD 17.9 Billion by 2025 from USD 8.5 Billion in 2020, at a CAGR of 15.9% during the Forecast Period. Market growth is driven by the rising prevalence of chronic diseases, genetic disorders, and cancer; rising investments in regenerative medicine research; and the growing pipeline of regenerative medicine products. However, the high cost of cell and gene therapies and ethical concerns related to the use of embryonic stem cells in research and development are expected to restrain the growth of this market during the forecast period.The cell therapies segment accounted for the highest growth rate in the regenerative medicine market, by product, during the forecast periodBased on products, the regenerative medicine market is segmented into tissue-engineered products, cell therapies, gene therapies, and progenitor and stem cell therapies. The cell therapies segment accounted for the highest growth rate in the regenerative medicine market in 2019. The increasing adoption of tissue-engineered products for the treatment of chronic wounds and musculoskeletal disorders and the rising funding for the R&D of regenerative medicine products and therapies are the major factors driving the growth of this segment.Oncology segment accounted for highest CAGRBased on applications, the regenerative medicine market is segmented into musculoskeletal disorders, wound care, oncology, ocular disorders, dental, and other applications. In 2019, the oncology segment accounted for the highest growth rate. This can be attributed to the rising prevalence of orthopedic diseases, growing geriatric population, increasing number of stem cell research projects, growing number of clinical researches/trials, and the rich pipeline of stem cell products for the treatment of musculoskeletal disorders. Europe: The fastest-growing region regenerative medicine marketThe global regenerative medicine market is segmented into North America, Europe, the Asia Pacific, and Rest of the World. The North America region is projected to grow at the highest CAGR during the forecast period in 2019. The growth in the North American regenerative medicine market can be attributed to rising stem cell banking, tissue engineering, and drug discovery in the region; expansion of the healthcare sector; and the high adoption of stem cell therapy and cell immunotherapies for the treatment of cancer and chronic diseases. Market Dynamics Drivers * Rising Prevalence of Chronic Diseases, Genetic Disorders, and Cancer * Rising Investments in Regenerative Medicine Research * Growing Pipeline of Regenerative Medicine ProductsRestraints * Ethical Concerns Related to the Use of Embryonic Stem Cells in Research & Development * High Cost of Cell and Gene TherapiesOpportunities * Implementation of the 21st Century Cures Act * Rising Demand for Organ TransplantationsImpact of the COVID-19 Pandemic on the Regenerative Medicine MarketCompanies Mentioned * 3M Group * Allergan * Amgen, Inc. * Anterogen Co., Ltd. * APAC Biotech * Aspect Biosystems * Bluebird Bio * Corestem, Inc. * Integra Lifesciences Holdings Corporation * Kite Pharma * Medipost Co., Ltd. * Medtronic plc * Mimedx Group * Misonix * Novartis Ag * Organogenesis Inc. * Orthocell Ltd. * Shenzhen Sibiono Genetech Co., Ltd. * Smith & Nephew plc * Spark Therapeutics * Stryker Corporation * Takeda Pharmaceutical Company Limited * Tego Science, Inc. * Vericel Corporation * Zimmer BiometFor more information about this report visit https://www.researchandmarkets.com/r/6v7acfResearch and Markets also offers Custom Research services providing focused, comprehensive and tailored research. CONTACT: CONTACT: ResearchAndMarkets.com Laura Wood, Senior Press Manager press@researchandmarkets.com For E.S.T Office Hours Call 1-917-300-0470 For U.S./CAN Toll Free Call 1-800-526-8630 For GMT Office Hours Call +353-1-416-8900
Peel Public Health reporting COVID-19 outbreaks at Brampton schools – Brampton Guardian
[unable to retrieve full-text content]
Toronto rolling out 'targeted' COVID-19 response for red-hot neighbourhoods – CP24 Toronto's Breaking News
Toronto is launching an enhanced COVID-19 response program targeting some of the city's hardest hit neighborhoods.
Mayor John Tory announced the program during the city's COVID-19 update Monday as the Toronto came under a provincially mandated lockdown to try curb the spread of the disease.
"We can't stop the spread of COVID-19 in some parts of our city while it rages like wildfire in other parts of the city and we owe it to the most vulnerable to make sure that extra measures are provided, extra supports are provided in their fight against COVID-19," Tory said. "We have to fight this virus everywhere, and we have to stop it everywhere."
Data collected by Toronto Public Health have shown that case numbers and positivity rates are higher in certain areas of the city while testing rates are lower, particularly in the northwest corner of the city and northeast Scarborough.
Tory said the data show that the virus is having a disproportionate impact on people who are Indigenous, Black or racialized, precariously employed, live on low income, live in multi-generational housing, or who experience challenges taking time from work when ill.
"We are ramping up our support plan to fix this, in partnership with 11 highly trusted community based partners," Tory said. "The city is immediately launching an urgent set of initiatives in targeted neighborhoods to increase supports and testing for residents in COVID-19 hotspots.
"This is an all hands on deck effort. Every part of the city government that we can mobilize is involved."
Those measures will include a broader sharing of public health information, improving access to COVID-19 testing, as well as "critical supports" to those who test positive, and to their families in order to address testing hesitancy.
Tory said the city is working on expanding the number of provincial testing sites, using buses for more mobile testing, and providing more transportation to testing sites with expanded hours.
The city is also continuing to lobby higher levels of government to continue or implement further supports to help those who are most vulnerable.
In particular, Tory said the city is renewing a request for the province to continue a ban on residential evictions during the pandemic.
Another major problem affecting some parts of the city is hesitation to get tested for fear that a positive test will mean loss pf income.
"Right now, people in the City of Toronto are waking up with COVID-19 symptoms, going to work, and giving the virus to their coworkers. Why, because they fear losing their jobs and or their paycheck, and they feel compelled to continue working without getting tested so they can put food on the table," Tory said.
Tory said current federal and provincial supports for workers who have to take time off to isolate are either inadequate or net well understood. He said he has raised the matter with federal and provincial ministers but in the meantime is calling on employers to "do the right thing" by supporting workers who have to take time off to isolate because they have tested positive or have symptoms.
Following Tory, Toronto's Medical Officer of Health Dr. Eileen de Villa reiterated that many frontline workers are relying on those who can stay home as much as possible to do so.
"We owe it to them, those of us who can choose to keep apart more than others. We owe it to them to choose wisely and in ways that limit the risk for those who don't have the choice to keep apart, and who may be at an even greater risk of getting sick because of it," de Villa said. "This is truer for some communities in Toronto than others."
De Villa said she remains "very worried" about where the city is going in terms of its progress in fighting the pandemic and urged people to reduce unnecessary trips and interactions in order to do their part.
"I urge you to act with the care and caution that we all showed last spring," she said. "As I've said many times, with each choice we are able to make, we can lessen the likelihood of worse infection rates and soften the blow of what is yet to come."
She said the possibility of allowing gatherings at Christmas and other events into next year depend on how well the city does in containing the spread of the virus during the current lockdown.