Bollywood actress at the centre of media frenzy granted bail – WellandTribune.ca
NEW DELHI – A Bollywood actress who was arrested by India's narcotics agency, setting off a media frenzy that has gripped the nation, walked out of jail on Wednesday after being granted bail.
Rhea Chakraborty was released from Bycula District Prison in Mumbai a month after being arrested for allegedly buying drugs for her boyfriend, popular movie actor Sushant Singh Rajput, who was found dead in a suspected suicide in June.
India's freewheeling TV news channels speculated that Chakraborty drove him to take his life and was part of a drug-dealing mafia in Bollywood, India's Mumbai-based film industry.
The court in Mumbai on Wednesday said the actress was not part of any drug syndicate and had no criminal record. It said Chakraborty could not have financed or supported illegal drug trafficking as alleged by the narcotics agency.
The 28-year-old actress' lawyer, Satish Maneshinde, said her arrest was "totally unwarranted and beyond the reach of law."
Chakraborty's brother, who was arrested in the same case and has also denied the charges, however, remains in custody.
Rajput's suspected suicide in June initially triggered a debate over mental health. But his family disputed Indian media reports that he suffered from mental illness and lodged a police complaint accusing Chakraborty of abetment of suicide. She has denied the allegation.
Many Indian television news channels then declared Chakraborty guilty of Rajput's death and claimed she had overdosed him on drugs. The TV channels have since spent months obsessing over the case, at the expense of other issues such as India's stalling economy, the government's virus response and growing hostilities with China over a border dispute.
Earlier this week, a panel of doctors examining Rajput's autopsy reports at the All India Institute of Medical Sciences, a leading public hospital in New Delhi, submitted a report to the Central Bureau of Investigation that ruled out murder as a cause of the actor's death.
Rajput, 34, was found dead in his Mumbai apartment on June 14. Police listed the cause of death as asphyxia by hanging and said he appeared to have taken his own life. The case is still being investigated.
Rajput, an engineering student who grew up in Bihar, India's poorest state, was the quintessential outsider who managed to open the doors of Bollywood and craft a brief but successful acting career.
After Chakraborty's arrest in September, the federal narcotics agency also questioned other actresses in a parallel investigation into claims of widespread drug use and trafficking in Bollywood.
No date has been set for Chakraborty's trial.
Loading…
Loading…Loading…Loading…Loading…Loading…
Canada and Botswana to co-host 2nd media freedom global conference – Radio Canada International – English Section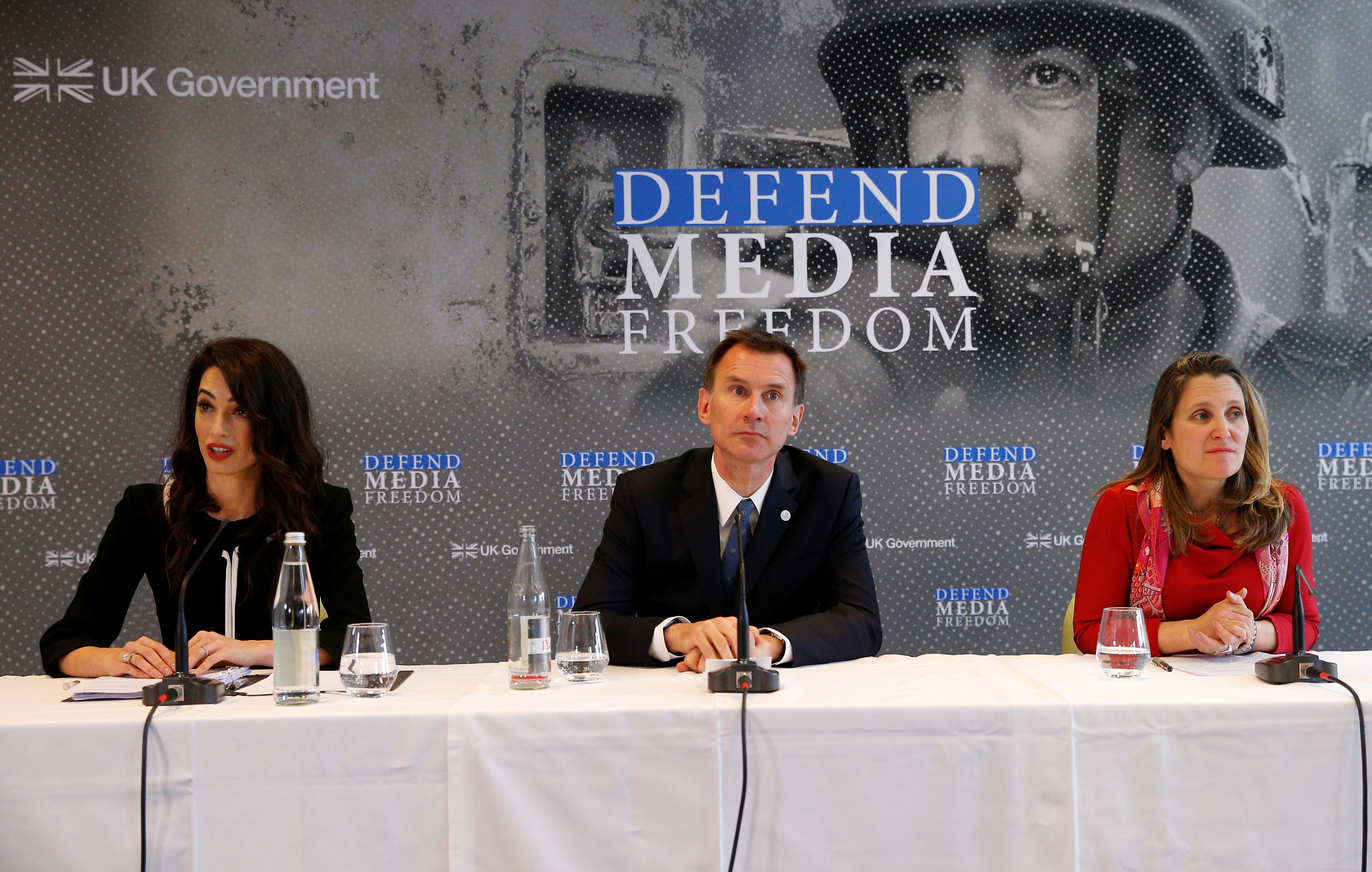 Britain's Foreign Secretary Jeremy Hunt, Canada's Foreign Minister Chrystia Freeland and human rights lawyer Amal Clooney attend a news conference on media freedom as part of the G7 Foreign Ministers' meeting in Dinard, France, Apr. 5, 2019. (Stephane Mahe/REUTERS)
Canada and Botswana are joining forces to co-host the second edition of Global Conference for Media Freedom, Foreign Affairs Minister Francois-Philippe Champagne announced Monday.
The online conference is expected to take place on Nov. 16 and will bring together representatives of traditional and digital media, civil society and various governments, Champagne said.
UN High Commissioner for Human Rights Michelle Bachelet will deliver the keynote address at the conference.
Former president of the United Kingdom Supreme Court Lord David Neuberger and noted human rights lawyer Amal Clooney will co-chair a high-level panel of legal experts on media freedom, officials at Global Affairs Canada said.
"A vibrant and free media is essential to democracy and human rights," Champagne said in a statement. "During this critical time, we must stand together to protect the freedom of media workers who pursue necessary truths, within and beyond our own borders."
Canada and the U.K. co-hosted the first Global Conference for Media Freedom in London in July 2019.
Since 2015, Canada has invested $18.2 million in programs supporting the media and the free flow of information, according to Global Affairs Canada.
Canada ranks 16th on the 2020 World Press Freedom Index, compiled by Reporters Without Borders (RSF), while Botswana is in the 39th place among the 180 countries represented in the index.
This 2020 edition of the Index suggests that the next ten years will be pivotal for press freedom because of converging crises affecting the future of journalism.
The index singles out five critical areas for the future of journalism in the next decade:
a geopolitical crisis (due to the aggressiveness of authoritarian regimes)
a technological crisis (due to a lack of democratic guarantees)
a democratic crisis (due to polarisation and repressive policies)
a crisis of trust (due to suspicion and even hatred of the media)
an economic crisis (impoverishing quality journalism)
"We are entering a decisive decade for journalism linked to crises that affect its future," RSF secretary general Christophe Deloire said in a statement.
"The coronavirus pandemic illustrates the negative factors threatening the right to reliable information, and is itself an exacerbating factor. What will freedom of information, pluralism and reliability look like in 2030? The answer to that question is being determined today."
China retaliates against news media in latest feud with US – The Battlefords News-Optimist
BEIJING — China has ordered six U.S.-based news media to file detailed information about their operations in China the latest volley in a monthslong battle with the Trump administration.
A foreign ministry statement issued late Monday demanded that the bureaus of ABC, The Los Angeles Times, Minnesota Public Radio, the Bureau of National Affairs, Newsweek and Feature Story News declare information about their staff, finances, operations and real estate in China within seven days.
The announcement came five days after U.S. Secretary of State Mike Pompeo said six Chinese media would have to register as foreign missions, which requires them to file similar information with the U.S. government.
The six were the third group of Chinese media required to do so this year. Each time, China has responded by forcing a similar number of U.S. media to file about their operations.
The ministry statement said China was compelled to take the step "in response to the unreasonable oppression the Chinese media organizations experience in the United States."
Pompeo, in making his announcement, said the targeted Chinese media are state-owned or controlled, and that the U.S. wants to ensure that "consumers of information can differentiate between news written by a free press and propaganda distributed by the Chinese Communist Party."
The media is one of several areas of growing tension between the two countries as the Trump administration ramps up pressure on China over trade, technology, defence and human rights.
The U.S. ordered the closing of the Chinese consulate in Houston earlier this year, and China responded by shuttering the U.S. consulate in the southwestern city of Chengdu.
Media City, Signpatico join forces to become Vendo – Media In Canada
Media City, Signpatico join forces to become Vendo
The two companies are using their regional footholds as an advantage in their growth strategy.
<!–
–>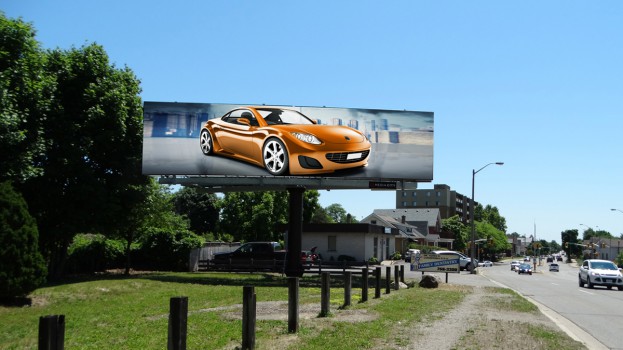 The two companies are using their regional footholds as an advantage in their growth strategy.