Brady breaks Falcons' hearts again, leads Bucs to victory – TSN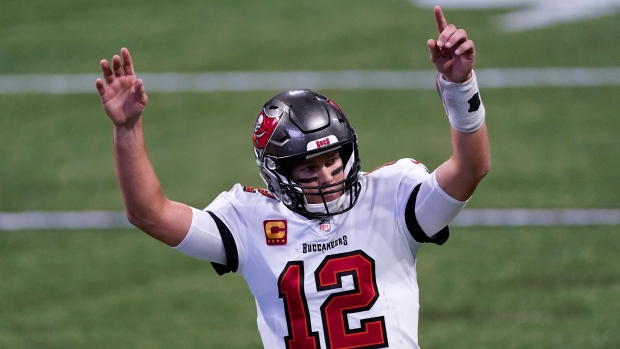 ATLANTA — Tom Brady took a knee, then headed toward the Atlanta Falcons sideline to exchange a few words with Matt Ryan.
It all looked so familiar.
Yep, Brady did it again to Ryan and the Falcons.
Rallying Tampa Bay from a pair of 17-point deficits, Brady recreated his Super Bowl miracle by leading the Buccaneers on five straight scoring drives in the second half Sunday for a 31-27 victory over Atlanta.
The stakes weren't nearly as high and the deficit wasn't quite as daunting, but Brady's latest blow to Atlanta took the Bucs (9-5) to the brink of their first playoff berth since 2007.
It sure didn't look that way when Atlanta raced to 17-0 by halftime, or when the Falcons (4-10) restored their margin to 24-7 after Brady finally guided the Bucs to a touchdown on the first possession of the second half.
Turns out, the 43-year-old was just getting warmed up.
"He's just a winner," Buccaneers coach Bruce Arians said. "He knows how to do it."
Brady certainly had plenty of experience to fall back on when it comes to breaking Atlanta's heart.
In the 2017 Super Bowl, Brady famously led the greatest comeback in championship game history, rallying New England from a 28-3 deficit late in the third quarter to a 34-28 overtime victory that secured his fifth of six titles with the Patriots.
Now, it looks like he'll get a shot at another ring with his new team. The Bucs are on the cusp of wrapping up a wild-card berth, which is just what Brady had in mind when he left snowy Massachusetts for sunny Florida.
?A lot of it is his track record, the belief he inspires in all of us," tight end Cameron Brate said. "He's done it on the biggest stage. That 28-3 game. We've seen him do it."
Brady sought out Ryan as soon as the clock expired. He had no trouble finding the Atlanta quarterback, who was headed his way wearing a mask.
"He's a great player, has been a great player for a long time," Ryan said. "I was just telling him that he played well."
Brady capped his latest rally with a 46-yard touchdown pass to Antonio Brown with 6:19 remaining. The league's oldest player finished 31 of 45 for 390 yards and two TDs.
"Great poise by everybody," Brady said. "Everybody hung in there. We got off to a tough start, but we found a way to win."
Brown, once considered the game's greatest receiver but struggling to put his career back together after extensive off-the-field troubles, scored his first TD since joining the Bucs and his first with anyone since Week 2 of the 2019 season with Brady in New England.
He fell to his knees and raised both arms toward the stadium roof after hauling in the scoring pass.
"It's been a long journey for me," Brown said.
Tampa Bay scored on five straight possessions after halftime — four touchdowns and a field goal.
Leonard Fournette had a pair of 1-yard TD runs, Brady hooked up with Chris Godwin on a 4-yard scoring pass, and Ryan Succop connected on a 27-yard field goal.
Ryan was 34 of 49 for 356 yards and three touchdowns for the Falcons, but he did little after connecting with Hayden Hurst on a 7-yard TD throw midway through the third quarter.
The Bucs suddenly starting getting pressure on the Atlanta QB, who was sacked three times— all of them credited to Devin White.
Atlanta failed to pick up a first down on four of its last five possessions, the only exception being a drive that ended with Younghoe Koo's 52-yard field goal with 8:22 remaining, giving the Falcons a 27-24 lead.
It didn't hold up.
It never does against Brady, who improved to 7-0 against the Falcons in his long career.
The Falcons took another demoralizing loss in a season filled with them. They already became the first in NFL history to blow fourth-quarter leads of at least 15 points in two straight games.
Now, this — which may have hurt even worse because of the guy who led the comeback.
Brady did it again to the Falcons.
"He's never out of the fight," Atlanta's Grady Jarrett said, "as I've learned too many times.
TOM'S FORMER TEAM
Brady's latest triumph came on the same day the Patriots were eliminated from playoff contention for the first time in 12 years with a loss to the Dolphins.
"They have their own thing going," Brady said. "They're focused on what they need to do and I'm focused on what I need to do."
WHITE'S BIG DAY
It was the second second time this season that White has made three sacks in a game. He also did it on Oct. 25 against the Raiders, making him the only player with two three-sack games this season
"Man, I just played instinct football," White said. "I was seeing some things and took advantage of it."
White had only 2 1/2 sacks a year ago as a rookie. He's stepped up his game after watching the Michael Jordan documentary over the off-season.
"When you play with that edge and confidence, you can do some really spooky things," White said.
MATTYS MILESTONE
Ryan became the ninth quarterback in NFL history pass for 55,000 yards in his career.
Matty Ice now has 55,202 yards and will set his sights on Eli Manning, the next guy on the career list with 57,023.
INJURY REPORT
Buccaneers;: CB Carlton Davis, who leads Tampa Bay with four interceptions, was ruled out early in the second half with a groin injury.
Falcons: CB Blidi Wreh-Wilson went out in the first half after falling ill and did not return. … OG James Carpenter (groin) and CB Isiah Oliver (cramping) also went out. With Oliver on the sideline, backup cornerback Tyler Hall was beaten on Brown's game-winning touchdown.
UP NEXT
Buccaneers: Look to clinch a playoff berth when they play their final road game of the season next Sunday against the Detroit Lions.
Falcons: Travel to Kansas City to face the Super Bowl champion Chiefs.
___
Follow Paul Newberry on Twitter at https://twitter.com/pnewberry1963 His work can be found at https://apnews.com/search/paulnewberry
___
More AP NFL: https://apnews.com/NFL and https://twitter.com/AP_NFL
Tkachuk-Muzzin fireworks add new chapter to Flames' growing rivalry with Leafs – Sportsnet.ca
CALGARY – On his knees at the final buzzer, crushed by the Flames' second loss in a row, Matthew Tkachuk had hockey's version of sand kicked in his face.
Standing a few feet away from the Flames agitator, Jake Muzzin turned and deliberately flipped the puck at Tkachuk's chest, punctuating the Leafs' 4-3 win with a big ol' middle finger.
Given Tkachuk's penchant for perturbing, there aren't many players in the league who wouldn't love sending a similar message his way.
Fair enough.
Infuriated at the disrespect, Tkachuk sprung to his feet and immediately launched into the Leafs veteran, doing his best to square off with Muzzin while other Leafs and an official stepped in to separate them.
For his efforts, Muzzin was handed a meaningless unsportsmanlike conduct penalty, while an enraged Tkachuk stormed down the tunnel to the dressing room, attempting to smash several water bottles along the way.
What a shame these two don't play again until Feb. 22.
Not just because it's now clear the Leafs really did take exception to Tkachuk's fall on Jack Campbell's back a game earlier after all, but because the two just engaged in a whale of a see-saw battle.
Now we know there's some juice in this matchup.
All it really ever takes is a little familiarity with Tkachuk for an opponent to start digging in against him. The Leafs and Flames are now building that animosity, with a full seven games left in their season series.
Don't forget who Muzzin played alongside for many years in Los Angeles – yes, the man who Tkachuk has had a very public, running feud with: Drew Doughty.
You can bet that Doughty's evening ended with a text to his old pal that included a string of supportive emojis.
As bush and symbolic as a puck flip into an opponent's chest is, it sets the stage for more wonderful theatre and storylines when the two next meet. That's what this North Division could – and should — be all about: vitriol, animosity, payback and passion.
On Tuesday, the game itself was entertaining, and that can normally carry the day. But the NHL is in the entertainment business and few things in sport are more entertaining than conflict.
As far as the game went, the Flames pulled another first-period no-show, outshot 10-1 and lucky to trail just 2-0 thanks to their new nightly saviour, Jacob Markstrom.
The Flames flipped the script in the second, outshooting the visitors 18-5 to set up a third period in which they bridged their 3-2 deficit with a tying goal from Johnny Gaudreau, his second of the game.
Although league scoring leader Mitch Marner would eventually break the deadlock with a snipe from the high slot that won the game with eight minutes left, nobody was feeling it more than Gaudreau on this night.
As part of a solid start to his season, Gaudreau had his first two-goal game since Dec. 12, 2019.
Alas, as usually happens when the Leafs win, Toronto's big boys were the difference. Marner and Matthews both had a goal and a helper to clinch a two-game sweep over a Calgary club that spent the bulk of both games playing catch-up.
"First period was awful for the whole team, other than Marky," said Gaudreau, slumped in his chair.
"We just didn't show up in the first. Not the way we're going to win games."
The Flames can take solace in the fact that for the third time this season they followed up a horrific period with a doozy. But there wasn't much else to take away from a game in which Geoff Ward's defensive demands were ignored with regularity.
"We didn't start on time, that's for sure," said Ward. "We got outworked early and we were really porous. We looked like we'd never tracked before in our life. Everything we do has to come from the fact we can check. You can't give up four goals in this league regularly and expect to win games. We have to be committed to being good away from the puck."
But nobody will be talking about that on Wednesday, as the Flames make their way to Montreal to play the red-hot Habs.
They'll discuss the pettiness of a puck flip, the possibility of payback and the reality that we may just get playoff-type hostility long before the post-season begins.
For that we can thank Mr. Muzzin and Mr. Tkachuk, who's next time together in the sandbox is already being discussed.
Blue Jays snag Marcus Semien on one-year deal for infield upgrade – Toronto Sun
Article content
The Blue Jays continued their pursuit of moving towards serious playoff contention on Tuesday by signing free agent Marcus Semien to bolster their infield.
Once again showing they mean business, the Jays reached agreement with the veteran shortstop, who most recently held that position with the Oakland Athletics. A source told the Toronto Sun that the one-year deal is worth $18 million US, pending a physical.
Semien is one season removed from the best campaign of his career when he hit .285 with 33 home runs and finished third in 2019 American League MVP voting. Presumably that offensive flash was attractive enough for the Jays to overlook a regression in 2020 when Semien got off to a tardy start and never recovered, batting just .223.
The 30-year-old has spent most of his career at shortstop, which will make for some interesting decisions for manager Charlie Montoyo. The likelihood in Toronto, however, is that Semien — who the team feels will be a plus-defender — is to play at second and shift Cavan Biggio to third base.
Maple Leafs benefiting from Marner's new shooting mentality – Sportsnet.ca
For three winters now, pass-first Mitchell Marner has vowed to adopt a shooter's brain, knowing full well that becoming a double threat would keep goalies guessing and the Toronto Maple Leafs winning.
"You've got to respect both the shot and the pass option," goaltender Frederik Andersen explains. "The better you can be at both, the more it's going to help you."
Sounds simple enough.
But on a night when your team has coughed up 2-0 and 3-1 leads on the road, when the game is tied, and the tide has turned, and your centreman plants one on your tape with under eight minutes left… you still gotta bury the sucker.
Which is precisely what Marner did Tuesday in Calgary, drifting into a quiet space in the high slot, pounding a one-timer past Jacob Markstrom, and delivering Toronto its sixth nail-biting victory in eight games.
"I've really been working on that shot with Matts. If I can try to find that shot more, I know Matts can find me there," said Marner.
For years now, Auston Matthews and Marner have routinely been the final two Leafs to glide off the ice during pre-game skate, using every last second of warm-up to feed each other one-timers until the buzzer sounds, the lights dim, and the music stops.
"It's just trying to get it off my stick quickly and on to the net, for a chance on net, for a rebound or something," Marner said. "I'm trying to get more of a shot mentality in there, trying to be more of a threat. It was a great dish by Matty, and that's a big goal."
Indeed.
Marner's strike completed an eight-point swing in the North Division standings in favour of the Leafs over the Flames in the rivals' first two-game miniseries.
Marner's fifth multi-point effort and second game-winner also vaulted the winger into a tie with Connor McDavid for the NHL points lead with 12.
Critics may be quick to point out that Marner has a league-high two empty-netters or that his 31.3 per cent shooting percentage is unsustainable. Fair. But there is little doubt Marner has embarked on a mission to make his impact felt after a disappointing experience in the 2020 post-season bubble.
"A real differentiator for the true great players, the truly elite players of the league: they're not satisfied," coach Sheldon Keefe said. "When you see Mitch Marner, John Tavares, Auston Matthews, William Nylander out on the ice every day, practising and working on different things and spending their off-season trying to add different layers to the game, if you're a player that is not at their level, there's no excuses."
Instrumental to both the Leafs' top power-play and penalty-kill units, Marner has seen his average ice time climb to 23:33, tops among all NHL forwards.
In effort to convert his muffin to a missile, Marner has bulked up his body and stiffened his stick flex. He's also tried to rethink his options when he gets within striking distance.
"The last two years I've been trying to work on it. I feel like it's a mentality thing," Marner said. "I feel like I really want to try and make an extra play most of the time, but this year around, trying to be more of a threat. More of a guy that can be a more consistent shooter on net, kind of change things up on goalies — and that's what I did tonight."
Andersen faces Marner's shot daily in practice and believes it's an "underrated" weapon, noting that placement can trump power.
"He's good at picking spots and being pretty elusive and tricky about where he's going to go," Andersen said. "He wants to be more than an incredible passer and playmaker. I know he wants to add to his game, and I think he's done that throughout the years I've played with him."
Much of the juicy morning chatter around the Leafs' 4-3 win will be about Jake Muzzin flipping the game puck into Matthew Tkachuk's logo at the buzzer and Tkachuk blowing a gasket in response to the unwelcome souvenir.
But Muzzin's take-that gesture would not have been possible had the Maple Leafs not received contributions from their bottom six — taxi-squad graduate Travis Boyd notched his first as a Leaf, and Wayne Simmonds is now running a two-game goal train — or a double dose of the Matthews-Marner connection.
"It just looks like he's flying," Morgan Rielly says of Marner. "I know he's pretty motivated, and he's in a good place right now. He's just having fun with it, and it's great to be around him at the rink when he's feeling like that."
New Leafs T.J. Brodie and Zach Bogosian have both had their eyes opened by Marner's elite ability to make reads and contribute defensively.
"So, he's the total package," Bogosian says.
Even higher praise for Marner came from Leafs president Brendan Shanahan when addressing the club's season-ticket holders in a Leafs Nation Network interview earlier this month.
"He's got an energy that the players all love. He laughs at himself. He's self-deprecating, but he's also very serious about his job and the pressure that he puts on himself," Shanahan said.
"He just cares. He cares a lot. This is a guy that I hope plays his entire career in Toronto. And if he does, I have no doubt he will bring us success. And I have no doubt that he's going to have a statue outside of the arena one day."