Breaking down the many winners and losers of the Patrick Kane trade
The Patrick Kane saga has reached its conclusion. Finally.
The New York Rangers acquired Kane and minor leaguer Cooper Zech on Tuesday in a three-team trade with the Chicago Blackhawks and Arizona Coyotes.
Chicago received a conditional 2023 second-round draft pick, a 2025 fourth-rounder, and minor leaguers Vili Saarijarvi and Andy Welinski while retaining 50% of Kane's $10.5-million salary. Arizona, meanwhile, received a 2025 third-rounder from New York for 25% retention.
The trade, which closes a chapter in Blackhawks history, is complicated and indicative of a wild trade market, so let's unpack some winners and losers.
Winner: Patrick Kane
In the end, "Showtime" got his way.
Kane negotiated a no-move clause into his contract back in 2014, and over the past few months, he exercised it to its full potential. The pending unrestricted free agent waited and waited before finally making a decision. It was well within his rights to take his time and select a landing spot (score for player empowerment!), and now he's joining forces with old pal Artemi Panarin and the rest of the 34-17-9 Rangers, a legitimate Stanley Cup contender.
Kane, 34, won three Stanley Cups over a 16-year run with the Blackhawks. He's one of the best offensive players of his generation, with a trophy case full of individual awards to prove it. And while he's no longer in his prime, Kane's going to benefit greatly from being surrounded by more talent in New York.
For the first time in a long time, he can be "A Guy," not necessarily "The Guy."
Loser: Kyle Davidson
Let's face it, Chicago's general manager was dealt a pretty crappy hand.
Davidson began 2022-23 with two legacy stars to dangle as premier deadline rentals. Trading both Kane and Jonathan Toews, while not an easy task thanks to no-move clauses and expensive contracts, would expedite a deep rebuild.
Health issues eventually removed Toews from the trade block. And now Kane has been shipped out for a less-than-ideal package: two draft picks, one of which might turn into a first-rounder. (The 2023 second-rounder becomes a first in 2024 or 2025 if the Rangers reach the Eastern Conference Final this season.)
No guaranteed first, no A-level prospect, and no young NHLer; not exactly a haul.
Yes, Davidson had little control over the situation. But it doesn't erase the fact that he lost this trade with the Rangers – who had all the leverage due to Kane choosing New York as his only destination – and couldn't trade Toews, period.
Winner: Gerard Gallant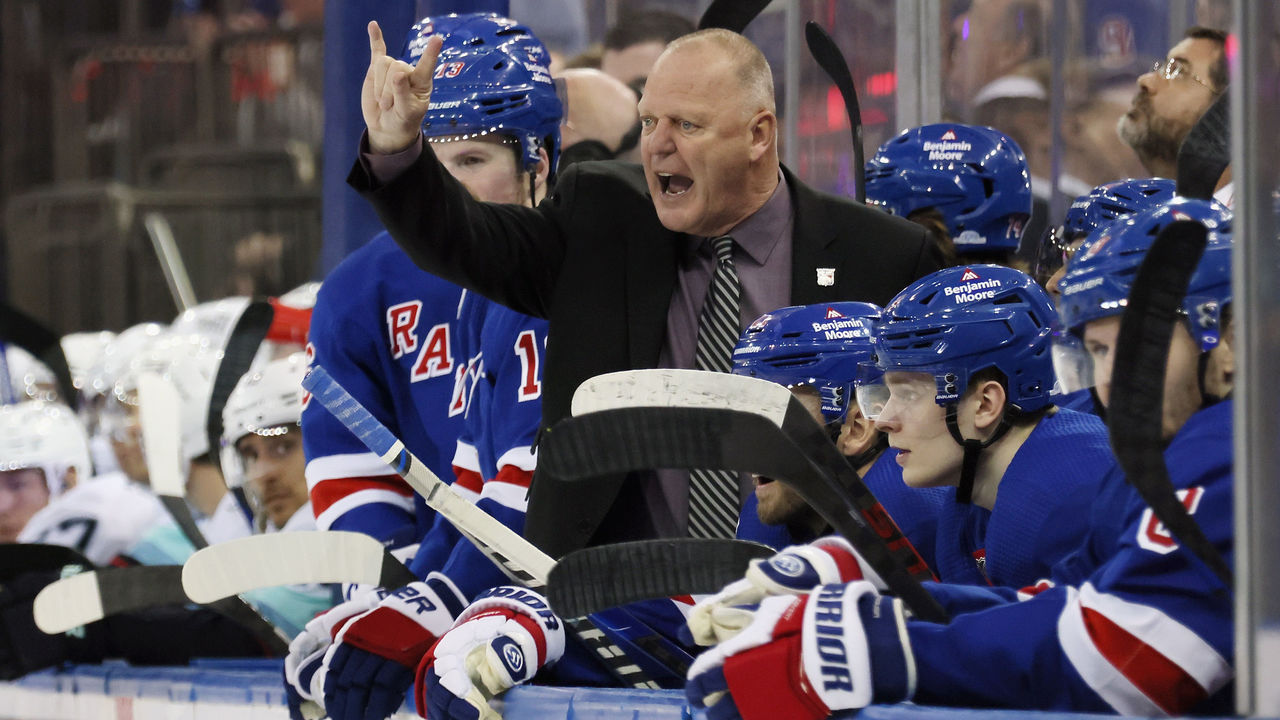 The Rangers head coach officially has an embarrassment of riches up front.
This month alone, Gallant's been gifted forwards Kane, Vladimir Tarasenko, and Tyler Motte. Kane is having a down year by his lofty standards (45 points in 54 games) but has turned it on of late with 10 points in his past four games. Despite his age, Kane remains a lethal setup man. He possesses silky hands and the requisite hockey IQ to execute extremely creative plays.
That revamped top six – Kane, Tarasenko, Panarin, Mika Zibanejad, Chris Kreider, and Vincent Trocheck – is as good as any in the NHL, and the usage and deployment possibilities are endless. The so-called "Kid Line" of Alexis Lafreniere, Filip Chytil, and Kaapo Kakko is an enviable third line. And a fourth line of Motte, Jimmy Vesey, and Barclay Goodrow is, well, laughably good.
Rangers GM Chris Drury also acquired defenseman Niko Mikkola for Gallant's third pair. Yeah, February has been very kind to the coach and his lineup card.
Loser: Jarmo Kekalainen
The Columbus Blue Jackets GM must be fuming right now.
Technically, the Kane trade didn't see a first-round pick change hands. But down the road, New York could fork over a first-rounder for Kane, so the deal represents yet another instance over the past month where a contending team included a first in a trade package. There are only so many.
In total, eight first-rounders over the next three drafts have been sacrificed (one of them twice in a matter of days) for the likes of Tarasenko, Ryan O'Reilly, Jake McCabe, Tanner Jeannot, Dmitry Orlov, Bo Horvat, Rasmus Sandin, Mattias Ekholm, and Timo Meier. (The Meier deal featured a guaranteed first and a conditional second that may turn into another first.)
Apparently, none of these clubs are super intrigued by Vladislav Gavrikov, the rugged Columbus defenseman who on Tuesday sat out his eighth straight game for "trade-related reasons." A deal between the Blue Jackets and Bruins was reportedly very close, but Boston ultimately chose Orlov over Gavrikov.
Surely Gavrikov will be scooped up before the deadline. But for what?
Winner: Eastern Conference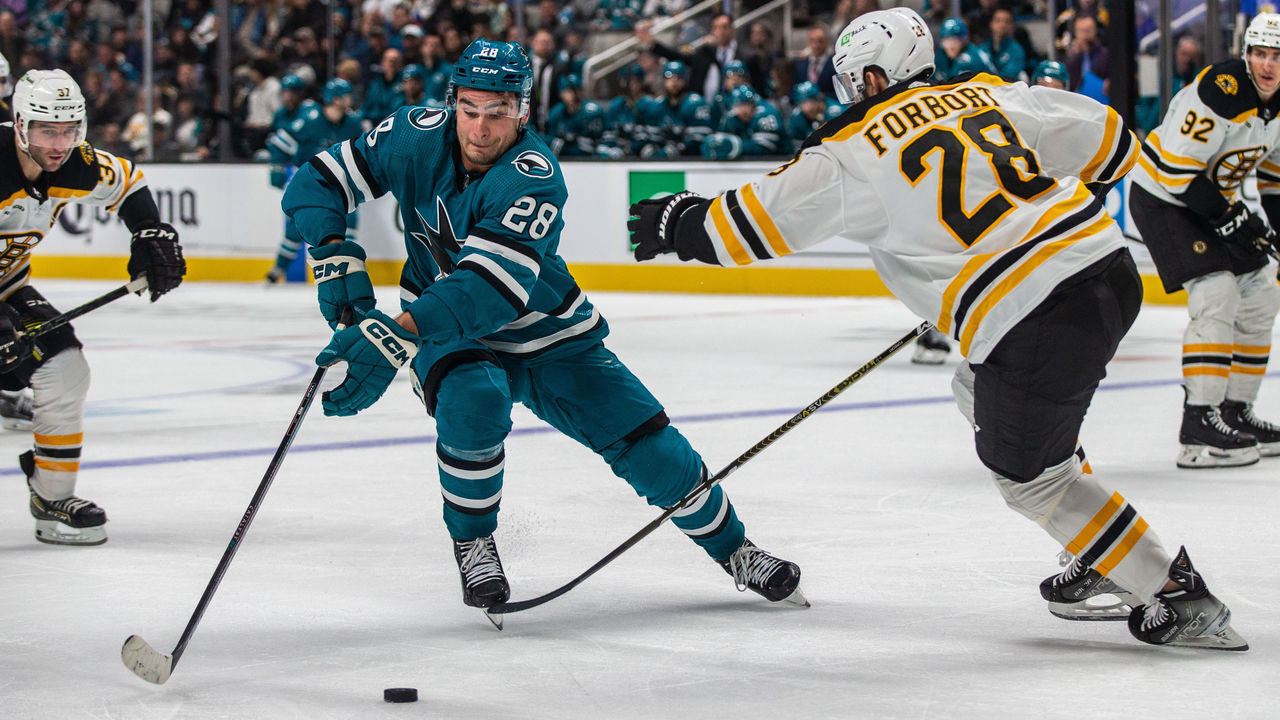 The Kane deal added to the arms race well underway in the East.
The difference between the two conferences was striking prior to the first major move of this wacky trade period (Horvat to the New York Islanders on Jan. 30). A month later, the East occupies spots one through six on the points percentage leaderboard while dominating the West on the trade market.
Here's the list of notable NHLers who've been moved to or stayed within the East since that first domino fell with the Horvat swap: Kane, Tarasenko, O'Reilly, Orlov, Meier, Jeannot, McCabe, Jesse Puljujarvi, and Luke Schenn.
And the West: Ekholm, Nino Niederreiter, Ivan Barbashev, Evgenii Dadonov, and Tyson Barrie.
Keep in mind, too, the Carolina Hurricanes – who trail only the Bruins in points percentage – have only acquired Puljujarvi. There's no way Carolina's done.
Loser: 'Trade-related reasons'
The term "trade-related reasons" (and its cousin, "roster management reasons") is getting quite the workout this month. Kane, who missed his final two games in Chicago, became the first big name to actually get moved after being scratched out of fear of injury before a trade could be finalized.
Gavrikov (out eight games without a trade) and Arizona Coyotes defenseman Jakob Chychrun (eight games) are still waiting for news. Healthy and useful players sitting around doing nothing for weeks isn't a great look for the NHL, though the situation appeared worse when Jeannot, Schenn, Sam Lafferty, and Vitali Kravtsov had also watched at least one game from the press box.
The latest "trade-related" scratches? Blue Jackets goalie Joonas Korpisalo and Coyotes forward Nick Bjugstad were both sidelined Tuesday night.
Winner: Third-party brokering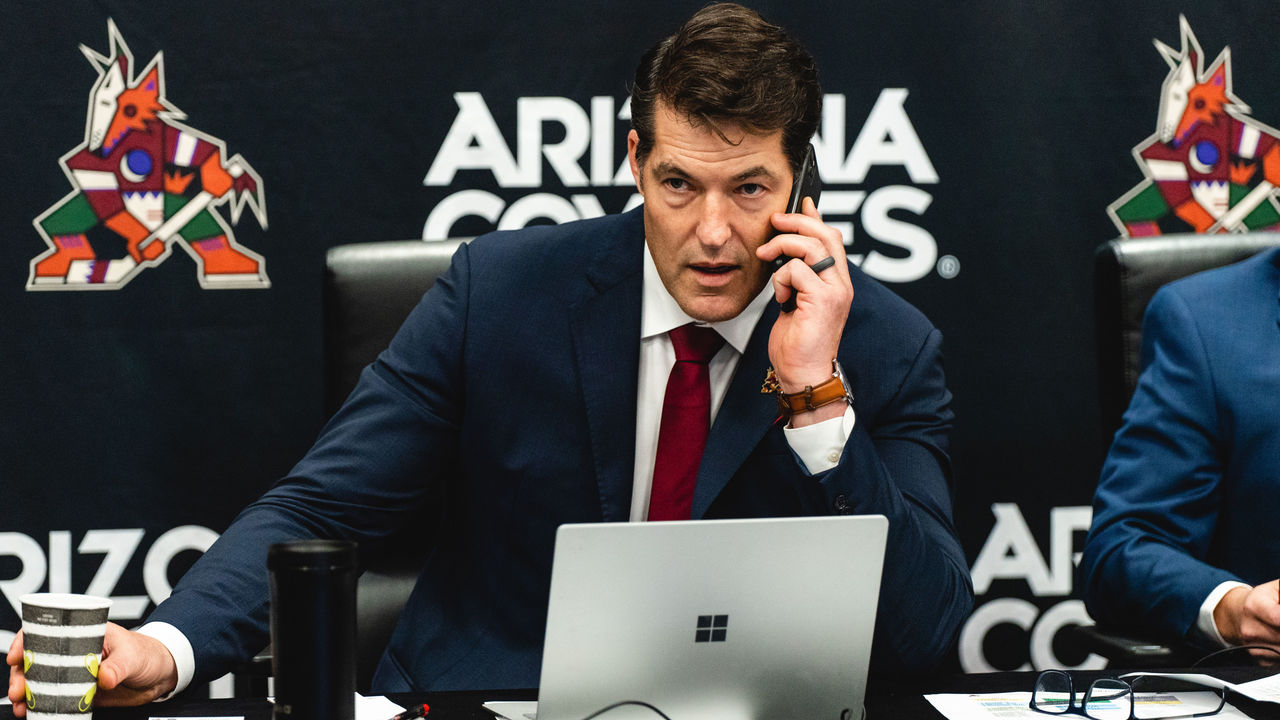 Coyotes GM Bill Armstrong has joined Wild GM Bill Guerin in the 2022-23 third-party brokers club – and membership may grow in the coming days.
Guerin has taken on salary in two different trades, first receiving a 2025 fourth-round pick from Toronto for retaining 50% of O'Reilly's salary and then netting a 2023 fifth-rounder from Boston for eating 50% of Orlov's salary.
This mini-trend is a byproduct of the salary cap's minimal increase during the pandemic. Last season saw one third-party broker deal (Max Domi), while 2020-21 had three such deals (Mattias Janmark, Nick Foligno, David Savard).
Of course, a third team isn't always needed to retain salary. Over the past few weeks, we've seen plenty of selling teams eat a portion of a contract to make the money work for the buyer. Teams can retain on a total of three players.
Loser: Trade deadline shows
Let's keep this last one short: While it's awesome to see so much trade activity, TV executives in Canada and the United States can't be too pleased.
Friday won't be dead – there's always movement on deadline day, and this season definitely feels abnormally busy, in general – but a lot of the marquee names have already changed teams. Time to prepare the gimmicky segments.
John Matisz is theScore's senior NHL writer. Follow John on Twitter (@MatiszJohn) or contact him via email (john.matisz@thescore.com).
Maple Leafs clinch playoff berth with Panthers loss to Senators
The Toronto Maple Leafs clinched a berth in the Stanley Cup Playoffs on Monday.
The Maple Leafs (44-20-9), who clinched when the Florida Panthers lost 5-2 to the Ottawa Senators, are second in the Atlantic Division, 22 points behind the Boston Bruins and seven ahead of the third-place Tampa Bay Lightning.
It's the seventh straight season Toronto has clinched a playoff berth. It hasn't won a postseason series since 2004.
The Maple Leafs are led by forwards Mitchell Marner (94 points), William Nylander (81), Auston Matthews (77), and John Tavares (75). Ilya Samsonov is 24-9-3 with a 2.46 goals-against average, .914 save percentage and three shutouts in 36 games (35 starts). Matt Murray is 14-8-2 with a 2.97 GAA, .905 save percentage and one shutout in 25 games.
Toronto made several moves prior to the 2023 NHL Trade Deadline on March 3, acquiring forwards Ryan O'Reilly and Noel Acciari from the St. Louis Blues on Feb. 17, defenseman Jake McCabe and forward Sam Lafferty from the Chicago Blackhawks on Feb. 27, defenseman Erik Gustafsson from the Washington Capitals on Feb. 28 and defenseman Luke Schenn from the Vancouver Canucks on Feb. 28.
O'Reilly is expected back before the playoffs begin April 17. He hasn't played since getting hit in the hand by Matthews' shot in the second period of a 4-1 loss at the Vancouver Canucks on March 4 and was projected to be out four weeks.
The Maple Leafs have won the Stanley Cup 11 times, once each as the Toronto Arenas (1917-18) and the Toronto St. Patricks (1921-22). They are without an NHL championship since 1967.
Canadian Bianca Andreescu retires from Miami Open match after suffering injury
Canadian Bianca Andreescu suffered an apparent leg injury during the second set of her match against Ekaterina Alexandrova at the Miami Open on Monday.
Andreescu was injured in the third game of the second set of the Round of 16 match while trying to run down a ball in the back court.  She remained down on the court, before receiving medical attention and leaving the court in a wheelchair.
Alexandrova won the first set of the match 7-6, Andreescu was up 2-0 in the second set when she retired from the match due to the injury.
The match was delayed for an hour by rain in the middle of the opening set.
The 22-year-old Canadian was playing well at the Miami tournament, entering play on Monday with victories over Emma Raducanu, No. 7 Maria Sakkari and Sofia Kenin earlier in the competition.
Quick Reaction: Wizards 104, Raptors 114
O. Anunoby

37 MIN, 29 PTS, 8 REB, 1 AST, 1 STL, 11-21 FG, 4-10 3FG, 3-4 FT, 3 BLK, 1 TO, 18 +/-

From the opening tip OG was a force offensively and continued to flash the self creation signs that everyone wants to see, he had a career high 18 in the first quarter and hit a lot of tough jumpers off the bounce, as well as spaced the floor with catch and shoot triples.

P. Siakam

34 MIN, 19 PTS, 11 REB, 2 AST, 1 STL, 7-17 FG, 1-3 3FG, 4-4 FT, 0 BLK, 3 TO, -3 +/-

Pretty poor game from Pascal by his standards, a lot of shots seemed forced and he couldn't finish through contact, very well, his playmaking also was muted because he seemed to be hunting his own shot.

J. Poeltl

26 MIN, 12 PTS, 12 REB, 1 AST, 1 STL, 6-9 FG, 0-0 3FG, 0-0 FT, 0 BLK, 3 TO, 7 +/-

Jakob's floaters and push shots worked wonderfully tonight and he did a great job not rushing it like he does most games, offensive rebounding was also key as well, Jakob had 6 in this game which led to countless second chance points.

S. Barnes

32 MIN, 13 PTS, 5 REB, 6 AST, 3 STL, 5-14 FG, 0-2 3FG, 3-3 FT, 1 BLK, 1 TO, 10 +/-

Solid game in his first game back from injury, hit some tough looks in the paint, passing looked good tonight as well, efficiency was a bit off but we can chalk that up to being rusty.

F. VanVleet

36 MIN, 28 PTS, 4 REB, 7 AST, 3 STL, 10-21 FG, 5-9 3FG, 3-3 FT, 1 BLK, 1 TO, 11 +/-

Offensive masterclass from Fred VanVleet, he was zooming all over the floor and he was really burning Washington with his outside shooting, but his playmaking shined really bright tonight as well.

W. Barton

04 MIN, 2 PTS, 1 REB, 1 AST, 1 STL, 1-1 FG, 0-0 3FG, 0-0 FT, 0 BLK, 0 TO, 0 +/-

Left the game early with an injury.

C. Boucher

22 MIN, 6 PTS, 7 REB, 0 AST, 0 STL, 3-5 FG, 0-1 3FG, 0-0 FT, 0 BLK, 1 TO, 10 +/-

Boucher was battling on the class yet again and often gave Toronto an extra look tonight, he also was solid as a rim protector as well.

J. Dowtin Jr.

19 MIN, 3 PTS, 2 REB, 4 AST, 0 STL, 1-2 FG, 1-1 3FG, 0-0 FT, 0 BLK, 0 TO, 14 +/-

Didn't add a whole lot offensively but he was harassing guys on ball as a defender, and moving the rock well as well, would like to see Dowtin look for his own a bit more often

C. Koloko

15 MIN, 0 PTS, 1 REB, 0 AST, 3 STL, 0-2 FG, 0-0 3FG, 0-0 FT, 1 BLK, 0 TO, 7 +/-

Koloko entered the game by recording a steal and then a block on back to back possessions, and then he continued to play solid defense in drop coverage, really strong game for the rook.

M. Flynn

07 MIN, 0 PTS, 0 REB, 0 AST, 0 STL, 0-3 FG, 0-3 3FG, 0-0 FT, 0 BLK, 0 TO, -10 +/-

Didn't take advantage of his looks on the floor tonight.

P. Achiuwa

06 MIN, 2 PTS, 2 REB, 0 AST, 0 STL, 1-2 FG, 0-1 3FG, 0-2 FT, 0 BLK, 1 TO, -10 +/-

Another rough night for Precious as he tries to regain his footing, just couldn't find it defensively, ran the floor in transition just fine during limited time.

Nick Nurse

Although Toronto was healthier, Nurse didn't force anyone into minutes that were going to damage the team.
Things We Saw
OG Anunoby flashed creation skills once again, in the face up game he burned Washington many times and he even hit a pull up three.
Christian Koloko played some pretty nice defense, his technique in drop was really good tonight.