Brexit: Politics 'too intolerant of compromise' – Kinnock – BBC News


.css-94m6rd-HeadingWrapperborder-bottom:solid 1px #BABABA;padding-bottom:1.5rem;.css-94m6rd-HeadingWrapper > *:not([hidden]):not(style) ~ *:not([hidden]):not(style)margin-top:1rem;.css-vk3nhx-ComponentWrappermargin:1.5rem 0;
.css-2y05cd-StyledFigurefont-family:ReithSans,Helvetica,Arial,freesans,sans-serif;font-weight:400;font-size:0.875rem;line-height:1.125rem;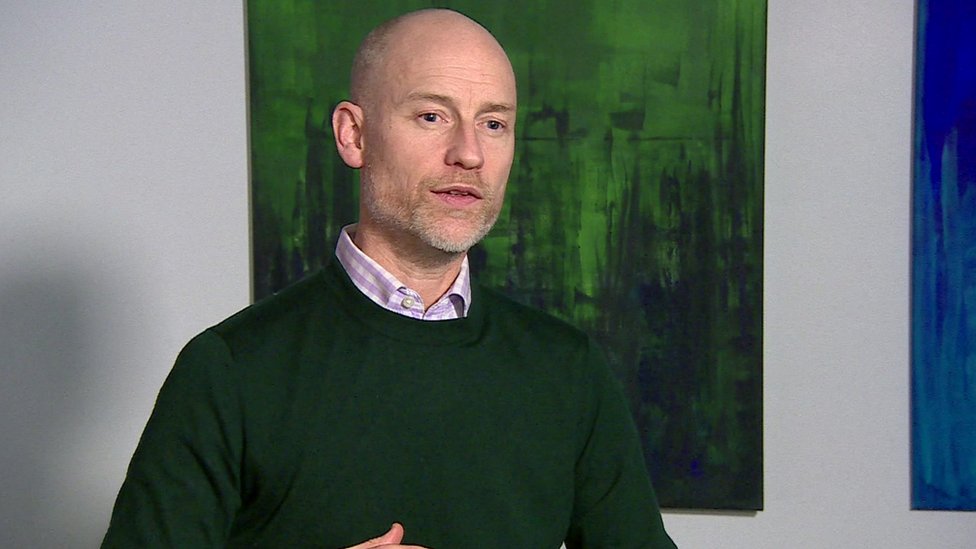 .css-uf6wea-RichTextComponentWrappermargin:1rem 0;max-width:36.25rem;
.css-83cqas-RichTextContainercolor:#3F3F42;.css-83cqas-RichTextContainer > *:not([hidden]):not(style) ~ *:not([hidden]):not(style)margin-top:1rem;
.css-14iz86j-BoldTextfont-weight:bold;A lack of a Brexit compromise left politics "deeply divided and polarised," Labour MP Stephen Kinnock has said.
He said MPs could have compromised sooner, for example over Theresa May's .css-yidnqd-InlineLink:linkcolor:#3F3F42;.css-yidnqd-InlineLink:visitedcolor:#696969;.css-yidnqd-InlineLink:link,.css-yidnqd-InlineLink:visitedfont-weight:bolder;border-bottom:1px solid #BABABA;-webkit-text-decoration:none;text-decoration:none;.css-yidnqd-InlineLink:link:hover,.css-yidnqd-InlineLink:visited:hover,.css-yidnqd-InlineLink:link:focus,.css-yidnqd-InlineLink:visited:focusborder-bottom-color:currentcolor;border-bottom-width:2px;color:#B80000;@supports (text-underline-offset:0.25em).css-yidnqd-InlineLink:link,.css-yidnqd-InlineLink:visitedborder-bottom:none;-webkit-text-decoration:underline #BABABA;text-decoration:underline #BABABA;-webkit-text-decoration-thickness:1px;text-decoration-thickness:1px;-webkit-text-decoration-skip-ink:none;text-decoration-skip-ink:none;text-underline-offset:0.25em;.css-yidnqd-InlineLink:link:hover,.css-yidnqd-InlineLink:visited:hover,.css-yidnqd-InlineLink:link:focus,.css-yidnqd-InlineLink:visited:focus-webkit-text-decoration-color:currentcolor;text-decoration-color:currentcolor;-webkit-text-decoration-thickness:2px;text-decoration-thickness:2px;color:#B80000;three-times rejected Withdrawal Agreement, to avoid a "hard Brexit".
In a BBC Wales interview series, with figures from both sides of the Brexit campaign in Wales, Mr Kinnock called for a "progressive patriotism" to heal divisions.
But what would this mean in practice?
.css-mysbf6-ComponentWrapper-CrossheadComponentWrappermargin:1.5rem 0;max-width:50rem;padding-top:1rem;max-width:36.25rem;
.css-qozapo-StyledHeadingfont-family:ReithSerif,Helvetica,Arial,freesans,sans-serif;font-weight:500;font-size:1.5rem;line-height:1.75rem;color:#3F3F42;@media (min-width:37.5rem).css-qozapo-StyledHeadingfont-size:2rem;line-height:2.25rem;.css-qozapo-StyledHeading:focusoutline-style:none;.css-qozapo-StyledHeading:focus-visibleoutline-style:auto;
'Too intolerant'
"British political culture in general is too intolerant of compromise," said Mr Kinnock, who has served as MP for Aberavon since 2015.
"It's very much presented as a sign of weakness rather than strength. That for me is one of the big lessons of the Brexit process and how deeply divided and polarised we became."
Mr Kinnock's call for compromise is not something new.
.css-18mjolk-ComponentWrappermargin:1.5rem 0;max-width:50rem;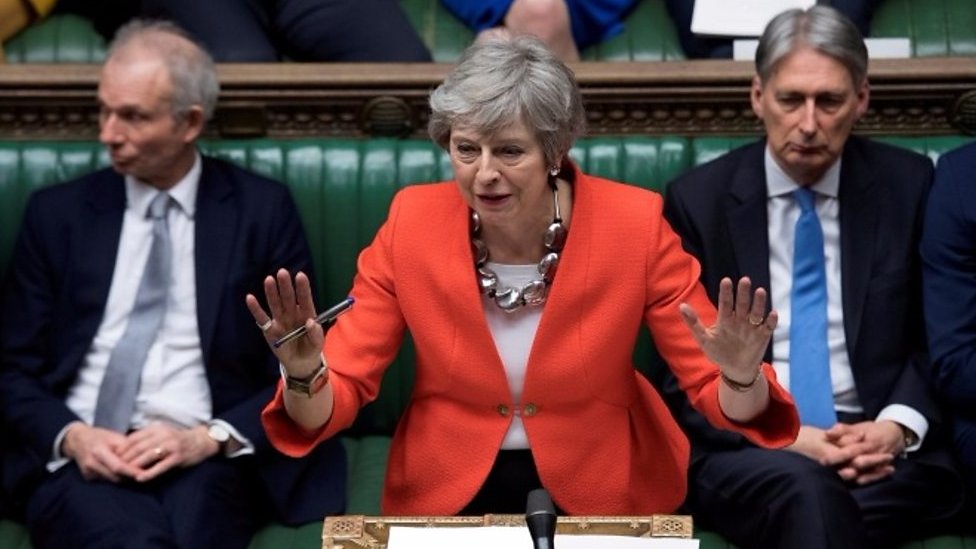 With hindsight, would Mr Kinnock vote differently now?
"Given the very precarious state of Theresa May's Conservative Party and given my view that the single market is really the key to protecting the jobs and livelihoods of my constituents – at that time I felt that we should really be holding out for at least a close associate membership of the single market," Mr Kinnock said.
But comparing her deal, which he said had "many, many faults", to a "hard Brexit" on offer now, he said: "Looking back now, at the way in which the debate became incredibly polarised – yes, perhaps it would have been better to take what was on the table at the time."
.css-1pzprxn-BulletListContainermargin-left:1.5rem;.css-1pzprxn-BulletListContainer *:not([hidden]):not(style) ~ *:not([hidden]):not(style)margin-top:1rem;.css-1pzprxn-BulletListContainer ullist-style-type:disc;.css-1pzprxn-BulletListContainer ollist-style-type:decimal;
"I'll be voting for the deal for the simple reason it provides the basic floor on which a Labour government will build a partnership between the UK and the EU that protects jobs, livelihoods and our national security."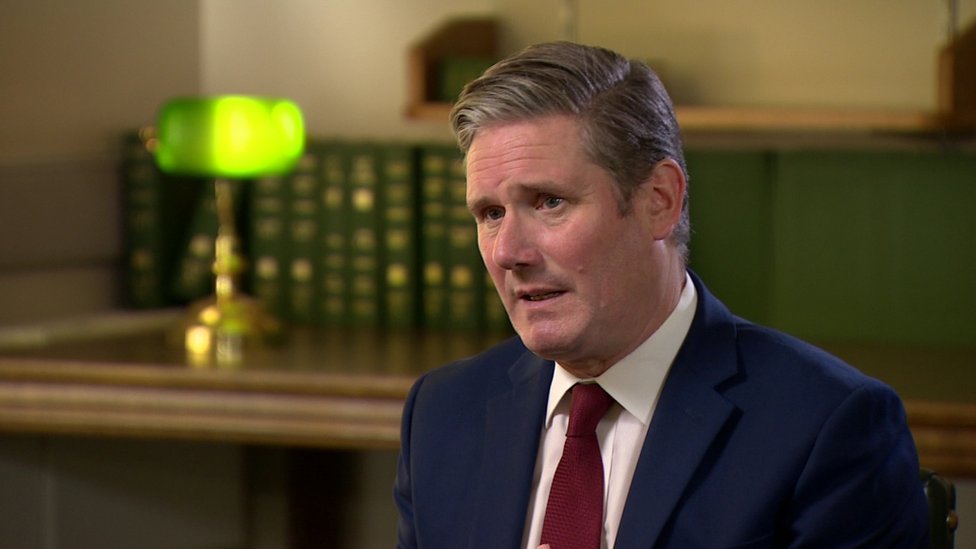 While critical of a lack of political compromise in the past, Mr Kinnock hopes for more cross-party collaboration in the future.
Speaking before the trade deal was announced, he said: "Whatever happens there's going to be a hard Brexit, we're going to leave the single market and the customs union.
"When we see what that means for our economy, the implications for jobs and livelihoods across the entire United Kingdom – that could be an opportunity for some of the more sensible voices in the Conservative Party to work with us in the Labour Party to look at going back to the negotiating table."
'Progressive patriotism'
Having described UK politics as "divided and polarised" in the past four years – does Mr Kinnock think it's possible to change that?
"Whatever you voted on Brexit, whatever you think about the negotiations, the reality is we have burned some bridges – and we need to start being an alliance-maker rather than an alliance-breaker. And that for me is about this idea of patriotic internationalism," he said.
"We should rediscover what I call the spirit of 2012. I'm sure everyone remembers that amazing opening ceremony for the 2012 Olympics. It was such a brilliant and beautiful story about what it means to be British.
"It was the BBC, it was the NHS, it was our incredible reach as a country across the globe, it was our diversity as a country, it was our music.
"But it was done in such a positive and celebratory way. It wasn't saying 'we're better than everybody else'. It was just saying 'we are a great country with so much to be proud of'.
"Because we know that if we don't talk about patriotism, we leave the ground open to the forces of the right who turn it into nationalism and something divisive and less inclusive."
Listen to this interview, and other conversations with key figures from all sides of the Brexit debate in Wales, each morning this week on BBC Radio Wales.
.css-144ki52-SectionWrappermargin:1.5rem 0;padding-top:1.5rem;
Parliament resumes amid heightened political pressure on pandemic, COVID-19 vaccines – The Globe and Mail
The Liberal government is expected to be pressed by opposition parties when Parliament resumes Monday on the availability of vaccines for COVID-19, the recession caused by the virus and when Ottawa intends to put forward a detailed account of federal spending in a budget.
The pandemic, which has dominated Justin Trudeau's second mandate, has kept the government in crisis-response mode since last March. As of Sunday, the Public Health Agency said there have been 742,531 cases of COVID-19 to date in Canada and 18,974 deaths. There were 146 fatalities reported on Sunday.
With Parliament coming back after the holiday break, Mr. Trudeau's government is expected to face questions about its handling of the crisis and the pace at which the country is receiving vaccines.
Conservative Leader Erin O'Toole has said the government is letting down Canadians on the vaccine file and that the country cannot secure its economic future without access to the shots.
NDP House leader and finance critic Peter Julian said Sunday the government must ensure that vaccines make their way into peoples' arms. He said this issue is "particularly disturbing" during a very dangerous and deadly second wave of the pandemic.
Major-General Dany Fortin, who is leading Canada's vaccine logistics, said Thursday the delivery of vaccines from Pfizer for the week of Feb. 1 will be cut to 79,000 doses, amounting to a 79-per-cent drop. On Tuesday, he said Canada will get none of the 208,650 doses originally expected this week.
Maj.-Gen. Fortin also said the company has not disclosed what Canada's shipment will be the week of Feb. 8.
Mr. Julian said there is a "profound concern with the government seeming to rely on statements rather than actually mobilizing the resources they have to make sure that vaccines are actually administered to Canadians.
"What is vitally important and the only thing that Canadians will be satisfied with is that there's a major step up in administering of vaccines across the country, particularly the Canadians who are the most vulnerable," he said.
Procurement Minister Anita Anand has said Canada remains on track to receive vaccines for all Canadians who wish to be vaccinated by the end of September.
Mr. Trudeau's government is also facing political pressure to re-establish a viceregal appointments committee following the resignation of Governor-General Julie Payette on Thursday.
Ms. Payette's departure, along with that of her second-in-command Assunta Di Lorenzo, followed the completion of an external review that was requested after media reports detailed allegations of bullying and harassment at Rideau Hall.
Intergovernmental Affairs Minister Dominic LeBlanc told the CBC on Sunday that he doesn't think the government can pretend the vetting process for Ms. Payette was adequate. The process must be more robust for every senior government appointment, he said.
The Prime Minister hasn't made any decisions on the specific process to be followed in the coming weeks to replace Ms. Payette, Mr. LeBlanc said, but added that the Privy Council Office will be offering advice to Mr. Trudeau this week.
"It's not a circumstance we want to drag on for weeks and weeks and weeks," Mr. LeBlanc said.
Peter Donolo, the vice-chairman of Hill+Knowlton Strategies Canada and a prime ministerial director of communications to Jean Chrétien, said it is not an optimal situation to have the Chief Justice of the Supreme Court, Richard Wagner, serving in the viceregal role in the interim.
"That's why they need to move sooner than later to replace the Governor-General," he said. "Hopefully it will just be a matter of a couple of weeks at most."
With a report from Marieke Walsh
Know what is happening in the halls of power with the day's top political headlines and commentary as selected by Globe editors (subscribers only). Sign up today.
WHO in Wuhan is probing Covid's origins as politics hangs over mission – NBC News
A team of scientists from the World Health Organization are finally in China to investigate mysteries of the pandemic more than a year after it broke out: where the coronavirus came from and how it spilled over into humans.
The long-awaited trip, initially hampered by delays by China, begins what could be a lengthy process of piecing together the virus's origin to answer key questions about the pathogen and how to prevent similar — and possibly worse — future outbreaks.
But the world will be watching the results of the investigation — and China's willingness to cooperate will also be the focus of intense interest around the world.
That the trip is happening more than a year after the virus was first identified has stoked concern that the government has not been transparent in its handling of the virus. And political quarrels have emerged, particularly between China and the United States, with the Trump administration assigning blame on China for the pandemic.
Fifteen members of the WHO delegation of scientists were set to arrive in China but two were denied entry after testing positive for coronavirus antibodies, and will remain in Singapore, according to the world body.
While many researchers stress the need for science, and not politics, to guide the WHO's work, experts warn they will have to navigate a political quagmire.
"The objective of the investigation is not to designate a guilty country or authority," said Yanzhong Huang, a senior fellow for global health at the Council on Foreign Relations and a professor at Seton Hall University's School of Diplomacy and International Relations. "But we also have to be realistic: This is a very politicized world, and if the research suggests China is the origin point of the outbreak, that hypothetical finding could indeed be used as smoking gun evidence to support claims that China is guilty."
China faced heavy criticism for allegedly downplaying the severity of the initial outbreak of the mysterious, pneumonia-like illness in late December 2019, and for not acting quickly enough to alert the WHO of evidence of human-to-human transmission.
Download the NBC News app for breaking news and politics
The suspicion about China's handling of the outbreak came after its problematic response to the 2003 SARS pandemic, when it was found that Chinese officials had suppressed and deliberately withheld information from the public. The WHO praised China early for its efforts to contain the Covid-19 outbreak, but questions still remain about where and how the pathogen emerged.
The WHO investigation is taking place against the backdrop of China's efforts to tightly control information about the pandemic. Last month, a Chinese court sentenced a citizen journalist to four years in prison for reporting on the early outbreak in the city of Wuhan independent of state-controlled media.
Reports also emerged last year that a 34-year-old doctor named Li Wenliang was punished by police for warning about the virus on the messaging app WeChat in December 2019. Li died of Covid-19 a few months later, and after a wave of criticism, the government took disciplinary measures against the police officers involved and posthumously hailed him as a "martyr."
Few details about the WHO's visit have been made public, but one focus of the investigation will likely be to establish a timeline of events and determine where there are still gaps in knowledge, said Dr. Dale Fisher, chair of the Global Outbreak Alert and Response Network, which was established by the WHO to respond to infectious disease outbreaks.
Fisher, who is not involved with the current investigation, was part of a WHO mission that visited China in February 2020 to assess the rapidly evolving outbreak. During that trip, the team traveled to Wuhan, in Hubei province, where the virus is thought to have emerged and the researchers subsequently published a 40-page report detailing what was known then about how the coronavirus spreads and how it could be contained.
At the time, the WHO was itself criticized for not doing enough to warn the rest of the world about the coronavirus and for being overly reliant on information coming from Chinese officials. In May, President Donald Trump accused the WHO of being a "puppet of China," and announced that the U.S. would withdraw its funding for the agency.
On Wednesday within hours of his inauguration, President Joe Biden signed an executive action to rejoin the WHO.
Tightly controlled
While WHO scientists say they hope that Chinese scientists will be forthcoming, Beijing is known to have controlled information about the coronavirus.
According to an investigative report published by The Associated Press in December, the ruling Chinese Communist Party has clamped down on research on the virus's origin, mandating that any findings must be approved by a task force that reports directly to President Xi Jinping. NBC News has not confirmed the AP's reporting.
The problem, Huang of New Jersey's Seton Hall University said, are the possibly contradictory motivations driving the Chinese scientists and politicians.
"China does have an incentive to investigate the origins of the outbreak, not just to help end the current pandemic but also to prepare for the next one," he said. "But that research is government-sanctioned, which raises concerns about the extent that they are willing to share that information with the WHO."
The Chinese government's track record of secrecy has fueled theories that the virus may have leaked from the Wuhan Institute of Virology, a prominent research facility that was the first in China to receive the highest level of biosafety clearance. No credible evidence has been found to support such claims, but the researchers traveling to China this week said their objective is to follow the science.
"If that's where the investigation brings us as a hypothesis, then we won't rule that out," Marion Koopmans, a Dutch virologist who is a member of the WHO delegation, said of the possibility that the virus may have leaked from a lab.
Most research to date on the coronavirus's origin has focused on a seafood market in Wuhan, which was linked to some of the earliest known cases of Covid-19. But Koopmans said it's also possible that the virus originated elsewhere in China.
Download the NBC News app for the latest news on the coronavirus
"I think it's likely that Wuhan was a superspreading event," she said, adding that some cases identified in early December had no discernible ties to the seafood market. But, she said, the team will investigate a number of different hypotheses.
After clusters of Covid-19 were reported in Wuhan and evidence emerged that the virus was spreading among humans, China placed the sprawling city of 11 million people under a strict lockdown Jan. 23, 2020.
A year later, after reporting nearly 99,000 cases and more than 4,800 deaths, China has managed to keep the virus relatively contained, though a new lockdown has been imposed in Hebei province, near Beijing, after the region saw a spike of new infections since Jan. 2.
In the U.S., meanwhile, more than 420,000 people have died and more than 25 million cases have been reported.
In many ways, the crisis in the U.S. has increased the stakes for China domestically, particularly after the government experienced backlash from its own citizens early in the pandemic for mishandling the response, said Bonnie Glaser, a senior adviser for Asia at the Center for Strategic and International Studies, a think tank headquartered in Washington.
"There was a period of several months in China where it was clear that people were criticizing the government, and the Communist Party worked very hard to get that narrative under control and change it into a positive one," she said.
The level of dissent was unusual and came primarily from younger Chinese people who "crossed a dangerous line in China" by questioning the government's legitimacy, she added.
Since then, most cities in China have more or less returned to normal and there are signs that the economy is rebounding, though experts have cautioned that the actual number of Covid-19 cases and deaths in China may be much higher than what the government has officially reported.
"The narrative today is that China was successful at preventing the spread, and has been far more successful than the U.S. and other democracies around the world," Glaser said.
Still, the WHO probe will force the Chinese government to juggle protecting that narrative domestically with defending the country's international reputation, according to Huang of the Council on Foreign Relations.
"The WHO does have leverage because it's important for China's global health diplomacy," he said. "The last thing China wants is to publicly quarrel with the WHO, because that would look bad diplomatically and politically."
Putin Thrusts Global Food Markets Into Russian Politics – BNN
(Bloomberg) — Dmitry Bravkov is the kind of farmer that makes Vladimir Putin proud. The Russian president regularly touts his country's rise to the top of the world's agricultural exporters as another sign of its global power.
But after 14 years of running a dairy and grain farm 300 miles southwest of Moscow, Bravkov has suddenly found himself on the wrong end of Kremlin policy. In three weeks, he'll get less for his wheat because of new tariffs and quotas designed to curb exports and drive domestic prices lower.
With Putin's popularity barely back from record lows, the policy is an attempt to mollify a public battered by falling incomes and rising food costs. Protests at the weekend demanding the release of jailed opposition leader Alexei Navalny now give Putin another reason to try to shore up support.
Russia's position as the world's biggest wheat exporter means the move is already reverberating through global markets, and a short-term domestic advantage could lead to longer-term damage to faith in the country as a reliable supplier.
"The introduction of the duty is an attempt to cash in on the farmers," said Bravkov, 47, who employs 60 people in a village in the Bryansk region. "There's plenty of wheat in the world. If Russia doesn't supply it, someone else will."
World grain prices have soared to the highest level in six years after poor weather hampered harvests in some key producers and China embarked on an agricultural buying spree. The knock-on effect is particularly acute for developing nations because food is a bigger share of household spending.
Uncertainty over Russia's restrictions has already hurt some buyers, with top wheat importer Egypt canceling a tender on Jan. 12—a rare occurrence—after supply offers dried up.
"Russia wants to have it both ways," said Abdolreza Abbassian, a senior economist at the UN's Food & Agriculture Organization in Rome. "It wants to have a big chunk of the export market, and at the same time, not be exposed to problems within the global food sector. Usually such plans aren't successful in the long-run."
While Putin was boasting of a record harvest last year, ordinary Russians had to shell out 20% more for bread and 65% more for sugar than in 2019. Memories of food shortages in the Soviet Union and soaring inflation after its collapse have made prices a politically sensitive issue in Russia.
Russia's history wasn't lost on Putin as he scolded ministers on national television last month for not doing enough to stop rising prices, even as he boasted about huge grain exports. Russia's wheat output has nearly doubled in the past two decades.
"Back then, they said that everything is available in the Soviet Union, just not enough for everyone, but there wasn't enough because there were shortages," he said. "Now there might not be enough because people don't have enough money to buy certain products at the prices we see on the market."
One day after the comments were aired—and three days before Putin was due to address the nation in his annual televised press conference—the government proposed a levy on wheat from mid-February though the end of June. The duty will start at 25 euros ($30.40) a ton before doubling from March 1. Wheat-export prices in Russia have climbed 43% in the past six months to $297 as of Jan. 20, data from consultancy IKAR show.
The government is also pressing ahead with a previously announced grain-export quota for the same period. Price curbs may be implemented on other food products such as pasta, eggs and potatoes.
Russia has a history of disrupting the wheat market with restrictions and duties. The country imposed an export tax in 2007 to combat rising food costs, helping push global wheat prices to a record, and some researchers see an export ban in 2010 as an indirect contributor to the Arab Spring uprisings.
Indeed, few other exporters have dared to go down the protectionist route because the results can be counterproductive. The strategy is particularly risky because the Kremlin has worked so hard to overtake the U.S. and European Union and become the dominant global supplier of wheat.
The measures will cost wheat farmers as much as 135 billion rubles ($1.8 billion) in potential revenue losses, and more if export duties are extended to other foodstuffs, according to Andrey Sizov Jr., managing director at consultant SovEcon in Moscow.
Importers are already turning toward other suppliers such as Australia and even India, according to Evgeniya Dudinova, a member of the International Association of Operative Millers Eurasia leadership council. In the United Arab Emirates, where she's based, purchases from Russia have totaled about 330,000 tons so far this season, a third of last year's volume.
Key importers will try to avoid Russian wheat when the taxes kick in, said Muzzammil R. Chappal, chairman of the Cereal Association of Pakistan. The country is the fifth-largest importer of Russian wheat this season.
At his farm, Bravkov said he hasn't received any help from the government in the past. He's in the process of switching from dairy to grain farming after milk prices stagnated, which will force him to lay off workers to stay profitable. "With such measures our government just helps protect our European competitors," Bravkov said.
©2021 Bloomberg L.P.