Canada vs. Slovakia result: Devon Levi shines in net as Canadians hold on for 3-1 win – Sporting News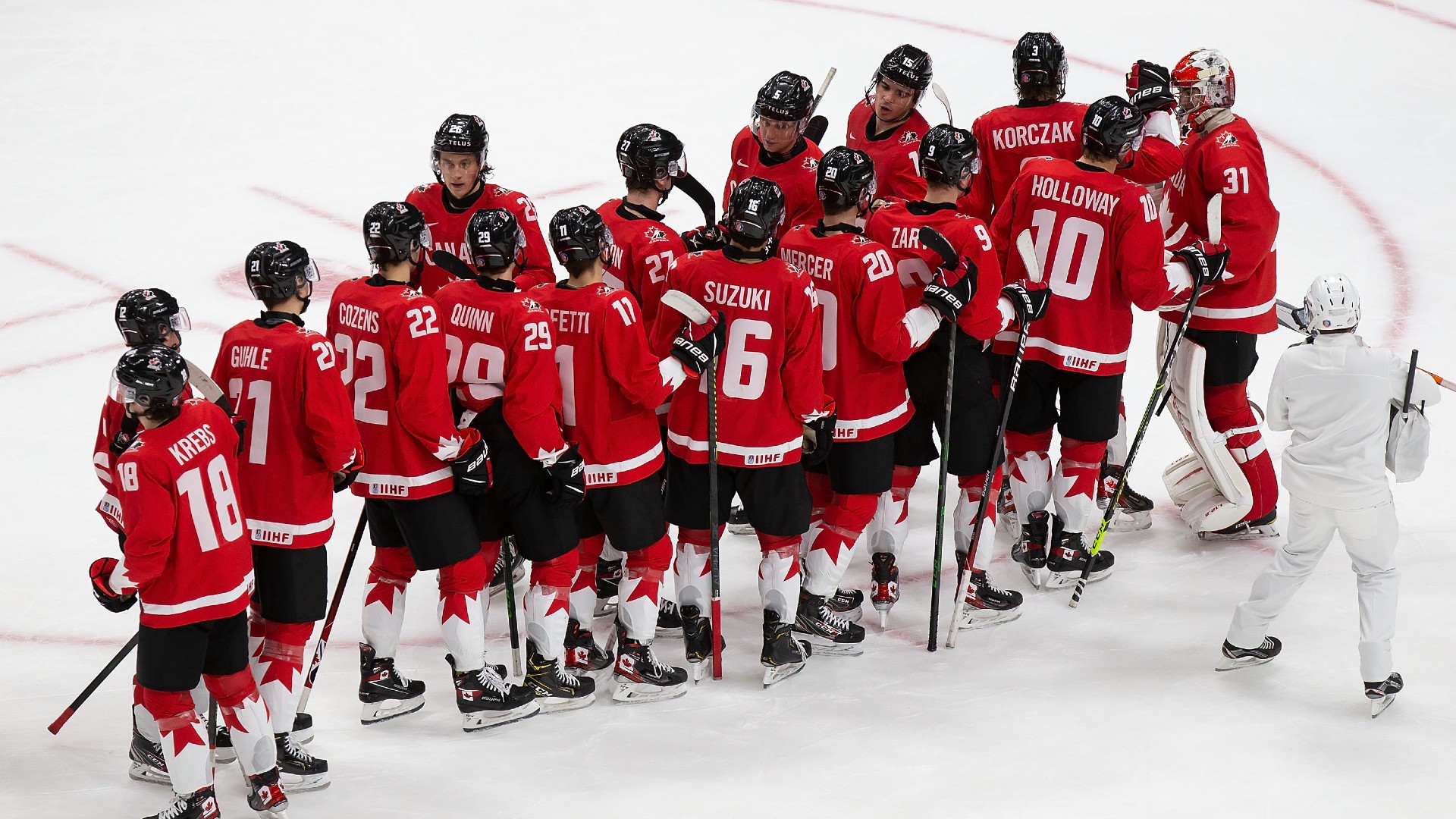 Canada's Boxing Day 16-2 drubbing of Germany was pretty much expected. The question entering Sunday's 2021 IIHF World Juniro ChampioHow will the Canadians follow it up?
The team hits the ice Sunday for Game 2 of its 2021 IIHF World Junior Championship against a much more formidable foe and will do so without two players: Braden Schneider (suspension) and Dylan Holloway (upper-body injury). As for Slovakia, unlike the Germans (through no fault of their own), it has a full roster and will not be playing on the second day of a back-to-back. The Slovaks also have a deep roster.
Between the pipes will be Samuel Hlavaj, who posted an impressive .915 save percentage and a league-best 2.25 GAA in 39 games for Sherbrooke (QMJHL) last season. While he didn't have the best showing the last two tournaments (.861 save percentage in 2020, .872 in 2019), the 6-3 goalie covers a lot of net with his quick reflexes and is coming off a year he helped the Phoenix win the Jean Rougeau Trophy (most points in the QMJHL).
Anchoring the Slovakian defense is Blue Jackets 2020 third-rounder Samuel Knazko and a couple of players who would have been playing in the CHL if not for COVID-19 (Marko Stacha with Vancouver of the WHL and David Mudrak with Oshawa of the OHL). Slovakia may have won its opener against Switzerland just 1-0, but it put 32 shots on net and has players up front who can bury the puck, including Kings prospect Martin Chromiak, who suited up for Kingston (OHL) last year.
As for the Canadians, they'll look to replicate Saturday's offensive output, with 17 of 20 skaters getting on the score sheet and all four lines rolling. While head coach Andre Tourigny believes his team has a few things it can work on — he specifically mentioned net presence and faceoff routes during Sunday's availability — it doesn't hurt that a few of the players know a thing or two about Slovakia's goalie. Jakob Pelletier (two assists), Dawson Mercer (one goal), Jordan Spence and Justin Barron have all faced him in the QMJHL. Spence will draw into the lineup on Sunday after Schneider was handed a one-game suspension for a hit to the head of Germany's Jan-Luca Schumacher.
Devon Levi, who turns 19 on Sunday, will be between the pipes again. He got some rest Saturday when he was pulled after two periods to give Dylan Garand some minutes. Garand will serve as the backup again as Canada goes for its 14th straight win against Slovakia.
Sporting News had all the action as Canada secured win No. 2 at the 2021 IIHF World Junior championship.
(All times Eastern)
Canada vs. Slovakia score, highlights from 2021 World Juniors preliminary game
Final score: Canada 3, Slovakia 1
Final shots on net: Canada 23, Slovakia 18
Third period: Canada 3, Slovakia 1
8:17 p.m. — GOAL. Jack Quinn capitalizes on the misplayed puck at the blue line and scores an empty-net goal. Canada leads 3-1.
8:15 p.m. — GOAL. Not long after the penalty ends, and with an extra attacker, Martin Chromiak skates into the left circle and rips it over the glove of Levi. Canada leads 2-1.
8:12 p.m. — Dawson Mercer gets called for hooking with just over three minutes left in the game.
8:10 p.m. — GOAL. Canada gets a must-needed insurance goal. Dylan Cozens with the poke-check and then headman's the puck to a streaking Philip Tomasino. The Predators prospect skates in, cuts to the middle and after getting bumped by a defenseman coming back goes top shelf. Canada leads 2-0.
8:08 p.m. — Levi coming up big on the penalty kill and in the seconds following the power play. Great stuff from the Northeastern netminder.
8:06 p.m. — Under seven minutes left in the game and Peyton Krebs called for holding (FYI — Tourigny did not agree with the call).
8:04 p.m. — Connor McMichael with another good shot on net and Samuel Hlavaj with another good stop.
7:59 p.m. — At the other end Levi makes another quality stop as he fights through the traffic to see the puck and get into position.
7:59 p.m. — Canadians swarming the net but can't bury the puck. That top line of Perfetti, McMichael and Krebs is putting in some work in the third period.
7:55 p.m. — Devon Levi makes a stop on a save up high to keep Slovakia off the board.
7:53 p.m. — Connor McMichael. My goodness.
7:49 p.m. — Third period is a go.
Second period: Canada 1, Slovakia 0
Some stats — Shots total (second period): Canada 16 (7), Slovakia 8 (4).
7:29 p.m. — Great save by Devon Levi with just 10 seconds left in the period. Canada turns the puck over in their own end and Juraj Slafkovksy (who is just 16) fires the puck from the slot. Levi stones him as he reads it perfectly and comes out to make the save at the top of the crease.
7:24 p.m. — Samuel Knazko takes a high-sticking penalty as he hits Dylan Cozens in the visor. Canada back to the power play and after all is said and done they miss the net a few times and end up with one shot on net with the man advantage.
7:23 p.m. — Slovakia with a 2-on-1 and it looks like Devon Levi just got a piece of the shot from the right circle. Canada counters with some good work deep in the Slovakia zone.
7:21 p.m. — Canada can't get anything going with the man advantage — zero shots — as they struggle with zone entries, getting set-up and making poor passing choices in the offensive zone.
7:19 p.m. — Canada gets a power play as Jack Quinn is pulled down while skating into the offensive zone.
7:16 p.m. — Jakob Pelletier with a good chance short-side. The Flames prospect has been flying in this one. He's looked good with Quinton Byfield and fellow Calagry draftee Connor Zary.
7:11 p.m. — We're halfway through the second period and the shots in the frame are: 1 for Slovakia, 1 for Canada. The Canadians got their shot at 9:57.
7:03 p.m. — Martin Chromiak (LAK) with a nifty move by the corner and tries to go high, short side but shoots it over the net.
7:00 p.m. — Not a good start to the period as the Slovaks sustain pressure. Cole Perfetti (WPG) called for tripping. Slovakia would not score with the man advantage.
6:58 p.m. — The second period is underway. Against Germany, Canada scored seven in the middle frame.
First period: Canada 1, Slovakia 0
Some stats — Shots: Canada 9, Slovakia 4. Blocked shots: Canada 2, Slovakia 8.
Thomas Harley (DAL) led everyone with 9:22 of ice time. Jordan Spence skated the fewest minutes (1:56) but made it count the most with the goal.
6:39 p.m. — Canada breaks out after Thomas Harley (DAL) blocks a shot but Jack Quinn (BUF) can't finish right before the buzzer on the cross-slot pass from Dylan Cozens (BUF).
6:33 p.m. — It's a much different game tonight. Against Germany it seemed as if every shot went in; Hlavaj is a much more formidable foe.
6:27 p.m. — Slovakia's Robert Petrovicky seems like a very talkative coach on the bench. The ex-NHLer played 208 games (27 goals, 38 assists) between 1992-01 for the Whalers, Stars, Blues Lightning and Islanders. He wrapped up his career in 2016 after a number of seasons playing in Europe and his son Rayen is on the junior team.
6:18 p.m. — Almost six minutes in and Slovakia gets their first shot on net as Levi with the stop through traffic. Canada outshooting Slovakia 7-1.
6:14 p.m. — GOAL. Hlavaj makes a good stop but the rebound jumps out to defenseman Jordan Spence who buries it into the open net. The Kings prospect taking full advantage of the opportunity to get into the lineup as he scores in his first world juniors game. Canada leads 1-0.
6:08 p.m. — Game on. I believe the referee said "Shake and bake." Fantastic.
Pregame
5:51 p.m. — Dylan Cozens gets the "C" tonight. Bowen Byram and Connor McMichael are the assistant captains.
5:42 p.m. — The birthday boy getting ready.
5:15 p.m. — Canada will only have 12 forwards for the game due to the Holloway injury. Jack Quinn moves up to take his spot on the second line while Connor Zary slots in with Quinton Byfield and fellow Flames prospect Jakob Pelletier. Dawson Mercer moves up from the extra forward spot that he started in for Game 1 to the fourth line with Ryan Suzuki and Philip Tomasino.
World Juniors 2021: Latest news
Tournament
USA
Canada
Berrettini ends Murray's comeback at Queen's
Andy Murray's grasscourt return was cut short in brutal fashion at Queen's Club as Italian top seed Matteo Berrettini dished out a 6-3 6-3 defeat to the former world number one on Thursday.
The 34-year-old two-time Wimbledon champion, playing in his first singles tournament on grass for three years, could not handle the ferocious pace of Berrettini as he slid to defeat.
Murray eased past Benoit Paire in his opening match on Tuesday but world number nine Berrettini was too big a step up.
Berrettini's huge first serve and forehand did most of the damage but the Italian also showed plenty of silky touch on the slick lawns to register his first career win over Murray.
Berrettini, 25, finished the match off with a powerful hold of serve, banging down four massive first serves before sealing victory with a clubbing forehand winner.
He faces British number one Dan Evans in the quarter-final after Evans beat Frenchman Adrian Mannarino.
Murray, a five-time winner of the traditional warm-up event but now ranked 124 after long battles with hip injuries including resurfacing surgery in 2019, has been handed a wildcard for the Wimbledon championships.
Apart from a slight groin niggle, Murray said he was reasonably happy with his condition, considering this was only his third Tour-level tournament of the year.
"I think obviously I need to improve," Murray told reporters. "I actually felt my movement was actually quite good for both of the matches. My tennis today was not very good today. That's the thing that I'll need to improve the most.
"I felt like today that that sort of showed my lack of matches."
Spanish veteran Feliciano Lopez, who won the singles title in 2019 and the doubles alongside Murray, was beaten 6-2 6-3 by Canada's Denis Shapovalov.
(Reporting by Martyn HermanEditing by Toby Davis and Pritha Sarkar)
Be Like the King of the North Division and Develop Skills
It's been a year unlike no other for Canadian hockey teams, with COVID-19 travel restrictions forcing the creation of a new NHL division made up entirely of Canadian teams. The previous generation of NHL hockey was known as the "Dead Puck Era" because referees tolerated slowing down the game with clutching and grabbing.
The leading scorers today score in jaw-dropping fashion and routinely pull off stickhandling dangles that were unimaginable until only recently. The Canadian team that will win the North Division will be the one with the most skill.
Here are the training aids that will help you develop your skills all year long.
Passers
Innovators like HockeyShot Canada make "passers" so that players can develop pinpoint accuracy and the soft hands necessary to cradle and control a pass when it lands on your stick. The high-quality rubber bands return the puck with the same force which passed it, so you can give yourself one-timers or work on accuracy.
Whether you're on a two-on-one, sending a breakout pass from the defensive zone, or holding down the blue line on the power play, every positional player needs to pass accurately.
Shooting
A player is lucky to get a few shots on net each game, and they can't let them go to waste. Until recently, players needed to rent ice in the off-season to practice their shots in realistic game-like conditions.
Now, players can use shooting pads at their home that let pucks glide as they do on real ice. Shooting is perhaps the one skill that requires the most repetition because one inch can be the difference between going bar-down and clanking one wide off the post.
Practice your quick release and accuracy and develop an arsenal of shots, including wrist shots, slapshots, one-timers, and more. The more tools in your tool kit, the deadlier a sniper you'll be.
Stick Handling
Having the puck on your stick is a responsibility, and you don't want to cough it up to the other team and waste a scoring chance or lose possession. The ability to stickhandle helps you bide time until a teammate is open, so you can pass them the puck and continue attacking.
If you're on a breakaway, you may want to deke the goalie rather than shoot if your hands are silky enough. Develop stickhandling skills, and you'll keep goalies and opponents guessing – being unpredictable helps make a sniper's job easier.
Of course, you also need to handle the puck in your own zone without causing a turnover. Stickhandling is a crucial skill in all areas of the ice.
When the coach sends you over the board, you need to be prepared for whatever comes your way. Maybe you'll get the puck in the slot or somewhere else, but when it's playoffs, you always need to be ready. The Kings of the North Division have all of the above skills and more, and you can too if you practice all year.
Australia swim trials calendar shift to reap Tokyo rewards
Australia broke with tradition to hold its swimming trials just six weeks before the start of the 2020 Olympics and former world champion Giaan Rooney said the move could reap rich rewards in Tokyo after disappointments at London and Rio.
Australia has typically held its trials up to six months before an Olympics but that gap has been drastically cut this year with swimmers vying for Tokyo spots this week in Adelaide.
Rooney, who won individual world titles at Fukuoka and Montreal and a relay gold at the 2004 Athens Olympics, said Australia is gearing up for a much improved Games after its swimmers flopped at Rio and London.
"I think we needed to make it work," she told Reuters. "The shift started about a year ago to bring the trials into line with the rest of the world and qualify five or six weeks before.
"In sport and swimming, six months is a long time," Rooney added. "From a coaching perspective, it's much better to know you have chosen the team in form."
After winning five gold medals at Sydney 2000 and seven in Athens, the Australian team was rocked by accusations of disruptive behaviour by some of its top sprinters at the 2012 Olympics.
Australia won just one gold medal in the London pool and three in Rio five years ago.
Australia knew something had to be done if it was to close the gap on the powerful Americans and moving the trials is part of the strategy.
"I think it's to make your swimmers more resilient to change," Rooney said.
"In the USA they get to race every week regardless of illness or breakups and under all circumstances. Nothing rattles them.
"Australia doesn't have that racing continuity. This is about making sure you are prepared for anything. I think our swimmers are more resilient than they have been in the past decade, COVID is part of this."
Rooney said there might even be an "upside" for Australia with the Olympics postponed by a year due to the global health crisis, with the emergence of swimmers like teenager Kaylee McKeown, who broke the women's 100m backstroke world record on Sunday.
"We are now talking about athletes who are not only going to make the Olympics but are medal chances," Rooney said.
"We wouldn't have been talking about her this time last year. She might not have been ready for a position on the team. She is now a legitimate gold medal chance in Tokyo once she gets there."
For all her confidence about Australia's performance in Tokyo, Rooney was wary of making predictions about a gold rush for her compatriots.
"I think this will be a more successful Olympics for us than Rio in the pool but individual goal medals will still be difficult to come by," said the 38-year-old.
"The biggest challenge is to make the jump from minor medals to gold."
(Editing by Peter Rutherford)