Budget officer projects considerably slower economy, declining federal deficit
OTTAWA — The parliamentary budget officer is projecting the economy will slow considerably in the second half of 2022 and remain weak next year as the Bank of Canada continues to raise interest rates.
In his latest economic and fiscal outlook released Thursday, budget watchdog Yves Giroux said he expects the Bank of Canada to raise its key interest rate to four per cent by the end of the year, a move which is in line with financial markets' expectations.
Economists are anticipating an economic slowdown as higher interest rates slow spending by people and businesses.
Since March, the Bank of Canada has raised its key interest rate from 0.25 per cent to 3.25 per cent in an effort to combat inflation. Canada's annual inflation rate was 7.0 per cent in August.
The housing market has already begun cooling in response to higher interest rates, but the full effect of the central bank's rate hikes will take more time to work its way through the economy.
The PBO report also projects the unemployment rate will rise to 5.8 per cent by late 2023 before falling again. That increase is moderated by decreases in the labour force participation rate as more Canadians retire.
Statistics Canada's September job report showed the labour market was still tight, with the unemployment rate at 5.2 per cent.
As inflation slows and heads toward the central bank's target of two per cent, the PBO expects the Bank of Canada to begin lowering interest rates toward the end of next year, bringing its key rate down to 2.5 per cent by the end of 2024.
The outlook also estimates the federal deficit will decline to $25.8 billion, or 0.9 per cent of GDP, for the 2022-23 fiscal year.
The deficit was $97 billion, or 3.9 per cent of GDP, during the prior fiscal year.
Assuming no new measures are introduced and existing temporary measures expire as expected, the PBO estimates the deficit will decline further to $3.1 billion, or 0.1 per cent of GDP, by 2027-28.
The PBO's latest deficit projection is lower than what it had forecast in March, largely due to tax revenues being higher than anticipated.
The PBO is also projecting that by 2027-28, the federal debt-to-GDP ratio will decline from its peak in 2020-21, but still remain above pre-pandemic levels.
The report said that as interest rates rise, the debt service ratio, which is public debt charges relative to tax revenues, will peak at 11.5 per cent in 2024-25 before declining gradually.
The PBO said the uncertainty surrounding the report's projections is high. It outlined various risks to its forecasts, including tighter monetary policy causing a more severe economic slowdown, inflation persisting longer than expected and higher fiscal spending.
"With the synchronized tightening of monetary policy by major central banks around the world to reduce high inflation, there is a risk of a more severe global slowdown, which would negatively affect the Canadian economy and federal finances," Giroux said.
This report by The Canadian Press was first published Oct. 13, 2022.
Nojoud Al Mallees, The Canadian Press
UK economy to shrink in 2023, risks 'lost decade': CBI – Reuters UK
LONDON, Dec 5 (Reuters) – Britain's economy is on course to shrink 0.4% next year as inflation remains high and companies put investment on hold, with gloomy implications for longer-term growth, the Confederation of Business Industry forecast on Monday.
"Britain is in stagflation – with rocketing inflation, negative growth, falling productivity and business investment. Firms see potential growth opportunities but … headwinds are causing them to pause investing in 2023," CBI Director-General Tony Danker said.
The CBI's forecast marks a sharp downgrade from its last forecast in June, when it predicted growth of 1.0% for 2023, and it does not expect gross domestic product (GDP) to return to its pre-COVID level until mid-2024.
Britain has been hit hard by a surge in natural gas prices following Russia's invasion of Ukraine, as well as an incomplete labour market recovery after the COVID-19 pandemic and persistently weak investment and productivity.
Unemployment would rise to peak at 5.0% in late 2023 and early 2024, up from 3.6% currently, the CBI said.
British inflation hit a 41-year high of 11.1% in October, sharply squeezing consumer demand, and the CBI predicts it will be slow to fall, averaging 6.7% next year and 2.9% in 2024.
The CBI's GDP forecast is less gloomy than that of the British government's Office for Budget Responsibility – which last month forecast a 1.4% decline for 2023.
But the CBI forecast is in line with the Organisation for Economic Co-operation and Development (OECD), which expects Britain to be Europe's weakest performing economy bar Russia next year.
The CBI forecast business investment at the end of 2024 will be 9% below its pre-pandemic level, and output per worker 2% lower.
To avoid this, the CBI called on the government to make Britain's post-Brexit work visa system more flexible, end what it sees as an effective ban on constructing onshore wind turbines, and give greater tax incentives for investment.
"We will see a lost decade of growth if action isn't taken. GDP is a simple multiplier of two factors: people and their productivity. But we don't have people we need, nor the productivity," Danker said.
Reporting by David Milliken; editing by Diane Craft
Our Standards: The Thomson Reuters Trust Principles.
Kevin Carmichael: Jobs numbers show Bank of Canada hasn't wrecked the economy after all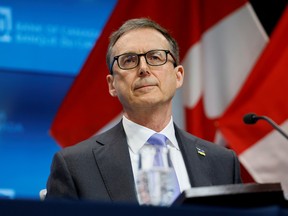 What if the Bank of Canada knows what it's doing?
Inflation is hovering around seven per cent, and the central bank's target is two per cent, so the easy answer is, "No, it doesn't have a clue what it's doing."
The news this week that the Bank of Canada lost money for the first time in its 87-year history only adds to the superficial notion that appointing Tiff Macklem to guide monetary policy was a mistake, even if the losses were incurred fighting a crisis that was unlike anything any living policymaker had ever seen.
"We didn't get everything right," Macklem told the House finance committee on Nov. 23. "We got a lot of things right. We have some lessons to learn."

The inflation miss was a serious mistake that warrants deeper scrutiny in case there are things that can be learned that will keep it from happening again. Macklem told lawmakers that as soon as inflation is back to target, "we are going to have to have a thorough review of how all our tools worked" through the COVID crisis.
When the Bank of Canada gets around to that review, it will turn up positives that are obvious to anyone who bothers to look, but end up obscured by the panic over inflation. The latest evidence that the Bank of Canada hasn't wrecked the economy arrived Dec. 2, when Statistics Canada reported that hiring was little changed in November, and the jobless rate dropped to 5.1 per cent, a possible sign that higher interest rates might be taking the steam out of the economy without severely hurting momentum.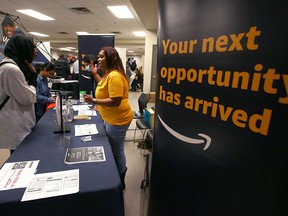 The dollar fell against the U.S. currency after the numbers were released, so some traders saw the news as a negative that would cause the Bank of Canada to balk at additional interest-rate increases. It's possible. Macklem was clear at the finance committee that he isn't finished, but Bay Street and Wall Street are split on whether that means more outsized interest-rate increases, or whether the Bank of Canada might be ready to taper its aggression, given its own forecasts show the economy could easily slide into a recession at any point over the next few months.
Statistics Canada said employers added 10,000 positions last month, less than the survey's margin of error, making it difficult to say more than the labour market stood still. However, the agency's monthly survey of households turned up 108,000 positions in October, an unusually large number, so hiring flatlined at a high level in November.

The jobless rate remains well inside any conventional definition of full employment, which is how economists describe an economy in which there are quantitatively enough jobs for everyone who wants one. Full-time employment increased by about 51,000 positions in November, and have increased by some 460,000 positions since November 2021, another sign of a strong labour market.
"It's quite clear that the labour market remains tight and in solid shape overall," Douglas Porter, chief economist at Bank of Montreal, said in a note to his clients.
Average hourly wages increased 5.6 per cent from November 2021, the sixth consecutive month that pay gains topped five per cent, a sign of upward inflationary pressure that the Bank of Canada has said it will be watching closely. Porter said the "still firm" pace of pay increases could leave Macklem uneasy about inflation heading into next week's interest-rate decision, and re-upped his prediction that policymakers will opt to raise the benchmark rate another half point, which would put the target at 4.25 per cent.
The Bank of Canada's benchmark rate was 0.25 per cent in March, and the possibility of an increase of four percentage points in less than a year will startle those who worried that a decade of ultra-low interest rates would make households and executives supersensitive to higher borrowing costs.
That worry could still be valid. Indeed, after getting beaten up earlier in the year for letting inflation get out of control, the Bank of Canada now regularly faces invective for causing a recession that hasn't yet happened.
Earlier this week, Statistics Canada reported that gross domestic product grew at an annual rate of 2.9 per cent in the third quarter, much faster than most forecasts. The GDP numbers, paired with the ongoing strength of the labour market, supports Macklem's bet that it is better to attack inflation now, when the economy is strong, rather than proceed tentatively, discover inflation is persistent, and end up having to raise interest rates when the economy is weaker. It might even be time to resume talking about a "soft landing," which is how Bay Street talks about the possibility that an inflationary economy can be slowed without crashing into a bad recession.
"We're entering 2023 at least in better shape than we have seen in many other moments in the past where we're entering a slowdown or a recession," Guy Cormier, chief executive of Desjardins Group, told the Financial Post's Barbara Shecter this week, observing that there is "still money" in the personal and business accounts of the financial institution's clients. "Yes, there will be a slowdown, but we feel that there are some positive conditions that could unfold in the next six, seven months."

Here's another positive: Statistics Canada reported that the employment rate of women aged 25 to 54 rose to 81.6 per cent in November, a record that further narrowed the gap with men. One of the goals of the Bank of Canada's assault on the COVID crisis was to keep traditionally marginalized groups from getting left behind, betting that would create the foundation for a sturdier recovery.

Macklem's not wrong when he ways the central bank got a lot of things right.

• Email: kcarmichael@postmedia.com | Twitter: carmichaelkevin
IFF 2022 Global Finance and Development Report: Global Economy Expected to Grow 2.8% in 2023 Excluding Impact of Pandemic
With the same exclusion, China's economy is on track to expand 4.6%
GUANGZHOU, China, Dec. 4, 2022 /CNW/ — Global economy is to grow 2.8% in 2023 as the Chinese economy is expected to expand 4.6%, next year according to forecasts made by the International Finance Forum (IFF) 2022 Global Finance and Development Report released at the IFF 2022 Annual Meeting on Friday.
The report estimates Chinese economy will grow 3.3% in 2022.
Developed economies will grow 1.2% while developing countries will expand 3.9% next year, the report said.
Global inflation, the ongoing pandemic, and geopolitical tensions are the main reasons for global slowdown in 2022, said Prof. Song Min, IFF Academic Committee Member and Dean of the Economics and Management School at Wuhan University, leading author of the report.
The Chinese economy will rebound in late 2022 and early 2023 as the country adjusts its Covid control measures according to the report.
The report forecasts the global economy to remain weak in 2023 as monetary tightening in developed countries to rein in inflation will slow growth, which could further slow down economic growth in developing nations.
To boost growth, the IFF recommends a few policy measures including China's adjusting its pandemic controls, moderate monetary policies by central banks, boosting domestic growth by developing nations and quickening of green transition and strengthening of international cooperation.
This is the second annual report by the IFF on the global economy. The report has two sections: the first part provides an analysis and outlook of the global economy while the second part offers an assessment of the global digital economy and insights into new growth momentum of global financial markets.
About International Finance Forum (IFF)
The International Finance Forum (IFF) is a non-profit, non-official independent international organization founded in October 2003 by leaders from China, the US, the EU and the other G20 countries, in concert with emerging economies and the leaders of multiple international organizations, including the UN, the World Bank and the IMF. Also known as the Finance 20 (F20), the IFF is also a high-level permanent dialogue mechanism and multilateral cooperation organization within the world of finance.
View original content:https://www.prnewswire.com/news-releases/iff-2022-global-finance-and-development-report-global-economy-expected-to-grow-2-8-in-2023-excluding-impact-of-pandemic-301694111.html
SOURCE International Finance Forum (IFF)
View original content: http://www.newswire.ca/en/releases/archive/December2022/04/c0217.html