Canada must continue investing in its economy to exit pandemic more quickly: Duclos – CBC.ca
Treasury Board President Jean-Yves Duclos says one lesson learned from recessions and depressions past is to veer away from under-investing in the economy as a crisis comes to an end.
While the COVID-19 pandemic continues to grip much of the country — something Duclos himself didn't expect to see more than one year on — it's advice he's backing as the federal government maps out its economic recovery from the global public health emergency.
"There is unfortunately … a tendency to under react, to be under prepared and to be under reactive … to the challenges posed either by the health or economic crisis," the former economics professor said in an interview on Rosemary Barton Live.
"That is a very unfortunate outcome because it means that we are then faced with higher unemployment, lower growth, lower living standards for Canadians and therefore lower taxes and greater deficits over the longer term."
When the first federal budget in two years is presented later this month, it's expected to include details of Ottawa's three-year stimulus plan, which is valued between $70 billion and $100 billion and is intended to spark the country's post-pandemic recovery.
In a pre-budget outlook published last week, Canada's Parliamentary Budget Officer Yves Giroux said the temporary package could provide a "significant boost" to Canada's economy, but cautioned it could potentially result in "materially larger budget deficits."
Feds will support Canadians for 'as long as it takes'
The stimulus plan was not factored into the PBO's overall report due to a lack of details about the package. The spending watchdog projected the government would run a $363.4 billion deficit in the 2020-21 fiscal year — lower than the $381 billion figure Ottawa predicted last fall.
But the PBO noted the deficit should decrease in the years ahead — and projected employment would return to pre-pandemic levels by the end of 2021.
We are facing a third wave, which was both unexpected and certainly not the outcome we were hoping for…– Treasury Board President Jean-Yves Duclos
When asked by CBC chief political correspondent Rosemary Barton whether pandemic support for Canadians should continue to be extended, Duclos said the government plans to stick around "for as long as it takes."
"Obviously, we are facing a third wave, which was both unexpected and certainly not the outcome we were hoping for at this time of the year. I think we all look forward to seeing the budget on the 19th of April," he said.
Variant-driven surge in cases
The PBO estimate was crafted with the assumption that a so-called "third wave" of COVID-19 cases and infections of coronavirus variants would not be severe, particularly as more Canadians get vaccinated.
In recent days, parts of Quebec have shut down amid a rise in cases, while Ontario imposed an "emergency brake" Saturday to curb the rapid spread of the virus. British Columbia, meanwhile, implemented three weeks of its own sweeping restrictions as variants of concern drive transmission of COVID-19.
The country surpassed one million confirmed cases of COVID-19 this weekend.
Duclos touted Canada's portfolio of vaccines and ramped-up delivery schedule as an optimistic measure against the virus's continuing reach, but said Canadians must still be "mindful and focus on the work that each of us needs to do in the next few critical weeks."
That includes refraining from any non-essential travel, regardless of someone's vaccination status.
"It's not the time to travel now and it's not the time to consider opening up our borders with any country, including the United States," Duclos said.
The U.S. Centers for Disease Control declared last week that people who are fully vaccinated can travel within the country without requiring a COVID-19 test or needing to quarantine.
"Even in the United States, where vaccination is more advanced … we're currently speaking of a fourth wave," Duclos said. "So that tells us that vaccination is not enough."
You can watch full episodes of Rosemary Barton Live on CBC Gem, the CBC's streaming service.
New Zealand's Economy Was Humming Prior to Delta Lockdown – BNN
(Bloomberg) — New Zealand's economy was expanding at a rapid pace before a nationwide lockdown interrupted its momentum, latest data show.
Gross domestic product climbed 2.8% in the second quarter after jumping 1.4% in the first, Statistics New Zealand said Thursday in Wellington. Economists forecast a 1.1% gain. From a year earlier, when the country was in its initial pandemic lockdown, the economy expanded 17.4% against expectations of 16.1% growth.
Today's report will do nothing to dissuade the central bank from raising interest rates at its next meeting on Oct. 6 as it frets about mounting inflation pressures. While a contraction is expected in the current quarter after an outbreak of the delta strain of coronavirus prompted a three-week national lockdown, last year's experience shows that demand quickly bounces back when restrictions are lifted.
The New Zealand dollar rose on the data. It bought 71.29 U.S. cents at 10:47 a.m. in Wellington, up from 71.2 cents beforehand.
©2021 Bloomberg L.P.
Global economy projected to show fastest growth in 50 years – UN News
In its new report released on Wednesday, the agency said that the rebound was highly uneven along regional, sectoral and income lines, however.
During 2022, UNCTAD expects global growth to slow to 3.6 per cent, leaving world income levels trailing some 3.7 per cent below the pre-pandemic trend line.
The report also warns that growth deceleration could be bigger than expected, if policymakers lose their nerve or answer what it regards as misguided calls for a return to deregulation and austerity.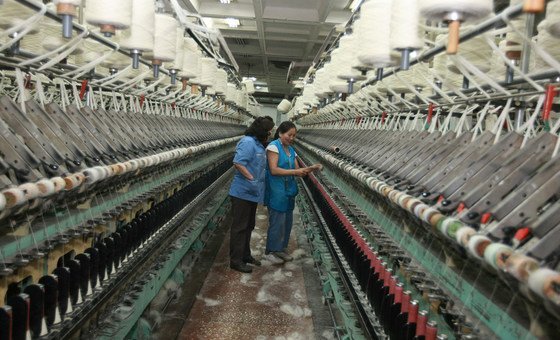 Differences in growth
The report says that, while the response saw an end to public spending constraints in many developed countries, international rules and practices have locked developing countries into pre-pandemic responses, and a semi-permanent state of economic stress.
Many countries in the South have been hit much harder than during the global financial crisis. With a heavy debt burden, they also have less room for maneuvering their way out through public spending.
Lack of monetary autonomy and access to vaccines are also holding many developing economies back, widening the gulf with advanced economies and threatening to usher in another "lost decade".
"These widening gaps, both domestic and international, are a reminder that underlying conditions, if left in place, will make resilience and growth luxuries enjoyed by fewer and fewer privileged people," said Rebeca Grynspan, the secretary-general of UNCTAD.
"Without bolder policies that reflect reinvigorated multilateralism, the post-pandemic recovery will lack equity, and fail to meet the challenges of our time."
Lessons of the pandemic
UNCTAD includes several proposals in the report that are drawn from the lessons of the pandemic.
They include concerted debt relief and even cancellation in some cases, a reassessment of fiscal policy, greater policy coordination and strong support for developing countries in vaccine deployment.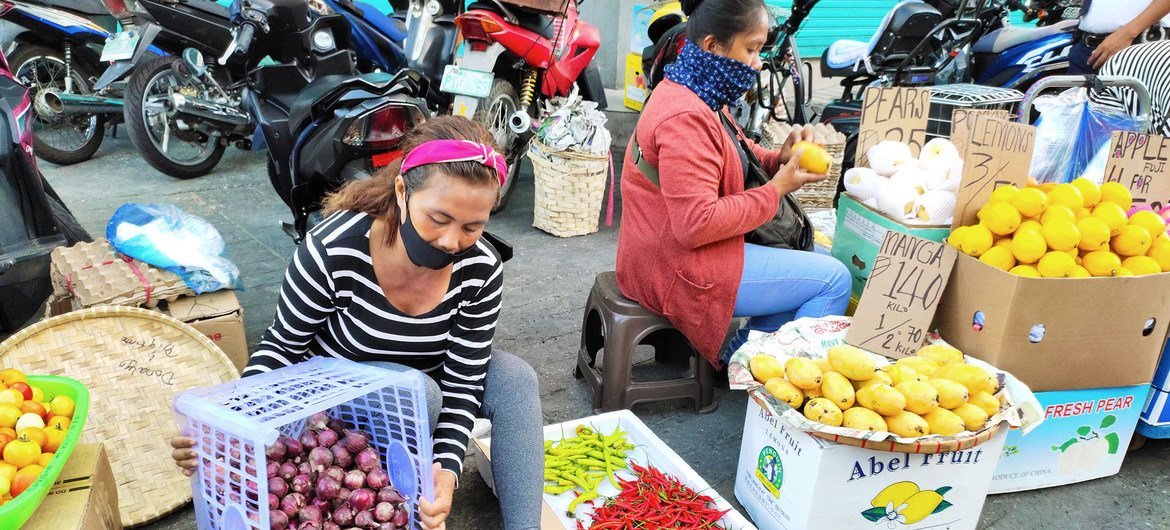 ILO/Minette Rimando.
Women sell fruit and vegetables on a sidewalk in the Philippines, where workers in the informal economy are in danger of having their livelihoods destroyed by the impacts of COVID-19.
Even without significant setbacks, global output will only resume its 2016-19 trend by 2030. But even before COVID-19, the income growth trend was unsatisfactory, says UNCTAD. Average annual global growth in the decade after the global financial crisis was the slowest since 1945.
Despite a decade of massive monetary injections from leading central banks, since the 2008-9 crash, inflation targets have been missed. Even with the current strong recovery in advanced economies, there is no sign of a sustained rise in prices.
After decades of a declining wage share, real wages in advanced countries need to rise well above productivity for a long time before a better balance between wages and profits is achieved again, according to the trade and development body's analysis.
Food prices and global trade
Despite current trends on inflation, UNCTAD believes the rise in food prices could pose a serious threat to vulnerable populations in the South, already financially weakened by the health crisis.
Globally, international trade in goods and services has recovered, after a drop of 5.6 per cent in 2020. The downturn proved less severe than had been anticipated, as trade flows in the latter part of 2020 rebounded almost as strongly as they had fallen earlier.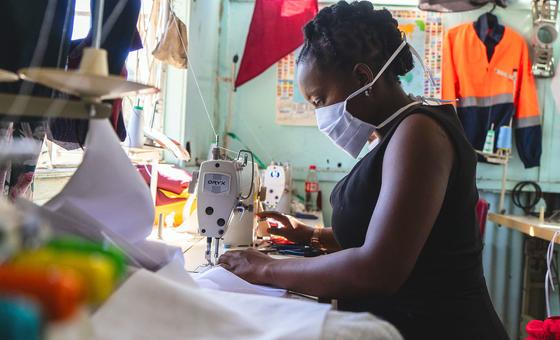 The report's modelling projections point to real growth of global trade in goods and services of 9.5 per cent in 2021. Still, the consequences of the crisis will continue to weigh on the trade performance in the years ahead.
For director of UNCTAD's globalization and development strategies division, Richard Kozul-Wright, "the pandemic has created an opportunity to rethink the core principles of international economic governance, a chance that was missed after the global financial crisis."
"In less than a year, wide-ranging US policy initiatives in the United States have begun to effect concrete change in the case of infrastructure spending and expanded social protection, financed through more progressive taxation. The next logical step is to take this approach to the multilateral level."
The report highlights a "possibility of a renewal of multilateralism", pointing to the United States support of a new special drawing rights (SDR) allocation, global minimum corporate taxation, and a waiver of vaccine-related intellectual property rights.
UNCTAD warns, though, that these proposals "will need much stronger backing from other advanced economies and the inclusion of developing country voices if the world is to tackle the excesses of hyperglobalization and the deepening environmental crisis in a timely manner."
For the UN agency, the biggest risk for the global economy is that "a rebound in the North will divert attention from long-needed reforms without which developing countries will remain in a weak and vulnerable position."
From Coordination to Collapse in Rigged Economies – Physics
September 15, 2021• Physics 14, 129
A game-theoretical model of a rigged economy predicts the emergence of cartels followed by a risk of instability as the economy becomes more complex.
"The economy is rigged!" This claim, which was voiced by both Bernie Sanders and Donald Trump during their 2016 presidential campaigns, might be the only belief shared by people from opposite ends of the political spectrum. But what does "rigging" mean for the economy and its dynamics? Luís Seoane at the National Center for Biotechnology in Spain has now addressed this question by modeling the economy as a system of "games" that agents can rig—for a price [1]. The study reveals that the rigged economy undergoes a sequence of transitions as its complexity and size increase, with "cartels" forming and then dissolving. Although these transitions appear to imply that economic development will ultimately make the economy fairer, Seoane shows that if an economy's size does not keep pace with its rising complexity, large fluctuations in wealth distribution can occur, causing inequality to rise steeply and making the economy liable to collapse.
The use of games to study economic phenomena dates back to the work of John von Neumann in the middle of the last century [2]. The theory quickly became the lingua franca for economists and subsequently emerged as an area of inquiry for the physics community. For example, statistical physicists have shown that versions of the "minority game"—in which several agents choose between two possibilities, with the option chosen by fewest agents becoming the winning choice—can be used to explore the rich emergent properties of simple adaptive systems [3].
Minority games can be used to model situations in which agents compete for scant resources—including financial markets. However, the economy is also marked by phenomena in which the advantage lies with those in the majority, for example, when positive feedback reinforces a particular choice, such as joining a boycott [4]. Seoane shows that rigged economies exhibit features of both minority and majority games [5, 6].
In Seoane's model, multiple agents engage in a number of games simultaneously. Each game involves choosing one of two possible actions. An agent can also choose to pay to rig a game to favor its choice. The winning choice in each round is the action chosen by the majority of the agents who have paid to intervene. Increasing the number of games played in each round increases the degrees of freedom in the economy and is thus a measure of its complexity. After each round of a game, the winners share a fixed amount of money equally. The value of the winnings multiplied by the number of games played defines the total "wealth" that can be redistributed among the agents in each round. This wealth is thus a measure of the size of the economy and, along with complexity, is a key parameter of the model.
To observe how the optimal strategy for an agent changes as the economy develops, Seoane includes in the model an evolutionary process: Agents can replicate themselves after each round, such that each offspring has a high probability of adopting the same strategy as its parent. Since replication costs a fixed amount, more successful agents reproduce in greater numbers.
Seoane observes that, for a fixed level of complexity, a small economy yields agents with diverse strategies and a general preference to be in the minority when they win (to claim more of the prize pot in each round). As the economy increases in size, more wealth becomes available for agents to create progeny, as well as to pay the intervention costs required to rig games. Then, agents switch from playing minority games to majority games, meaning growing economies transition to coordination between agents (cartel formation), with an accompanying drop in strategic diversity. However, if the complexity (the number of games per round) increases faster than the economy grows, the relative returns per game are diminished, causing agents to seek minority positions across multiple games. This switch leads to the dissolution of cartels and a rise in the diversity of strategies employed by the agents.
Seoane also studies how an economy fares under other size-complexity relations. For example, he finds that when the amount disbursed in each game is constant, such that the size of the economy increases linearly with the number of games, there is a critical "complexity threshold" at which the distribution of agent-population size transitions from unimodal to bimodal. This transition gives rise to extremely large fluctuations in agent populations that threaten the stability of the economy. The distribution of agent wealth also exhibits a crossover at this point, becoming broad-tailed in the large-fluctuation regime, indicating rising inequality among agents. A reader familiar with the world's economy today will likely see eerie parallels with this regime of the model.
It could be argued that some of the outcomes observed by Seoane come from the specific choices he makes in constructing the model. For example, the transition to coordinated action as the economy grows might result from the assumption that intervention costs are constant. In reality, intervention costs are related to the size of the economy and vary between players. Another important limitation of the model is that all agents are equally able to rig games—an assumption that misses the asymmetric influence of the wealthy in real economies [7].
Even with these limitations, Seoane's model is significant in that it provides a framework for others to explore the ramifications of real-world rigged economies, such as those in which information is unevenly distributed among agents. Modifying the model might, for example, reveal how informationally disadvantaged agents can use the emergence of coordination to obtain advantage, as seen in other agent-based models [8]. Such counter-rigging of the system by less powerful players is shown by the history of the medieval merchant guilds. Those institutions used the threat of coordinated embargo to resist arbitrary expropriation by powerful local rulers [9], proving that a rigged economy does not necessarily imply that David doesn't stand a chance against Goliath.
---