Canada must stay true to its values amid the tensions between U.S. and China
The Canadian government's inability to navigate the ongoing rivalry between the United States and China has exposed a striking dysfunction in Canada's foreign policy.
It speaks to a serious vulnerability in a nascent superpower conflict driven by techno-nationalism and populist politics. What's clear is that both Beijing and Washington are willing to manipulate Canada's rule of law system for their own political ends.
The Trump administration's request to arrest and extradite Huawei chief financial officer Meng Wenzhou, followed by China's retaliatory detention of Canadians Michael Kovrig and Michael Spavor, illustrate Prime Minister Justin Trudeau's helplessness and confusion on how to handle such a difficult situation.
In fact, near policy paralysis coupled with a "wait and see" approach appears to have guided the government throughout the crisis.
The tragedy of Kovrig and Spavor's imprisonment provides guidance on how middle power states should navigate rivalries between more powerful nations. On the one hand, the Trump administration's America First policy has shown its traditional allies are expendable, while Xi Jinping's emboldened authoritarianism advocates the detention of foreigners for political leverage. Middle power states, meantime, must protect their values and interests.
But what is Canada's national interest and what are Canadian values? Finding an agreed-upon set of non-partisan ethics is an emotional and complex endeavour. Despite the difficulty, times of crisis require leaps of political faith in finding unity to build meaningful policy.
Now is one of those times.
As Canada becomes a playground in a great power rivalry, Canadians must prepare themselves for an era marked by fierce competition between the U.S. and China. This conflict has both global and regional implications, and Canada is notably vulnerable given its geographic proximity to the United States and its economic interdependency with both nations.
Canada in a no-win situation
There is a strong lesson for Canada and other middle power states. It's clear now that Huawei is a politically exposed firm, and the American request to extradite Meng Wenzhou poses a significant risk for Canadians. As David Zweig, a professor emeritus at Hong Kong University of Science and Technology, rightly points out, if Meng is deported, hundreds of thousands of Canadians in China will be in peril. Canada has been forced into a no-win situation.
Michael Kovrig's wife, Vina Nadjibulla, has noted: "We cannot win a race to the bottom with China; we cannot become aggressive and confrontational because confrontation is not a strategy."
Both Zweig and Nadjibulla, along with a powerful collective of Canada's political elite, are advocating for Meng's release in exchange for the two Michaels. There is of course fierce objection to a prisoner swap, along with calls for tougher action while diplomatic efforts continue behind the scenes.
A prisoner swap would in fact undermine Canada's credibility and signal to the world and our allies that Ottawa accepts hostage diplomacy. It would in many ways jeopardize Canada's future relationship with Asia.
Embracing human security
While there is speculation that China and the United States are headed towards what's known as a Thucydides Trap — which holds that war is inevitable when a rising power challenges a dominant state — Canada must prepare itself for the worst and find creative ways of navigate this superpower rivalry.
In doing so, Canadian policy-makers must understand that they're in no position to change the behaviour of nuclear-armed, authoritarian China. To think otherwise is pure fantasy.
But Canada has options.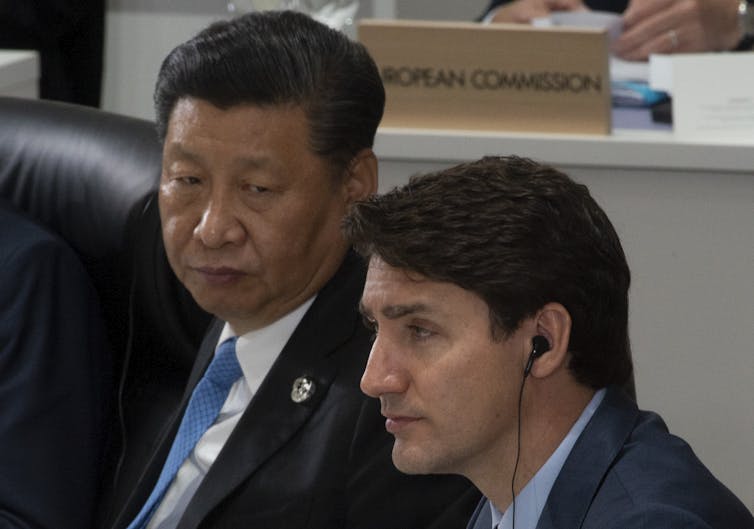 First, the government should return to its post-Cold War roots and advocate clear principles of human security. Unlike traditional security, human security is a people-to-people, centred approach for understanding how communities can build capacity and resilience. As Kenneth Christie at Royal Roads University and I have written, human security is fundamentally concerned with supporting good governance, human well-being and sustainable development.
Second, Canada should draw on its Cold War experience as a middle power state navigating great power rivalries through multilateral organizations. The Trump administration's retreat from global institutions is an opportunity for Western allies to implement progressive policies with a clear focus on human security. While Canada has friends, it must do better in reminding them what we stand for.
China does not have to agree with Canada's liberal democratic principles, nor should we force our values on China.
But the world needs to know how Canada's sovereign rule of law has been steamrolled by two self-interested superpowers. And Canadians must stay true to our values and help other vulnerable and marginalized victims of great power rivalry.

Source:- Global News
Coronavirus: What's happening in Canada and around the world on Saturday – CBC.ca
The latest:
Ontario reports 1,822 new COVID-19 cases, 29 more deaths.
Officials say majority of Canadians could be vaccinated by next September.
Federal government to enlist the military to help with vaccine distribution.
Manitoba hospital ICUs operating over capacity due to rise in COVID-19 cases.
Nearly 100 cases of infection reported at Saskatoon Provincial Correctional Centre.
Alberta again breaks records for hospitalizations, ICU patients.
Have a coronavirus question or news tip for CBC News? Email us at COVID@cbc.ca
Ontario added another 1,822 cases of COVID-19 to its total on Saturday, a day after recording its highest single-day count of 1,855.
The province also reported 29 new deaths attributed to the novel coronavirus after recording 20 deaths on Friday, when health officials said they had completed just over 58,000 tests — the most the province has ever conducted in one day.
Despite the growing number of cases, a majority of Canadians could be inoculated against COVID-19 by September 2021 "if all goes according to plan," Prime Minister Justin Trudeau said on Friday. It's important the vaccine reaches all Canadians "no matter where they live," he said.
Trudeau said as Canada prepares for "the biggest immunization exercise in the country," it will enlist the help of a former NATO commander to lead the distribution effort.
WATCH | Ottawa outlines its COVID-19 vaccine rollout plan:
Federal government officials say three million Canadians could be vaccinated in early 2021, but warn any timelines are uncertain and emphasize that no vaccine has been approved for use in Canada. 2:31
Trudeau named Maj.-Gen. Dany Fortin to lead the military's role in co-ordinating logistics, which include cold storage requirements, data sharing and reaching Indigenous communities.
The prime minister said the federal government has already purchased freezers capable of storing vaccine doses at -70 C.
WATCH | Senior military commander to lead vaccine distribution:
The Canadian Forces general in charge of planning and logistics for Canada's vaccine rollout was announced Friday. But it raises questions about why military officers are needed at all. 2:09
Deputy chief public health officer Dr. Howard Njoo said as many as six million doses could be deployed in the first three months of 2021. Each patient will need two doses of Pfizer's vaccine, which Health Canada says could win approval next month because its review is in the most advanced stage out of the three leading candidates.
Federal officials warned that any timelines are uncertain and emphasized that no vaccine has been approved for use in Canada.
WATCH | Ontario prepares vaccine plan amid record-high new cases:
Ontario reported a record-high 1,855 new cases of COVID-19 on Friday. The head of the province's vaccine task force says he aims to be ready for vaccine distribution by the end of the year, though the vaccine may not yet have arrived. 5:04
Quebec reported 1,269 new COVID-19 infections and 38 more deaths linked to the virus on Friday, including nine that occurred in the past 24 hours.
Federal data showed that as of Friday, Alberta had the highest seven-day infection rate in Canada with 209 cases per 100,000 people.
Friday was the last day of in-school classes for junior and senior high school students across Alberta. Students in grades 7 to 12 are all being shifted to remote learning until Jan. 11, in a bid to slow the spread of COVID-19.
The province's new measures also ban indoor social gatherings, limit outdoor gatherings to 10 people, restrict access to some businesses and make masks mandatory at indoor workplaces in Edmonton and Calgary.
Kaycee Madu, Alberta's minister of justice and solicitor general, said Friday that the province is empowering 700 more peace officers to help enforce COVID-19 public health orders.
Fines for breaking the rules can range from $1,000 to $100,000 in extreme cases that end up in court, Madu said.
What's happening across Canada
As of 10:15 a.m. ET on Saturday, Canada's COVID-19 case count stood at 360,889, with 60,954 of those considered active cases. A CBC News tally of deaths based on provincial reports, regional health information and CBC's reporting stood at 11,923.
Manitoba announced 349 new cases of COVID-19 on Friday and 14 more deaths, the province's second-deadliest day of the pandemic to date. Intensive care units across the province are operating at 152 per cent of their pre-COVID-19 capacity. A record high 322 people are in hospital with the illness, including 45 patients in ICUs.
WATCH | Manitoba's top health official on recent COVID-19 deaths:
Dr. Brent Roussin, Manitoba's chief public health officer, says COVID-19 deaths in the province have skyrocketed since last month. 0:42
Officials overseeing the pandemic response on Manitoba's First Nations say 630 new cases were identified over the last week alone. Nine new deaths were reported, bringing the total to 36.
The province announced stricter COVID-19 measures last week that prohibit businesses from selling non-essential items in stores and further restricted capacity at large retailers.
I repeat the same message daily. <a href="https://twitter.com/hashtag/StayHome?src=hash&amp;ref_src=twsrc%5Etfw">#StayHome</a>.<br>This it is the action that matters the most right now. Only go out for essential reasons.

&mdash;@roussin_brent
The new public health orders also prohibit people from having anyone inside their home who doesn't live there, with few exceptions.
British Columbia announced a single-day record on Friday with 911 cases of COVID-19.
The latest update also includes a new record of 301 patients in hospital with COVID-19, including 69 in critical care.
Earlier Friday, the Vancouver International Airport announced a pilot project in which volunteer travellers are enlisted to take COVID-19 rapid tests before departing on their domestic flights.
Dr. Bonnie Henry, B.C.'s provincial health officer, appealed for people to respect store and restaurant employees as she referred to recent confrontations by aggressive customers who refused to wear masks at indoor public places.
"If you are opposed to wearing a mask, then I ask you to shop online, order takeout or stay outside or stay home and not put other people at risk," she said.
Eleven more people have died in B.C., bringing the number of fatalities to 395, while a record 301 patients are in hospital.
WATCH | New mask mandate in B.C. a point of contention for some:
B.C.'s new mask mandate has become a pressure point in the province, as some people flout the rules or confront people for enforcing them. 2:08
In Atlantic Canada, New Brunswick reported 12 new cases of COVID-19 on Friday, while Newfoundland and Labrador reported four new cases and Nova Scotia reported nine new cases.
Prince Edward Island did not reported any new cases on Friday. Starting Monday, masks will be mandatory for staff and students in Grades 10-12 at all times inside a school building, including while sitting at their desks, with exemptions made for situations such as eating or drinking.
Nunavut reported four new cases of COVID-19 on Friday. The territory, which saw its first confirmed case earlier this month, has now seen a total of 159 cases.
The Nunavut government said it plans to spend $1 million toward community food programming, including extra funding for communities affected by the pandemic.
The Northwest Territories reported no new cases on Friday. There have been 15 confirmed cases in the territory since the start of the pandemic, all since recovered.
Yukon reported three new cases late Friday for a total of 45 since the pandemic began.
WATCH | Mental health biggest concern in Nunavut lockdown, community food centre exec says:
With Nunavut in the second week of a lockdown due to COVID-19, Wade Thorhaug of the Qajuqturvik Community Food Centre says the situation exacerbates the many long-standing issues in the territory, such as food insecurity and overcrowded housing. 7:15
Saskatchewan reported 329 new cases and four deaths on Friday. Along with 208 recoveries, that brought the number of active cases to 3,263.
The Saskatoon Provincial Correctional Centre now has 99 cases of COVID-19 — 80 offenders and 19 staff.
WATCH | Some First Nations in Alberta now experiencing 1st wave of COVID-19:
Dr. James Makokis, a family physician in Kehewin First Nation, says historical traumas make lockdowns difficult for Indigenous people and pandemic fatigue is playing a part in the spike in cases. 4:09
---
What's happening around the world
As of Saturday morning, there were more than 61.7 million cases of COVID-19 recorded worldwide, with more than 39.5 million of those considered recovered or resolved, according to a coronavirus tracking tool maintained by Johns Hopkins University in Baltimore. The global death toll stood at more than 1.4 million.
South Korea reported more than 500 new coronavirus cases for the third-straight day on Saturday, the fastest spread of infections the country has seen since the early days of the pandemic.
The recent spike in infections came after the government eased physical-distancing restrictions to the lowest levels in October to support a weak economy, allowing high-risk venues such as nightclubs and karaoke bars to reopen and spectators to return to sports.
Officials reimposed some of the restrictions this week and could be forced to clamp down on economic activities further if transmissions don't slow.
India's coronavirus infections dipped further with 41,322 new cases reported in the past 24 hours, and there were no signs of a resurgence as a result of a major festival two weeks ago.
The high point of new infections this week was 44,739 on Wednesday. Single-day cases have remained below the 50,000-mark for three weeks.
In the United Kingdom, the government is warning lawmakers who oppose strict coronavirus restrictions that the measures are the only way to avoid a surge that will overwhelm the health system.
A four-week national lockdown in England is due to end Wednesday and will be replaced by three-tier regional measures that restrict business activity, travel and socializing. The vast majority of the country is being put into the upper two tiers.
Prime Minister Boris Johnson faces opposition from dozens of his own Conservative Party's legislators, who say the economic damage outweighs the public health benefits. Some say they will vote against the measures in Parliament on Tuesday.
Cabinet minister Michael Gove said the measures were "grimly" necessary. Writing in the Times of London, he said there are currently 16,000 coronavirus patients in British hospitals, not far below the April peak of 20,000. Gove said a rise in infections would mean coronavirus patients would "displace all but emergency cases. And then even those."
Britain has had Europe's deadliest COVID-19 outbreak, with more than 57,000 coronavirus-related deaths.
What Canadians need to know about COVID-19 before gathering over the holidays – CBC.ca
This is an excerpt from Second Opinion, a weekly roundup of health and medical science news emailed to subscribers every Saturday morning. If you haven't subscribed yet, you can do that by clicking here.
---
Canadians considering gathering with loved ones over the holidays this year need to come to terms with some harsh realities.
The country faces a perfect storm: record rates of COVID-19 amid a growing sense of pandemic fatigue at a time when we typically travel to see loved ones and spend time together indoors.
But COVID-19 is insidious, an unwanted guest that can slip in unnoticed and wreak havoc despite our best efforts to control it.
"We have to ask ourselves honestly, must we socialize? And the answer is probably no," said Raywat Deonandan, a global health epidemiologist and associate professor at the University of Ottawa.
"There is no way to eliminate risk except not to do it in the first place."
But we've learned a lot more about how COVID-19 spreads since it first emerged at the beginning of this year, which can help inform us on where we're most at risk.
Confusion over holiday guidelines
There's understandably a lot of confusion about what sorts of holiday gathering might be reasonable to consider this year, especially since depending on where you live in this country the rules and recommendations differ.
The official advice from Canada's chief public health officer is to avoid large gatherings, non-essential travel and to keep things as small as possible within your household.
Certain provinces, like Ontario, recommend skipping extended family gatherings altogether and taking precautions like self-isolating for 10 to 14 days for those travelling home from away, including colleges and universities.
While others, like Quebec, have put a lot of faith in their population by allowing gatherings of up to 10 people for four days over the holidays after a seven day period of self-imposed quarantine.
But Deonandan says we can't necessarily rely on people to completely self-isolate on their own — that requires not leaving home for groceries, essential items or even to walk the dog.
WATCH | Dr. Theresa Tam advises no large gatherings or non-essential travel
Canada's chief public health officer, Dr. Theresa Tam, says it's clear that Christmas this year is not going to be like other years. She recommends against any gatherings but has some advice if people choose to forgo the public health guidelines. 0:48
"You're also going to have outliers who have infectious periods longer than two weeks," he said.
"If enough people do this, you're going to get a sufficient number of people who do not fall under that umbrella who are indeed infectious and who start outbreaks."
Silent spread a 'key driver' of outbreaks
While we weigh whether it's even possible to gather safely with friends and family in a pandemic, it's important to keep in mind the unseen dangers we could be inviting in — even in parts of the country that have low rates of COVID-19.
"The problem with this virus is that it's like many other viruses," said Dr. Allison McGeer, a medical microbiologist and infectious disease specialist at Toronto's Mount Sinai hospital who worked on the front lines of the SARS epidemic in 2003. "You shed virus before you get sick and some people who get infected don't develop symptoms."
"That's why what has worked is everybody wearing masks and everybody maintaining social distance, because you can't tell who the next infected person is going to be."
McGeer says viruses like influenza, chickenpox and measles typically present symptoms in the body before people are infectious — but the virus behind COVID-19 is different.
The U.S. Centers for Disease Control and Prevention released updated scientific guidance this week that acknowledged asymptomatic or presymptomatic individuals account for more than half of all COVID-19 transmissions.
"Silent transmission is one of the key drivers of outbreaks," said Seyed Moghadas, a professor of applied mathematics and computational epidemiology at Toronto's York University.
"There is an incorrect notion in the general population that if someone feels fine then they are not infected. A person can certainly be infected, infectious, and feel completely fine."
Moghadas, the lead author of a study published in the journal PNAS on the silent spread of COVID-19 that was cited in the CDC guidelines, says this underscores how difficult the virus is to control, a challenge "magnified" in close quarters.
In Nova Scotia, which has successfully contained the spread of COVID-19 throughout the pandemic despite the bursting of the Atlantic bubble this week, catching those silent spreaders before they unknowingly infect others is key.
Dr. Lisa Barrett, an infectious disease specialist at Dalhousie University, has partnered with public health authorities in a pilot project to use rapid COVID-19 tests on people without symptoms in high-traffic areas of Halifax.
It's only been a few days, but what they've found was surprising.
On the first day they tested 147 people and found one asymptomatic case, the second day they tested 604 more and found another one, and on the third day they did 804 tests and found five more.
"We recognized that there are a lot of people out there, even if they're doing the right thing, that don't know they're infected, don't know they're infectious and could be spreading to other people," said Barrett.
"When there's community spread of a virus that has a long period of time when you can be infectious without symptoms, you have to test broadly in the community or you have no idea what's going on."
'A negative test is not a license to socialize'
One novel approach to avoid meeting with loved ones while unknowingly infectious that has emerged is to get a COVID-19 test beforehand to pre-emptively detect it.
But the timing of that test is incredibly important and there's a lot of room for error, so it may be a less effective strategy than it first appears.
A new study in the journal Science looked at 1,178 people infected with COVID-19 and more than 15,000 of their close contacts to determine when people were most infectious.
It found most of the transition — 87 per cent — happened in a fairly wide window of time, up to five days before or after symptoms appeared, while 53 per cent was in the pre-symptomatic phase.
"It's possible to be early in the disease cycle such that you won't detect any viral presence. But in two days suddenly you're infectious and now we're screwed," said Deonandan, at the University of Ottawa.
"So a negative test is not a license to socialize."
Still, Deonandan says there will be people who are going to socialize anyway, so it's better they do so with precautions in place like testing and self-isolating than nothing — even if those precautions aren't perfect.
Whether you celebrate Christmas, Hanukkah, Kwanzaa or the winter solstice, Canadians are being told to consider meeting virtually, avoid risky indoor gatherings without masks and instead find ways to connect while still physical distancing.
"I think the pitch to people is that yes, we're used to having time off school and we're used to seeing everybody," said McGeer. "But this is the year to delay."
WATCH | Tam on the holiday season and how the pandemic won't go on forever
Canada's Chief Public Health Officer Dr. Theresa Tam talks to The National's Andrew Chang about the holiday season and getting to the end of the COVID-19 pandemic. 6:31
"The best advice this year is maybe not to go too far from home," said Barrett. "Is it worth it to lose control of the virus?"
"We're hanging on by a thread here. Please don't let that thread break."
---
To read the entire Second Opinion newsletter every Saturday morning, subscribe by clicking here.
Trudeau expects most Canadians could be vaccinated by September 2021 – CP24 Toronto's Breaking News
Cassanda Szklarski, The Canadian Press

Published Friday, November 27, 2020 12:34PM EST


Last Updated Friday, November 27, 2020 1:32PM EST

Beset by ongoing questions about Canada's COVID-19 vaccine strategy, Prime Minister Justin Trudeau tried to assuage the public with assurances most Canadians could be inoculated by September 2021, with distribution led by a former NATO commander.
Trudeau faced a barrage of questions about when and how such a rollout would unfold at a morning press conference on Friday, acknowledging public anxiety amid alarming infection rates and hospitalizations that have already scuttled holiday hopes for much of the country.
But while promising vaccine news offered "light at the end of the tunnel," Trudeau said "we must hold on a little longer."
"What really matters is when we get across the finish line … The fact that the doctors highlighted that if all goes according to plan, we should be able to have the majority of Canadians vaccinated by next September, puts us in very good stead," he said, offering the government's most specific timeline yet.
"We're going to continue to do everything we can to deliver for Canadians, listening to experts working with top people to make sure that we're doing this right, and quickly and safely."
Trudeau said Canada has turned to Maj.-Gen. Dany Fortin to lead distribution and handle logistics that include cold storage requirements, data sharing, and reaching Indigenous communities. He insisted Ottawa was committed to working with the provinces and territories on securing safe and effective COVID-19 vaccines as quickly as possible.
That wasn't good enough for Ontario Premier Doug Ford, who later Friday roasted Trudeau for failing to give provinces and territories specific information they need for a potential vaccine launch.
Ford said a conference call Trudeau held with premiers Thursday night was sorely lacking.
"I didn't get the answer we wanted to hear, none of the premiers got the answer they wanted to hear," said Ford, who appeared at a Friday press conference alongside the new head of the Ontario's vaccine distribution task force, retired Gen. Rick Hillier.
"I can't emphasize enough to the prime minister: The clock is ticking. We're going to be hopefully getting these vaccines sometime – again, hopefully – in January. I asked him the three simple questions: When are we getting it? What type of vaccine are we getting? And how much of that vaccine are we getting? To have Gen. Hillier make a proper plan, we need to know."
Ontario called on the federal government to immediately disclose its allocation plan, noting reports that other countries have already announced plans to receive doses.
U.S. officials have said 6.4 million doses of Pfizer's vaccine could reach some priority citizens within 24 hours of regulatory clearance, while Moderna's vaccine could be available by the end of the year, although the general public likely wouldn't get doses until the spring.
No matter when a vaccine arrives in Canada, Hillier said Ontario's vaccine distribution plans would be ready on Dec. 31.
In Ottawa, Procurement Minister Anita Anand also faced questions over a precise delivery date but insisted she is in constant contact with suppliers to make sure they can be deployed as soon as they are approved for use.
"This is a complex process. This is an uncertain environment. But we are on top of it," said Anand.
"I personally will make sure that we have vaccines in place in Canada when Health Canada has provided the regulatory approval."
Trudeau's September timeline was echoed by deputy chief public health officer Dr. Howard Njoo, who had last week suggested the possibility of a fall goal line for vaccinating the majority of Canadians.
Njoo said Friday the Prime Minister's prediction is "in the same ballpark" as previous rollout plans, and a good target to work towards.
But he cautioned there are still "a lot of unknowns."
"Certainly we've always been sort of optimistic, cautiously optimistic, about what the vaccination rollout will look like," said Njoo.
"Right now it's a bit of a moving target. We have two vaccines which are very promising but they're still in the process of going through the regulatory process. If all goes well, and they are approved, then they're the first two out of the pipeline."
The news follows more alarming daily COVID-19 case numbers from Ontario, which reported a record 1,855 new cases, and 20 more deaths on Friday.
Quebec reported 1,269 new COVID-19 infections and 38 more deaths linked to the virus, including nine that occurred in the past 24 hours.
Ottawa has finalized agreements with five vaccine makers and is in advanced negotiations with two more.
The deals would secure 194 million doses with the option to buy another 220 million, according to Public Services and Procurement Canada.
This report by The Canadian Press was first published Nov. 27, 2020.