Charting the Global Economy: Clogged Ports Keep Prices Elevated – BNN
(Bloomberg) — Sign up for the New Economy Daily newsletter, follow us @economics and subscribe to our podcast.
Supply-chain jams are leading to congestion at ports around the world, keeping prices elevated.
Trucking trips originating around the busiest U.S. ports show massive increases in idle time, while the backlog of container ships anchored near Singapore was 10.5 percentage points above normal. That's contributing to higher global food prices, as well as inflation more broadly.
In the U.S., payrolls increased in October by more than forecast, affirming the Federal Reserve's decision this week to start tapering its bond purchases. The Czech and Polish central banks hiked rates to combat rising inflation, while the Bank of England and Norway stood pat.
Here are some of the charts that appeared on Bloomberg this week on the latest developments in the global economy:
U.S.
The labor market got back on track last month with a larger-than-forecast and broad-based payrolls gain of 531,000. The data paint a sunnier picture of the job market than previously thought, with easing Covid-19 cases and higher wages helping employers fill near-record openings. They also help validate the Federal Reserve's decision this week to begin scaling back its pandemic-era pace of bond-buying aimed at keeping borrowing costs ultra-low.
Fertilizer prices skyrocketed as soaring natural gas costs have forced some European production plants to halt or curtail production. The price surge is stoking fears farmers may pull back on purchases or shift more acres into crops that require less nutrients. A drop in yields could drive crop prices higher, worsening food inflation.
Trucking trips originating around the U.S.'s busiest ports are showing massive increases in idle time, another sign of the supply-chain logjams plaguing American transport hubs. So far this year, there is more than a day's worth of idle time per truck, up from 21.5 hours in 2020 and 17 hours in 2019.
Europe
The Czech central bank raised borrowing costs by 125 basis points to 2.75% — the biggest in nearly a quarter century — and Poland's central bank governor pledged to do "whatever it takes" after his institution raised the benchmark rate by 75 basis points to 1.25%. Yet further west policy makers were more hesitant this week: The Bank of England defied market expectations by keeping interest rates on hold. Norway also stood pat, but confirmed it's on track to raise borrowing costs by year-end.
Asia
China's delta variant outbreak has as of Wednesday made its way to 19 of 31 mainland provinces, the widest spread of cases the nation has seen since it quelled the initial outbreak in Wuhan in late 2019. The highly contagious strain is breaching curbs more frequently than earlier strains, forcing Beijing to aggressively combat the virus in ways that are increasingly disrupting lives in the world's second-largest economy. An outbreak is also accelerating in Europe as colder temperatures lead to more socializing indoors.
A statement from China's government urging local authorities to ensure there was adequate food supply during the winter and encouraging people to stock up on some essentials prompted concerned talk online, with people linking it with the widening coronavirus outbreak, a forecast cold snap or even rising tensions with Taiwan.
Emerging Markets
Inflation extended its surge last month, raising pressure on the Bank of Russia to make a bigger increase in interest rates in December. Consumer prices rose 8.1% in October, the highest level since the beginning of 2016 and above the 8% median forecast of analysts surveyed by Bloomberg. Food prices jumped 10.1%, but the core index was also elevated.
World
Last year the global economy came juddering to a halt. This year it got moving again, only to become stuck in one of history's biggest traffic jams. New indicators developed by Bloomberg Economics underscore the extremity of the problem, the world's failure to find a quick fix, and how in some regions the Big Crunch of 2021 is still getting worse.
Congestion at many of the world's major ports offered a snapshot of supply chains trying to avoid unprecedented bottlenecks, as cargo handlers searched for the quickest way to route goods through the clogged arteries of global commerce. Singapore, which drew down from Monday's high of 53 waiting ships, had 17 more waylaid vessels than usual, creating a congestion rate of 48.2%, or 10.5 percentage points higher than the median.
©2021 Bloomberg L.P.
LETTER: Sidney working towards a vibrant economy – Sooke News Mirror
In the spring of 2014, Sidney's then-mayor Cross struck a mayor's downtown revitalization task force and I was appointed vice-chair to Mark Dickinson's chairman. Mr. Dickinson led a cross-functional team of dedicated citizens, representatives from the chamber of commerce, Sidney BIA, as well as town staff to renew the economic development strategy for Sidney. Going in, we knew there were several iterations of well-intentioned committees in the past and we mused would we be able to forge a new strategy.
Hours were spent in the Arbutus Room at town hall over several months on a SWOT (strengths, weaknesses, opportunities, and threats) analysis, prioritizing an action registry and producing a report to present to council on our findings. The council of the day accepted the report just prior to the civic election.
Mayor Cross retired and a new council reviewed and ratified the report which provided four pillars for success and a roadmap to achieve them. It included the recommendation to establish an economic development committee of citizens willing to 'roll up their sleeves' to operationalize the recommendations. If this model wasn't successful after a year or so, it was recommended that a consultant be engaged to fine-tune the strategy and the tactics.
The EDC was formed and quite frankly was ineffective due to several strong personalities with differing agendas and goals. Members resigned, new members stepped in, but it became clear that 'Plan B' needed to be effected. The EDC is still an entity in the town but I am pleased to see that cooler heads have prevailed and a consulting firm with expertise in this area has been engaged.
I applaud this decision and sincerely hope the contract deliverables can leverage the town's strengths and mitigate any perceived weaknesses in support of a vibrant business economy.
Brian Losie
Sidney
Nobody seems to know what's going on with the economy – CNN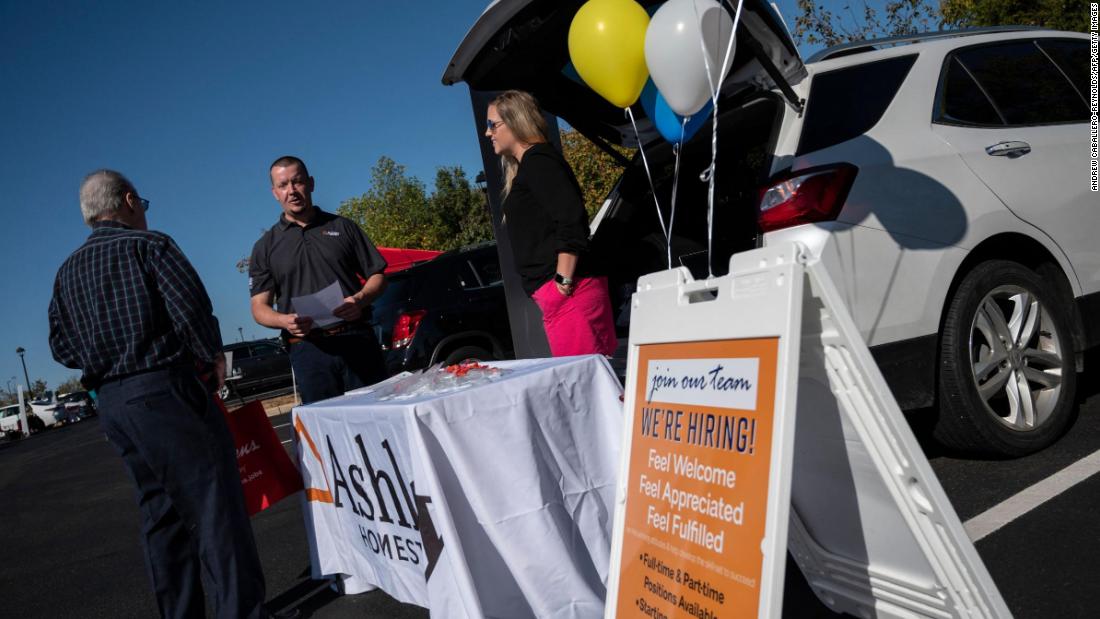 The economy is on the road to recovery from the coronavirus pandemic, reeling from inflation or a source of disappointment on jobs creation, depending on who you're talking to.
It's probably all three, and what happens from month to month seems to be something of a surprise. That element of unpredictability might be the most normal possible thing given the shock of the pandemic — the extraordinary government intervention to save the economy is unlike anything anybody alive today has ever seen.
It's hard to decide how important any single thing is.
Omicron Variant May Be Good For Economy – Forbes
The omicron variant of Covid-19 has sparked great fear. With time, we may find the fear to have been justified, but we may find the opposite: that this is good news for the economy.
It's still early days for our knowledge of omicron. Waiting to learn more seems to make sense, but consider this: Business decisions are being made every day. Any person who waits for perfect certainty—about the economy, technology or Covid-19—will never make a single decision. In many areas decisions have to be made this week. So it's worthwhile to consider how omicron may be good for the economy.
Omicron seems to be displacing the delta variant in South Africa. Ted Wenseleers showed that delta's share of total Covid-19 cases in South Africa has plummeted while omicron has surged. Because the early indications show that omicron was highly transmissible, it could well displace the delta variant around the world.
So far omicron has triggered a surge in infections in South Africa, but not a comparable increase in deaths. There's good reason for the virus to mutate to be less dangerous. Bugs that kill their hosts don't replicate as much as bugs that allow their hosts to remain alive. Many viruses in the past have evolved to be milder. We cannot take this idea too far, however.
The omicron virus may have mutated so that it has greater ability to infect those who already had been exposed to earlier variants. That's no surprise to South African scientists, who have observed a very high past infection rate in their population. The virus could not get ahead by finding people never exposed to any version of Covid-19, so it found a way to infect the previously ill, this theory goes.
BioNTech CEO Ugur Sahin said recently that current vaccines probably help protect against severe illness from the omicron variant, and that new vaccines are under development that would be more targeted against omicron. Given the speed with which our vaccines were developed, we may have new versions being tested in the lab right now. The question will be how long we have to wait for regulatory approval.
From an economic forecasting viewpoint, business leaders should consider the upside potential of omicron. Although it is way too early to be sure, we may find that the disease becomes dominated by a less dangerous mutation. Illness would continue if this happens, but with fewer deaths and hospitalizations. People would come to feel more comfortable dining out, traveling and seeking routine non-Covid healthcare tests and procedures. The rosy view is far from certain, but current evidence is not more pessimistic.
Companies that that are especially sensitive to the Covid pandemic should try to delay big decisions. We'll have better information in the coming weeks. But decisions that cannot be delayed should probably consider the possibility of a stronger economy rather than greater Covid problems.