City of Brandon – September 18th Media Release – City of Brandon –
For the last 24 hours:
Stolen Vehicle Recovered:
At about 9:30 AM Friday morning, a vehicle stolen from Winnipeg was located unoccupied in the 300 block Louise Avenue, by a member on patrol. The vehicle was seized and towed to BPS where it was subjected to a forensic examination.
Fire in Apartment Complex:
At 1:12 PM Friday, a resident of an apartment within 1400 Pacific Avenue reported fire alarms were sounding in his unit. Members attended and found an active fire within the suite, which was quickly extinguished. Investigation revealed that the fire was caused accidentally when the tenant set a bag of groceries on the stove, incidentally turning a burner on, which ignited some of the contents of the grocery bag.
Arrest Warrants Executed:
A 41 year-old male was arrested on the strength of an arrest warrant on Friday evening after being checked in the 1000 block Victoria Avenue. A police records checked showed he was wanted for failing to attend for identification. He was processed and released to appear in court on a later date.
A 33 year-old female rom Winnipeg was arrested for possession of property obtained by crime after a vehicle was stopped on the TransCanada Highway. An arrest warrant, held by the Winnipeg Police Service for the noted offence, was returned during a records query. The accused was released from custody to appear in court in Winnipeg on December 14th.
An unendorsed warrant for arrest for a 36 year-old Brandon man was executed just before 2:00 AM this morning. The male was wanted for failing to comply with conditions of an undertaking. He was held in custody and will appear before the court today.
Boissevain RCMP arrested a 61 year-old male resident of Hartney, MB on the strength of an arrest warrant held by BPS, for failing to attend court. The accused was later released from custody and is scheduled to appear in court on November 29th.
Ste Rose RCMP arrested a 43 year-old male during the course of an investigation and learned that BPS held an endorsed warrant for arrest for failing to attend for identification. The accused will appear before the court today on all charges.
Failing to Comply with Orders:
A 22 year-old female was checked by police in the 0-00 block 10th Street just before midnight Friday night. She was found to be bound by an undertaking that included a daily curfew condition, which the accused was breaching. She was processed and released to appear in court on December 16th.
A 47 year-old male was also arrested for violating a curfew condition of a release order. At 4:20 AM this morning, the accused was located in the 0-00 block 9th Street, well outside of his 9:00 PM – 8:00 AM curfew. He too was processed and released to appear in court on December 16th.
Others:
Four males were held overnight under the Intoxicated Persons Detention Act after being located in separate incidents, and being intoxicated to the point they were unable to safely care for themselves. They will be released once they are more sober.
RELEASE AUTHORIZED BY:
Acting Staff Sergeant D. Lockkhart, #101
B Platoon
~~~~~~~~~~~~~~~~~~~~~~~~
Anyone with information on any unsolved crime is asked to call Brandon Crime Stoppers at 204-727-(TIPS) 8477, www.brandoncrimestoppers.com or by texting BCSTIP and your message to CRIMES (274637). Crime Stoppers pays up to $2000.00 cash for information that leads to the solution of a crime.
CRIME STOPPERS 204-727-TIPS
German media group fires Bild editor after damning press reports – CNN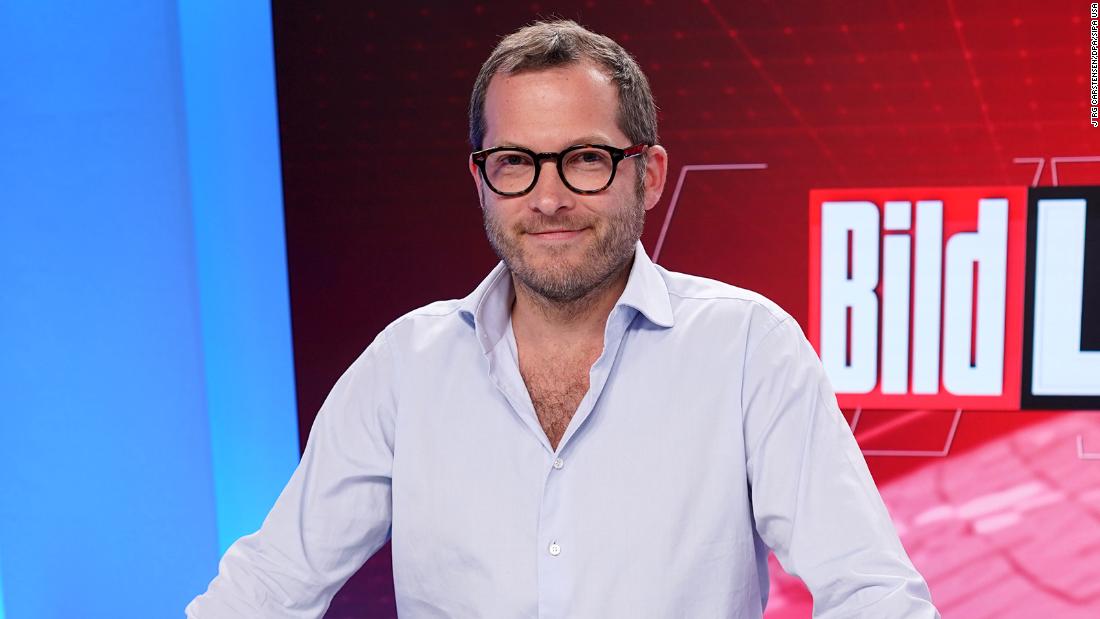 London (CNN Business)German media group Axel Springer said on Monday that it has fired the editor-in-chief of the Bild newspaper, Julian Reichelt, for failing "to maintain a clear boundary between private and professional matters" and being "untruthful to the executive board."
"Axel Springer SE has relieved Bild editor-in-chief Julian Reichelt of his duties with immediate effect," the company said in a statement. "As a result of press investigations, the company gained new knowledge in the last few days" about his "recent conduct."
The publisher employs more than 16,000 people around the world and is aggressively expanding into new markets, including the United States. It commissioned a law firm to conduct an investigation into Reichelt's conduct earlier this year, but reinstated him after determining that he had not committed fireable offenses.
Now, however, Axel Springer says that "new evidence of current misconduct by Julian Reichelt has come to the company's attention in the last few days." Eric F. Phillips, senior vice president at public relations firm Edelman, and a spokesperson for Axel Springer, declined to elaborate on this misconduct in response to a CNN inquiry.
"As the executive board has learned," the Axel Springer statement read, "Julian Reichelt still fails to maintain a clear boundary between private and professional matters and has also been untruthful to the executive board in this regard. The executive board therefore considers the termination of his office to be unavoidable."
Bild is Europe's largest daily newspaper and the publisher's crown jewel. But Axel Springer has sought to expand its digital presence in recent years, especially in the United States, through the acquisition of Business Insider — now called Insider — and newsletter producer Morning Brew. Its
$1 billion takeover of Politico
is expected to close in the fourth quarter of 2021.
Now the spotlight is on workplace culture at its flagship publication in Germany.
The New York Times on ​Sunday
published
a story on Reichelt's alleged abuse of power with female employees. Among the allegations are that Reichelt was in a relationship with a junior employee, whom he promoted beyond what she thought was appropriate, and "continued to summon her to hotel rooms​," ​the Times reported, citing a transcript of testimony the woman gave to the law firm conducting the investigation.
CNN cannot independently verify the Times' reporting and has reached out to Reichelt for comment.
Following that internal investigation earlier this year, Reichelt admitted mistakes, according to a statement reported by Reuters. "I know that I made mistakes in my behaviour towards colleagues and I cannot and will not gloss over it," Reichelt said in March, according to Reuters. "The main thing I blame myself for is that I hurt people for whom I am responsible. I am very sorry about that."
In the statement ​Monday, Axel Springer said that "the compliance investigation against Julian Reichelt never included any allegations of sexual harassment or sexual assault."
"There were, however, allegations of consensual intimate relationships with female Bild employees and indications of abuse of power in that connection. A past relationship with a female Bild employee has been proven and admitted. It remains disputed whether that employee benefited in her career as a result."
CNN does not know the identity of that employee.
The statement said that after the ​inquiry earlier this year, the Board determined that Reichelt "had made mistakes, ​[but] these were not mistakes of an unforgivable nature."
It decided at the time that "mistakes that would have justified an immediate parting of ways were not proven," and had decided to give him a "second chance."
The company ​says it is also taking legal action against "third parties" who leaked confidential transcripts, "business secrets and private communications." ​The company's statement did not specify who the legal actions were against.
They acted, the statement said, "to influence and instrumentalize the spring compliance investigation by unlawful means, evidently with the aim of removing Julian Reichelt from office as well as damaging Bild and Axel Springer."
— Inke Kappeler contributed reporting from Berlin.
'Eternals' movie, boasting a diverse cast and Marvel's first deaf role, premieres
Actors Angelina Jolie and Salma Hayek brought Hollywood glamor to the world premiere of Marvel Studios' latest comic book adapation, "Eternals", on Monday.
Directed by Chloe Zhao, who won best director and best picture for the film "Nomadland " at the Oscars earlier this year, "Eternals" boasts one of the most diverse casts of any Marvel movie.
"I hope it just starts to normalize what should have been there in the first place," Jolie told Reuters. "I hope people watch these films in years to come and we don't even think about it as being diverse, it just becomes what's normal and what's right, and what's appropriate representation of the world we live in."
Gemma Chan plays the lead role of Sersi, one of the Eternals, a group of aliens who have lived on Earth and secretly guided humanity for 7,000 years.
"It's got a different tone, visually it's going to be quite different," said Chan. "Obviously the cast is huge and it spans 7,000 years so it's really an epic story. One of the themes of the film is connection, connection to one another, connection to earth. I hope that resonates with people in some way."
"Eternals" also features the Marvel Cinematic Universe's first deaf character in Lauren Ridloff's Makkari.
"I might be the first but I won't be the only one for much longer," signed Ridloff in American Sign Language. "There's another deaf superhero coming into the MCU very soon so this is definitely a game-changer."
Delayed a year due to the pandemic, "Eternals" will finally hit cinemas on Nov. 5.
(Reporting by Rollo Ross; Editing by Karishma Singh)
Spotify to hire hundreds to drive ad sales in Europe, Australia, Canada
Spotify is planning to hire hundreds of staff to boost its advertising sales in Europe and elsewhere, as the music streaming service looks to increase revenue from customers who don't pay a monthly fee but make up the bulk of its user base.
"We are increasing our ads business marketing workforce by over 70% in Europe, Australia and Canada … and that's off a pretty sizable base," Lee Brown, Spotify's head of advertising business, said in an interview.
"We're investing in our advertising business. As far as long-term strategy, I think gone are the days of advertising being less than 10% of our overall revenue."
Spotify has also hired an ad industry executive with 25 years of international experience to lead international sales, Brown said, though he did not give a name.
The company, which earns income from paid subscriptions and by disseminating ads to non-paying users, saw its advertising business return to growth this year after being hit by the pandemic.
Of its 365 million monthly active users, 210 million are ad-supported, bringing in about 12% of its total revenue.
"An ad not only creates revenue for the firm, but it also lowers costs, as it leads to fewer songs being played and, in turn, modestly lower royalties to be paid," Morningstar Analysts said.
A surge in podcast content – Spotify carried 2.9 million podcasts as of the second quarter, up nearly 12% from the previous three months – has helped boost ad revenue, as podcasts pull in more users and, being longer, allow more time for ads.
The company is looking to add more tools for advertisers, and will make its podcast advertising and publishing platform Megaphone available in Germany, France, Spain and Italy.
Megaphone, bought by Spotify last year, offers tools for podcasters to create ads for their own programmes, for which they receive income, and to measure their reach. It currently hosts about a third of the top 200 shows on Spotify and Apple.
Spotify has been spending hundreds of millions to beef up its podcast business. Its competition with Apple has intensified after both launched paid subscription platforms for podcasters earlier this year.
The Swedish company is expected https://www.emarketer.com/content/spotify-pandora-lead-us-audio-listeners to overtake Apple in podcast listeners for the first time this year, according to research firm eMarketer.
(Reporting by Supantha Mukherjee, European Technology & Telecoms Correspondent; Editing by Jan Harvey)