COMMENTARY: How real estate and farmland have protected investors as inflation emerges – Globalnews.ca
More than 100 years ago, a jug of milk was 40 cents. Today, it's almost $4. This phenomenon is called inflation.
Over the past five decades, all industrialized nations have experienced inflation. A typical rate of inflation is around two per cent and indicates a stable economy.
Although Murray Rothbard, a 20th-century economic historian and political theorist, argues that the natural tendency of the state is inflation, it has its drawbacks. For example, if prices increase too fast, you lose purchasing power. To this end, Milton Friedman, a Nobel Prize-winning economist, observed that inflation is taxation without legislation.
Although inflation in Canada has been historically stable, it can never be fully anticipated. The COVID-19 pandemic has created unprecedented market uncertainty and economic anomalies.
According to the latest Statistics Canada data, the year-over-year inflation rate was 0.7 per cent. Some experts are suggesting that inflation is currently underestimated. Demand for essential goods and services is high, as their prices are tracking above average. Yet the current "basket of goods" in Canada's consumer price index — used to assess inflation — includes many non-essential categories that did not appreciate in the last year.
Therefore, current measures may need to be reconsidered to accurately reflect Canada's inflation.
The much-anticipated end to COVID-19 and Canada's stimulus package further point to long-term inflation. As economies emerge from recessions and gross domestic product (GDP) rises, inflation occurs.
Historically, Canada's inflation has followed, but lagged, its GDP increases. Accordingly, post-pandemic GDP gains are likely to be a driver of inflation. The unparalleled COVID-19 stimulus package, 420 per cent larger than Canada's 2008 recession stimulus package, is also likely to create inflationary trends.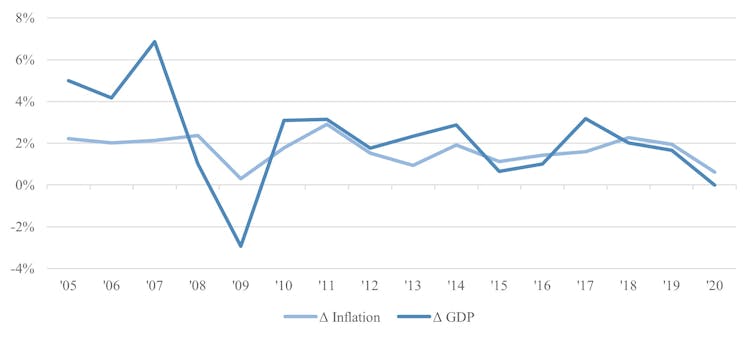 To individuals, losing purchasing power as a result of inflation is perhaps the most salient feature of increasing prices. Anticipating those increases, prudent investors explore ways to hedge against inflation.
An inflation hedge involves investing in an asset that is expected to maintain or appreciate in an inflationary period. Hopefully, its appreciation exceeds, or is at least comparable to, inflation. Real estate has long been considered a hedge against inflation, as rent and property values tend to increase with inflation. Historical empirical evidence supports real estate and farmland as effective inflation hedges.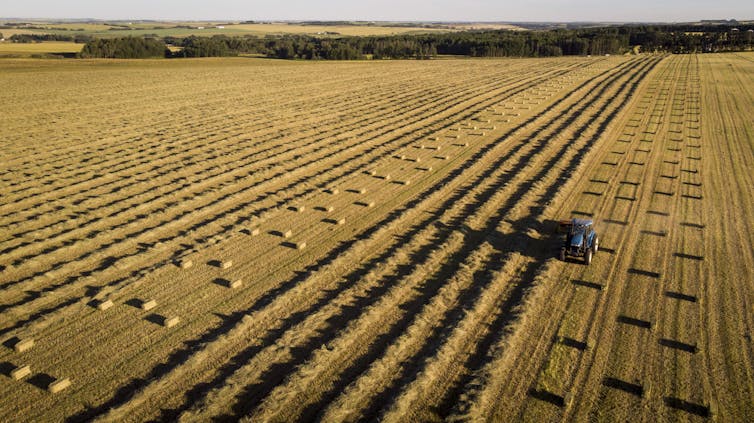 In order to explore the historical effectiveness of Canada's real estate and farmland as an investment hedge, I compared inflation to the new housing price index and farmland values from 2000 to 2020.
I selected the new housing price index as a proxy for property appreciation because it's the most timely indicator of changes to residential real estate values. Farmland values obtained from Farm Credit Canada were used to determine its appreciation.
From 2000 to 2020, the cumulative inflation change was 39 per cent compared to a change and increase of 51.8 per cent to the new housing price index. The data showed that the new price housing index tracked above inflation.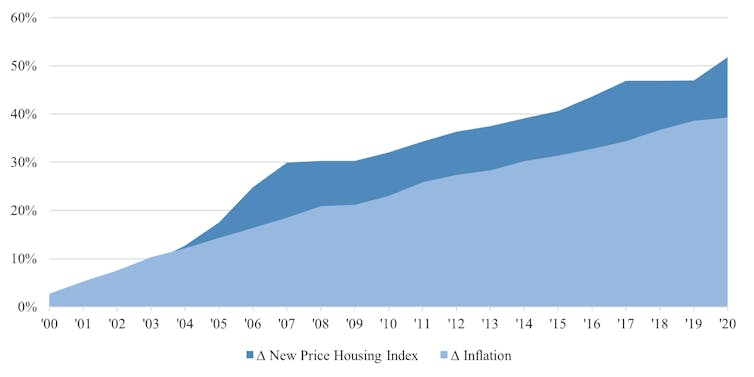 From 2000 to 2020, the cumulative farmland value appreciation was 168.4 per cent. The data showed that Canadian farmland significantly outpaced inflation.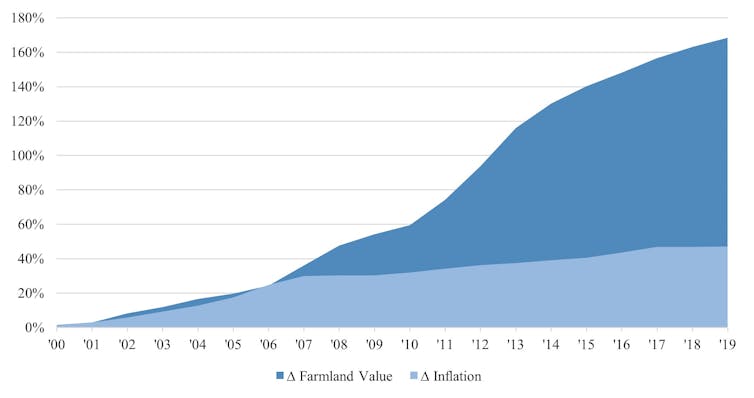 Based on this 20-year period, it's evident that residential real estate and farmland values appreciated faster than inflation, suggesting both were effective hedges against inflation.
Accordingly, anticipating a period of inflation, savvy investors are significantly expanding their real estate portfolios. Although rising prices, let alone investments, can never be fully anticipated, the best known predictor of the future is the past.
Macroeconomics trends, including the COVID-19 stimulus package, expected GDP gains and anticipated reduction in unemployment, suggest inflation is on the horizon in Canada.
In these extraordinarily uncertain times, prudent investors seek to protect the value of their money. Previously, Canadian residential real estate and farmland have proved to be strategic inflation hedges.
After all, as billionaire industrialist Andrew Carnegie once stated: "Ninety per cent of all millionaires become so through owning real estate. More money has been made in real estate than in all industrial investments combined."

Grant Alexander Wilson, faculty member, department of management and marketing, Edwards School of Business, University of Saskatchewan.
This article is republished from The Conversation under a Creative Commons licence. Read the original article.
Anthem building two Calgary shopping centres – Real Estate News EXchange
Vancouver-based real estate company Anthem continues to be bullish on the Calgary market and needs-based retail, launching two new shopping centre projects in the region to service growing residential communities.
The firm also announced the acquisition of the 300,612-square-foot Junction Shopping Centre in Mission, B.C. The grocery-anchored, tier-1 property was acquired in partnership with Crestpoint Real Estate Investments.
"Calgary is a core market for Anthem. It is a great city, with great people. It is affordable, has a well-educated population and is a better deal for families, all in, than Toronto or Vancouver," said Isaac Beall, Anthem's senior director of development, during an interview with RENX.
"It will grow and Anthem will continue to build homes, develop new communities and lease up commercial and industrial spaces to those people requiring it."
Anthem's D'Arcy Crossing and Highstreet at Cornerstone
The two new shopping centres – D'Arcy Crossing and Highstreet at Cornerstone – are being developed by Anthem Properties for the communities of D'Arcy in Okotoks, just south of Calgary, and Cornerstone in Northeast Calgary.
Those residential neighbourhoods are being developed by Anthem United.
The D'Arcy Crossing shopping centre, with Safeway as an anchor tenant, will also include Shoppers Drug Mart, a liquor store, restaurants, coffee shops and other businesses to service the daily needs of Okotoks-and-area residents. It will be the largest commercial centre in North Okotoks at 151,000 square feet and is scheduled to open in the spring of 2023.
The shopping centre will have more than 40 businesses when completed.
Beall said the northern part of the town has more than 60 per cent of Okotoks' total population. D'Arcy is a 280-acre community that launched in 2018 bordering the D'Arcy Ranch Golf Club.
Once completed, it will have more than 2,200 homes. About 300 homes have already been built in the community with full buildout expected by 2026.
Anthem is also building the neighbouring community of Wedderburn in Okotoks, which will include about 1,300 homes on completion, which is also expected by 2026. So far 50 new homes have been built.
Cornerstone is a 1,100-acre community launched in 2015. It will comprise about 9,500 homes on full buildout by 2030, with 1,500 already built.
The new shopping centre, which will be 139,000 square feet, will feature a new Chalo! FreshCo and a Shoppers Drug Mart. It is under construction off Country Hills Boulevard and 60th Street N.E.
It also is scheduled to open in spring 2023.
Quickly growing Calgary neighbourhoods
The Cornerstone shopping centre will be a regional draw for other residential communities in the area which includes Redstone, Cityscape and Skyview Ranch – newer neighbourhoods built in the northeast part of the city in recent years.
"Eight years ago, there was nothing. Redstone was just starting and there are now 35,000 people that live there," said Beall. "It's staggering. There are so many homes up there it's absolutely shocking."
Calgary has been an integral part of Anthem's business in recent years. The company has developed or has slated for development 4,100 acres in Calgary, Chestermere and Okotoks.
It also has about 513,000 square feet of existing retail and commercial space.
Anthem's North American presence
Anthem, founded in 1991, has more than 270 residential, commercial and retail projects across Western North America.
Its portfolio includes 15,000 homes completed, in design or under construction, from master-planned, mixed-use and multiresidential, to townhome and single-family communities.
It also owns, co-owns, manages or has previously owned more than eight million square feet of retail, industrial, residential rental and office space.
The company is bullish on Calgary due to affordable real estate, lower taxes, great social and physical infrastructure and the fact people will be moving to the province.
It currently has eight active residential communities in the area which includes Cornerstone, Glacier Ridge in the northwest, Belmont in the southwest, Pine Creek in the southwest, Sirocco in the southwest, Wedderburn in Okotoks and Chelsea in Chestermere.
Some of Anthem's other communities also have commercial components planned for future phases, but D'Arcy and Cornerstone will be the first to open. They are also the first commercial centres in its land developments to be developed and built by Anthem.
"The No. 1 amenity for all of these residents is grocery," said Beall, "and part of our business model going forward is to provide that amenity."
The format for successful retail
Beall said a grocery-anchored shopping centre is the hub and the heart of a community and increasingly so during the current pandemic.
"That type of retail format we have a lot of confidence in, because our paradigm has always been food, booze and drugs when it comes to these centres. People need grocery stores. They need drug stores to get their medications and a liquor store," he said.
"It's sort of the prototype piece of critical amenities that communities want, and around that you provide that finer-grain service.
"You add some doctors in. You add the quick-service food and the hair salons and dentists. It's a sort of tried-and-true recipe and we like to keep that within the community.
"Also from a sustainability standpoint. We try to integrate them in in a thoughtful way as opposed to dropping them in a field in the middle of nowhere so it keeps people from having to travel far distances to have those needs met."
Beall said there is a need to tread carefully because not every community can support a shopping centre. A critical mass is needed, but wherever possible Anthem will pursue the opportunities.
"At the end of the day, it's always the grocery store that drives the bus. We're at the mercy of grocery tenants. Fundamentally their target trade area that most grocers look for is a population within their catchment in excess of 30,000 people," said Beall.
"That's sort of the magic number where a store starts to make sense, where they can draw enough shoppers in."
The Junction Shopping Centre acquisition
The Junction Shopping Centre in Mission includes about 40 tenants and is located at the intersection of the Lougheed Highway and the Abbotsford-Mission Highway about 70 kilometres east of Vancouver.
Anchored by Save-on-Foods and London Drugs, the regional shopping centre has a diverse roster of ancillary tenants including Winners, Cineplex, Goodlife and Starbucks.
The tenant mix is tailored to local demographics providing a mix of daily needs retail which also includes liquor, financial services, health and personal care, entertainment and discount retailers.
It is 98 per cent leased.
Canadian home prices have jumped 21.4 per cent since last year, survey finds – CTV News
TORONTO —
A new survey from the real estate firm Royal LePage shows that housing prices in Canada have jumped an astounding 21.4 per cent since this time last year.
The Royal LePage House Price Survey, released on Friday, shows that the aggregate price of a home in Canada has risen to $749,800 in the third quarter of 2021, compared to $617,800 in the third quarter of 2020.
The aggregate price refers to a "weighted average of the median values" of both condominiums and single-family homes for a given area.
During the third quarter, housing sales also slowed down, largely due to waning supply and demand, coupled with lessening pandemic restrictions, Royal LePage notes.
"With easing pandemic restrictions, there was finally something to talk about other than real estate, and people began travelling and socializing again," Phil Soper, president and CEO of Royal LePage, said in news release.
"In addition, a year of relentless competition for too few properties drove some would-be purchasers to the sidelines as buyer fatigue set in. Yet their fundamental need or desire for a new home remains and we are seeing pent-up demand grow. We expect another unusually busy winter season building to a brisk 2022 spring market."
When broken down by housing type, the median price of a single-family detached home rose 25.2 per cent, while the median price of a condo rose 13 per cent.
When it comes to regional housing prices, each of the major Canadian cities and their surrounding areas saw a jump in home prices, with the biggest jumps coming in Greater Vancouver (20.8) and Ottawa (20.7).
"Vancouver and the surrounding greater region remains firmly in a seller's market," said Randy Ryalls, general manager, Royal LePage Sterling Realty in Vancouver.
"Although activity showed signs of slowing modestly in the summer and early days of September, the market has picked up again, now that families are back in their usual routines."
Of the 62 Canadian cities included in the survey, every single one showed rising aggregate home costs, but the slowest rise in prices came out of Thunder Bay, Ont. (2 per cent), West Vancouver (3.7 per cent) and Toronto (4.8 per cent).
When it comes to the fastest-growing areas in terms of aggregate home prices, Saint John, N.B. (36.4 per cent), Kingston, Ont. (36 per cent), Belleville/Trenton, Ont. and London, Ont. (32.4 per cent) top the list.
Royal LePage is also predicting a 16-per-cent increase in aggregate home costs for the fourth quarter of 2021 when compared to last year's fourth quarter.
"Looking back to the late spring of 2020, the Royal LePage benchmark value of a home was $580,000," Soper said. "The subsequent 'Covid-catalyst' which drove legions of Canadians to upgrade their living situations, has created a period of exceptional home price growth with real estate values on track to grow 33 per cent by year end."
Real estate agents caught on hidden camera breaking the law, steering buyers from low-commission homes – CBC.ca
A CBC Marketplace investigation has found that some real estate agents are breaking the law by steering unwitting buyers away from low-commission homes.
Posing as homebuyers and sellers, Marketplace tested if real estate agents are engaging in this anti-competitive behaviour and found some agents deceiving the very buyers they are supposed to represent, in an effort to pad their own bottom line.
Watch the full investigation tonight at 8 p.m. (8:30 NT) on CBC-TV or stream anytime on CBC Gem.
Experts and industry insiders say what Marketplace has uncovered is indicative of an industry working for the benefit of real estate agents, at a cost to home sellers and buyers.
"There's a huge inertia, and maintaining the status quo, it absolutely benefits existing realtors 100 per cent," said broker and real estate agent Michael Walsh, one of the few speaking out on this issue.
The Canadian Real Estate Association (CREA) and the Real Estate Council of Ontario (RECO) would not talk to Marketplace about the investigation. However, shortly after learning about the findings, RECO issued a notice about steering to the over 93,000 real estate agents, brokers and brokerages under its purview, noting that such behaviour breaches the code of ethics.
"In addition to being illegal, the conduct undermines consumer protection, consumer confidence and the reputation of the real estate profession as a whole," said the notice.
Across the country, the National Realtor Code of Ethics, as well as provincial real estate laws, dictate that agents must act with honesty and promote the interests of the individual they represent. Some provincial laws, including in Alberta and Ontario, address the issue of steering specifically.
The Real Estate Brokers Act (REBBA) in Ontario states that when a buyer enters a representation agreement with a real estate agent, the agent "…shall inform the buyer of properties that meet the buyer's criteria without having any regard to the amount of remuneration, if any, to which the brokerage might be entitled."
Not doing so is called steering.
But those calling the practice out say RECO and other regulatory bodies are not doing enough to protect consumers and foster an industry that is fair and free from abuse.
'It's not fair, and I think more people have to know about it'
When Joanne Petit and her husband, Frank, put their house up for sale this spring they decided to do it without a real estate agent.
Joanne and Frank lived in Vaughan, Ont., where agents typically charge home sellers five per cent commission on the sale price of their home. In Joanne's case, this would have amounted to over $73,000 plus 13 per cent HST.
In real estate sales, the commission paid to the listing agent by the seller is shared with the agent representing the buyer. Typically the commission is split in half.
In the industry, it's referred to as the co-operating brokerage commission, and when a property is advertised on the Multiple Listing Service (MLS), the industry rules require that an amount of commission for co-operating brokerages must be included. This information, however, is hidden from public view and only visible to other agents and brokerages through an internal version of MLS.
To save on some of these costs, Joanne decided to skip the listing agent and instead paid a $200 flat fee to a discount brokerage that listed her house on MLS but left the rest of the work to her.
"I know there have to be people like myself looking on MLS to buy a house … and [they would] say to their agent, 'I would like to see this house,'" she reasoned.
Joanne was still prepared to pay the real estate agents representing the buyer one per cent commission, which totalled nearly $15,000. After six weeks on the market, Joanne received zero calls from agents with interested buyers.
"They called a lot because they wanted us to sign with them, they wanted us to list with them, they wanted to be the selling agent," said Joanne, who eventually asked one of those local agents why no buyers were interested. She says he informed her that her house had been, in the words of the agent, "blackballed."
"Agents want to work with agents, and agents want their 2.5 per cent commission," Joanne told Marketplace. "It's not fair, and I think more people have to know about it."
Marketplace producers posed as homebuyers with hidden cameras
To test if Joanne's house was indeed being snubbed by agents avoiding the low commission, producers from Marketplace posed as homebuyers looking to purchase a home just like hers and in the same neighbourhood.
The team contacted three local real estate agents who showed up first in an online search.
Each of the agents was asked to book a showing for Joanne's property as well as two other nearby properties listed on MLS.
Marketplace's test found that two out of the three agents steered the potential buyers away from Joanne's home.
While one agent was upfront with the buyers about the low commission and offered to help the would-be buyers purchase the home anyway, the other two agents did not tell the buyers about the commission and discouraged or thwarted them from seeing the home.
One of the agents steered the buyers by telling them the house was overpriced by $200,000, and said the owners would not budge on price. The other agent told them she was unable to book a showing at all, and suggested the property might have tenants, a turnoff for many homebuyers wanting to move in themselves.
WATCH | Real estate agents found 'steering' on camera:
Marketplace posed as potential homebuyers and asked real estate agents to show them a low-commission home being sold by the owner, Joanne Petit. Some agents attempted to steer the would-be buyers away from the property. 2:12
Joanne said she never received a call from the agent who said she couldn't book a showing.
She says the other agent did call but didn't ask if they would be willing to negotiate, even though that agent told the buyers they would not. Joanne says the agent also didn't inquire about the price of the home, which was in line with other sales in the same area.
"Right off the bat, she wanted to know if she was getting 2.5 per cent [commission]. When we told her that there would only be a one per cent commission, she said, 'OK, thank you, I'm not interested, I'll keep my clients to myself.'"
The identities of the three agents have been concealed because Marketplace's investigation determined that this problem is industry-wide, and not isolated to these specific agents.
In a second test, Marketplace made calls to 50 real estate agents in five markets across Canada. Half the time the team called as homeowners looking to sell, and half the time as buyers. When producers asked 25 agents if they, as sellers, could lower the commission they offer to buying agents, 88 per cent warned against doing so.
"Although they're not supposed to do it, some agents may be very cognizant of what they're getting paid and push their buyer to another home," said an agent in Halifax.
"I have had agents say to me, 'You know we're looking at two houses, they're both a good fit but I'm definitely sort of massaging them towards yours because there's more in it for the realtor,'" said another agent in Winnipeg.
'It's just completely unethical'
RECO says that commissions are negotiable and "sellers decide how much, if anything, they wish to offer to pay a buyer's brokerage," but when all 50 agents were asked about the commission they charge, nearly all quoted the same amount. A quarter of the agents referred to their fee as standard, and the majority said they would not negotiate. Marketplace shared what they documented with real estate lawyers including Lisa Laredo, who's practised real estate law in Ontario for over 15 years.
"It's beyond steering, it's just completely unethical," said Laredo about the hidden camera test. "You're not actually providing a service, you're not servicing anyone but yourself."
When Marketplace reached out to the two agents who steered, both denied doing so. The one also stands by her assessment the house was overpriced.
Michael Walsh, who runs an agency exclusively for buyers, is not surprised by the findings of Marketplace's test and says the current framework for real estate sales enables steering.
"That's part of the inherent issue in the model where buying agents are offered compensation by listing agents. We wouldn't be having this conversation if that wasn't in place."
Historically, all real estate agents only worked for home sellers and only had a fiduciary duty to them. It wasn't until the 1990s that buyers' agents came to exist in Ontario after some agents advocated for the change. However, the commission structure, wherein sellers incentivize agents to bring buyers, remained in place.
Walsh and researchers studying the industry agree that the only way to truly fix this problem is to change the way real estate agents are paid, so the buying agent's commission is not paid by the home seller via the listing agent.
'The industry functions as a cartel'
"In terms of commissions, the industry functions as a cartel. They enforce on the entire industry a certain high and relatively uniform commission level," said Stephen Brobeck, a senior fellow and former executive director of the Consumer Federation of America, a non-profit organization based in Washington, D.C.
Brobeck's research, which spans over 20 years, has determined that "decoupling" realtor commissions could drop the standard rate of real estate commission by one to two per cent over a couple of years, saving consumers billions of dollars a year.
"If the commissions are decoupled, for the first time buyers would be able to negotiate their commissions and they would come down. That would also encourage sellers to negotiate more vigorously with their listing agents and those would most likely come down," Brobeck said.
"Furthermore, it would give discounters a far greater opportunity to penetrate this marketplace, because they would not have to pay the going rate for buyer agent commissions."
Brobeck's argument and how commissions are paid is also at the core of two large anti-trust lawsuits in the U.S against the National Association of Realtors and major brokerages including RE/MAX LLC, Keller Williams and Realty Inc. The class-action suits claim that "anticompetitive conduct causes America's homebuyers to pay inflated commissions." These claims are also currently under investigation by the U.S. Department of Justice.
Discount brokerages make up about 10 per cent of the market share in the U.S. There are no figures available for Canada but it's considered to be about the same or less according to discounters in the industry.
Brobeck says it's now up to provincial governments to make this change happen. Until then he also recommends that consumers not give up on negotiating the commission they pay.
"If you're a seller you ought to try to negotiate the commission down by a full percentage point," he said. "Secondly, if you're trying to sell an expensive home, or you're working with a broker who will help you sell one home and buy another home, they may knock an additional percentage point off the home."
Joanne and Frank, however, remained steadfast in their resolve to sell without a listing agent.
"The right person is going to come along at the right time," said Joanne defiantly.
And in the end, patience did pay off. After three months on the market, they sold their house near full asking price to a private buyer, with no agents involved.
If you have tips on this or any other story, please email the Marketplace team at marketplace@cbc.ca