COMMENTARY: How real estate and farmland have protected investors as inflation emerges – Globalnews.ca
More than 100 years ago, a jug of milk was 40 cents. Today, it's almost $4. This phenomenon is called inflation.
Over the past five decades, all industrialized nations have experienced inflation. A typical rate of inflation is around two per cent and indicates a stable economy.
Although Murray Rothbard, a 20th-century economic historian and political theorist, argues that the natural tendency of the state is inflation, it has its drawbacks. For example, if prices increase too fast, you lose purchasing power. To this end, Milton Friedman, a Nobel Prize-winning economist, observed that inflation is taxation without legislation.
Although inflation in Canada has been historically stable, it can never be fully anticipated. The COVID-19 pandemic has created unprecedented market uncertainty and economic anomalies.
According to the latest Statistics Canada data, the year-over-year inflation rate was 0.7 per cent. Some experts are suggesting that inflation is currently underestimated. Demand for essential goods and services is high, as their prices are tracking above average. Yet the current "basket of goods" in Canada's consumer price index — used to assess inflation — includes many non-essential categories that did not appreciate in the last year.
Therefore, current measures may need to be reconsidered to accurately reflect Canada's inflation.
The much-anticipated end to COVID-19 and Canada's stimulus package further point to long-term inflation. As economies emerge from recessions and gross domestic product (GDP) rises, inflation occurs.
Historically, Canada's inflation has followed, but lagged, its GDP increases. Accordingly, post-pandemic GDP gains are likely to be a driver of inflation. The unparalleled COVID-19 stimulus package, 420 per cent larger than Canada's 2008 recession stimulus package, is also likely to create inflationary trends.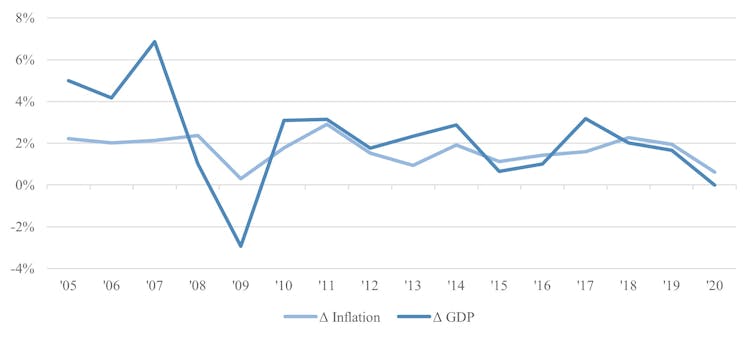 To individuals, losing purchasing power as a result of inflation is perhaps the most salient feature of increasing prices. Anticipating those increases, prudent investors explore ways to hedge against inflation.
An inflation hedge involves investing in an asset that is expected to maintain or appreciate in an inflationary period. Hopefully, its appreciation exceeds, or is at least comparable to, inflation. Real estate has long been considered a hedge against inflation, as rent and property values tend to increase with inflation. Historical empirical evidence supports real estate and farmland as effective inflation hedges.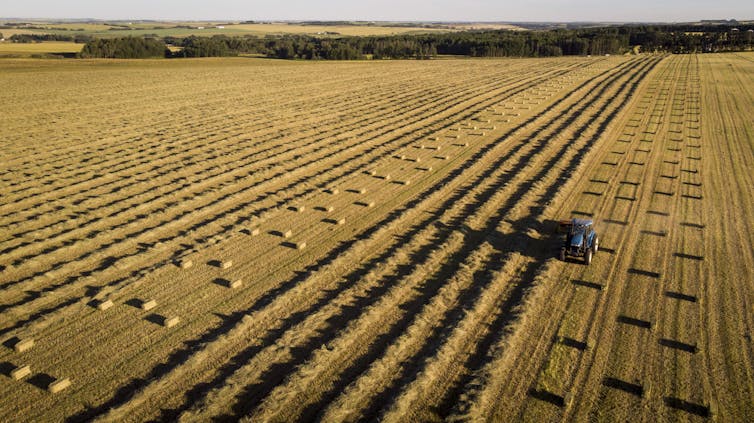 In order to explore the historical effectiveness of Canada's real estate and farmland as an investment hedge, I compared inflation to the new housing price index and farmland values from 2000 to 2020.
I selected the new housing price index as a proxy for property appreciation because it's the most timely indicator of changes to residential real estate values. Farmland values obtained from Farm Credit Canada were used to determine its appreciation.
From 2000 to 2020, the cumulative inflation change was 39 per cent compared to a change and increase of 51.8 per cent to the new housing price index. The data showed that the new price housing index tracked above inflation.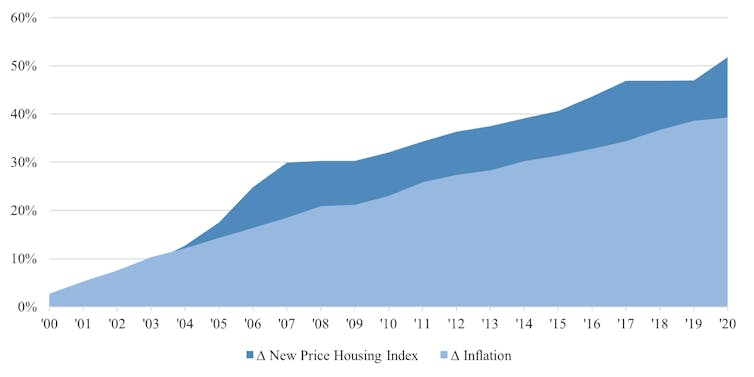 From 2000 to 2020, the cumulative farmland value appreciation was 168.4 per cent. The data showed that Canadian farmland significantly outpaced inflation.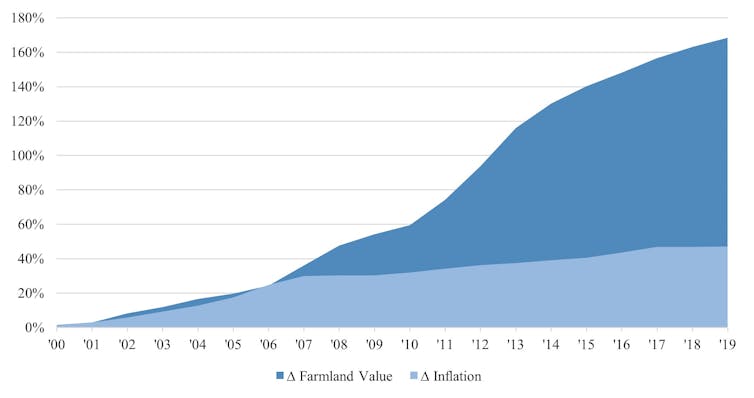 Based on this 20-year period, it's evident that residential real estate and farmland values appreciated faster than inflation, suggesting both were effective hedges against inflation.
Accordingly, anticipating a period of inflation, savvy investors are significantly expanding their real estate portfolios. Although rising prices, let alone investments, can never be fully anticipated, the best known predictor of the future is the past.
Macroeconomics trends, including the COVID-19 stimulus package, expected GDP gains and anticipated reduction in unemployment, suggest inflation is on the horizon in Canada.
In these extraordinarily uncertain times, prudent investors seek to protect the value of their money. Previously, Canadian residential real estate and farmland have proved to be strategic inflation hedges.
After all, as billionaire industrialist Andrew Carnegie once stated: "Ninety per cent of all millionaires become so through owning real estate. More money has been made in real estate than in all industrial investments combined."

Grant Alexander Wilson, faculty member, department of management and marketing, Edwards School of Business, University of Saskatchewan.
This article is republished from The Conversation under a Creative Commons licence. Read the original article.
Canadian home sales, prices surge to new record in March
OTTAWA (Reuters) – Canadian home sales rose 5.2% in March from February, setting a new all-time record amid strong demand in markets across the country, the Canadian Real Estate Association said on Thursday.
The industry group said actual sales, not seasonally adjusted, rose 76.2% from a year earlier, while the group's Home Price Index was up 20.1% from last March and up 3.1% from February.
The actual national average selling price hit a new record at C$716,828 ($572,821) in March, up 31.6% from a year earlier and rising 5.7% from February.
($1 = 1.2514 Canadian dollars)
(Reporting by Julie Gordon in Ottawa)
Hot real estate market sparks warnings to potential buyers as complaints to regulator double
As home sales in the province continue on a dizzying trajectory, the province's real estate watchdog and regulator are warning buyers to be wary of what they may be getting into.
The Real Estate Council of B.C. (RECBC) and the Office of the Superintendent of Real Estate said that in the first three months of 2021, they have seen an increase in inquiries and complaints.
Calls to the regulator were up 42 per cent over the previous year, while complaints, such as how offers were made and accepted, were double the number received in the same period in 2020.
"Buying a home is one of life's biggest financial decisions. There are potential risks at the best of times, but with the added pressure and stress of the current market conditions, those risks are amplified," Micheal Noseworthy, superintendent of real estate, said in a statement.
Planning on buying or selling a home this spring? With increased market activiy, its important to understand the risks, and we are here to help. Here are some tips to help you find the most up-to-date information before you make a decision: <a href="https://t.co/7D8d5Of5XZ">https://t.co/7D8d5Of5XZ</a>

&mdash;@RECBCofficial
The Real Estate Board of Greater Vancouver says sales in the region have continued at a record-setting pace.
Residential home sales covered by the board totalled 5,708 in March 2021, up 126.1 per cent from March 2020, when the COVID-19 pandemic hit, and up 53.2 per cent from February of this year.
Rural and suburban areas have experienced the biggest spikes.
For the past two weeks, Jay Park has been in the middle of the buying frenzy.
He and his partner are trying to upgrade from their one-bedroom apartment to a two-bedroom condo or townhouse in Vancouver.
"I wish we had done this a month or two ago," he said.
Park put an offer on a $1-million condo, $4,000 above asking price.
"To entice the [seller], we put in a subject-free offer, but it wasn't successful," he said. "They accepted $110,000 over asking price that was also subject-free."
The hot market has led to bidding wars. Some would-be buyers have even lined up outside for days to try to get a jump on a property.
Erin Seeley, the CEO of the council, is warning buyers to do their research and be aware of risks before making an offer.
"It's really important that buyers have engaged with their lender before they're making offers so they know how to stay within a reasonable budget," she said.
Seeley said some of the complaints the council has heard from buyers is that they weren't aware the seller has a right to take an early offer.
"And the seller was really in the driver's seat about setting the pricing," she said.
Aaron Jasper, a Vancouver realtor, advises clients to avoid cash offers and to include finance clauses even if it may mean they lose a deal.
"There's a lot of frustration among buyers, feeling pressure to take some risk," he said.
"You're better to be delayed perhaps a year getting into the market as opposed to being completely financially ruined."
Jasper also says realtors are limited in the advice they can give to clients on legal matters, home inspections, potential deficiencies with homes, and financing.
'Caught up in the craziness'
Other tips from the council include seeking professional advice before making a subject-free offer or proceeding without a home inspection, and speaking to a professional to determine how market conditions may be affecting prices.
Meantime, people like Jay Park say they are still keen to buy. Park has more viewings scheduled and is optimistic.
"It's a very exciting time for us, but I also don't want to get caught up in the craziness and make a purchase that's above our means."
Source: – CBC.ca
Black Press Media introduces one of Western Canada's best real estate platforms helping home buyers Find. Love. Live. that new home
Need an agent who knows the community?
Or, is it time to look for a new place to live, but you don't know what's on the market?
Whatever the real estate need is for residents in the communities of British Columbia, Yukon & Alberta, there's a new way to do that one-stop shopping – by visiting Today's Home.
The slogan for the site is "Find. Love. Live."
"We want people to find their dream home, love it, and live in it," said group publisher Lisa Farquharson.
Building on the success of Black Press Media's niche digital platforms – Today's Home brings the same wealth of knowledge and local expertise to the search for a home, be it buying, selling, or even just daydreaming about what changes you can make in the future.
Search hundreds of listings that local real estate agents have available.
The listings cover properties around the region, from a one-bedroom, one-bath condo for $339,900 to million-dollar acreages throughout the province of BC, Yukon, Central Alberta and beyond.
Click on a listing, and see not only the realtor handling the property sale, but links to his or her other listings and social media feeds. With the click of a mouse, take a virtual tour of the property, find the property's walking score, and learn about nearby amenities.
There are links available to schedule a showing, or send the agent a comment or question.
Want to share a listing? When you click on the share button, you'll actually send an attractive digital flyer of the prospective property, not just a link.
There's even a button to help determine how much you have to spend, courtesy of the convenient mortgage calculator.
Plus, scroll down the page on Today's Home and find a list of expert local real estate professionals who can answer questions or help with that home sale, Farquharson explained.
Today's Home offers the advantage of the massive reach that Black Press Media has built throughout Western Canada with its network of community newspapers and online products. That allows the public to tailor real estate searches based on location, price, and other key factors while allowing real estate professionals to gain unprecedented audience reach with their listings.
Today's Home will dovetail into the media company's existing print real estate publications.
"Black Press Media has real estate solutions in print and now we can add in the digital component," Farquharson said.
Watch for expansion of the Today's Home platform in the near future, she added. That will come as Black Press Media adds a new component – the development community. Developers will be able to reach a huge audience when their projects are ready for presentation.
For information on Today's Home, contact group publisher Lisa Farquharson at 604-994-1020 or via email.
Happy house hunting!
Source: – Aldergrove Star