Confusion and anxiety reign for Canadians dependent on CERB as pandemic program winds down – CBC.ca
Roger Wiebe is one of millions of Canadians who has been hit hard by the COVID-19 pandemic, despite never contracting the virus.
The Edmontonian was working in a medical supply warehouse when he lost his job after the pandemic struck. He qualified for the Canada emergency response benefit (CERB), the income support program the government rolled out during the pandemic to help people like him with payouts of up to $2,000 a month.
But that program is set to expire on Sunday. Which brings new anxieties and uncertainties.
He and his wife Kim, a legal assistant, used to earn around $6,000 a month combined, but she lost her job in February as work slowed before the pandemic struck, so she applied for employment insurance (EI). That ran out in August, when she was moved to CERB. The couple has relying on government programs and food banks of late.
On top of the financial stress, his wife recently had one of her legs amputated below the knee.
"I'm really I'm trying to stay stable … for my wife … because she's going through a lot of emotional as well as physical pain due to the amputation," Wiebe said in an interview. "I'm trying to be a rock for her, but it's a lot of stress and emotional fatigue on me as well."
CERB has kept them afloat, but now with rent and bills piling up and the job market looking no better than before — he says and his wife have filled out 150 job applications since the pandemic began — he's worried.
Despite the end of CERB, the government says people like Wiebe won't be left in a lurch. That's because most people who were on the program will be rolled into an expanded EI if they meet the qualifications, which have been expanded to include more people than usual.
And almost everyone else, Ottawa says, is likely covered by another new income support programs in the works, the Canada response benefit (CRB), which is designed to cover gig, freelance and contract workers who don't qualify for EI.
That was previously slated to pay $400 a week, but the Liberals bumped the amount up to $500 after Thursday's throne speech.
"That may seem like a small change, but there's actually two million people … that will benefit from this change," said David MacDonald, chief economist at the Canadian Centre for Policy Alternatives, a progressive think-tank.
Thats the good news. But MacDonald says the current EI plan could still leave more than a million people worse off than where they were under CERB.
By his math, roughly 700,000 people who lost work in the pandemic but managed to take in some paid work will find themselves getting less in benefits.
And MacDonald said there's a whole other group of roughly 400,000 low income, primarily part-time workers, who will still be making less than they would have been if the government simply extended CERB if they are lucky enough to get back to their regular hours.
Transferring between programs 'a messy process'
There's also the problem that whether you are transferred seamlessly from CERB to EI depends on how you applied for it. If you applied for CERB through Service Canada, the government says it will happen automatically. But if you applied through the Canada Revenue Agency, you'll have to begin a formal application for EI, which can take time.
MacDonald estimates about 900,000 people will qualify for the new CRB. But since none of the programs have been officially created and passed through Parliament yet, there's uncertainty everywhere.
"The websites aren't up and running in terms of where people would apply, how they apply, how they find out their status and so on," MacDonald said. "There are four million people who are on CERB and will likely go through this transition [so] where they should go and where they should apply to is … going to be a messy process."
Wiebe says he has heard that it can take between six and eight weeks to get a first EI payment. "If that's the case, I'm not sure what we're going to do because we can't go eight weeks with no income," he said.
Sarah Pacey is another CERB recipient who's worried about the future.
She went on maternity leave from her job providing in-home behaviour therapy for autistic children in June of 2019, but her publicly funded employer lost funding last December. She was laid off while on maternity leave.
When her mat leave expired in June 2020 she applied for CERB.
"With that ending, I'm a little bit just unsure about where I am now," said Pacey, who lives in Toronto.
She has pored over the government website explaining EI, but since payouts are based on the amount of paid work you've done over the past year, "it doesn't seem like I really qualify for any of those programs," she said.
Government confident no one will be left behind
In announcing the changes, Employment Minister Carla Qualtrough said the government is confident that people like Pacey and Wiebe don't need to worry.
"I think we've created … a much more elegant balance between the need to not disincentivize work, but also support people who, regardless of effort, still aren't working or have significantly reduced hours," she said.
WATCH | Carla Qualtrough on the transition from CERB:
The government said in a statement that anyone currently on CERB will be eligible for their first EI payment as of Oct. 11. "Over 80 per cent of eligible Canadians are expected to receive their payment by Oct. 14 — three days after becoming eligible, and over 90 per cent are expected to be paid within three to 14 days."
Wiebe is fairly confident that he will still qualify for some sort of support program, but his wife may not. Once the couple's $1,575 in rent and more than $500 a month in medical expenses are factored in, there will be little left for utilities and food.
The couple's October rent has been paid. But once they take a $20 cab ride to his wife's doctor's appointment next week, Wiebe said he will be down to his last $7.
"They talk about the hardships and how they understand it," he says of the government's assurances. "But until you've actually lived it, you don't truly grasp it."
Eastern Ontario Health Unit imposes new COVID-19 restrictions on restaurants, gyms, fitness centres – CTV Edmonton
OTTAWA —
The Eastern Ontario Health Unit is imposing new restrictions on food and drink establishments, sports and recreation facilities and personal care services in Alexandria, Cornwall, Casselman, Clarence-Rockland, Hawkesbury and other areas of eastern Ontario.
The new measures to limit the spread of COVID-19 in the community were announced as Public Health Ontario reported 43 new cases of COVID-19 in the Eastern Ontario Health Unit region on Saturday.
Medical Officer of Health Dr. Paul Roumeliotis issued a new Order under Section 22 of the Health Protection and Promotion Act that will come into effect on Monday, and remain in effect for 28 days.
"The last thing I want is for businesses in our community to have to shut their doors again as they did in the spring," said Dr. Roumeliotis.
"By putting these new measures in place, I'm hoping we can stop the rising number of infections and prevent another shutdown that would hurt our economy."
The new COVID-19 measures include limiting the number of people who can be seated at a table in bars and restaurants to a maximum of six people, while the total number of patrons in the indoor and outdoor sections of a food and drink establishment must not exceed 100.
Indoor dining at bars and restaurants in eastern Ontario is still allowed.
For banquet halls, the total number of patrons permitted in the premises is limited to the number that can maintain a physical distance of at least two meters, and in any event cannot exceed 50 indoors or 100 outdoors.
Establishments must also conduct a COVID-19 screening on every patron and record their name and contact information.
"This really mimics what happened on Oct. 2 when Ottawa, Toronto and Peel were put in these enhanced zones, before they were put into the red hot zone," said Dr. Roumeliotis during a media conference late Friday.
"I think this is very fair request and saving closures."
The new measures for indoor sports and recreational facilities include limiting the total number of people permitted in a class, organized program or organized activity to a maximum of 10 people, excluding instructors/trainers/coaches.. The total number of people permitted to be indoors at the facility in areas containing weights or exercise machines cannot exceed 50.
The order applies to gymnasiums, health clubs, community centres, multi-purpose facilities, arenas, exercise studios, yoga studios, dance studios, and other indoor fitness centres.
For personal care settings, including hair salons and barber shops, manicure and pedicure salons, spas and tanning salons, they must conduct a COVID-19 screening for every client and record their name and contact information.
Last Sunday, Dr. Roumeliotis told CTV News Ottawa the region may have to consider moving to a modified Stage 2, like Ottawa, due to rising COVID-19 cases.
On Thursday, the medical officer of health said he was no longer recommending eastern Ontario move into a modified Stage 2, but wanted to impose new restrictions on establishments to help limit the spread of COVID-19.
Ontario introduced new restrictions on bars, restaurants, fitness centres and other recreation complexes in Ottawa on Oct. 2. On Oct. 10, the Ontario Government moved Ottawa into a modified Stage 2, which included prohibiting indoor dining at bars and restaurants, and closed gyms, fitness centres and movie theatres.
6 New Cases Of COVID-19 In Windsor Essex As Of Saturday – windsoriteDOTca News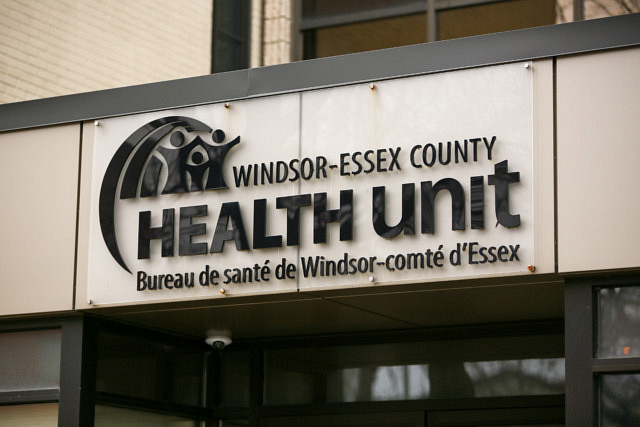 The Windsor Essex County Health Unit has announced 6 new cases of COVID-19 as of Saturday, bringing the local total to 2,787. They say 2,686 people locally have recovered.
Cases increased from 2,781 on Friday October 23rd to 2,787 on Saturday October 24th and 25 cases of COVID-19 are currently active in Windsor-Essex.
The Health Unit says 2 cases are local health care workers, 2 cases are close contacts of confirmed cases, and 2 cases are community acquired.
Article Continues Below Local Sponsor Message
There have been no additional deaths due to COVID-19 as of Saturday and the local death toll stands at 76.
As of Saturday, the Health Unit lists 2 people as hospitalized with confirmed cases of COVID-19 in Windsor Essex, and 1 person in the ICU. One hospitalization is listed at Windsor Regional Hospital.
Workplace Outbreaks
As of Saturday, the Health Unit says the following workplaces are under outbreak:
1 construction company (in Lakeshore)
1 food & beverage services company (in Kingsville)
A workplace outbreak is declared when two or more employees test positive for COVID-19 within a reasonable timeline to suspect transmission in the workplace, according to the Health Unit. Officials with the Health Unit have said a workplace will only be named if a threat to the public exists.
First Nations Health Authority honours Dr. Bonnie Henry for 'kind, calm' COVID leadership – BC News – Castanet.net
Photo: Contributed
Dr. Bonnie Henry, B.C.'s Medical Health Officer, with Dr. Shannon McDonald, FNHA Acting Chief Medical Officer, First Nations Health Authority
Dr. Bonnie Henry, B.C.'s medical health officer, has been honoured by the First Nations Health Authority for her unwavering leadership during the COVID-19 pandemic.
In a post to social media, FNHA thanked Henry for her "kind, calm, and reasoned" leadership during difficult times.
The post noted that matriarchs from the FNHA, the First Nations Health Council, and the First Nations Health Directors Association gathered earlier this week, Oct. 19, mostly virtually, to honour Henry with a ceremony of songs, dance, words and gifts.
One of the gifts, presented by Dr. Shannon McDonald, FNHA Acting Chief Medical Officer, was a silver pendant created by Heiltsuk Nation artist Sheldon William, which Henry can be seen holding in the above photo.
In an FNHA video update on COVID, McDonald said Indigenous communities had responded "very effectively to the recommendations that were put forward about staying home."
"First nations did that very well from a family environment, all the way to a community environment where they locked down their community and really restricted the number of people that were coming and going," she said.
Although, she highlighted that younger people were still going out and hanging out with friends, and hadn't "quite gotten the message."
As of Oct. 23, there were 176 cases of covid in First Nations communities across B.C., according to Indigenous Services Canada.
In the video, McDonald advised people to continue keeping their bubbles small and to stay home as much as possible, echoing Henry's message "less faces, bigger spaces."
"Be kind, be calm and be safe, what Dr. Bonnie says regularly, is a big piece of what we need to do."
The FNHA is working to reform the way health care is delivered to B.C. First Nations through direct services and collaboration with provincial partners, and are working with both provincial and federal partners to actively monitor and respond to the pandemic.