Jupiter and Saturn to make a triangle with the moon – Met Office forecast and when to see them – Gloucestershire Live
The moon, Jupiter and Saturn are lining up to form a triangle of astronomical delight in the skies above Gloucestershire again on Saturday.
On Friday, the two planets were clearly seen near the Moon and if the skies are clear, you should be able to see them again tonight.
Dara Ó Briain, the comedian, presenter and keen stargazer was one of those to tweet their delight at the sight on Friday, saying: "The Moon, Jupiter and Saturn making a gorgeous triangle right now."
Many tweeted their own pictures of the night show
According to the experts at Earth Sky, the triangle will be visible tonight and the best time to see it is from around 9pm.
It said it's hard to miss the two gas giants as they are so near and can be identified by their closeness to the moon.
The Met Office, in its latest forecast, is suggesting a partly cloudy night between 8pm and 11pm with temperatures around 11C.
The moon today is in its waxing gibbous phase, which lasts until the full moon due on Thursday, October 1.
Good places to go stargazing in Gloucestershire include Windsor Drive in Tuffley, Gloucester; Leckhampton Hill in Cheltenham, Painswick Beacon and Cranham Common in Stroud; Edge, in between Gloucester and Stroud' Minchinhampton Common, in between Stroud and Nailsworth and the top of Cleeve Hill in the Cotswolds.
If you've got any images of the three celestial bodies, share them with us at gloslivenews@reachplc.com
Osiris-Rex: Nasa asteroid mission confident of success – BBC News


.css-94m6rd-HeadingWrapperborder-bottom:solid 1px #BABABA;padding-bottom:1.5rem;.css-94m6rd-HeadingWrapper > *:not([hidden]):not(style) ~ *:not([hidden]):not(style)margin-top:1rem;
.css-1c1994u-StyledHeadingfont-family:ReithSerif,Helvetica,Arial,freesans,sans-serif;font-weight:500;font-size:2rem;line-height:2.25rem;color:#3F3F42;@media (min-width:37.5rem).css-1c1994u-StyledHeadingfont-size:2.75rem;line-height:3rem;.css-1c1994u-StyledHeading:focusoutline-style:none;.css-1c1994u-StyledHeading:focus-visibleoutline-style:auto;
Osiris-Rex: Nasa asteroid mission confident of success
.css-15hnagr-Contributorfont-family:ReithSans,Helvetica,Arial,freesans,sans-serif;font-weight:400;font-size:0.8125rem;line-height:1rem;display:-webkit-box;display:-webkit-flex;display:-ms-flexbox;display:flex;-webkit-align-items:center;-webkit-box-align:center;-ms-flex-align:center;align-items:center;color:#696969;.css-15hnagr-Contributor strongfont-family:ReithSerif,Helvetica,Arial,freesans,sans-serif;font-weight:500;color:#3F3F42;
By Jonathan Amos
BBC Science Correspondent
.css-11c8au8-MetadataStripfont-family:ReithSans,Helvetica,Arial,freesans,sans-serif;font-weight:400;font-size:0.8125rem;line-height:1rem;margin-top:-0.25rem;color:#696969;
.css-8d0yke-MetadataStripItemdisplay:inline-block;white-space:nowrap;margin-top:0.25rem;max-width:calc(100% – 1em);.css-8d0yke-MetadataStripItem::aftercontent:";display:inline-block;height:1.25em;border-left:#BABABA 1px solid;margin:0 0.5em;vertical-align:-0.25em;.css-8d0yke-MetadataStripItem:last-childmax-width:100%;.css-8d0yke-MetadataStripItem:last-child::aftercontent:none;

Published

.css-1n98t8y-MetadataContentdisplay:inline-block;max-width:100%;

.css-1hizfh0-MetadataSnippetdisplay:inline-block;max-width:100%;overflow:hidden;text-overflow:ellipsis;white-space:nowrap;vertical-align:bottom;.css-1n712b9-IconContainerdisplay:inline-block;width:1em;height:1em;vertical-align:-0.125em;padding-right:0.25em;

1 hour ago
.css-r83t2i-ComponentWrappermargin:1.5rem 0;
.css-1759m9z-StyledFigurefont-family:ReithSans,Helvetica,Arial,freesans,sans-serif;font-weight:400;font-size:0.875rem;line-height:1.125rem;
.css-uf6wea-RichTextComponentWrappermargin:1rem 0;max-width:36.25rem;
.css-83cqas-RichTextContainercolor:#3F3F42;.css-83cqas-RichTextContainer > *:not([hidden]):not(style) ~ *:not([hidden]):not(style)margin-top:1rem;
.css-14iz86j-BoldTextfont-weight:bold;"We really did kind of make a mess."
That was Dante Lauretta's take after reviewing the first pictures to come down from .css-yidnqd-InlineLink:linkcolor:#3F3F42;.css-yidnqd-InlineLink:visitedcolor:#696969;.css-yidnqd-InlineLink:link,.css-yidnqd-InlineLink:visitedfont-weight:bolder;border-bottom:1px solid #BABABA;-webkit-text-decoration:none;text-decoration:none;.css-yidnqd-InlineLink:link:hover,.css-yidnqd-InlineLink:visited:hover,.css-yidnqd-InlineLink:link:focus,.css-yidnqd-InlineLink:visited:focusborder-bottom-color:currentcolor;border-bottom-width:2px;color:#B80000;@supports (text-underline-offset:0.25em).css-yidnqd-InlineLink:link,.css-yidnqd-InlineLink:visitedborder-bottom:none;-webkit-text-decoration:underline #BABABA;text-decoration:underline #BABABA;-webkit-text-decoration-thickness:1px;text-decoration-thickness:1px;-webkit-text-decoration-skip-ink:none;text-decoration-skip-ink:none;text-underline-offset:0.25em;.css-yidnqd-InlineLink:link:hover,.css-yidnqd-InlineLink:visited:hover,.css-yidnqd-InlineLink:link:focus,.css-yidnqd-InlineLink:visited:focus-webkit-text-decoration-color:currentcolor;text-decoration-color:currentcolor;-webkit-text-decoration-thickness:2px;text-decoration-thickness:2px;color:#B80000;Nasa's Osiris-Rex probe following its bid to grab a sample from asteroid Bennu on Tuesday.
Dust and grit flew in all directions but that was good news, enthused the University of Arizona professor.
"Everything that we can see from these initial images indicates sampling success. So in case you can't tell, I'm pretty excited."
The principal investigator's team now has to work out precisely how much material Osiris-Rex might have lifted from the surface of 500m-wide Bennu.
.css-1pzprxn-BulletListContainermargin-left:1.5rem;.css-1pzprxn-BulletListContainer *:not([hidden]):not(style) ~ *:not([hidden]):not(style)margin-top:1rem;.css-1pzprxn-BulletListContainer ullist-style-type:disc;.css-1pzprxn-BulletListContainer ollist-style-type:decimal;
If it's a kilo or more, it would represent the biggest extra-terrestrial sample cache since the Apollo astronauts gathered rocks from the Moon some 50 years ago.
But even a smaller amount would still be a great prize.
Bennu is a very primitive object, with chemistry preserved from the dawn of the Solar System more than 4.5 billion years ago. As such, it can tell us a great deal about how the Sun and the planets came into being.
Osiris-Rex used what had been described as a "reverse vacuum cleaner" to acquire its clutch of "soil".
More properly called the Touch-and-Go Sample Acquisition Mechanism, or Tag-Sam, this device comprised a long boom with a ring-shaped collection chamber on the end.
The idea was to deliver a squirt of nitrogen when the Tag-Sam made contact with the asteroid.
The hope was this gas would stir up Bennu's fragmented surface, leading to a considerable number of rocky pieces getting trapped inside the collection chamber.

The downlinked pictures certainly suggested the strategy was the right one.
Osiris-Rex may have been in contact with Bennu for only six seconds before retreating, but the sampling ring was flat and stable, and even pressing into the soil slightly. This should have maximised the chances of retaining material.
Rich Burns, Nasa's project manager on the mission, lauded the the way his team managed to put the probe in just the right place on Bennu – almost exactly at the centre of the targeted sampling zone.
"We're over 320 million km away from Earth at this point, and we touched this asteroid within a metre of where we intended to. So that's extraordinary and a real credit to our team," he told reporters.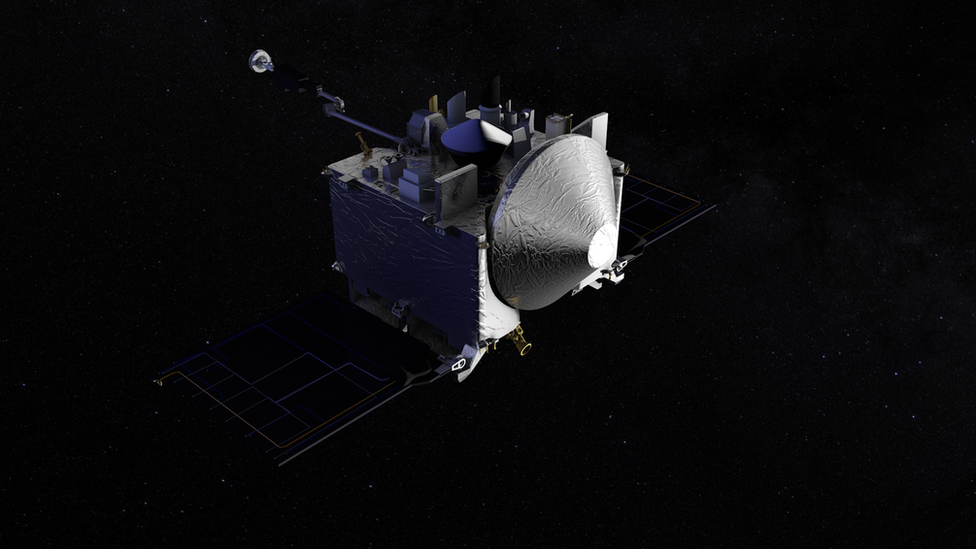 On Thursday, engineers will command the spacecraft to take detailed pictures of the sampling ring to try to see what it contains.
And then on Saturday, they'll make Osiris-Rex spin itself around with the Tag-Sam outstretched. Any extra mass on board will change the level of torque required to turn the probe, compared with the level that was needed to perform the same rotation exercise prior to sample acquisition.
"We are expecting a final sample mass measurement report on Monday," explained Sandy Freund, the mission operations manager at Lockheed Martin, the company that manufactured Osiris-Rex.
It seems highly likely that Osiris-Rex has achieved its objective of taking at least 60g off Bennu. But if it hasn't, there are two more nitrogen bottles still aboard the probe to facilitate further sampling bids. And there's plenty of time, too.
The spacecraft is not scheduled to depart Bennu for Earth until April next year. A landing on Earth for any rock cache in this timeline would be late 2023.

Prof Lauretta once again on Wednesday's paid tribute to the British scientist who conceived Osiris-Rex.
This was Bristol-born Michael Drake who held senior science positions at the University of Arizona in Tucson.
He worked up the concept for the mission but sadly died in 2011, aged 65, just months after Nasa had green-lit the project.
"I'm pleased to see that my dad's legacy is being honoured at this exciting time in Osiris-Rex's mission," Michael Drake's son, Matt Drake, told BBC News.
"My father's idea to study near-Earth asteroids as a means of peering back in time to the birth of the Solar System finally came to fruition during [Tuesday's] Tag event.
"As the principal investigator of this team from its inception until his passing almost 10 years later, he would have been incredibly proud of his team's accomplishments."
Osiris-Rex carries a plaque of remembrance to Michael Drake.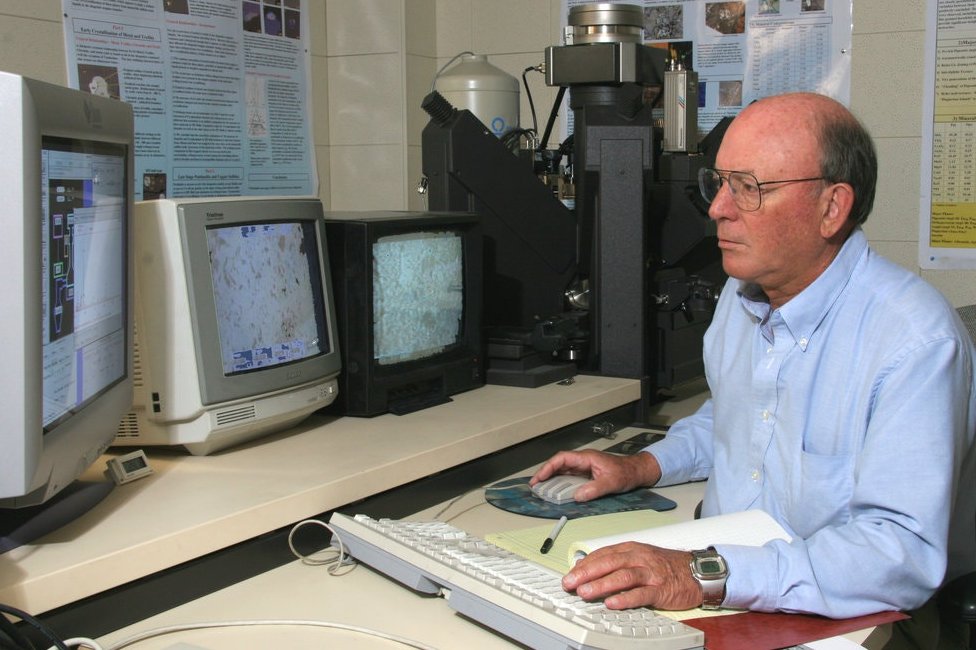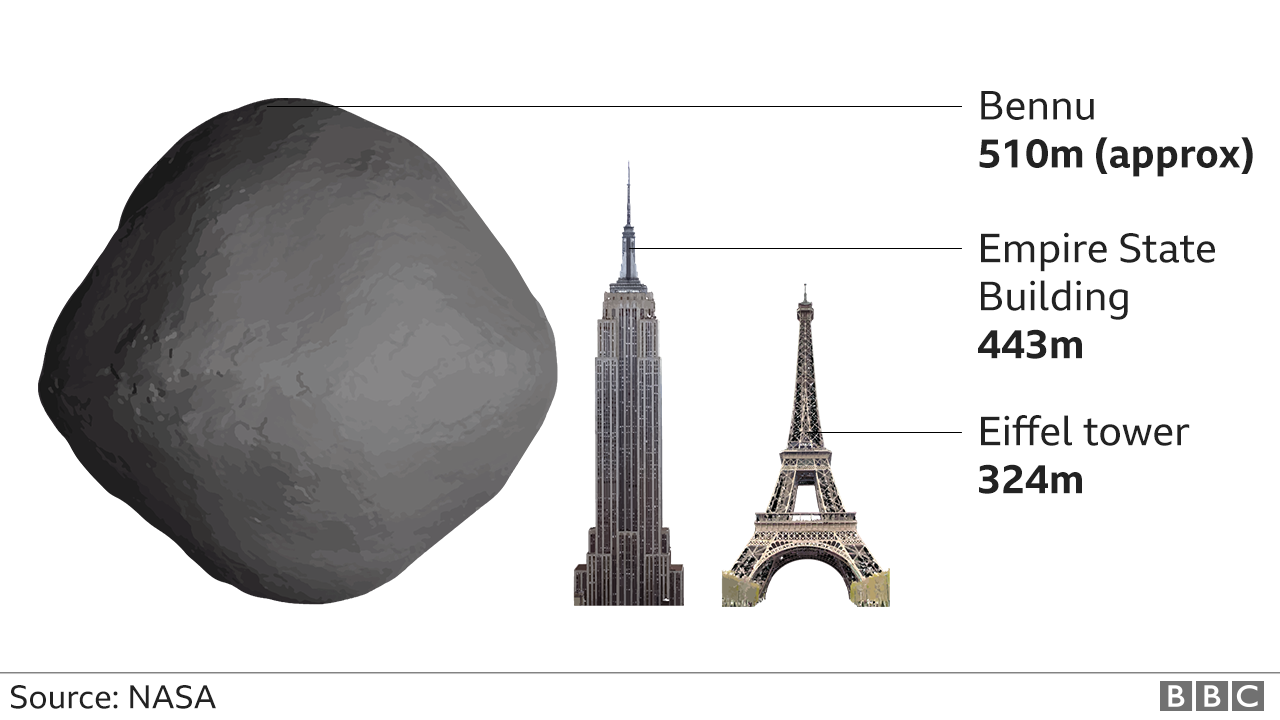 Rare 'blue moon' to appear on Halloween this year – Richmond News
The year 2020 has brought many surprises and this year's Halloween is no different.
A rare "blue full moon" will be appearing on Halloween night this year.
While the moon will not look blue, the term "blue moon" is given when two full moons appear in a single month.
A full moon on Halloween occurs roughly once every 19 years – a pattern known as the Metonic Cycle.
According to the Old Farmer's Almanc, the cycle is uncommon and happens on average every two and a half to three years with the last time two full moons appearing in the same month in 2018.
The next illuminated Halloween full moon, says astronomers, after 2020 will be in the 2039, 2058, 2077 and 2096.
NASA's OSIRIS-REx catches rocks from asteroid on historic mission | US & Canada – The Queens County Citizen
NASA spacecraft on Tuesday hit the rough surface of the Bennu asteroid and captured a pattern of rocks dating back to the birth of the solar system to bring home.
This is a first for the United States – only Japan has previously preserved asteroid specimens.
The "touch-and-go" maneuver was carried out by Lockheed Martin Space in Denver, Colorado at 6.12pm (22:12 GMT) on Tuesday, with one announcer saying: "Touchdown announced. The model is in progress, "and the scientists exploded at the ceremony.
Seconds later, after being introduced by Lockheed mission operator Estelle Church, the spacecraft confirmed that it was away from the rock, "sample collection completed and back-away burn implemented"
The historic mission rested for 12 years and a critical 16-second period of construction, where the minivan-sized OSIRIS-REx spacecraft extended its 11-foot (3.35 m) robotic arm toward a flat patch of gravel near the north pole of Bennu and locked a rock pattern The first few asteroid rocks.
The probe returns images of the sample collection on Wednesday and throughout the week so that scientists can examine how much material has been recovered and determine if the probe needs to make another collection attempt.
Scientists want to be at least 2 ounces (60 grams) and, ideally, be black, small pieces, close to 4 pounds (2 kilograms) high in carbon – the building blocks of the solar system. The asteroid is located 200 million miles (321.9 million kilometers) from Earth.
NASA's science mission chief, Thomas Zurbuchen, likened Ben to Rosetta Stone: "It's been there for the last billion years and tells the story of our entire planet, the solar system."
'Perfectly Perfect'
If successful collection is confirmed, the spacecraft will begin its journey back to Earth in 2023.
Dante Loretta, OSIRIS-REx Principal Investigator from the University of Arizona in Tucson, spoke about the NASA live feed from Lockheed's Mission Support Building. "We have overcome the tremendous challenges this asteroid has thrown at us and the spacecraft seems to have malfunctioned."
The collection device of the robotic arm, in the shape of a heavy shower head, is designed to release compressed gas to remove debris.
The spacecraft was launched in 2016 from the Kennedy Space Center for the Bennu voyage. It has been in orbit around the asteroid for almost two years for the touch and go maneuver.
Bennu, more than 4.5 billion years old, was chosen as the target because scientists believe it was the smallest part of a once-large space rock that broke during a collision between two asteroids early in solar history. System.
"Asteroids are like time capsules floating in space that can provide the fossil record of the birth of our solar system," NASA Planetary Science Director Lori Glaze told Al Jazeera. "They can provide valuable information about how planets like ours came to be."
Thanks to data collected from orbit, the NASA team determined two key discoveries: first, that water is between 5 and 10 percent of Bennu's mass, and second, that its surface is filled with carbon – rich molecules. Nuclear-level analysis of samples from Bennu will help scientists better understand what role asteroids have played in bringing water to Earth and planting seeds with the prebiotic substance that provides building blocks for life.
Studying that material will help scientists find out if life exists elsewhere in the solar system.
"If this kind of chemistry was happening in the early solar system, it would probably have happened in other solar systems as well," Loretta, lead researcher at OSIRIS-Rex, told Al Jazeera in an interview before the breakthrough on Tuesday. "It helps us estimate the probability of a source of life occurring across the galaxy and eventually across the universe."
Japan expects samples from its second asteroid mission – mostly in milligrams – to land in the Australian desert in December.