COVID-19 Live Updates: News on coronavirus in Calgary for Jan. 3 – Calgary Herald
Article content continued
Much of England is already under the toughest level of restriction set out in a four-tier system of regional regulations designed to stop the spread of the virus and protect the national healthcare system.
---
India's approval of homegrown vaccine criticized over lack of data
NEW DELHI — India on Sunday granted emergency approval to Bharat Biotech's COVAXIN but faced questions from industry experts and opposition lawmakers after taking the step without publishing efficacy data for the homegrown coronavirus vaccine.
---
'A violation of trust': Alberta doctors decry government vacations abroad
The revelation that at least five Alberta MLAs travelled abroad over the holidays amid strict COVID-19 restrictions has left some doctors in the province feeling frustrated.
The vacation destinations for the elected officials dot North America. Municipal Affairs Minister Tracy Allard and Calgary-Klein MLA Jeremy Nixon both visited Hawaii. Arizona was the sunny locale visited by Red Deer-South MLA Jason Stephan, while Calgary-Peigan MLA Tanya Fir jetted to Las Vegas and backbencher Pat Rehn took a trip to Mexico.
The news was upsetting for Dr. Fiona Mattatall, an obstetrician-gynecologist at Calgary's Rockyview General Hospital.
"It made me really angry and frustrated, and as I sorted through where that's coming from, I realized it's essentially coming from what I see my patients going through," Mattatall said, estimating she sees about 50 patients each week.
"They've been changing a lot in their lives to keep themselves and their unborn child safe, and (I've been) hearing the sacrifices that people are making for their families and for their neighbours. I think it's been hard coming to terms with knowing as Albertans we're being given restrictions and then the people who are giving them out are not abiding by them."
---
Poor communication dismaying family members of AgeCare residents as COVID-19 outbreaks rage
The holidays have been difficult for many Calgarians, as public-health orders meant to curb the COVID-19 pandemic restrict gatherings outside one's household.
But for those with family members living in continuing-care facilities devastated by outbreaks of the novel coronavirus, the Christmas season has been a nightmare.
Among the most severe active outbreaks in long-term care are at facilities operated by AgeCare, a Calgary-based company with 10 locations in Alberta.
---
Alberta reports 'estimated' 900 cases on Saturday
Made-in-Canada coronavirus vaccine starts human clinical trials – CBC.ca
A made-in-Canada vaccine to protect against COVID-19 began human clinical trials Tuesday in Toronto, says the biotechnology company that developed the vaccine.
Toronto-based Providence Therapeutics said three shots will be given to 60 adult volunteers at a clinical trial site in Toronto in the first phase of the trial on Tuesday.
Fifteen of those volunteers will receive a placebo, and 45 will get the vaccine, called PTX-COVID19-B.
Brad Sorenson, the company's CEO, said it's the first time a vaccine designed and manufactured in Canada has begun clinical trials. The company has purchased a site in Calgary to mass produce the vaccine.
Vaccines are designed to trigger an immune response in the body. Providence's product is an mRNA vaccine and is similar to the Moderna coronavirus shot being given to people across Canada.
Quebec-based pharmaceutical Medicago began clinical trials last July of its coronavirus vaccine that is based on another technology. Unlike Providence, a large portion of Medicago's vaccine doses will be manufactured outside the country, in North Carolina.
Medicago's vaccine is currently in Phase 3 clinical trials — the last stage before it can apply for approval from Health Canada and other regulators to market the product.
Sorenson said Providence designed and built its vaccine last March.
"We reached out to the Canadian government in April and said, 'Hey, you've heard of Moderna. We're doing the exact same thing,' " Sorenson said in an interview.
"We went from concept into the clinic in under a year without the same level of support as our peers had."
Purchased Calgary site
The federal government provided financial sponsorship and support for the early phase clinical trial through the National Research Council of Canada's Industrial Research Assistance Program.
Currently, Canada lacks the capacity to manufacture the millions of doses of coronavirus vaccines needed to immunize people outside of a clinical trial setting. It's why the federal government struck deals with Pfizer-BioNTech and Moderna — both manufactured abroad — to obtain the vaccines being rolled out across Canada.
While the company was developing the vaccine in pre-clinical studies, Sorenson said it also started to build the infrastructure to manufacture the vaccine in Canada as well.
The company purchased a 20,000-square-foot facility in Calgary that includes 12,000 square feet of lab space to mass produce the vaccine. The facility will be up and running in two months, Sorensen said.
Pending regulatory approval, a larger Phase 2 trial with adults over 65, youths under 18 and pregnant people could start in May, Sorenson said.
Initial focus was cancer research
If the vaccine proves safe and effective in clinical trials and Health Canada approves it, the goal is to have it ready for the global market by January 2022.
Several other Canadian vaccine candidates are poised to start clinical trials in Canada, including one from Saskatoon-based VIDO-Intervac that's currently recruiting volunteers for a Phase 1 clinical trial in Halifax.
Virologist Alyson Kelvin, an assistant professor at Dalhousie University and a scientist at the Canadian Centre for Vaccinology at VIDO-Intervac, is one of the many Canadian researchers involved in vaccine development and anticipating the results of clinical trials, including from Providence.
"The mRNA vaccines produced by Pfizer and Moderna have shown to have very robust immune responses, so perhaps this is a good strategy to be backing," Kelvin said. "Phase one clinical trials will help us determine if this mRNA vaccine is going into that same progression."
Michael Gardam, an infectious disease physician and chief operating officer at Health PEI, said the idea of having a domestic pandemic vaccine supplier makes sense. But Canada's plan was based on making more familiar influenza vaccines.
"If we're in Phase one, Phase two trials, by the time this Canadian vaccine may be approved, the pandemic may be largely over," said Gardam, who is not involved in vaccine development. "But the concept is a good one."
Sorenson founded Providence Therapeutics in 2013 to focus on cancer vaccines.
Several scientists contributed to the pre-clinical research on Providence's vaccine, including those at the lab of Dr. Mario Ostrowski, a scientist at the Keenan Research Centre for Biomedical Science and an infectious disease clinician at St. Michael's Hospital, Dr. Anne-Claude Gingras at Mt. Sinai Hospital, Dr. Samira Mubareka and Dr. Rob Kozak at Sunnybrook Research Institute, as well as Dr. Michael Pollanen, Ontario's chief forensic pathologist.
In August, Ostrowski, whose laboratory performed the animal trials, said results were on par with tests of vaccines from Moderna and Pfizer-BioNTech at that stage.
Explained: What the Pfizer shortage means for Canada's vaccine rollout – CTV News
TORONTO —
Canada won't receive a single vial of the Pfizer-BioNTech vaccine this week due to an international shortage that has prompted finger-pointing in Ottawa and forced provinces to temporarily delay their vaccine rollouts.
For the next four weeks, Canada's vaccine deliveries will be cut in half with up to 400,000 doses delayed, according to Maj.-Gen. Dany Fortin, who is leading the country's vaccine rollout. Canada won't receive any new deliveries from Pfizer this week, and only one-quarter of the previously promised delivery next week.
Pfizer advised Canada earlier this month that upgrades to its plant in Belgium would temporarily slow production and reduce doses delivered to every country except the United States, which has its own production facility. The factory is expected to return to full production on Feb. 15.
The upgrades are expected to help boost Pfizer's annual production capacity from 1.3 billion shots in 2021 to up to 2 billion, which would be enough to cover about 13 per cent of the world's population.
Prime Minister Justin Trudeau spoke directly to Pfizer's CEO last week and said he was assured that, despite the slowdown, the company will fulfil its contractual promise to deliver four million doses to Canada by the end of March.
The next shipment of Canada's second approved vaccine, from Moderna, is expected in the first week of February and will include an estimated 230,400 doses.
In the meantime, the temporary shortage has forced provinces and territories to pump the brakes on their vaccine rollout plans. Opposition parties have accused the Liberals of mishandling the vaccine rollout and pointed to other countries, including the U.S. and the U.K., where more people have received their shots.
WHAT DOES THIS MEAN FOR THE VACCINE ROLLOUT?
Federal health officials overseeing Canada's vaccine plan insist the Pfizer delay is temporary and will not hamper the country's long-term goal of vaccinating every Canadian by Sept. 30. Fortin said future shipments and "a rapid scale-up of deliveries in the upcoming weeks" will make up for the current shortage.
For now, provinces have started retooling their vaccination plans to prolong the time between vaccinations and, in some cases, are turning people away from new vaccine appointments.
Ontario Premier Doug Ford called the Pfizer shortage "a massive concern" and announced that the province will no longer be able to meet its goal of vaccinating all residents and staff in long-term care homes by Feb. 15.
Ontario, Quebec, Nova Scotia, New Brunswick, Saskatchewan and British Columbia will all slow down their vaccine schedules to stretch whatever vaccine supply they have on hand. The provinces will delay second doses up to 42 days, with Quebec prolonging the wait up to 90 days.
The National Advisory Council On Immunization has advised that the wait period between first and second doses could be extended up to 42 days.
In Alberta, officials have paused new appointments for those looking to get their first vaccine. Manitoba temporarily stopped booking new appointments but is expected to resume this week.
WILL THE SHORTAGE MEAN LONG-TERM DELAYS?
The federal government insists that the country's long-term vaccine rollout remains on track. Officials released projections last week that suggest Canada will still meet its goal of vaccinating 3 million people by the end of March, accounting for eight per cent of the entire population. A total of 36 million Canadians are expected to be vaccinated by the end of September.
Even if Canada doesn't approve any more vaccines by the fall, estimates suggest that doses from Pfizer and Moderna will cover 13 million Canadians, or 34 per cent, by June and 36 million, or 95 per cent, by September 30.
Canada's vaccine rollout could happen even faster if more vaccines are approved. The projections suggest that, based on all vaccines Canada has procured but have yet to be approved, as many as 23 million Canadians could be vaccinated between April and June, accounting for 61 per cent of the population. Canada could have enough doses for up to 73 million people between July on September. In such a scenario, there would be more than enough vaccines for everyone who wants one.
HOW DOES CANADA COMPARE TO OTHER COUNTRIES?
So far, 761,530 people in Canada have received at least their first shot of either the Pfizer or Moderna vaccine, accounting for roughly two per cent of the population.
In the United States, about six per cent of the population has received at least their first shot. However, the U.S. is lagging when it comes to administering available vaccines, with only about half of all shots available still undistributed.
In Israel, which secured a large stock of Pfizer vaccines from the get-go, more than 2.5 million of the country's 9 million people have been vaccinated. Teenagers between 16 and 18 are now receiving vaccines on the condition that they receive parental permission. https://www.ctvnews.ca/world/israel-expands-vaccination-campaign-to-teens-1.5279506
Canada's rollout is more on par with countries such as Finland, Austria, Poland, Switzerland and Estonia, all of which have vaccinated around two per cent of their populations.
Canada is hardly alone when it comes to the delays. Mexico, Saudi Arabia, Bahrain and several European countries have all begun slowing down vaccinations, and Italy has threatened to sue Pfizer.
In Ottawa, the Liberals have been criticized for how they're managing the rollout. Some members of the opposition have called on Trudeau to ask U.S. President Joe Biden for help.
NDP House Leader Peter Julian said the Liberals need to explain the situation to Canadians.
"Why are other countries ahead?" Julian said. "That's the question that the government will have to respond to. And we believe that the government needs to very clearly spell out their plan to accelerate the vaccine distribution across the country."
The government says it has worked hard to secure as many doses as possible and signed multiple contracts in anticipation of multiple vaccine candidates booming available in the coming months.
With files from The Canadian Press
Ontario working to adapt to the delay of Pfizer BioNTech vaccines: Public health officials – SooToday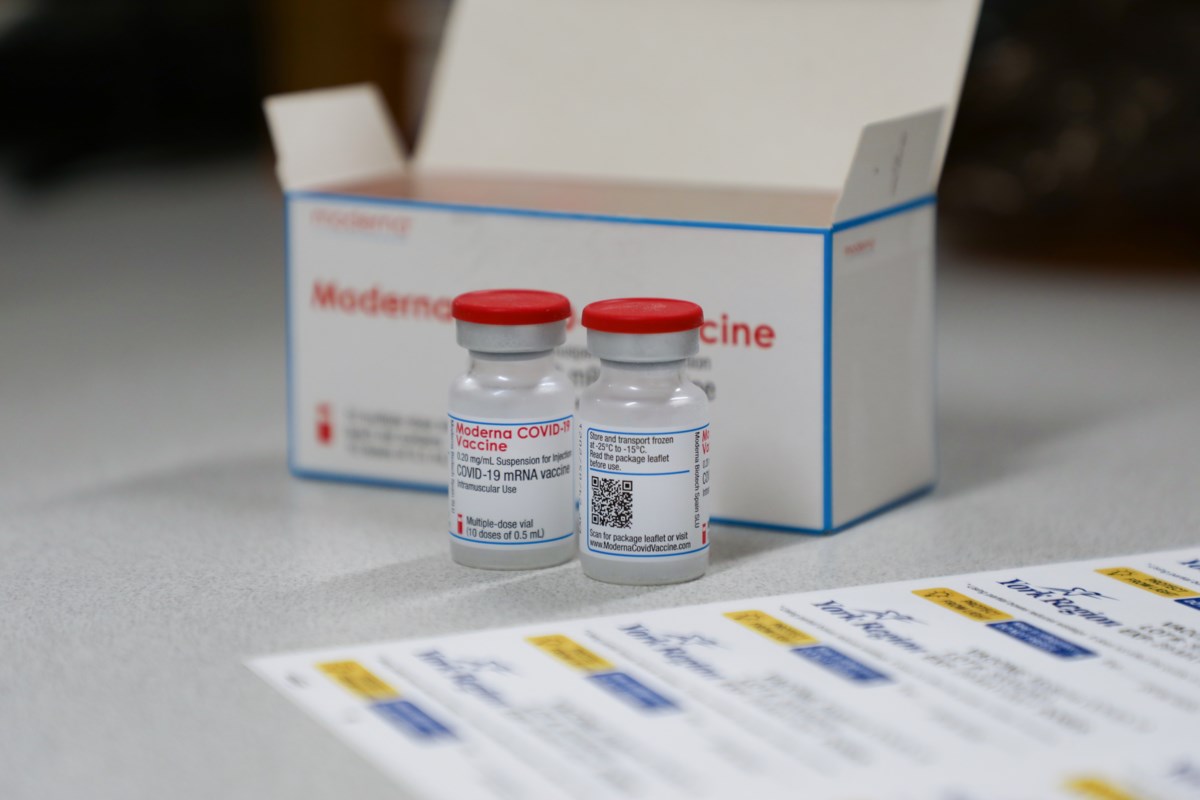 In response to the Pfizer BioNTech delay in delivering vaccines to Ontario, public health officials in this province could extend the interval between the two doses that are given to some less-vulnerable vaccine recipients. Pfizer revealed last week it had to shut down production for one week so it could scale ups European manufacturing capacity.
Both the Pfizer BioNTech and Moderna vaccines that are provided in Ontario are double-dose vaccines, meaning the first dose is administered one day and then the follow-up second dose is delivered 21 to 28 days later.
Despite the shortage, Ontario officials told a technical briefing Monday that the plan is to accelerate the vaccines going out to long-term care homes, to high risk retirement homes and to First Nations elder care homes.
"With uncertainty and reduced allocations we will be reallocating vaccines to 14 public health unit regions that haven't received any vaccine yet so that they can begin to vaccinate their vulnerable populations, starting this week," said a public health official.
She said Ontario is working on a new strategic approach. This will include a focus on areas where Ontario can reduce risk of illness and death for the most vulnerable populations.
"We're accelerating the vaccination of residents in long-term care homes, high-risk retirement homes and First Nations elder care homes," she added.
Ontario is also planning to expand the time allocation between first and second dosages on the Pfizer BioNTech vaccine.
"We will be extending the interval between doses in some situations and only as needed to support the vaccinations of the most vulnerable populations. For resident groups, in long-term care, in high-risk retirement homes and elder care homes, we will be maintaining the recommended maximum interval of 21 to 27 days and for all other groups, we will expand that interval to no more than 42 days."
The idea of expanding the time interval was taken into account during the vaccine trial studies and was proven effective with time intervals from 19 days to 42 days, the briefing was told.
The health ministry official said this measure is supported by the World Health Organization as well as the Centers for Disease Control, based in the United States.
The effort is also being accelerated for remote and isolated First Nations communities.
Despite the one-week delay from Pfizer, the company has stated it will live up to the contractual obligation to provide Canada with a total of four million doses of vaccine by the end of March, the briefing was told.
In response to a media question about the reliability of the Moderna vaccine delivery, the briefing was told that Moderna delivers its vaccines every three weeks, and in both instances, the vaccines from Moderna had arrived on time in Ontario. The next delivery, of about 80,000 doses, is expected on Monday February 1, 2021. There has been no indication that Moderna's delivery schedule will be changed.