Economy blows past expectations, adds 259000 jobs in February – The Tri-City News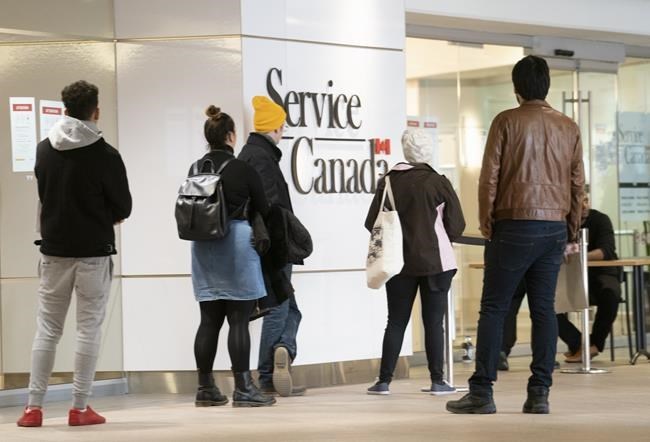 OTTAWA — Canada's economy added 259,000 jobs last month, whipping past expectations to pull the country closer to pre-pandemic employment levels, with young women staring at the longest road to recovery.
One year into the pandemic, Canada's job market is 599,100 jobs short of where it was in February of last year, or 3.1 per cent below pre-pandemic levels.
The shortfall is higher for young workers at 10.2 per cent, with young women between the ages of 15 and 24 the most affected group through this pandemic.
Statistics Canada said Friday that young women are down 181,000 jobs from February 2020, or off 14.1 per cent from pre-pandemic levels. For young men, the shortfall is 96,000, or 7.3 per cent.
The details add to the portrait of the pandemic's disproportionate economic impact on women, dubbed the "shecession," that the federal Liberals hope to address through a panel of experts that first met with Finance Minister Chrystia Freeland on Thursday.
"It reminds us that the shecession is not just mothers," said Vass Bednar, executive director of McMaster University's master of public policy program, and former chair of a federal expert panel on youth employment.
"There might be other reasons that women's jobs are either being eliminated, or that they need more support coming back to the labour market."
Ottawa has suggested it will use jobs as a gauge for planned stimulus measures to be unveiled in a spring budget.
While Prime Minister Justin Trudeau called the gains good news for workers and their families, Conservative critic Pierre Poilievre warned the government can't yet pat itself on the back as he called for tax reform and other measures to get more people back to work.
The Bank of Canada is also monitoring employment data, noting the uneven impacts of job losses in its reasoning this week for holding its key interest rate target at 0.25 per cent.
Overall, the gain in February almost wiped out the 266,000 jobs lost over the previous two months, as lockdowns from December and January lifted in much of the country.
Almost all the job increases were among low-wage and part-time workers in areas like retail and accommodation.
The Conference Board of Canada noted the reopening of many retail outlets, mainly in Quebec and Ontario where lockdowns were particularly strict, brought back 122,300 jobs in February after losses of almost 168,000 jobs in January.
BMO chief economist Douglas Porter said similar gains could soon be seen in other hard-hit sectors like restaurants, hotels and entertainment if restrictions ease further.
"There is hope that as those sectors are eventually able to reopen, that we could recover quite quickly," Porter said, adding he expects another gain in March.
The gains blew past expectations and were reminiscent of the first wave of the pandemic when employment rebounded far faster than expected as the economy began reopening, CIBC senior economist Royce Mendes wrote in a note.
The national unemployment rate fell to 8.2 per cent, the lowest level since March 2020 at the onset of the COVID-19 pandemic.
The rate would have been higher, 10.7 per cent, had Statistics Canada included in calculations Canadians who wanted to work but didn't search for a job.
The youth unemployment rate fell to 17.1 per cent in February, compared with the 10.4 per cent in the same month last year.
Typically, the youth unemployment rate is higher for men than women, but that trend has flipped during the pandemic, Statistics Canada said.
The agency noted that half of young women are employed in three highly affected sectors: accommodation, food services and retail.
"The higher unemployment rate is actually because of the labour market turbulence. It's not because of young women leaving the workforce by choice, for example, to go back to school," said Leah Nord, senior director of workforce strategies at the Canadian Chamber of Commerce.
Nord said the figures speak to an urgent need for focused training programs so young workers can gain new skills, and improve what they already have.
Bryn de Chastelain, chair of the Canadian Alliance of Student Associations, said the federal government should expand a key summer jobs program to help students cover tuition and earn experience in troubled job market.
"Students are not feeling that they're going to have an opportunity to get valuable work experience in their field of study and start to build the skills that they need in order to start a career," said de Chastelain, a graduating student at Saint Mary's University.
Employers may have to relax the premium they place on experience when hiring a young person, or shift their perspective to include things like volunteering, as many may now have experience gaps in formal employment, Bednar said.
"People might not be able to get that first job as easily as before and it's really agitating for a generation of workers that is already set to fare worse than the generation before them," she said.
This report by The Canadian Press was first published March 12, 2021.
Jordan Press, The Canadian Press
<!– Photo: 20210311140348-604a74090e90790dcd8e0fd8jpeg.jpg, Caption: People line up at a Service Canada office in Montreal on Thursday, March 19, 2020. Statistics Canada to detail February jobs data
Statistics Canada will say today how the country's job market fared in February after it started 2021 with a steep drop. THE CANADIAN PRESS/Paul Chiasson –>
Canada to go big on budget spending as pandemic lingers, election looms
By Julie Gordon
OTTAWA (Reuters) – Canada's Liberal government will deliver on its promise to spend big when it presents its first budget in two years next week amid a fast-rising third wave of COVID-19 infections and ahead of an election expected in coming months.
Finance Minister Chrystia Freeland has pledged to do "whatever it takes" to support Canadians, and in November promised up to C$100 billion ($79.8 billion) in stimulus over three years to "jump-start" an economic recovery in what is likely to be a crucial year for her party.
Prime Minister Justin Trudeau's Liberals depend on the support of at least one opposition group to pass laws, and senior party members have said an election is likely within months as it seeks a clear majority and a free hand to legislate.
Furthermore, by September, all Canadians who want to be vaccinated will be, Trudeau has said.
Freeland has said the pandemic created a "window" of opportunity for a national childcare plan, and that will be reflected in next Monday's budget along with spending to accelerate Canada's shift toward a more sustainable economy.
"It will be a green and innovative recovery plan aimed at creating jobs," said a government source who declined to comment on specific measures. The budget will aim to help those "who have suffered most" the effects of the pandemic, the source said.
Critics say the government would be better to hold off on blockbuster spending because the economy has shown it is poised to bounce back, and to prevent the country from racking up too much debt.
"Clearly a garden-variety stimulus package is the last thing we need. This is pile-on debt," said Don Drummond, an economist at Ontario's Queen's University.
"The risk is that at some point interest rates are going to go up and we're going to be in trouble," he said, pointing to the mid-1990s when Canada's debt-to-GDP ratio skyrocketed, leading to rating agency downgrades and years of austerity.
The Bank of Canada cut its benchmark interest rate to 0.25% to counter the economic fallout of the COVID-19 crisis and has said rates will not rise until labor market slack is absorbed, currently forecast for into 2023. That may change when it releases new projections on April 21.
EXPANDING ECONOMY
More than 3 million Canadians lost their jobs to the pandemic. As of March, before a third wave forced new lockdowns, only 296,000 remained unemployed because of COVID.
Despite still-high unemployment levels in hard-hit service sectors, the economy has expanded for nine straight months even as provinces have adjusted health restrictions to counter waves of infections.
"Once we see sustained reopening, we do think that the recovery will have quite a bit of momentum on its own," said Josh Nye, a senior economist at RBC Economics.
"We think Canada's economy will be operating pretty close to full capacity by this time next year," he said.
Economists surveyed by Reuters expect Freeland to project a deficit in the range of C$133 billion to C$175 billion for fiscal 2021/22, up from the C$121.2 billion ($96.7 billion)
deficit forecast in November. https://tmsnrt.rs/3wSJPcm
The deficit for fiscal 2020/21 ended in March is forecast by the government to top a historic C$381.6 billion ($304.5 billion).
Canada announced on Monday a C$5.9 billion ($4.7 billion) aid package for the country's largest airline carrier, Air Canada, and said talks were ongoing with No. 2 carrier WestJet Airlines Ltd and others.
(Reporting by Julie Gordon in Ottawa; Additional reporting by Fergal Smith in Toronto; Editing by Steve Scherer and Peter Cooney)
CANADA STOCKS – TSX ends flat at 19,228.03
* The Toronto Stock Exchange's TSX falls 0.00 percent to 19,228.03
* Leading the index were Corus Entertainment Inc <CJRb.TO​>, up 7.0%, Methanex Corp​, up 6.4%, and Canaccord Genuity Group Inc​, higher by 5.5%.
* Lagging shares were Denison Mines Corp​​, down 7.0%, Trillium Therapeutics Inc​, down 7.0%, and Nexgen Energy Ltd​, lower by 5.7%.
* On the TSX 93 issues rose and 128 fell as a 0.7-to-1 ratio favored decliners. There were 26 new highs and no new lows, with total volume of 183.7 million shares.
* The most heavily traded shares by volume were Toronto-dominion Bank, Nutrien Ltd and Organigram Holdings Inc.
* The TSX's energy group fell 1.61 points, or 1.4%, while the financials sector climbed 0.67 points, or 0.2%.
* West Texas Intermediate crude futures fell 0.44%, or $0.26, to $59.34 a barrel. Brent crude  fell 0.24%, or $0.15, to $63.05 [O/R]
* The TSX is up 10.3% for the year.
Canadian dollar outshines G10 peers, boosted by jobs surge
By Fergal Smith
TORONTO (Reuters) – The Canadian dollar advanced against its broadly stronger U.S. counterpart on Friday as data showing the economy added far more jobs than expected in March offset lower oil prices, with the loonie also gaining for the week.
Canada added 303,100 jobs in March, triple analyst expectations, driven by the recovery across sectors hit by shutdowns in December and January to curb the new coronavirus.
"The Canadian economy keeps beating expectations," said Michael Goshko, corporate risk manager at Western Union Business Solutions. "It seems like the economy is adapting to these closures and restrictions."
Stronger-than-expected economic growth could pull forward the timing of the first interest rate hike by the Bank of Canada, Goshko said.
The central bank has signaled that its benchmark rate will stay at a record low of 0.25% until 2023. It is due to update its economic forecasts on April 21, when some analysts expect it to cut bond purchases.
The Canadian dollar was trading 0.3% higher at 1.2530 to the greenback, or 79.81 U.S. cents, the biggest gain among G10 currencies. For the week, it was also up 0.3%.
Still, speculators have cut their bullish bets on the Canadian dollar to the lowest since December, data from the U.S. Commodity Futures Trading Commission showed. As of April 6, net long positions had fallen to 2,690 contracts from 6,518 in the prior week.
The price of oil, one of Canada's major exports, was pressured by rising supplies from major producers. U.S. crude prices settled 0.5% lower at $59.32 a barrel, while the U.S. dollar gained ground against a basket of major currencies, supported by higher U.S. Treasury yields.
Canadian government bond yields also climbed and the curve steepened, with the 10-year up 4.1 basis points at 1.502%.
(Reporting by Fergal Smith; Editing by Andrea Ricci)