Ex-Angels employee indicted in Skaggs death – TSN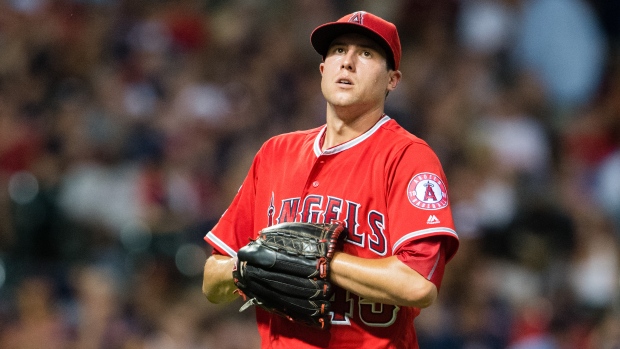 A former employee of the Los Angeles Angels was indicted by a federal grand jury in Texas on Friday over the 2019 death of pitcher Tyler Skaggs.
Eric Kay was indicted on two counts of distributing the fentanyl that led to Skaggs's death by accidental overdose.
"On or about June 30, 2019 … Eric Prescott Kay, the defendant, did knowingly and intentionally distribute a mixture and substance containing a detectable amount of fentanyl, a Schedule II controlled substance, and the use of said substance resulted in the death and serious bodily injury of [Skaggs]," the indictment said.
Kay, who had been employed by the Angels for 24 years, was arrested in August. Friday was the deadline to deliver an indictment.
Skaggs, 27, was found dead in a Southlake, TX hotel room on July 1, 2019 ahead of a three-game series with the Texas Rangers. A toxicology report found fentanyl, oxycodone and alcohol in his system.
In an affidavit supporting a criminal complaint against Kay, text messages revealed that Skaggs had approached Kay for pills on June 30.
"It was later determined that but for the fentanyl in [Skaggs'] system, [he] would not have died," DEA agent Geoffrey Lindenberg wrote in the affidavit.
The affidavit also alleged that Kay had provided Skaggs with opioids in the past, as well as to other members of the organization.
Kay had worked in the Angels' public relations department. He was placed on leave shortly after Skaggs's death and never returned to the team.
A first-round pick in 2009, Skaggs was in his seventh big-league season at the time of his death.
Mitchell Miller no longer part of University of North Dakota hockey team – Sportsnet.ca
A day after the Arizona Coyotes renounced Mitchell Miller's draft rights, the University of North Dakota announced Friday that Miller is no longer a member of its men's hockey program.
"I have been closely monitoring the situation concerning men's hockey student-athlete Mitchell Miller, who was involved in a situation as a youth in 2016. We expect our students to live by our values in the classroom, in the community and when representing the university on the field of play," said UND president Andrew Armacost in a statement.
Armacost said Miller, who is a freshman at UND, can remain a student and it "will continue to support his future intellectual and interpersonal growth."
The decision is part of the continuing fallout after it was revealed earlier this week that Miller — who was selected in the fourth round (111th overall) of the 2020 NHL Draft by the Coyotes — was charged with assault and violating the Ohio Safe Schools Act in February of 2016 after he and another student admitted to bullying Isaiah Meyer-Crothers, a classmate who is Black and has a learning disability.
News of Mitchell's conviction was first brought to the surface by the Arizona Republic.
Isaiah Meyer-Crothers, who is now 18, told the Republic that Miller had taunted him for years growing up and called him names like "brownie" and used the "N-word" while repeatedly hitting him. He said it "hurt my heart" when he saw the news that Miller had been drafted by the Coyotes.
MLB says Turner violated protocols when he returned to field – CP24 Toronto's Breaking News
Ronald Blum, The Associated Press

Published Wednesday, October 28, 2020 6:51PM EDT


Last Updated Wednesday, October 28, 2020 8:21PM EDT

ARLINGTON, Texas – Justin Turner violated coronavirus protocols when he celebrated with his Los Angeles Dodgers teammates and he refused instructions from security to leave the field, behaviour that Major League Baseball said risked the safety of others.
The commissioner's office said Wednesday it is starting a full investigation of the 35-year-old third baseman.
The Dodgers won their first World Series championship since 1988 with a 3-1 victory over Tampa Bay in Game 6 on Tuesday night at Globe Life Field.
Turner was pulled from the game following the seventh inning after MLB was notified that he had tested positive for COVID-19. He was quarantined in a doctor's office off to the side, Dodgers president of baseball operations Andrew Friedman said.
Turner later returned to the field with a mask to celebrate the Dodgers' title. He then took down his mask and posed for a team photo on the field.
"Immediately upon receiving notice from the laboratory of a positive test, protocols were triggered, leading to the removal of Justin Turner from last night's game," MLB said in a statement Wednesday. "Turner was placed into isolation for the safety of those around him. However, following the Dodgers' victory, it is clear that Turner chose to disregard the agreed-upon joint protocols and the instructions he was given regarding the safety and protection of others.
"While a desire to celebrate is understandable, Turner's decision to leave isolation and enter the field was wrong and put everyone he came in contact with at risk. When MLB Security raised the matter of being on the field with Turner, he emphatically refused to comply."
Turner became a free agent when his $64 million, four-year contract expired following the victory.
Turner's agent, Greg Genske, did not immediately respond to a text from The Associated Press seeking comment.
"Last night, nasal swabs were conducted on the Dodgers' travelling party," MLB said. "Both the Rays and Dodgers were tested again today and their travel back to their home cities will be determined after being approved by the appropriate authorities."
Both teams were travelling home from the Dallas area on Wednesday in co-ordination with their local health authorities, a person familiar with the arrangements said, speaking on condition of anonymity because no announcement was made.
No additional players received positive results from rapid PCR tests early Wednesday, the person said, but the wife of one Rays player tested positive, the person said. The wife and the player did not travel with the team and were to travel on their own, the person said.
A private plane was being arranged for Turner's travel, the person said.
The commissioner's office said it will consult with the players' association as part of its investigation. The union was in the process of gathering facts on the events.
Turner hit .307 with four homers and 23 RBIs in the pandemic-shortened season and .293 (17 for 58) with three homers and six RBIs in the post-season, including .320 with a pair of solo homers in the World Series.
"Having a mask on and staying socially distanced, he wanted to come out and take a picture with the trophy, which can't state strongly enough how big of a role he's played in the success of this organization," Friedman said.
"But I think for him, just being a free agent, not knowing exactly how the future is going to play out, I don't think there was anyone that was going to stop him from going out," he said. "I think from at least my perspective and not watching it super closely with everything going on, but I think he was mindful of other people, especially other people that he hadn't already been in contact with. This is something that we're going to wrap our arms around tonight and in the morning and figure out where we're going from here."
Turner, however, was visible on the field without a mask during the celebration. And Dodgers manager Dave Roberts was nearby, also not wearing a mask.
"I haven't seen the pictures," Friedman said. "If there are people around them without masks, that's not good optics at all. I haven't seen them, so it's hard for me to speak to it specifically."
"But I think from our standpoint, I think the people who were around him were people that would be in the contact tracing web, anyway, with just how closely a lot of us have been around each other," he said. "And so now I think the subsequent tests we're going to take are really important to figure out what we do and to make sure that any of us that are potentially positive do not spread it to other people."
Turner has served as a player representative on the union executive board and spoke about the protocols on Sept. 29, a day ahead of the Dodgers' post-season opener.
"Obviously there's a lot of protocols and things that we're allowed to do and not allowed to do in getting tested every day, and I would say it's been a pretty successful season getting to this point and getting to the playoffs," he said then.
"I was probably in that category where I was optimistic that we were going to have a season, but there was definitely some doubt whether or not it was going to happen. So to be sitting here today watching playoff baseball as the American League kind of kicks off their wild-card round, I would say that we did a good job and I commend everyone for taking it serious and being responsible and making good choices and allowing us to get to this point."
He addressed the success of reaching the World Series despite the pandemic on Oct. 19, a day before Game 1.
"I think it's ultimately a testament to the players for being responsible and making good choices and doing everything that we had to do to ensure that the season was able to go on," he said. "So I tip my cap to every player who put the uniform on and took that risk of playing and was responsible about it and did it the right way and enabled us to have a full season and now be able to participate in a World Series."
Ryan, Falcons avenge earlier loss to Panthers – TSN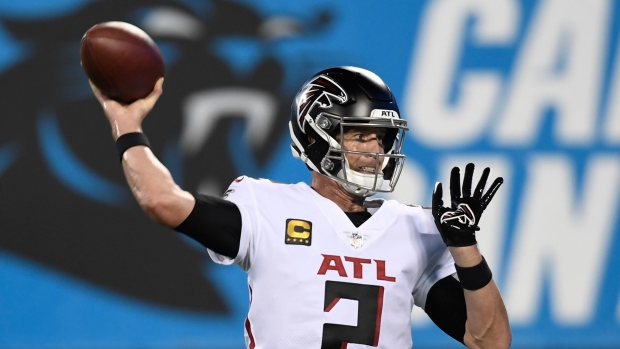 CHARLOTTE, N.C. — This time, the Atlanta Falcons finished.
Matt Ryan threw for 281 yards and ran for a touchdown, Younghoe Koo made four field goals and the Atlanta Falcons held on to beat the Carolina Panthers 25-17 on Thursday night behind a strong defensive performance to avoid a series season sweep.
The Falcons (2-6) have had a penchant for squandering leads, coming into the game 1-3 when leading entering the fourth quarter. Carolina was driving late, but Atlanta stopped the rally when Blidi Wreh-Wilson intercepted Teddy Bridgewater near the Falcons' 10-yard line with 1:04 remaining.
"That's what we've been talking about, ending games with either sacks or interceptions and the guys went out today and did exactly that," Falcons coach Raheem Morris. "The ball went up in the air and Blidi came down with it and it was awesome."
Todd Gurley grinded out 46 yards rushing and a touchdown, Julio Jones added 137 yards receiving against a banged-up Panthers secondary and the Falcons defence limited the Panthers to 2 of 10 on third down conversions to improve to 2-1 since Morris replaced Dan Quinn as head coach.
Panthers coach Matt Rhule said it felt like Bridgewater was constantly under duress.
"We had a hard time blocking their front," Rhule said. "We weren't able to get our receivers involved. We were 2 of 10 on third downs and we can't live like that."
Bridgewater tried to spur Carolina to a comeback in front of a sparse crowd of 5,240 due to COVID-19 after Koo missed an extra point that would have made it a two-possession game.
Bridgewater, who was knocked out of the game for two possessions with a neck injury following a late hit by Charles Harris — one that resulted in him being ejected — took over with the Panthers down by eight points with less than 3 minutes to play. He completed a 35-yard strike to D.J. Moore on third and 18 to move the Panthers into Falcons territory. But his final pass was easily picked.
Bridgewater was limited to 176 yards passing as the Panthers (3-5) lost their third straight game without injured Christian McCaffrey.
"I don't think any of us played real well tonight," Rhule said of Bridgewater's performance.
Said Bridgewater: "Tough loss and we have to find ways to finish the game. That can't be the common thing around here — coming up short."
The Falcons avenged a 23-16 loss to Carolina 18 days ago in which Bridgewater threw for 313 yards and two scores and Mike Davis piled up 149 yards rushing. Davis was held to 77 yards this time on a wet field where players routinely swapped cleats to adapt to the changing conditions.
But Jones didn't play in the first meeting.
He was a huge difference in this one, setting the tone by hauling in catches two catches for 52 yards on the game's first two plays. Playing against a Panthers secondary that was already without two starters and lost another when Donte Jackson reinjured his toe in the first half, proved to be easy pickings for Jones.
"It's fun, no question about it," Ryan said of having Jones in the lineup. "The way we started the game is when we're at our best, play-action pass. I hope it's the start of something. I really feel like, although we're 2-6, we've been in some tight ones."
SAMUEL'S BIG DAY
The Panthers had opened a 14-6 lead in the second quarter when Bridgewater found Curtis Samuel for a 29-yard touchdown pass on a well set up flea flicker. It was Samuel's second TD of the half, scoring earlier on a 12-yard run up the middle to give Carolina its first lead.
The 24-year-old Samuel has three career games with a TD rushing and receiving, which trails only Jerry Rice (5) among wide receivers in the Super Bowl era.
RYAN'S RUN
Ryan said he wasn't sure if he would get to the end zone on a 13-yard TD run in the first half but knew he had a chance when cornerback Troy Pride slipped while trying to chase him down.
"Just fast enough," Ryan said. "I feel like I've always been that way throughout my career, just fast enough to make them pay sometimes on third downs. It was a big score for us there. We really needed it."
When asked about the reactions of his teammates, Ryan said, "I can't tell if they're laughing at me or just having a good time and excited for it."
INJURIES
Falcons: Wide receiver Calvin Ridley left the game in the second quarter with an ankle injury after making a reception in the red zone and did not return. Morris offered no update on his status after the game. … Cornerback Kendall Sheffield left the game early with a head injury, but did return.
Panthers: Cornerback Donte Jackson's lingering toe injury forced him to leave the game early again, and the banged-up Panthers secondary had to finish with rookie Troy Pride and Corn Elder at cornerback spots.
UP NEXT
Falcons: Host the Broncos on Nov. 8
Panthers: Open the second half of the season at the defending Super Bowl champion Chiefs on Nov. 8.
___
More AP NFL coverage: https://apnews.com/NFL and https://twitter.com/AP_NFL