Fed officials expressed concerns in over slowing economy – Richmond News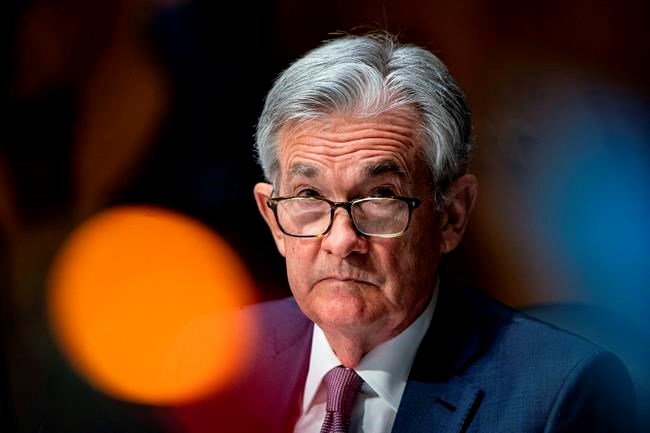 WASHINGTON — Federal Reserve officials were convinced last month that the U.S. economy and job growth had slowed as coronavirus cases surged across the country, noting that the outlook is heavily dependent on the course of the virus.
The minutes of the Fed's January discussions show officials believed that the ongoing public health crisis is still posing "considerable risks" to the economy.
The minutes, released Wednesday, reflect widespread Fed support for the central bank's policy of emphasizing ultra-low interest rates to boost the economy and help millions of Americans regain lost jobs.
"Members agreed that the Federal Reserve was committed to using its full range of tools to support the U.S. economy in this challenging time," according to the minutes, which covered the Fed's discussions at its Jan. 26-27 meeting.
The minutes note some improvement in the economy's medium-term outlook as distribution of vaccines ramped up and Congress passed a $900 billion relief measure that provided more direct payments to individuals and expanded unemployment benefits.
At its January meeting, the Fed kept its benchmark interest rate at a record low of zero to 0.25% and pledged to keep pursuing its low-interest rate policies until an economic recovery is well underway.
The Fed does not meet again until March 16-17. Fed Chairman Jerome Powell, however, will appear before Congress next week to deliver the central bank's semi-annual monetary report to the Congress, an appearance financial markets will be following closely for any clues of the Fed's future moves on interest rates.
The Fed has signalled that it does not plan to begin raising interest rates until after 2023. In addition to low rates, the Fed is buying $80 billion in Treasury securities and $40 billion in mortgage-backed securities each month and analysts expect those purchases to continue for some time to come.
Analysts said the minutes indicate no change from the Fed's emphasis on keeping rates low until the economy has recovered.
Paul Ashworth, chief economist at Capital Economics, said he believes the Fed will not start to reduce its monthly bond purchases until next year and that the first Fed rate hike will not come until 2024.
Charlie Ripley, senior investment strategist for Allianz Investment Management, said that the main takeaway from the minutes is that "accommodative monetary policy will remain in place for the foreseeable future."
The minutes show that Fed staff updated Fed officials on their assessment of the stability of the U.S. financial system. The staff noted that some financial-market assets had elevated valuations.
"The staff assessed vulnerabilities associated with household and business borrowing as notable, reflecting increased leverage and decreased incomes and revenues in 2020," the minutes said.
But the staff presentation said that banks have continued to maintain significant levels of high-quality assets and stable sources of funding should loan losses begin to mount.
In remarks last week to the Economic Club of New York, Powell emphasized the Fed's commitment to reduce unemployment to multi-decade lows.
Powell said while the early recovery last year, helped by nearly $4 trillion in government support, had been surprising, the country was "still very far from a strong labour market whose benefits are broadly shared."
The government on Wednesday reported the biggest monthly gain in wholesale prices in more than a decade. That news followed a report last week that consumer prices rose in January at their fastest pace in four months.
Powell has cautioned that inflation, which has been a no-show for the past decade, could accelerate for a time in coming months as the country opens up. But he and many private economists believe this will be only a temporary rise and not a sign that inflation is getting out of control.
Martin Crutsinger, The Associated Press
US Economy Ready to Surge With Stimulus, Expanding Vaccines – BNN
(Bloomberg) — With Democrats on the verge of passing an almost $2 trillion stimulus bill and Covid-19 vaccinations moving ahead, the U.S. economic outlook is much sunnier than it looked in early January.
The latest Bloomberg monthly survey of economists shows the annualized pace of growth in the first quarter will be 4.8%, twice as fast as respondents expected just two months ago. For the full year, gross domestic product is projected to rise 5.5%, which would be the fastest since 1984 and is up from January's estimate of 4.1%.
After January's key run-off elections in Georgia, where Democrats secured two Senate seats to win slim control of the chamber from Republicans, economists were generally penciling in a pandemic relief package worth around $1 trillion. Democrats stuck together to push through a bill almost double that size; no Republican senators voted for the plan on Saturday. The plan next goes back to the House for a final vote.
An additional round of $1,400 stimulus checks for millions of Americans, combined with supplemental jobless benefits and the acceleration in vaccinations, should help sustain growth throughout the year, said Stephen Stanley, chief economist at Amherst Pierpont Securities LLC.
Government stimulus will "give a shot of adrenaline for a short period of time," Stanley said. He noted that "it will kind of fade out, and the more fundamental aspect of things, which is really just opening up and getting back to something closer to the pre-pandemic norm for activity, should kick in."
The Bloomberg survey of 67 economists was conducted Feb. 26 to March 3.
While economic growth is primed for a strong 2021, it could also mean another partisan divide over the next item on President Joe Biden's legislative agenda: a multitrillion-dollar plan focusing on infrastructure.
What Bloomberg Economics Says…
Easing activity restrictions and rising vaccinations will allow consumer spending to regain its long-held status as the key economic engine this year. While another round of stimulus is set to push growth to its pre-pandemic trend by midyear, a stealth buildup of $1.7 trillion in extra savings means even more dry tinder for spending.
— Yelena Shulyatyeva and Andrew Husby, economists
For the full note, click here
Democrats hope the package could get bipartisan support, but Republicans — and possibly some moderate Democrats — are likely to be concerned about how the proposal would be funded, certain add-on provisions, and the size of the overall plan, especially if the economy shows sustained progress in the coming months.
U.S. Vaccines Pass 85 Million Doses
Recent reports have shown broad economic improvement in the U.S. Retail sales rose in January by the most in seven months, and a measure of U.S. manufacturing expanded at the fastest pace in three years in February.
The labor market, which has been slower to recover, showed a higher-than-expected employment gain in February, though jobs remain well below pre-pandemic levels.
Meanwhile, the daily rate of vaccinations has quadrupled and new coronavirus infections have plummeted since early January. Governors in Texas and Mississippi — despite criticism from health experts — announced plans to lift coronavirus-related restrictions entirely, citing a decline in hospitalizations and an increase in inoculations.
Getting the pandemic under control is still key to the economic recovery, "and then the checks, and the money — all this stuff will accelerate it really quickly once you've done that," Heather Boushey, member of the White House Council of Economic Advisers, said in an interview.
©2021 Bloomberg L.P.
Spike in Canada exports to U.S. leads to surprise January trade surplus
By Julie Gordon
OTTAWA (Reuters) – Canada's exports to the United States, its largest trading partner, rose sharply in January, leading to a surprise trade surplus, Statistics Canada said on Friday.
Canada's trade surplus with the rest of the world was C$1.41 billion ($1.11 billion) in January, the largest since July 2014. Analysts polled by Reuters had predicted a deficit of C$1.40 billion.
"In a sea of really bad news this is an island paradise. Everything is up," said Peter Hall, chief economist at Export Development Canada.
"This is very strongly driven by our top trading partner," Hall said, noting that demand from the United States will continue to be strong as its economy strengthens with increased vaccinations spurring a broader recovery from the COVID-19 pandemic.
The Canadian dollar clawed back some of its earlier decline after the data, trading 0.1% lower at 1.2678 to the greenback, or 78.88 U.S. cents.
Canada's exports jumped 8.1% in January, led by a large sale of used aircraft to the United States. Even without the atypical aircraft sale, aggregate exports would have been up, with strong exports of gold bars, crude oil and lumber.
Excluding the swings of 2020, exports posted their largest increase since August 1995.
"The return to surplus in January … is consistent with expectations that Canada's trade position will improve through 2021 amid returning global demand and firmer energy prices," said Ryan Brecht, a senior economist at Action Economics.
Canada's export of services rose slightly on an increase in transportation services, but they still remain 16.3% below the February 2020 level.
Imports edged up 0.9% in January, mostly on higher imports of energy products. Canada's December trade deficit was revised to C$1.98 billion.
(Reporting by Julie Gordon in Ottawa, additional reporting by David Ljunggren and Dale Smith, Fergal Smith in Toronto; Editing by Paul Simao and Bill Berkrot)
Lebanon's caretaker PM threatens to quit as economy plunges – DW (English)
Demonstrators blocked roads after the Lebanese pound fell lower. As poverty and hunger spreads, pressure is mounting on politicians to form a new government.
Demonstrators blocked roadways nationwide for the fifth day in a row on Saturday and armed forces rushed to occupy parts of the capital Beirut as anger builds over the country's economic downturn.
The Lebanese currency tumbled to a new low on Tuesday, enraging a population already suffering from the country's financial meltdown.
With the crisis worsening, caretaker Prime Minister Hassan Diab threatened to stop performing his duties in a bid to pressure politicians to forge a new Cabinet.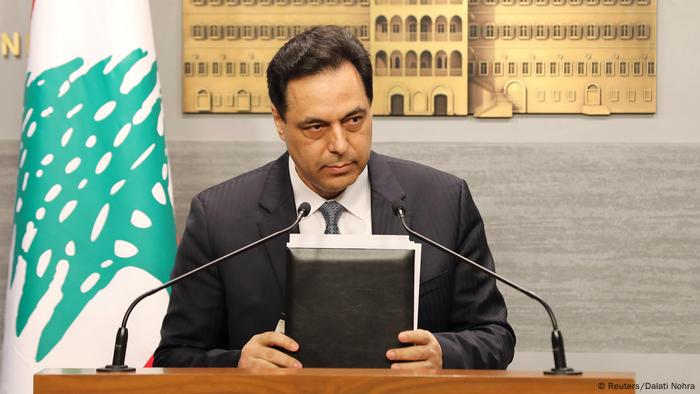 Caretaker Prime Minister Hassan Diab warned of "chaos" if a new government isn't formed soon
What did Diab say?
In his nationally televised speech on Saturday, Diab said he was prepared to suspend his caretaker duties "if it helps to form a government."
"The country is confronted with enormous challenges that a normal government cannot face without political consensus," said Diab. "So how can a caretaker government face these challenges?"
Diab warned Saturday against inaction and appealed to politicians to put aside differences and quickly form a new government that can attract desperately needed foreign assistance.
"What are you waiting for, more collapse? More suffering? Chaos?" Diab said, chiding senior politicians without naming them for continuing to debate over the future shape and size of the government.
"What will having one minister more or less [in the Cabinet] do if the entire country collapses," he asked.
"Lebanon is in grave danger and the Lebanese are paying the price."
What is happening to Lebanon's economy?
Lebanon's two year-long financial crisis shows no signs of ending as joblessness spreads along with hunger.
The collapse of the Lebanese pound, to 11,000 to the US dollar on Tuesday, was the last straw for citizens already suffering from steeply rising prices on consumer goods such as diapers and cereals.
The financial crash has also resulted in delays in the arrival of fuel shipments, leading to more extended power cuts around the country, which in some areas now are stretching more than 12 hours a day.
The crisis has driven nearly half the population of the small country of six million into poverty.
"Doesn't the scramble for milk constitute a sufficient incentive to transcend formalities and roughen out the edges in order to form a government?" Diab said, referring to a recent Beirut supermarket incident in which shoppers fought over powdered milk.
The now viral video seemingly underscores the desperate state of the economy.
"Social conditions are aggravating, financial conditions are putting a severe strain on the country, political conditions are increasingly complex," Diab added in his speech.
What can a new government do?
The nation has been drifting since August when Diab's cabinet resigned following the massive Beirut port explosion that devastated much of the city.
Prime Minister-designate Saad al-Hariri was nominated in October but has failed to form a new Cabinet due to the political deadlock between him and President Michel Aoun.
Despite Lebanon's need for foreign currency, international donors have said they will only help the country financially if major reforms are implemented to fight widespread corruption, which has brought the nation to the brink of bankruptcy.
A new Cabinet would be in a position to institute the necessary financial reforms.
mb/rs (AP, Reuters)