Florida resident dies from brain-eating amoeba
A Florida resident has died after becoming infected with a rare brain-eating amoeba, officials say.
Health experts in Charlotte County, in southwest Florida, say the victim was probably infected after rinsing their nasal sinuses with tap water.
Naegleria fowleri infects the brain through the nose. Officials say that drinking it is not dangerous.
Officials have not identified the victim.
On 23 February, the Florida Department of Heath said that a patient had been infected "possibly as a result of sinus rinse practices" utilising tap water.
On Thursday, a spokesman for the state health agency confirmed that the patient had died.
Officials across multiple government agencies are "continuing to investigate how this infection occurred," spokesman Jae Williams said.
He added that officials are "working with the local public utilities to identify any potential links and make any necessary corrective actions".
The amoeba typically lives in warm fresh water such as swimming pools, lakes and ponds.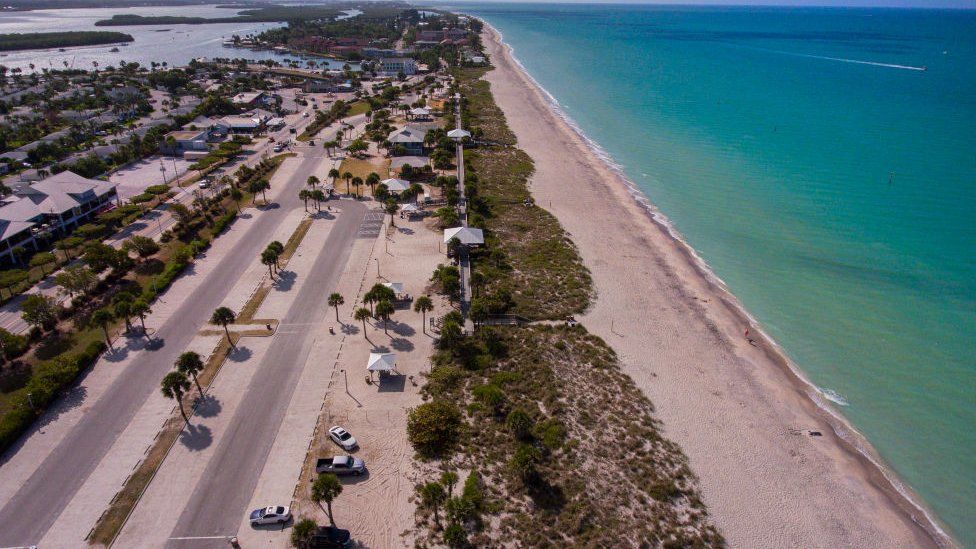 It can lead to a severe infection if it enters through the nose, but it is normally safe through the mouth because stomach acid kills the single-cell microorganism.
People who are infected contract a disease called primary amebic meningoencephalitis.
Symptoms include headache, fever, nausea, vomiting, disorientation, a stiff neck, a loss of balance, seizures and/or hallucinations.
According to the CDC, around three Americans get infected each year, often with deadly consequences.
Between 1962 and 2021, only four of the 154 people infected in the US survived.
CDC data suggests infection in winter months is incredibly rare.
Officials warn that to avoid infections people should not rinse out their nasal passages with untreated tap water.
Sterile or distilled water are preferred options. Tap water can also be used if it is boiled for at least one minute and cooled before use.
People are also advised to avoid taking on water in their nose while in swimming pools or bathing or showering.
Funding runs out for COVID Assessment and Testing Centres – The Bay Observer – Providing a Fresh Perspective for Hamilton and Burlington
The COVID-19 Testing and Assessment Centre and the Flu, COVID and Cold Clinic at the West 5th Campus will be closed at the end of this month. The move is in response to a sustained drop in the prevalence of COVID-19 and a decline in appointment bookings for testing, attributed to uptake in vaccinations, higher levels of immunity, and declining circulation of the virus in the community. It also reflects the fact that provincial funding for these sites ends on March 31st. The Hamilton site was operated in conjunction with HHSC.
Says Dr. Greg Rutledge, Deputy Chief of Staff, St. Joseph's Healthcare Hamilton. "It's been a long time getting to this point where we see a significant drop in COVID-19 transmission."
The hospital says Ready access to COVID-19 testing in the community through most pharmacies will meet the needs of the public and health care workers.
The move comes as the Globe and Mail published a story noting that these sites served the additional purpose of diverting many patients from Emergency Rooms. In the case of similar centres operating in the Toronto area, and estimated 14,500 potential ER visits were diverted.
According to the Globe and Mail, "Ontario Health described these clinics as a model for providing the right care to patients in the right place at the right time. They demonstrated an ability to optimize resources and reduce the burden on emergency departments. Most clinics have been set up in what are considered high-priority areas, located near public transit. All are accessible by wheelchair and able to provide translation in multiple different languages." The article quotes Dr Sajjad Dr. Tavassoly, who works at a Brampton centre slated for closure as saying said what frustrates him most is the unmet needs of the community continue to grow, regardless of the government's March 31 funding expiry.
More than 390,000 tests have been done at the West 5th Testing and Assessment Centre through the past three years.
The last day of operation for both the Testing and Assessment Centre and the Flu, COVID and Cold Clinic will be Friday, March 31, 2023.
Those With Rare Diseases Need to Wait, as Usual
Science has developed the ability to research, develop and create functional cures for many of our so-called "incurable diseases", but having the ability to do something and actually doing it are two different things. Medicine has always suffered from a problem with "knowing-doing". It is the difference between what a doctor actually does for a patient and what can be done with all that we know. Developmental breakthroughs in medicine are allowing doctors to do things they never could imagine before. Sometimes these break-thoughts don't fit into businesses/governmental financial or regulatory systems, meaning that it can take a long time for patients to actually benefit, a time many patients may not have.
The National Institutes of Health in America invest more than $40 Billion in biomedical research each year, and the private sector twice as much. The discoveries are valued by all, but why is it so hard to use these discoveries?
Science's ability to engineer medicines has far outpaced how these medicines are actually built, tested, and put into human beings. Artificial Intelligence has assisted the community by mapping the human genome in efforts to cure various diseases. The US Government defines rare diseases as those that affect fewer than 200,000 people in America. Some affect only a handful of people. There are over 7000 different rare diseases, with more than 30 million people in America diagnosed with one of them. That is 10% of the US population. So improving how society can find and care for these patients could have a great impact. Problem is that the health system is not flagging enough people with these diseases, while many individuals don't even know what disease they may have, or that they indeed have a disease. A.I. steps up front to assist in the recognition, tracking, analyzing, and identifying of these patients through computer-programmed systems. Put one's symptoms into the machine, and often voila, a point from which a doctor can begin his medical investigation and treatment. A diagnostic odyssey in each individual case.
Artificial Intelligence has a prominent place within our health system, including helping design new treatments, helping predict which treatment is better for which patient, and screening for rare diseases with suggested diagnoses to boot. Why are many with rare diseases often left out in the cold, to search on their own for a cure? Money! Simple.
Who makes medicines, and invests millions in treatments and research for diseases? Pharmaceutical Firms.
What are they but profit centers for investment bankers, massive corporations, and a financial structure centered upon the shareholder, and not the average joe? Solutions can be found, but the willingness to spend way beyond what a firm can make in profits needs to be there. Sure our DNA is constantly changing, and evolving biologically. Making a drug that cures cancer, may cure some, but certainly not all forms since each person is unique, their biology specific to that person. Many doctors realize that their methods are much like witch Doctors, forever experimenting with the specific individual's condition.
Our Health system is tied to our financial system. That is the root of it. So long as the doctors, hospitals, and researchers are tied to profit (our financial system) the necessary technology, research, and investment will not be found for those with rare diseases. I have a disease that has no cure. My immune system is attacking the tissue in my mouth. It is sorely painful, personally transformative, and damn if you could find a doctor who is a real expert in the field. Since it is rare, the institutions of the industry will not find proper medicine for its management, let alone its cure. I live with it, and the disease manages the way I eat, what I eat, how I clean my teeth, how I sleep, and interact with my partner too. This disease can transfer to another. Great eh!
For those of you who have or know of someone who has a rare disease, all I can say is to be patient. The present-day financial and healthcare systems need to change drastically, with governmental intervention in all aspects of research, planning, and manufacturing of medicines. Out of the hands who care for themselves, and hopefully into the hands of those who care about you and those you love.
Steven Kaszab
Bradford, Ontario
skaszab@yahoo.ca
The Healthcare Systems Failing Continually
North Americans are aging, while the number of births within the tri-nation continent is continually falling. Birth Rates in the Caribbean have been stagnating since 2023 now showing a 7.5% decline. If national governments could dream this would be a nightmare. National union's pension plans are at risk, as the number of workers declines but the number of pensioners continues to grow. No corporation can run properly in this fashion, much like the California Banks which recently were shut down because they spent more money than they made.
By 2046, 4.6 million Ontarians will be aged 85 and older. The province has fewer than 500 hospice beds and 4,000 hospital palliative care beds available. Ontario's Healthcare Ministry and the many hospitals its controls are not prepared for the massive growth rate and demands of the aged. Like a car used a great deal, it breaks down. So to our aged population who do experience illness and disease. Ontario does not have enough nonprofit hospices, old age homes, long term care facilities now, and with the upswing of conservatism within Canada, the USA, and the Caribbean there will be a movement towards restraint at a time when necessary investments in these aged services and institutions present themselves. This seems to be typical for our present-day governmental administrations who lack an interest in long-term planning, with the needed revenue investments to be made for near future population demands. Migrants' can be brought into our lands, but their training in the many fields required will certainly take a lot of time. The time our population does not have.
What is needed? With the present-day migration of nurses, medical professionals, and doctors moving from the Caribbean to the USA and Britain, the demand for trained professionals specializing in aged medicine, bereavement and grief training, hospice palliative care, Navcare to help clients find the services they need has increased at an urgent pace. Volunteers are being trained and relied upon to carry out the needed services that missing professionals should be doing. The management within many facilities has allowed friends and family to fill these positions. While community involvement is commendable, what are our taxes paying for here? Medical, hospital, and hospice centers are under the management and direction of the healthcare ministry, and these ministries are simply not doing the job they were assigned. Lack of funds, certainly lack of personnel, and lack of future financial gain have drained our healthcare ministries of their potential. Lives are at stake, and our politicians seem to be willing to fight the nurses, and healthcare professional union rather than carry out the needed governmental process. Stingy governments invest in the police, military, and economic growth of the state while their fellow citizens suffer and sometimes perish.
The healthcare systems respond by training people and sending them into areas within the system that will reduce emergency room visits, hoping to reduce hospital stays and make it possible for aging clients to stay in their homes. Such protocols are being carried out in Oxford(UK), British Columbia, and Scandinavia. Hospice technicians have been successful within their practicing regions, utilizing various professions in a team atmosphere. Many Traditional Medical Professionals within the hospital setting view these hospice professionals with prejudice and suspicion, creating further tensions within the healthcare system.
The Pandemic has shown us that our healthcare system was not prepared in any way to respond effectively, and the systems managers concentrated on revenue expenditures instead of being prepared for any eventuality. No plans on how to respond, no excess staff to rely upon. This health event has happened before, yet those we rely upon claimed innocence in their often failed reactions.
The aged within our area will also suffer a similar fate when our healthcare system and its managers fail to prepare, plan for, train, and hire needed staff. It is all about the money after all. Problem is that it is our taxes paying for these services, the managers and politicians to prepare and function for us, with us effectively. What do you do when you do not get the customer service you expect and are paying for? Is it time that our multi-system healthcare systems to be transformed?
Steven Kaszab
Bradford, Ontario
skaszab@yahoo.ca