Game (Almost) Over, Exhibit Connecting Video Games And Contemporary Art Finishing Run At Akron Art Museum – Forbes
In the same way artists of the Renaissance were influenced by the Bible they read every day and the Impressionists influenced by the rapidly modernizing Paris they observed every day, an increasing number of contemporary artists are being influenced by the video games they play every day. With more than 166 million American gamers according to a 2018 Entertainment Software Association survey, the Akron (Ohio) Art Museum examines the connection between gaming and visual art in "Open World: Video Games & Contemporary Art."
"Open World" presents the work of artists who use video games as a catalyst for making art. The term refers to open-world video games which allow a player to roam through a virtual world, freely selecting their objectives.
"Although all of the artists in 'Open World' are influenced by video games, the artwork they make is about more than gaming culture," Curator of Exhibitions at the Akron Art Museum Theresa Bembnister said. "The artists tackle topics crucial to contemporary life including the role of consumer products in shaping personal identity and technology's ability to create credible—yet false—imagery."
Video games have rarely been considered as a major influence on contemporary art previous to this exhibit.
Artworks in "Open World" reference a broad cross section of games ranging from early text adventure and arcade games through the Nintendo giants of the 1980s and 1990s including Super Mario Bros. and The Legend of Zelda to more recent releases such as World of Warcraft and Grand Theft Auto.
In addition to traditional media like painting, drawing and sculpture, the exhibition also highlights textiles, prints, animation, video games, video game modifications and game-based performances and interventions by makers who self-identify as artists.
"For 'Open World' I really wanted to go beyond the question or whether or not games are art and to demonstrate the growing influence of games on the creation of visual art in a variety of digital and traditional media such as painting, quilting and drawing," Bembnister said.
Bembnister began contemplating a museum exhibit exploring the influence of video games on contemporary art in the early 2000s. The more artists she met–primarily digital natives (people raised with a full immersion to digital technology, computers, smart phones, the Internet, etc.)–and the more she heard them reference gaming as an influence on their practice, the more convinced she became of the validity of her idea.
These artists were not necessarily working in digital media. They could be making traditional landscape paintings, but the aesthetics of the backgrounds of, Sonic the Hedgehog, shaped the way they depicted color and space through paint on a canvas. This was a phenomenon I rarely saw acknowledged or examined in museum exhibitions.
"Open World" can be seen at the Akron Art Museum through February 2 and will travel to the Currier Museum of Art in Manchester, New Hampshire (March 21–June 28), followed by the San José Museum of Art (September 10–January 10, 2021).
Meanwhile, in Boston, this same connection is highlighted as the city's newest art museum, the MassArt Art Museum, opens its doors for the first time February 22. The non-collecting institution affiliated with the Massachusetts College of Art and Design presents "Game Changers: Video Games & Contemporary Art" as one of its inaugural exhibitions.
The Boston and Akron exhibits share in their displaying of virtual reality artwork.
"Virtual reality is becoming more and more prevalent in museum and gallery settings," Bembnister said.
Her museum commissioned a new virtual reality work from artist Rachel Rossin specifically for "Open World."
As the audience for gaming continues growing–competitive college and professional e-sports teams and leagues are now well established with star players, million-dollar prize pools, fan-filled arenas and major global television distribution–expect art museums to continue mining the genre to find new audiences. The Akron Art Museum gave thought to the question of how to convert some portion of the enormous gamer community into art lovers, museum goers and art collectors when crafting its marketing plan for the exhibit.
"Both gamers and art lovers are drawn by the visual, on some level, so that's an important jumping off point," Akron Art Museum Deputy Director and Chief Experience Officer Seema Rao said. "I also think both groups have an inherent love of craft, if perhaps different types of craft; in the end, I think the overlap is that art people love thoughtful art and learn about games in this exhibitions, and game lovers have the games as their entry point."
Art Beat: Arts Council keeps its friends close – Coast Reporter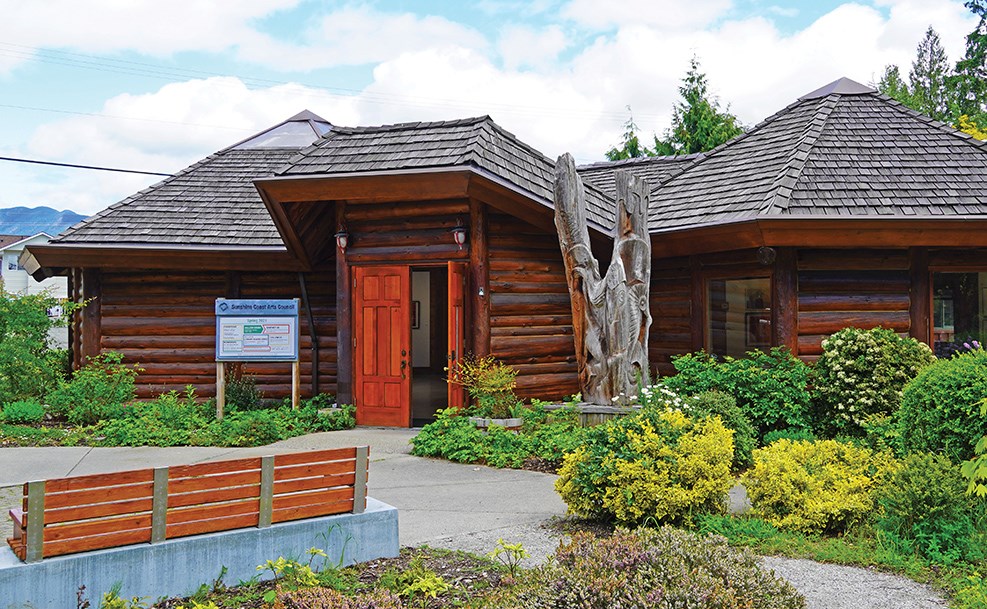 Until Feb. 6, the Sunshine Coast Arts Council is exhibiting works by its members in a variety of mediums.
The annual "Friends of the Gallery" show is hosted in the Doris Crowston Gallery of the Sunshine Coast Arts Centre, at 5714 Medusa Street, in Sechelt.
Now in its 20th year, the "Friends" event began as a way to encourage emerging artists. Today, individual artists from the community are invited to submit one piece of work they completed in the previous year to be shown in the group exhibition.
Artworks are also available for purchase.
Youth Urged to Float Beachcombers-Inspired Creations
The Sunshine Coast Writers and Editors Society describes itself as "a magnet for creative souls on the Coast." To mark this year's golden jubilee of The Beachcombers, the iconic CBC Television program, the society is seeking to attract young creative souls through an art and writing contest.
Various types of submissions are welcome, including short stories, creative nonfiction, poetry, scripts, cover artwork and colouring for the planned anthology and exhibit.
Written entries must contain at least one reference to The Beachcombers, the Coast or the beach. Allusions to jet boat manoeuvres and amicable ribbing at the lunch counter of Molly's Reach are likely assets as well.
Details are online on the Society's website at scwes.ca. Submissions must be received by midnight on June 1.
Family Literacy Week: Tales on Trails
The Province of British Columbia has proclaimed Jan. 24 to 31 as Family Literacy Week, marking the fifth successive year that Family Literacy Day (Jan. 27) has overflowed with a sevenfold increase in bookish intensity.
"Children's literacy skills expand and grow much faster when families read, play and learn together," said Jennifer Whiteside, B.C.'s Minister of Education. "Family Literacy Week is a great opportunity to focus on dynamic ways to support our youngest learners so they can develop the skills they need to succeed in their school years and beyond."
Decoda Literacy Solutions, a province-wide literacy organization, is hosting a photo contest. Participants may take a photo using a "Let's Be Active" theme and submit it by email to contest@decoda.ca or post it on social media using these hashtags: #LetsBeActive and #FLW2022. There will be a class prize and a prize for individuals.
To mark the occasion, the Gibsons and District Public Library has encouraged families to host "reading walks" in which families and individuals stroll through local parks, reading along to stories.
The Coast Reporter encourages all such literary ramblers to glance up from time to time, in order to avoid mid-chapter collisions incurred while covering one's tracks.
Library Line: Parrott Art Gallery open to viewers online – Belleville Intelligencer
Article content
By Wendy Rayson-Kerr
Although the Parrott Gallery is closed until at least January 26 due to public health restrictions, we are still working to bring you art. We hope that our awesome gallery supporters will sign onto our website to view new virtual exhibitions, participate in online art workshops and register for free Armchair Traveller presentations on Zoom. We'll also be increasing our social media posts, so please follow us on Twitter, Facebook and Instagram to view artwork from our current exhibitions as well as from our permanent collection, because everyone could use a little more art in their life right now!
Article content
Coming next: The Bay of Quinte Modern Quilt Guild is presenting an exhibition called, "Outside the Block" which will be available to view online through our website starting on Saturday, January 22. The traditional Log Cabin Quilt design, generally speaking, starts with a center shape which is surrounded by strips of coloured pieces that follow a specific sequence of light and dark patterning. Colours have meanings in these quilts, whose shapes can be seen to symbolize log cabins with both dark and sunny corners, and much has been written about their connection to North American pioneers. In our upcoming exhibition, this traditional pattern has been given a modern interpretation. The twenty quilters represented in this group show have all used the Log Cabin Quilt pattern as their inspiration, resulting with an assortment of unique designs. Each artwork is as original as the artists themselves, and we certainly hope you will log in to view them on our website (for now) as well as get the chance to view them in our gallery in the near future.
Another exhibition that will soon be available to view online is called "Corona and Friends" by George Kratz. This prolific Stirling artist has assembled a large collection of paintings that he has been working on over the past two decades. He describes his Corona series as, "an abstract journey" which he completed during the pandemic. The earlier work in his Friends series is equally intense, full of symbolism both borrowed and unique to the artist. George Kratz is a story-teller and this exhibition tells the story of vivid colour, strong lines and imagery you will not soon forget.
Article content
Both of these online shows will be available to view in person when we are allowed to re-open our doors once again.
We continue to offer Online Acrylic Pouring Workshops at the Parrott Gallery. These monthly projects are meant for beginners and skilled artists alike, and are the perfect way to learn knew creative skills. Prepared and presented by Warkworth artist Sheila Wright, these workshops are fun and easy to complete. Each kit costs thirty dollars and contains all you will need to create a unique artwork, including materials and video instructions. The January project is a painting called "Rainbow Swipe" and the deadline to register is Saturday, January 22. Please email us at gallery@bellevillelibrary.ca or call us as 613-968-6731 x 2040 if you are interested or would like more information.
On February 19, Photographer Lydia Dotto will be sharing her online Armchair Traveller presentation on the Antarctic. From the comfort of your own home you can take a journey across the globe, for free! "The Antarctic: Abundance of Life" is your chance to view a place that most of us will never have the chance to visit. You can register for this live Zoom presentation through our website. When we re-open our doors, our Corridor Gallery will feature the photography of Susan and Clint Guy, in a show they have called "India: The Golden Triangle". Plans for an in-person presentation are also under way, so stay tuned for this next part of our Armchair Traveller Series.
We know 2022 is going to be an exciting year of exhibitions and programs here at the Parrott Gallery, so we won't let the current closures discourage us. We hope that we will be open for in-person viewing again soon.
Wendy Rayson-Kerr is the Acting Curator of the John M. Parrott Art Gallery
Eden Deering Started Her Art Career at 8 – The New York Times
She is the director of PPOW, a venerable art gallery in TriBeCa co-founded by her mother in 1983.
Name: Eden Deering
Age: 30
Hometown: New York City
Now Lives: In a one-bedroom apartment in the Williamsburg section of Brooklyn that she shares with her boyfriend, Weston Lowe, who also runs a gallery.
Claim to Fame: Ms. Deering is a director at PPOW, a contemporary art gallery in TriBeCa that grew out of the 1980s East Village art scene. She curates book-fueled exhibitions that comment on social life. "Everything, for me, starts with reading," Ms. Deering said. "Writers and artists have always been in conversation with each other. Books give me a tool to think about the importance of art." Her first group exhibition in 2019, "Do You Love Me?," focused on "the unbalanced power dynamic between those that desire love and those in our culture who have the power to give it," she said.
Big Break: Ms. Deering unofficially began her art world internship at age 8, when her mother, Wendy Olsoff, one of PPOW's founders, took her to Art Basel in Switzerland, the Venice Biennale in Italy, and various artists' studios. In 2016, while working as an assistant at Gladstone Gallery, she started a roving art collective, Duplex, with Sydney Fishman. Duplex now has a permanent gallery on Essex Street in Lower Manhattan. "All of my friends are artists," she said. "It is why I am."
Latest Project: Ms. Deering will lead the programming at PPOW's second downtown gallery, opening later this year a block away. It's "a space for experimentation," she said. "We don't always get to work with the artists that I bring in for group shows."
Next Thing: PPOW's summer 2022 exhibition will feature feminist landscape paintings, including works by Carolee Schneemann, women artists in their 20s, as well as some from the 19th century. "Carolee always said she was a painter," Ms. Deering said. "The general culture does not think of her as one."
Personal Space: Her mother and Penny Pilkington, who co-founded PPOW in 1983, are still involved with the gallery. "I feel very honored to work for such incredible women," Ms. Deering said. She credits the co-founders for their clarity of purpose. "Artists need money and space to work," she said. "And that's always been Wendy and Penny's No. 1 priority."