Game of the year 2019: TechRadar's favorite Xbox One, PS4, Nintendo Switch and PC titles – TechRadar
It's been an interesting year for gaming, as the current generation of consoles slowly creep towards the end of their lifecycles. The PS5 and Xbox Series X are officially on the way, landing in late 2020, meaning we're in a kind of limbo between developers releasing games for this generation and announcing plans for next-generation games – some might even crossover.
Despite being in this weird limbo, we've played some fantastic games this year. We've revisited Raccoon City, cursed FromSoftware once again, tried to catch em' all and bothered villagers as a troublesome goose. But which games have truly stood out in 2019?
It's been a hard task, but the TechRadar team has put their heads together and thrashed out which games were our favorites this year. These aren't necessarily the games we think have had the most cultural or technological impact, nor are they ranked, they're simply the team's favorite games from this year. Let's be honest, you may not agree with all our picks – as we all have different tastes and opinions – but it's hard to put together a list that will please everyone.
So, without further ado, these are TechRadar's games of the year 2019.
Best Virtual Reality Game
Blood & Truth
Blood & Truth is one of our favorite VR games ever, never mind this year. Sony London Studio truly knocked it out of the park with this Guy Ritchie style FPS that shows that VR shooters can be wondefully immersive – and downright fun.
Its storyline is super cheesy but, mechanically, Blood & Truth is a marvel, allowing you to interact with objects and weapons as you would in real life (well as much as is possible in VR) and smoothly move from cover to cover through levels.
Honorable mentions: Trover Saves the Universe and Wolfenstein: Cyber Pilot.
Read more: Blood and Truth: how Sony's London Studio is taking VR to the next level.
Best Mobile Game
Pokémon Masters
Pokémon Masters was somewhat of a surprise success. We always knew it wouldn't hold a light to Niantic's Pokémon Go, but the free-to-play mobile game has definitely held its own in 2019.
Allowing players to battle their way through the Pokémon Masters League, Pokémon Masters emphasizes teamwork and puts the focus on trainer battles. It's been a great year for Pokemon.
Honorable mentions: What the Golf? and Sayonara Wild Hearts.
Best Action Game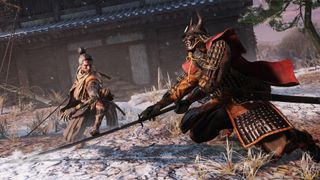 Sekiro: Shadows Die Twice
FromSoftware isn't known for making easy breezy games and Sekiro is no different. But that's exactly why we love it. Sekiro is what happens if DDR was an action game set in a gothic ancient Japan. It's breathtaking.
However, if you can't quite get a hang of the rhythm, then things are pretty tough going. FromSoftware's most recent offering is more punishing than we've seen before, but rare moments of success are extremely rewarding – you just need the patience for it.
Honorable mentions: Resident Evil 2 Remake and Devil May Cry 5.
Check out our full Sekiro: Shadows Die Twice review.
Best Action/Adventure Game
The Legend of Zelda: Link's Awakening
2019 has been a fantastic year for remasters and Link's Awakening is one of the best. Nintendo took the original 1993 and redesigned it for the Switch, giving it a new toy-like art style that simply adds to the charm.
Link's Awakening brings classic Zelda to a younger generation, while improving upon issues that original fans may have had. It's a wonderful trip down memory lane for fans while also being easily accessible for newbies. We love it.
Honorable mentions: Luigi's Mansion 3 and Bloodstained: Ritual of the Night.
Check out our full The Legend of Zelda: Link's Awakening review.
Best RPG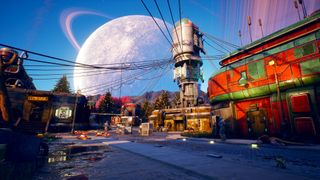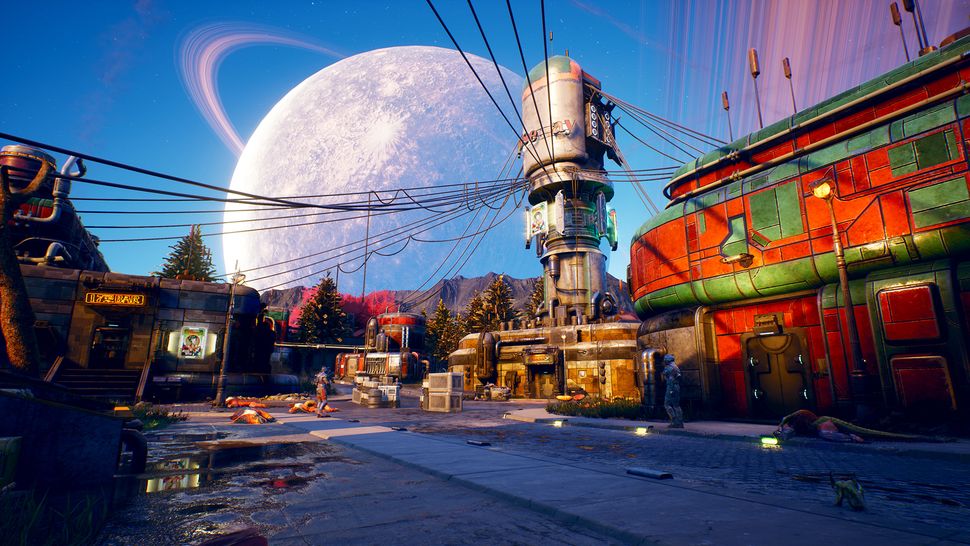 The Outer Worlds
When Obsidian Entertainment announced it was releasing a new RPG, there was little doubt that the Fallout: New Vegas developer would let us down. And it didn't.
Although it's not totally perfect, The Outer Worlds is as close to a new Fallout game as we're going to get right now. Blending interesting characters, peculiar creatures, choices galore and a heap of satire, The Outer Worlds sees Obsidian securing its crown as the king of RPGs.
Honorable mentions: Disco Elysium and Pokémon Sword and Shield.
Read more: How The Outer Worlds escaped the shadow of Fallout, according to its creators.
Best Online Multiplayer Game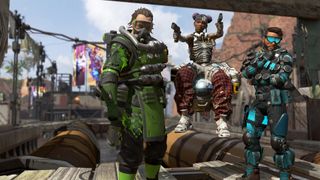 Apex Legends
Apex Legends took us all by surprise when it kicked down the battle royale door back in February, introducing some fantastic quality-of-life features like sliding and pinging that have since been lifted by its competitors.
While Apex Legends may not have quite taken the crown from Fortnite, its certainly taken 2019 by storm and we're hoping Respawn Entertainment has some tricks up its sleeves to keep players interested in 2020.
Honorable mentions: Destiny 2: Shadowkeep and Tetris 99.
Check out our full Apex Legends review.
Best Racing/Sports Game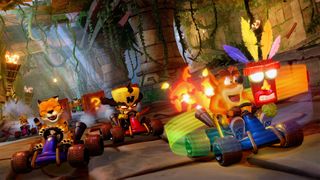 Crash Team Racing: Nitro-Fueled
Now, we know that not everyone will agree with this choice. CTR isn't the most technical racing game but it's a lot of fun and we love this remaster just as much as the original – if not more.
Following in the footsteps of the N.Sane Trilogy, Nitro-Fueled sees Crash and co getting a modern makeover. This remaster rolls together content from Crash team Racing, Crash Tag Team Racing and Crash Nitro Kart into one madcap game that you can play solo or online.
Honorable mentions: FIFA 20 and Need for Speed: Heat.
Read more: Crash Team Racing: Nitro-Fueled is a ridiculously fun ride down memory lane.
Best Fighting Game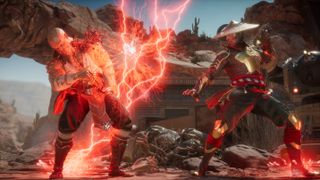 Mortal Kombat 11
It's not been a great year for fighting games, so this wasn't a particularly difficult choice. Mortal Kombat 11 sees the brutal series returning better (and bloodier) than ever before, while introducing some fresh new features, like Fatal Blows) that move the series forward.
The campaign is solid but really, MK11 does what we expect: let us beat the living heck out of eachother.
Honorable mentions: None (it's been a poor year for fighting games).
Best Narrative Game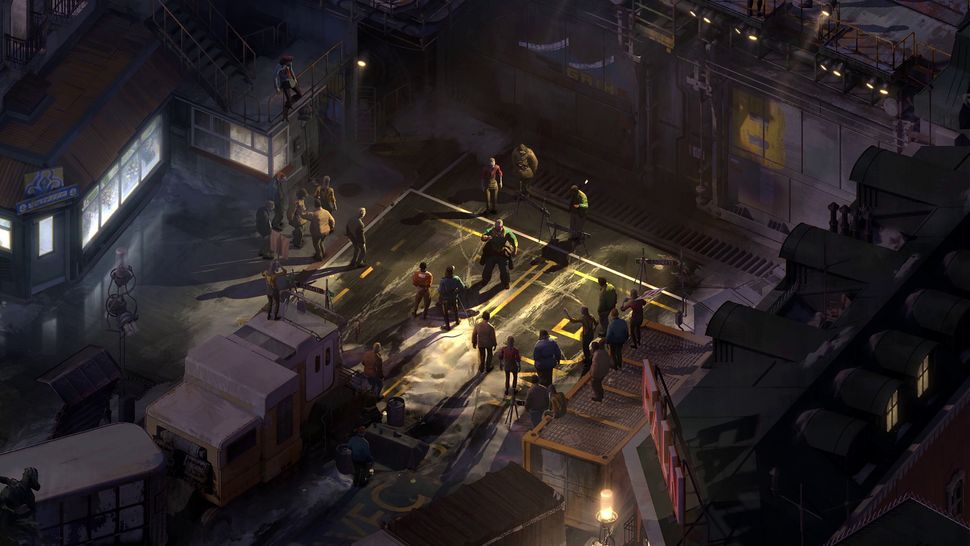 Disco Elysium
Disco Elysium has been the dark horse of 2019 for a lot of people, releasing at the tail end to critical acclaim. And it deserves every ounce of that recognition.
Disco Elysium is like if someone made an RPG about Hunter S. Thompson as a grizzled detective. It's bizarre and wonderful. The best part of Disco Elysium? The writing and story. The conversation trees are unlike anything else we've seen this year and show that a game doesn't need to be big budget to tug at our emotions.
Honorable mentions: Control and Outer Wilds.
Best Indie Game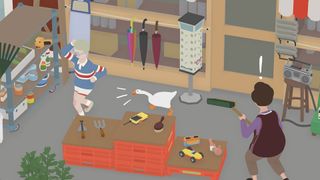 Untitled Goose Game
It's a lovely day and you're a horrible, horrible goose. That's right, Untitled Goose Game sees you wreaking havoc on some (probably lovely) unsuspecting villagers in House House's indie meme machine.
But the memes aren't the only reason we love Untitled Goose Game. It's the exact type of (almost) wholesome content we love to see in an indie game, artistically beautiful and the synchronization between the music and slapstick humor is sheer brilliance. HONK.
Honorable mentions: Outer Wilds and Disco Elysium.
Game of the Year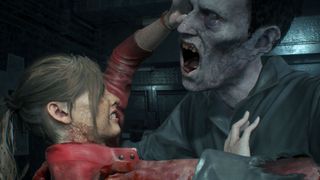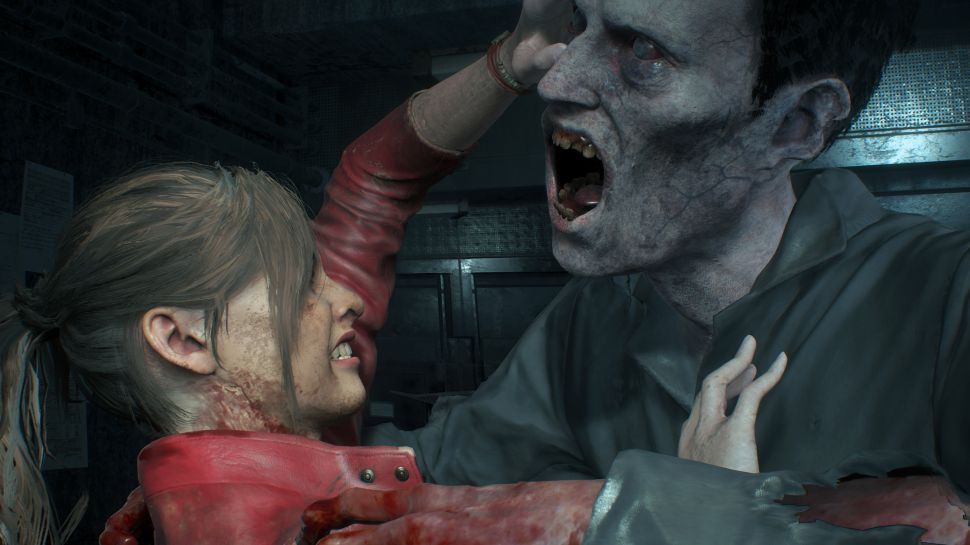 Resident Evil 2 Remake
It's the biggie and it was a tough call. But Resident Evil 2 Remake is officially TechRadar's Game of the Year.
Resident Evil 2 shows how a remake should be done, elevating the original game into a masterful modern horror experience. The attention to detail is astounding, encouraging players to properly explore RCPD and soak in the experience. Plus, exploring is a welcome break from trying to solve Resident Evil 2's head-scratching puzzles.
Best of all, you don't just have to play it once, you can replay again and again. And we sure will.
Honorable mentions: Control and Death Stranding.
Check out our full Resident Evil 2 Remake review.
Most Excited About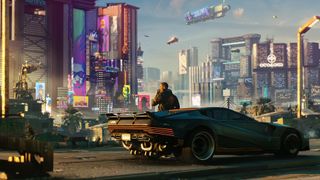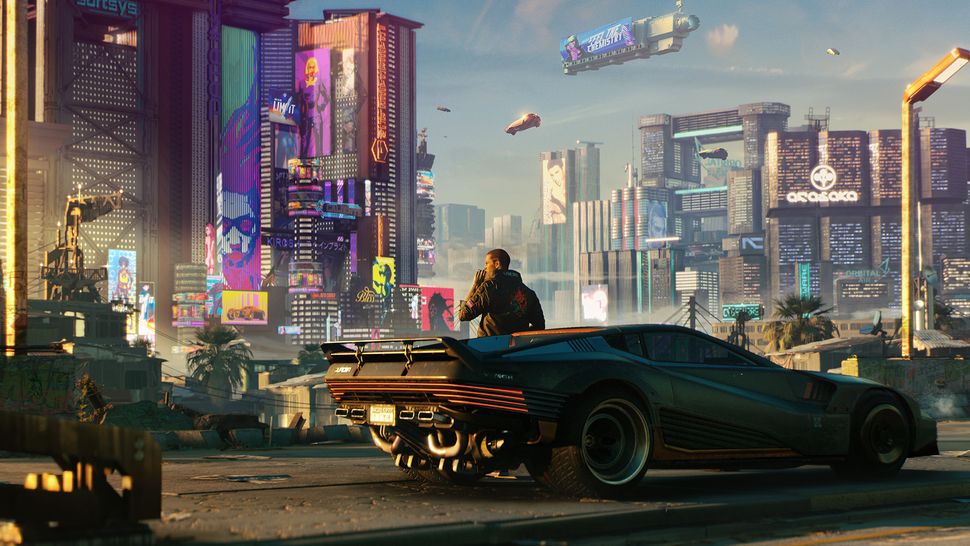 Cyberpunk 2077
Once again Cyberpunk 2077 is the game we're most excited about. It won the same category last year but, now that we know more about it (like that Keanu Reeves will be in it), we're more hyped than ever.
CD Projekt Red's massive dystopian RPG will finally hit shelves on April 16, 2020 and we cannot wait to get our hands on what's sure to be one of the best games of 2020 – well, if the Witcher 3 is anything to go by.
Honorable mentions: The Last of Us Part 2 and Final Fantasy 7 Remake.
Trump demands Apple unlock iPhones: 'They have the keys to so many criminals and criminal minds' – CNBC
President Donald Trump, in a CNBC interview Wednesday, stepped up his pressure over Apple's refusal to unlock iPhones for authorities in criminal cases.
"Apple has to help us. And I'm very strong on it," Trump told "Squawk Box" co-host Joe Kernen from the World Economic Forum in Davos, Switzerland. "They have the keys to so many criminals and criminal minds, and we can do things."
Apple CEO Tim Cook has been credited with being able to work with the president and his administration in a way other Silicon Valley companies have stumbled. In November, Cook toured Apple's Austin campus with Trump.
Trump told CNBC he's helped Apple a lot.
"I've given them waivers, because it's a great company, but it made a big difference." The president was referring to waivers from tariffs put on Chinese-made imports in the trade war between Washington and Beijing.
Last week, Trump slammed Apple for declining the government's request to unlock password-protected iPhones used by the shooter who killed three people in December at the Pensacola, Florida, Naval Air Station before being fatally shot.
In a statement, Apple said it provided gigabytes of information to law enforcement related to the Pensacola case but that it would not build a "backdoor" or specialized software to give law enforcement elevated access.
Trump told CNBC on Wednesday: "They could have given us that information. It would have been very helpful."
The president said he's not concerned about his relationship with Cook or Apple because the stakes are so high.
"You're dealing with drug lords and you're dealing with terrorists, and if you're dealing with murderers, I don't care," Trump said.
Galaxy Flip: Why I'm excited for the Galaxy Fold's smaller sibling – CNET
With the tablet-like Galaxy Fold, Samsung's embraced the saying, "Go big or go home." But its second foldable phone — rumored to be called the Galaxy Z Flip — is almost guaranteed to be cheaper, smaller, vertically bending and outfitted with half the cameras. I couldn't be more excited.
There's something about foldable phones that still feels magical to me, a sensation that's hard to come by after nearly 14 years working with phones. I thought I'd seen it all: phones that flip up, kick out, flex, even phones shaped like a circle. But a screen that's both thin and strong enough to bend in half without breaking feels like the future come to life.
Where the Galaxy Fold was a luxury device designed to make a splash as the first major foldable phone, the Z Flip (internal code name: Galaxy Bloom) will take on the Motorola Razr as a more affordable phone that highlights not the luxury, but the practicality of a foldable phone. It's likely Samsung will unveil the Galaxy Z Flip at it Unpacked event on Feb. 11.
For Samsung, the Z Flip will give the company a dramatic lead in the foldable space, with a large premium device (the Galaxy Fold) followed by a simpler phone with a smaller screen. That's two pathways for Samsung to secure interest from early adopters. For the rest of us, there are several practical reasons to train our eyes on the Galaxy Z Flip, or whatever it winds up being called, that go way beyond the novelty of a foldable phone.
The first foldable phone with a glass screen?
One rumor suggests that the Galaxy Z Flip will be the first foldable design to use an ultrathin glass screen. That's momentous if true. The first generation of foldables use plastic displays, which are much more susceptible to damage.
It'd be interesting to see how completely a glass screen would bend. Could the two sides really fold flat? I'd also love to test firsthand the screen's ability to keep the electronic display underneath safe from pressure, scratches, drops, dust and water damage.
Foldable phones are still a proof of concept
Right now, foldable phones inhabit a zone of uncertainty. They're expensive, fragile and few. At this point it's hard to believe that they could replace the large-screen rectangles we carry today, but there are hints it just might work.
The more foldable phones exist — both in design and in total number of units made — the more we can see if they'll actually take off. Or if they're just fun, expensive toys. The Z Flip will be one more effort that helps determine the fate of the category.
The variety we see already in early foldable designs is crucial. We've seen commercial devices and prototypes for small foldables like the Razr, which can slip into a pocket, all the way up to a 10-inch tablet that folds into three parts.
It will be through real-time trial and error that the industry determines which designs work best, how to fix common weaknesses and what it is that people actually want in a foldable phone. Only then can companies collectively begin to perfect them.
This is Samsung's chance to prove it can make a sturdy foldable
An embarrassment for Samsung, the Galaxy Fold's early screen flaws overshadowed its historic debut. Samsung delayed the initial sale date for months, redesigned the phone, scaled back production and dropped two colors. Now with the rumored Galaxy Z Flip, Samsung gets a second chance.
Choosing a radically different design — the Galaxy Z Flip should be a vertical flip phone with a smaller screen than the 7.3-inch Galaxy Fold — gives Samsung an opportunity to apply the lessons it learned from the Fold's early mistakes.
Tight seals between the display and the folding mechanism, tamper-proof cover material and a reinforced OLED display will go a long way toward reestablishing its reputation in the foldable space. It should also have fewer cameras and a cheaper price tag than the Fold's $1,980 starting price.
Finding the limits of a small outer screen
Like the Galaxy Fold and the Motorola Razr, the Galaxy Z Flip should have an external display, and I'm interested to see how Samsung will design it. On both the Fold and the Razr, the screen was relatively small, making it fine for viewing alerts and initiating quick tasks, but less ideal to actually use.
If the Galaxy Z Flip goes even smaller than the Galaxy Fold's 4.6-inch exterior screen, I'll have a few questions. Will you still be able to use every app on the outer display and open it to reveal the app inside, or will your actions and activities be more limited?
I'll have to wait for its debut to find out.
Lower prices will make foldable phones more accessible
With the Galaxy Fold priced at $1,980, the foldable Z Flip is expected to cost significantly less.
Samsung was clear about calling the Galaxy Fold a luxury handset, which somewhat cushioned the news that it would cost nearly $2,000. The messaging was this: It's worth it for a futuristic device that's big enough to replace a tablet.
The Galaxy Z Flip is sure to be another case entirely. One rumor suggested it could cost around $850, which is half the price of the Motorola Razr and more than half the price of the Galaxy Fold.
We'll see what happens, but one thing is clear: The more affordable they are, the more Samsung and its competitors will snag more real-world buyers (or "testers"). And the more people who use these early foldable phones, the faster we'll know where their future truly lies — in pockets and purses all over the globe, or in a museum of futuristic tech that never panned out.
Originally published earlier today.
Apple may have ditched encrypted backups, but Google hasn't – Android Central
A bombshell report from Reuters suggests Apple ditched end-to-end encryption for iCloud backups at the behest of the FBI. Citing several former Apple employees and FBI officials, the publication notes that Apple planned to switch to end-to-end encryption for iCloud — putting it on the same level as iPhones and iPads — but reversed course after consulting with the FBI.
iCloud data is also encrypted by default, but Apple holds a key to decrypt it. So in a scenario where an iCloud user is locked out of their account for whatever reason, Apple has the ability to decrypt the contents of that iCloud library. It is this reasoning that Tim Cook gave in defence of the move last year:
We do this because some users lose or forget their key and then expect help from us to get their data back.
According to Reuters, Apple was considering switching to end-to-end encryption wherein it won't be able to recover data even when served with a court order. However, the company ultimately decided to not do so:
More than two years ago, Apple told the FBI that it planned to offer users end-to-end encryption when storing their phone data on iCloud, according to one current and three former FBI officials and one current and one former Apple employee.

Under that plan, primarily designed to thwart hackers, Apple would no longer have a key to unlock the encrypted data, meaning it would not be able to turn material over to authorities in a readable form even under court order.

In private talks with Apple soon after, representatives of the FBI's cyber crime agents and its operational technology division objected to the plan, arguing it would deny them the most effective means for gaining evidence against iPhone-using suspects, the government sources said.

When Apple spoke privately to the FBI about its work on phone security the following year, the end-to-end encryption plan had been dropped, according to the six sources.
It isn't clear if FBI was able to persuade Apple to not switch, or whether the company decided of its own volition. What is clear though is that Apple has the means to provide law enforcement agencies access to your data should a court require it.
Here's where Google comes in. The search giant quietly enabled end-to-end encryption for Android backups back in 2018, with a Titan security chip housed in Google's datacenter ensuring data integrity. The system ensures that only you have access to your data, and should you lose your client device (your phone), there won't be any way to recover the information as Google doesn't hold a decrypt key. Here's how the system works:
Starting in Android Pie, devices can take advantage of a new capability where backed-up application data can only be decrypted by a key that is randomly generated at the client. This decryption key is encrypted using the user's lockscreen PIN/pattern/passcode, which isn't known by Google. Then, this passcode-protected key material is encrypted to a Titan security chip on our datacenter floor.

The Titan chip is configured to only release the backup decryption key when presented with a correct claim derived from the user's passcode. Because the Titan chip must authorize every access to the decryption key, it can permanently block access after too many incorrect attempts at guessing the user's passcode, thus mitigating brute force attacks.

The limited number of incorrect attempts is strictly enforced by a custom Titan firmware that cannot be updated without erasing the contents of the chip. By design, this means that no one (including Google) can access a user's backed-up application data without specifically knowing their passcode.
Basically, your phone PIN or passcode acts as a decryption key for the Titan module, and without it you won't be able to access your data. So if you are looking for end-to-end encryption for backups, Google is the way to go.
A key distinction here is that the system only works for application backups and not content stored in your Google Drive. If you want to secure your data in Drive, you should look at Cryptomator or try rclone if you like to tinker.