Global economy projected to show fastest growth in 50 years – UN News
In its new report released on Wednesday, the agency said that the rebound was highly uneven along regional, sectoral and income lines, however.
During 2022, UNCTAD expects global growth to slow to 3.6 per cent, leaving world income levels trailing some 3.7 per cent below the pre-pandemic trend line.
The report also warns that growth deceleration could be bigger than expected, if policymakers lose their nerve or answer what it regards as misguided calls for a return to deregulation and austerity.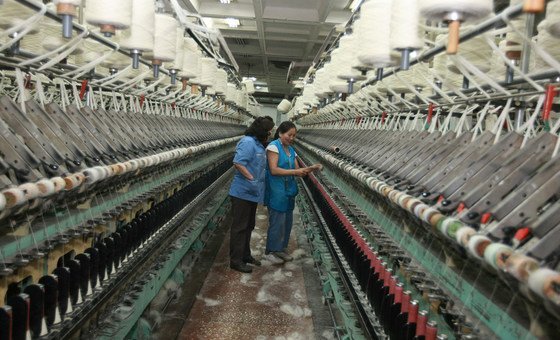 Differences in growth
The report says that, while the response saw an end to public spending constraints in many developed countries, international rules and practices have locked developing countries into pre-pandemic responses, and a semi-permanent state of economic stress.
Many countries in the South have been hit much harder than during the global financial crisis. With a heavy debt burden, they also have less room for maneuvering their way out through public spending.
Lack of monetary autonomy and access to vaccines are also holding many developing economies back, widening the gulf with advanced economies and threatening to usher in another "lost decade".
"These widening gaps, both domestic and international, are a reminder that underlying conditions, if left in place, will make resilience and growth luxuries enjoyed by fewer and fewer privileged people," said Rebeca Grynspan, the secretary-general of UNCTAD.
"Without bolder policies that reflect reinvigorated multilateralism, the post-pandemic recovery will lack equity, and fail to meet the challenges of our time."
Lessons of the pandemic
UNCTAD includes several proposals in the report that are drawn from the lessons of the pandemic.
They include concerted debt relief and even cancellation in some cases, a reassessment of fiscal policy, greater policy coordination and strong support for developing countries in vaccine deployment.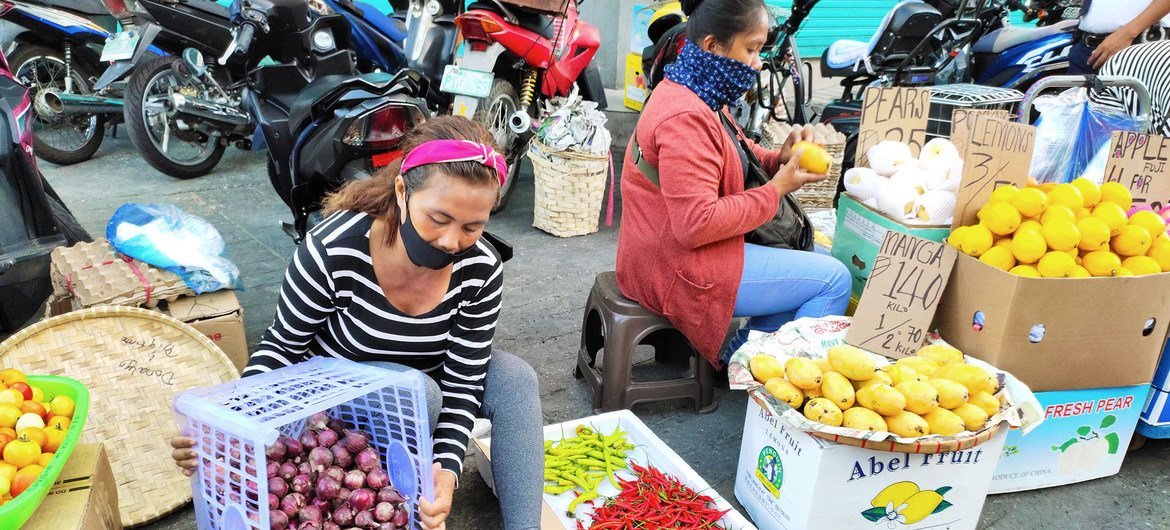 ILO/Minette Rimando.
Women sell fruit and vegetables on a sidewalk in the Philippines, where workers in the informal economy are in danger of having their livelihoods destroyed by the impacts of COVID-19.
Even without significant setbacks, global output will only resume its 2016-19 trend by 2030. But even before COVID-19, the income growth trend was unsatisfactory, says UNCTAD. Average annual global growth in the decade after the global financial crisis was the slowest since 1945.
Despite a decade of massive monetary injections from leading central banks, since the 2008-9 crash, inflation targets have been missed. Even with the current strong recovery in advanced economies, there is no sign of a sustained rise in prices.
After decades of a declining wage share, real wages in advanced countries need to rise well above productivity for a long time before a better balance between wages and profits is achieved again, according to the trade and development body's analysis.
Food prices and global trade
Despite current trends on inflation, UNCTAD believes the rise in food prices could pose a serious threat to vulnerable populations in the South, already financially weakened by the health crisis.
Globally, international trade in goods and services has recovered, after a drop of 5.6 per cent in 2020. The downturn proved less severe than had been anticipated, as trade flows in the latter part of 2020 rebounded almost as strongly as they had fallen earlier.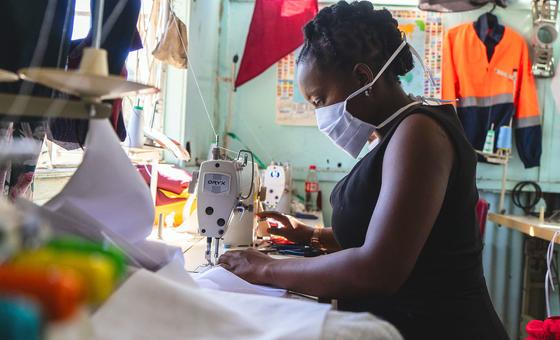 The report's modelling projections point to real growth of global trade in goods and services of 9.5 per cent in 2021. Still, the consequences of the crisis will continue to weigh on the trade performance in the years ahead.
For director of UNCTAD's globalization and development strategies division, Richard Kozul-Wright, "the pandemic has created an opportunity to rethink the core principles of international economic governance, a chance that was missed after the global financial crisis."
"In less than a year, wide-ranging US policy initiatives in the United States have begun to effect concrete change in the case of infrastructure spending and expanded social protection, financed through more progressive taxation. The next logical step is to take this approach to the multilateral level."
The report highlights a "possibility of a renewal of multilateralism", pointing to the United States support of a new special drawing rights (SDR) allocation, global minimum corporate taxation, and a waiver of vaccine-related intellectual property rights.
UNCTAD warns, though, that these proposals "will need much stronger backing from other advanced economies and the inclusion of developing country voices if the world is to tackle the excesses of hyperglobalization and the deepening environmental crisis in a timely manner."
For the UN agency, the biggest risk for the global economy is that "a rebound in the North will divert attention from long-needed reforms without which developing countries will remain in a weak and vulnerable position."
$2T needed to reach 2050 target of net-zero economy: RBC – BNN
OTTAWA — A new report says the country will need roughly $2 trillion to put the economy on a path to net-zero emissions in 30 years, including government spending on things like skills training and backstops to prod the necessary investments.
The report from RBC Economics estimates governments, businesses and communities would have to spend at least $60 billion annually to cut emissions by 75 per cent of current levels and reach the 2050 target of net zero.
Money will be needed to build out the electricity system to handle the expected rise in electric vehicles, which will also need some subsidies to get them off assembly lines and onto Canadian roads, the report says.
There will also have to be investment in retrofitting old buildings faster than current federal plans predict, retraining 100,000 workers with new skills for fast-growing green sectors, and skills training programs to add 200,000 more into the labour force by 2030.
The numbers add up to a massive effort to meet the Trudeau Liberals' short-term and long-term promises on climate change, but one the Royal Bank report estimates is possible if the government eyes a few key areas.
It's not about ideology, it's about math. And we've done the math and said, OK, here is how we can get those numbers down towards zero, and this is what it is going to cost," said John Stackhouse, senior vice-president in the office of the CEO at Royal Bank.We think that it's doable. So let's focus in a very kind of business-minded way on the key drivers of emissions change."
Parliament approved legislation last spring that required the country to eliminate as many greenhouse gas emissions as possible, and capture whatever is left to get to net zero by 2050.
The Liberals haven't outlined the course to the long-term goal, and won't before a United Nations climate change conference, known as COP26, looming at the end of the month in Glasgow, Scotland.
The government has increased its emissions-reduction targets for 2030 as required by the climate agreement.
Internal government documents suggest the Liberals are acutely aware of the cost to shift the country to net zero and have looked to push banks and other private sector investors to help with funding and financing.
Finance Minister Chrystia Freeland's officials wrote in a September 2020 briefing note that the country's financial sector, including banks, will need to play a major role" to create a net-zero economy. The briefing note created ahead of Freeland's meeting with bank CEOs also noted how their institutions needed to do more tofoster the right conditions to support the acceleration of sustainable investment."
Unlocking some of the needed spending will require federal politicians to create new platforms to channel private investment into green endeavors that may be akin to the Canada Infrastructure Bank.
The Liberals created the agency in 2017 to use federal dollars as a way to entice funding from private-sector investors, but its efforts and existence have become highly politicized with vows from the NDP and Conservatives to dismantle it if either are elected to govern.
Stackhouse said the country needs organizations similar to the infrastructure bank that can be semi-autonomous in terms of investment selections, but subject to government oversight.
Whatever gets created to spur investment has to survive successive governments through to 2050, and should be depoliticized for a better chance of success, he said.
"This is a 30-year project. There will be different governments during those 30 years. So let's create entities that can channel both public investment and crowd-in private investment to focus on the key strategic drivers," Stackhouse said.
But the report also warns of moving too fast, too soon. If there was a sudden and severe decline in oil and gas production, government revenues would fall by about $8 billion annually, which the report says could hamper, not help, the transition.
Minister of Finance to Release 2021 Ontario Economic Outlook and Fiscal Review on November 4 – Government of Ontario News
U.S. Federal Reserve survey finds economy facing supply chain, other drags – The Globe and Mail
The U.S. Federal Reserve reports that the economy faced a number of headwinds at the start of this month, ranging from supply chain disruptions and labour shortages to uncertainty about the Delta variant of COVID-19.
In its latest survey of business conditions around the U.S., the Fed said Wednesday that a majority of its 12 regions viewed consumer spending, the main driving force for the economy, as remaining positive despite the various speed bumps.
The report noted wide differences in performance, however. It noted that auto sales suffered because of constrained inventories resulting from problems obtaining critical semi-conductor components. Manufacturing, meanwhile, was growing either moderately or robustly depending on which Fed district was reporting.
"Outlook for near-term economic activity remained positive, overall, but some districts noted increased uncertainty and more cautious optimism than in previous months," the Fed said in the report on business conditions around the country, known as the beige book.
The report, based on surveys of business contacts by the Fed's 12 regional banks, will form the basis for discussion when central bank officials next meet on Nov. 2-3.
The Fed is widely expected to announce at that meeting that it will begin to reduce, or taper, its US$120-billion in monthly bond purchases starting either in November or December.
Those purchases have been designed to give the economy an extra boost by holding down long-term interest rates.
A move to trim the purchases is expected to be followed in the second half of next year with the first rate hikes. The Fed's benchmark interest rate has been at an ultralow zero to 0.25 per cent since the COVID pandemic struck with force in the spring of 2020 but there are growing calls to begin removing its support in the face of rising price pressures this year.
The beige book found "significantly elevated" prices with widespread increases across industry sectors in large part because of supply chain bottlenecks.
Prices for steel, electronic components and shipping costs all "rose markedly" during the survey period, the report said.
Expectations for future price increases varied, the Fed report said, with some business contacts expecting prices to remain high or even increase further, while others expected prices to moderate over the next 12 months.
Fed board member Randall Quarles said in a speech Wednesday that he believes elevated inflation will start to "decline considerably next year from its currently very elevated rate." That reflects his belief that the factors now disrupting the economy, such as supply bottlenecks, "appear likely to fade over time."
The beige book report noted that while the demand for labour was high, job gains had been dampened by a low supply of workers, forcing many retail, hospitality and manufacturing companies to cut hours or production because they did not have enough employees.
"Firms reported high turnover as workers left for other jobs or retired," the Fed report said. "Child-care issues and vaccine mandates were widely cited as contributing to the problem."
In an effort to deal with the labour shortages, the Fed said many companies were offering more training to prospective workers and also boosting wages.
In addition to higher starting wages and increased pay to retain workers, companies reported offering signing and retention bonuses, flexible work schedules or increased vacation time as other incentives, the Fed survey found.
The Fed's report was based on interviews conducted by the 12 regional banks on or before Oct. 8.
Your time is valuable. Have the Top Business Headlines newsletter conveniently delivered to your inbox in the morning or evening. Sign up today.