GOP pushes bills to allow social media 'censorship' lawsuits – 570 News
Republican state lawmakers are pushing for social media giants to face costly lawsuits for policing content on their websites, taking aim at a federal law that prevents internet companies from being sued for removing posts.
GOP politicians in roughly two dozen states have introduced bills that would allow for civil lawsuits against platforms for what they call the "censorship" of posts. Many protest the deletion of political and religious statements, according to the National Conference of State Legislatures. Democrats, who also have called for greater scrutiny of big tech, are sponsoring the same measures in at least two states.
The federal liability shield has long been a target of former President Donald Trump and other Republicans, whose complaints about Silicon Valley stifling conservative viewpoints were amplified when the companies cracked down on misleading posts about the 2020 election.
Twitter and Facebook, which are often criticized for opaque policing policies, took the additional step of silencing Trump on their platforms after the Jan. 6 insurrection at the U.S. Capitol. Twitter has banned him, while a semi-independent panel is reviewing Facebook's indefinite suspension of his account and considering whether to reinstate access.
Experts argue the legislative proposals are doomed to fail while the federal law, Section 230 of the Communications Decency Act, is in place. They said state lawmakers are wading into unconstitutional territory by trying to interfere with the editorial policies of private companies.
Len Niehoff, a professor at the University of Michigan Law School, described the idea as a "constitutional non-starter."
"If an online platform wants to have a policy that it will delete certain kinds of tweets, delete certain kinds of users, forbid certain kinds of content, that is in the exercise of their right as a information distributer," he said. "And the idea that you would create a cause of action that would allow people to sue when that happens is deeply problematic under the First Amendment."
The bills vary slightly but many allow for civil lawsuits if a social media user is censored over posts having to do with politics or religion, with some proposals allowing for damages of $75,000 for each blocked post. They would apply to companies with millions of users and carve out exemptions for posts that call for violence, entice criminal acts or other similar conduct.
The sponsor of Oklahoma's version, Republican state Sen. Rob Standridge, said social media posts are being unjustly censored and that people should have a way to challenge the platforms' actions given their powerful place in American discourse. His bill passed committee in late February on a 5-3 vote, with Democrats opposed.
"This just gives citizens recourse," he said, adding that the companies "can't abuse that immunity" given to them through federal law.
Part of a broad, 1996 federal law on telecoms, Section 230 generally exempts internet companies from being sued over what users post on their sites. The statute, which was meant to promote growth of the internet, exempts websites from being sued for removing content deemed to be "obscene, lewd, lascivious, filthy, excessively violent, harassing, or otherwise objectionable" as long as the companies are acting in "good faith."
As the power of social media has grown, so has the prospect of government regulation. Several congressional hearings have been held on content moderation, sometimes with Silicon Valley CEOs called to testify. Republicans, and some Democrats, have argued that the companies should lose their liability shield or that Section 230 should be updated to make the companies meet certain criteria before receiving the legal protection.
Twitter and Facebook also have been hounded over what critics have described as sluggish, after-the-fact account suspensions or post takedowns, with liberals complaining they have given too much latitude to conservatives and hate groups.
Trump railed against Section 230 throughout his term in office, well before Twitter and Facebook blocked his access to their platforms after the assault on the Capitol. Last May, he signed a largely symbolic executive order that directed the executive branch to ask independent rule-making agencies whether new regulations could be placed on the companies.
"All of these tech monopolies are going to abuse their power and interfere in our elections, and it has to be stopped," he told supporters at the Capitol hours before the riot.
Antigone Davis, global head of safety for Facebook, said these kinds of proposals would make it harder for the site to remove posts involving hate speech, sexualized photos of minors and other harmful content.
"We will continue advocating for updated rules for the internet, including reforms to federal law that protect free expression while allowing platforms like ours to remove content that threatens the safety and security of people across the United States," she said.
In a statement, Twitter said: "We enforce the Twitter rules judiciously and impartially for everyone on our service – regardless of ideology or political affiliation – and our policies help us to protect the diversity and health of the public conversation."
Researchers have not found widespread evidence that social media companies are biased against conservative news, posts or materials.
In a February report, New York University's Stern Center for Business and Human Rights called the accusations political disinformation spread by Republicans. The report recommended that social media sites give clear reasoning when they take action against material on their platforms.
"Greater transparency — such as that which Twitter and Facebook offered when they took action against President Trump in January — would help to defuse claims of political bias, while clarifying the boundaries of acceptable user conduct," the report read.
While the federal law is in place, the state proposals mostly amount to political posturing, said Darrell West, vice-president of governance studies at the Brookings Institution, a public policy group.
"This is red meat for the base. It's a way to show conservatives they don't like being pushed around," he said. "They've seen Trump get kicked off Facebook and Twitter, and so this is a way to tell Republican voters this is unfair and Republicans are fighting for them."
___
Izaguirre reported from Lindenhurst, New York
___
Associated Press coverage of voting rights receives support in part from Carnegie Corporation of New York. The AP is solely responsible for this content.
Anthony Izaguirre, The Associated Press
'Godzilla vs. Kong' Tops Box Office Again, Crosses $80 Million in the U.S.
OTTAWA (Reuters) – Canada will set aside C$12 billion ($9.6 billion) to extend its main pandemic support measures in a budget to be presented on Monday, the Toronto Star reported, as much of the country battles a virulent third wave of COVID-19 infections.
The emergency wage subsidy and the emergency rent subsidy, due to expire in June, will be extended to the end of September, the Star reported on Sunday.
Separately, the government will create the "Canada Recovery Hiring Program" in June meant to help those companies depending on the wage subsidy to pivot to hiring again, the newspaper said.
The Finance Ministry declined to confirm or comment on the report. However, Environment Minister Jonathan Wilkinson told the Canadian Broadcasting Corp on Sunday that government pandemic supports would continue for as long as needed.
"If Canadians need that support and the pandemic continues, the government will certainly have their backs," Wilkinson said.
Wilkinson also confirmed that the budget would be "ambitious" and that the government would "invest for jobs and growth to rebuild this economy," though he also said there would be "fiscal guardrails" to put spending on a "sustainable track".
Finance Minister Chrystia Freeland will present the country's first budget in two years on Monday after promising in November up to C$100 billion in stimulus over three years to "jump-start" an economic recovery during what is likely to be an election year.
Canada has been ramping up its vaccination campaign but still has a smaller percentage of its population inoculated than dozens of other countries, including the United States and Britain.
Amid a spiking third wave of infections, Ontario, Canada's most populous province, announced new public health restrictions on Friday, including closing the province's borders to domestic travelers.
($1 = 1.2501 Canadian dollars)
(Reporting by Steve Scherer, Editing by Nick Zieminski)
GLAAD Media Awards presenters support transgender athletes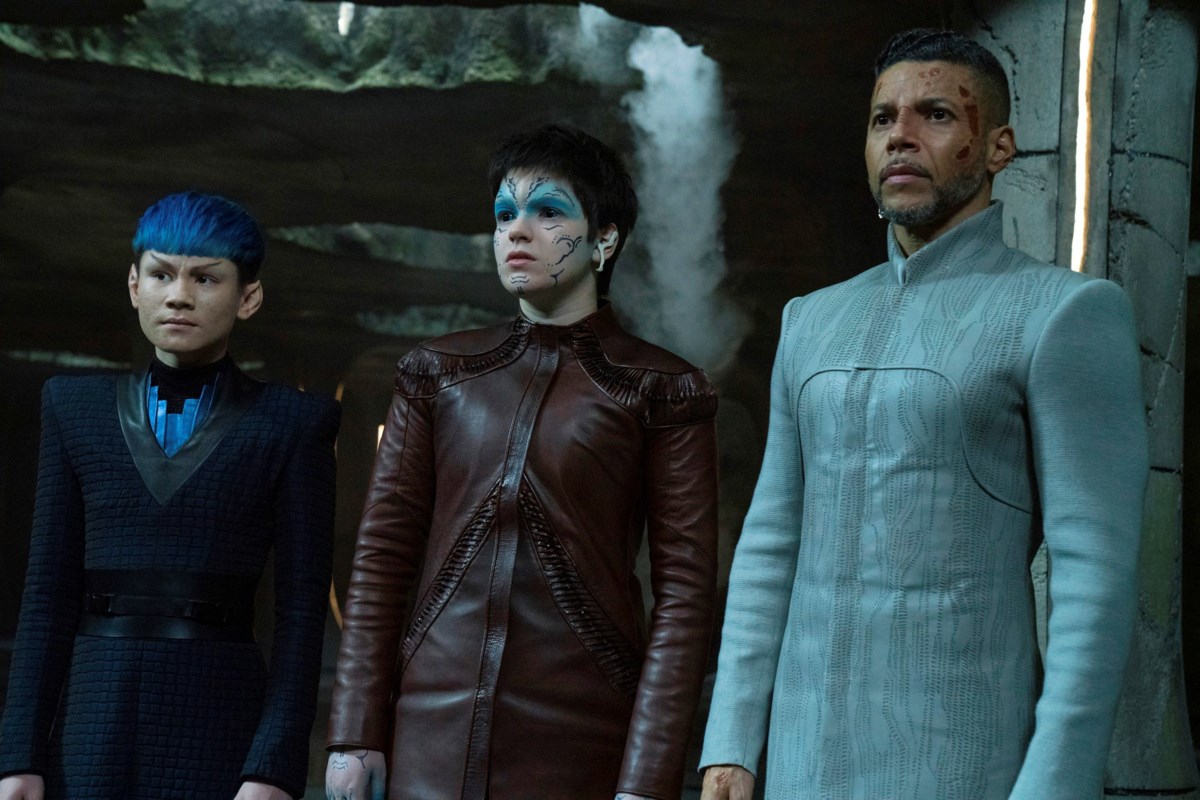 LOS ANGELES — "Schitt's Creek" and "The Boys in the Band" were winners at the GLAAD Media Awards, which included soccer's Ashlyn Harris and Ali Krieger calling for transgender students to be accepted as "part of the team" in sports.
Harris and Krieger, spouses who play for the Orlando Pride and were on the 2019 World Cup-winning U.S. women's national team, presented an award in Thursday's virtual ceremony to the film "Happiest Season," about a lesbian romance.
The couple drew attention to transgender athletes amid widespread efforts to restrict their participation, including a recently signed Mississippi bill that bans them from competing on girls or women's sports teams. It becomes law July 1.
"Trans students want the opportunity to play sports for the same reason other kids do: to be a part of a team where they feel like they belong," Krieger said.
Added Harris: "We shouldn't discriminate against kids and ban them from playing because they're transgender."
"Star Trek: Discovery," "I May Destroy You" and "A Little Late with Lilly Singh" were among the other projects honoured in the pre-taped ceremony hosted by Niecy Nash. It's available on Hulu through June.
The GLAAD awards, in their 32nd year, recognize what the media advocacy organization calls "fair, accurate, and inclusive" depictions of LGBTQ people and issues. Presenters and winners in this year's event highlighted priorities including the importance of solidarity and self-respect.
"Friends, I'm so proud to stand with the LGBTQ community tonight, just as the LGBTQ community stands with Black and diverse communities," said Sterling K. Brown, who presented the outstanding documentary award to "Disclosure."
The "This Is Us" star, citing the Black Lives Matter and Black Trans Lives Matter movements, said that "we're going to keep spreading that message of unity and justice until every one of us is safe to live the lives we love."
JoJo Siwa, the teenage YouTube personality and performer, presented the award for outstanding children's programming to "The Not-Too-Late Show with Elmo." She said in January that she's part of the LGBTQ community.
"I have the best, most amazing, wonderful girlfriend in the entire world who makes me so, so, so happy and that's all that matters," Siwa said. "It's really cool that kids all around the world who look up to me can now see that loving who you want to love is totally awesome" and should be celebrated.
Other awards went to Sam Smith, who was honoured as outstanding music artist for the album "Love Goes"; Chika, named breakthrough music artist for "Industry Games," and "We're Here" won outstanding reality program.
Cast members from "Glee," including Chris Colfer, Amber Riley and Jane Lynch, paid tribute to Naya Rivera and her character in the series, gay cheerleader Santana Lopez. Rivera, 33, died in an accidental drowning in July 2020.
___
Online:
https://www.glaad.org/
Lynn Elber, The Associated Press
Source:- Coast Reporter
Social Media Etiquette Review
Despite your best efforts, you may cause someone pain with that Tweet or Facebook post. Here's a refresher on social media best practices, along with advice for some pandemic-only dilemmas.
In an ideal world, your followers would think every photo, video or thought you post on social media is like a little gift to them. In reality, it's hard to predict how posts on Instagram, Facebook and other social media will land, especially during the pandemic. After so much loss and isolation over the past year, people are on edge. That vaccine selfie may feel joyous and hopeful to you, but it could be a digital slap in the face to someone who hasn't received a vaccine shot or who has suffered a grave loss.
"Someone could be experiencing loss in such a way that there's no way someone else won't post something that compounds their grief," said Catherine Newman, who has written the Modern Manners etiquette column for Real Simple magazine for 10 years. "That's how grief is."
Still, it's hard not to overthink things — and to worry that despite your best efforts, you may cause someone pain. Some social media experts say you should review your sharing practices periodically, so here's a refresher on social media etiquette, along with advice for some pandemic-only situations.
Ask why are you posting.
First, identify your motivations. Are you sharing that picture of the exquisite cake you baked because you want praise, or do you want people to feel bad that what they made themselves wasn't as good? If it is to receive affirmation, that's OK. But if you find yourself trying to get all your needs met by social media likes, it might be time to think about what else is missing in your life.
Second, focus on your friends. If you tried to consider every possible person who might be hurt by a post — your seemingly unobjectionable photo of tulips could very well remind a follower of someone they have lost — you might never post anything on social media. But absolutely think about your inner circle carefully.
Ms. Newman, for one, hasn't posted about her own post-vaccination visits with family because so many in her immediate friend group have lost a parent in the past year. If you're in a similar situation and you still want to post your vaccine selfie or the first time you've hugged your father in a year, consider acknowledging your own good fortune.
"I still appreciate it when people say, 'We're so lucky and there's been so much loss and I'm sorry if you're experiencing loss,'" said Ms. Newman, whose best friend died of cancer five years ago.
Before you hit "share," read your words in multiple tones of voice, as different people can interpret the text differently, suggested Diane Gottsman, an etiquette expert and the founder of the Protocol School of Texas, a San Antonio company specializing in corporate etiquette training. If there's any doubt, add a cue, such as an emoticon, about your tone.
Don't go low, go high.
If you want to post something negative, keep in mind that what you say or share often says more about you. Disagree (respectfully), but avoid sweeping generalizations about entire groups of people — or about one business based on your interaction with a single employee.
Additionally, remember that any message you share, even with close family members, will be amplified to your entire online community. (The tension may also be amplified around vaccines, health measures and the stress of a not-normal year.) If you are replying to your sister online about something, that doesn't mean you can speak to her as harshly as you might privately. Ms. Gottsman advises taking a heated family debate offline.
"Don't start a family feud on social media," Ms. Gottsman said. "It can affect the next family holiday."
If you are soliciting donations for a particular cause or charity, or asking for money to pay someone's rent or medical bills with a GoFundMe campaign, recognize that the financial situations of many people have changed this past year and there may be many other appeals compared to times past. Skip shaming phrases, like "How can you not help this person?" Instead, Ms. Gottsman said, use ones like "If your heart moves you, I'm sharing this."
Consider your audience.
Think less vigilance is needed, because your text group is small or your settings have been changed to private? Think again. When Heidi Cruz, the wife of Senator Ted Cruz of Texas, shared her family's plans to flee a devastating winter storm in Texas for a vacation in Mexico, she texted only a small group of neighbors and friends. Screenshots of the messages ended up with journalists. Elaine Swann, an etiquette expert and founder of the School of Protocol in Carlsbad, Calif., points out that it wasn't just one person who shared the chat with The New York Times; there were others who confirmed it.
"Even if you think it's just your inner circle, there's always somebody there who isn't 100 percent on your team," she said. "That's the person who takes the screenshot before you delete whatever it is."
Ban body-size talk.
Posting about food and fitness may be even more tempting than usual, given that a lot of people have changed what they eat and how much they exercise during the pandemic. But confine your commentary to how these lifestyle changes make you feel, not how they make you look. Among other things, not all people have had the luxury of more time to exercise during the pandemic — or if they did, they might not have had the energy to do so.
Dr. Lindsay Kite is a founder of Beauty Redefined, a nonprofit that promotes body image resilience, and an author of "More Than a Body." She noted that your "before" photo — talking about how fat you look — may be someone else's "after."
If you really want affirmation and accountability for your fitness goals, avoid the sports-bra selfie and posts about body measurements. Instead, Dr. Kite suggested posting a picture of yourself in a blood pressure cuff, or a less body-focused snapshot of you jogging to your favorite coffee shop.
"Loving your body and improving your health doesn't always lead to a more ideal-looking body," she said.
Acknowledge your mistakes.
There may be situations in which a post doesn't land as you had intended. Maybe you shared a photo of a masked-up pandemic wedding, but followers pointed out that attending still involved travel. Or you posted a video of your family's Easter egg hunt, because all the adults participating had been lucky enough to be vaccinated.
Ask yourself how many people reacted negatively. If only one follower is unhappy, it may just be that one person is raw.
"We have a genre in my family we call 'hurting your own feelings,'" Ms. Newman said. "Where you're looking for something to hang some pain on and you find it."
You don't have to own the person's grief, but you do have to take responsibility for yourself and apologize. You can keep it simple, Ms. Newman said: I see your pain. I'm so sorry.
If you post something that is hurtful to a wider audience — you inadvertently said something offensive or you didn't consider all the issues — it should absolutely be deleted if it's causing people pain.
If it's not, consider keeping the post up, Ms. Newman said, because deleting it erases the post from public view but does not address the hurt it caused. On Facebook, she suggested an "edited to add" with your heartfelt apology. This should not include the words "but" or "if," as in, "I apologize if you were offended." These words don't acknowledge the hurt person's truth and their situation, or your role in hurting them.
"If you accidentally step on someone's foot, you don't say, 'I'm sorry if I stepped on your foot,'" Ms. Swann said. "You did it. It's not a question."
Your apology should also include a thoughtful plan about how you'll do things differently in the future, which can be calibrated based on how grievous the offense. For lesser instances, Ms. Gottsman said, a sentence like "I'll think twice before I post," may be enough.
These are words all of us could live by.
Source:- The New York Times