Half of Late 20th-Century Arctic Warming Caused by Ozone-Depleting Substances – "It's a Good-News Story" – SciTechDaily
Implicated in a Third of Overall Global Warming for the Time Period
A scientific paper published in 1985 was the first to report a burgeoning hole in Earth's stratospheric ozone over Antarctica. Scientists determined the cause to be ozone-depleting substances – long-lived artificial halogen compounds. Although the ozone-destroying effects of these substances are now widely understood, there has been little research into their broader climate impacts.
A study published today (January 20, 2020) in Nature Climate Change by researchers at Columbia University examines the greenhouse warming effects of ozone-depleting substances and finds that they caused about a third of all global warming from 1955 to 2005, and half of Arctic warming and sea ice loss during that period. They thus acted as a strong supplement to carbon dioxide, the most pervasive greenhouse gas; their effects have since started to fade, as they are no longer produced and slowly dissolve.
Ozone-depleting substances, or ODS, were developed in the 1920s and '30s and became popularly used as refrigerants, solvents, and propellants. They are entirely manmade, and so did not exist in the atmosphere before this time. In the 1980s a hole in Earth's stratospheric ozone layer, which filters much of the harmful ultraviolet radiation from the sun, was discovered over Antarctica. Scientists quickly attributed it to ODS.
The world sprang into action, finalizing a global agreement to phase out ODS. The Montreal Protocol, as it is called, was signed in 1987 and entered into force in 1989. Due to the swift international reaction, atmospheric concentrations of most ODS peaked in the late 20th century and have been declining since. However, for at least 50 years, the climate impacts of ODS were extensive, as the new study reveals.
Scientists at Columbia's School of Engineering and Applied Science and the Lamont-Doherty Earth Observatory used climate models to understand the effects of ODS on Arctic climate. "We showed that ODS have affected the Arctic climate in a substantial way," said Lamont-Doherty researcher Michael Previdi. The scientists reached their conclusion using two very different climate models that are widely employed by the scientific community, both developed at the U.S. National Center for Atmospheric Research.
The results highlight the importance of the Montreal Protocol, which has been signed by nearly 200 countries, say the authors. "Climate mitigation is in action as we speak because these substances are decreasing in the atmosphere, thanks to the Montreal Protocol," said Lorenzo Polvani, lead author of the study and a professor in Columbia's Department of Applied Physics and Applied Mathematics. "In the coming decades, they will contribute less and less to global warming. It's a good-news story."
Reference: "Substantial twentieth-century Arctic warming caused by ozone-depleting substances" by L. M. Polvani, M. Previdi, M. R. England, G. Chiodo and K. L. Smith, 20 January 2020, Nature Climate Change.
DOI: 10.1038/s41558-019-0677-4
Study reveals unexpected rise in potent greenhouse gas – Space Daily
Scientists had expected the levels of HFC-23, a type of hydrofluorocarbon and a potent greenhouse gas, to drop in the latest global survey of greenhouse gas emissions. Instead, atmospheric concentrations of HFC-23 are rising.
HFC-23 is the byproduct of the production of HCFC-22, another hydrofluorocarbon that is commonly used in cooling systems in developing economies. India and China are two of the largest emitters of HFC-23, but in 2015, the two nations promised to rapidly reduce their HFC-23 emissions.
After making the pledge, officials in China and India reported tremendous progress with their HFC-23 abatement program, with the expectation that HFC-23 emissions would drop to nearly zero by 2017.
A new study, published Tuesday in the journal Nature Communications, suggests the opposite has happened.
Authors of the new study assumed China and India's reported progress was real, and would lead to reduced concentration of HFC-23 in the atmosphere.
"We had no particular reason to distrust the reports. We were motivated to write the paper because the reported reductions were so dramatic," study co-author Matthew Rigby, an atmospheric chemist at the University of Bristol in Britain, told UPI in an email. "Based on the reported values, we were expecting to see global atmospheric concentrations stabilize, following decades of growth. So it was a surprise to see them continue to grow, and in fact, grow at a faster rate than ever before."
Rigby is a member of the Advanced Global Atmospheric Gases Experiment, UGAGE, which measure greenhouse gas concentrations in the atmosphere at test sites around the globe.
The latest findings revealed a significant global rise in HFC-23 in 2017, but the data doesn't pinpoint the exact source of the increase. Rigby and his colleagues acknowledged that their study doesn't prove China and India failed to execute their HFC-23 abatement programs.
"From our analysis, we cannot definitively say that China and India have not achieved their reported emission reductions," lead study author Kieran Stanley, a post-doctoral researcher at the Goethe University Frankfurt in Germany, told UPI. "However, seeing as China and India account for 75 percent of the total global HCFC-22 production in 2017, it is highly likely that China's reported emissions reductions haven't taken place."
Because India's HCFC-22 production accounts for just 7 percent of global production, it's harder to guess how much progress the country has made in its efforts to reduce HFC-23 emissions.
According to Stanley, had China and India truly made the emissions reduction progress they reported, that would mean large amounts of illegal, unreported HCFC-22 were manufactured in 2017. If that had happened, Stanley said the hydrocarbon's price should have dropped. It didn't.
After the ozone-eating gases, chlorofluorocarbons, or CFCs, were banned by the Montreal Protocol, most industries adopted a variety of alternative gases — hydrofluorocarbons. While most of theses gases are less harmful to the ozone layer, some feature a greenhouse gas effect.
In 2016, parties to the Montreal Protocol signed the Kigali Amendment, aiming to reduce the warming impact of HFCs.
HFC-23's greenhouse gas effect is particularly potent. Just 1 metric ton of HFC-23 is equivalent to the greenhouse gas effect of 12,000 metric tons of carbon dioxide.
This isn't the first time scientists have found concentrations of a gas regulated by the Montreal Protocol and its amendments. In 2018, scientists found evidence of a dramatic rise in the ozone-eating gas CFC-11. Investigations revealed China's foam industry as the primary driver of the emissions increase.
"These two findings do suggest that monitoring of the chemical industry may need to be improved in China," Rigby said. "In light of the finding of new emissions of CFC-11 from China, the government has announced additional monitoring initiatives focused on ozone depleting substances. Hopefully, they will also be able to look into these continuing emissions of the greenhouse gas, HFC-23."
Related Links

Space Technology News – Applications and Research


Thanks for being there;


We need your help. The SpaceDaily news network continues to grow but revenues have never been harder to maintain.

With the rise of Ad Blockers, and Facebook – our traditional revenue sources via quality network advertising continues to decline. And unlike so many other news sites, we don't have a paywall – with those annoying usernames and passwords.

Our news coverage takes time and effort to publish 365 days a year.

If you find our news sites informative and useful then please consider becoming a regular supporter or for now make a one off contribution.


SpaceDaily Monthly Supporter
$5+ Billed Monthly

SpaceDaily Contributor

$5 Billed Once

credit card or paypal



Scientists film chemical bond making, breaking

Washington DC (UPI) Jan 17, 2020

Everything depends on chemical bonds. Without chemical bonds, everything would fall apart. And yet, scientists don't entirely understand how chemical bonding works.
Now, for the first time, scientists have filmed chemical bond making and breaking in action. The breakthrough – described this week in the journal Science Advances – promises to offer scientists new insights into this fundamental atomic phenomenon.
The main reason chemical bonding isn't well understood is that the processes … read more



Earth's oldest asteroid impact 'may have ended ice age' – BBC News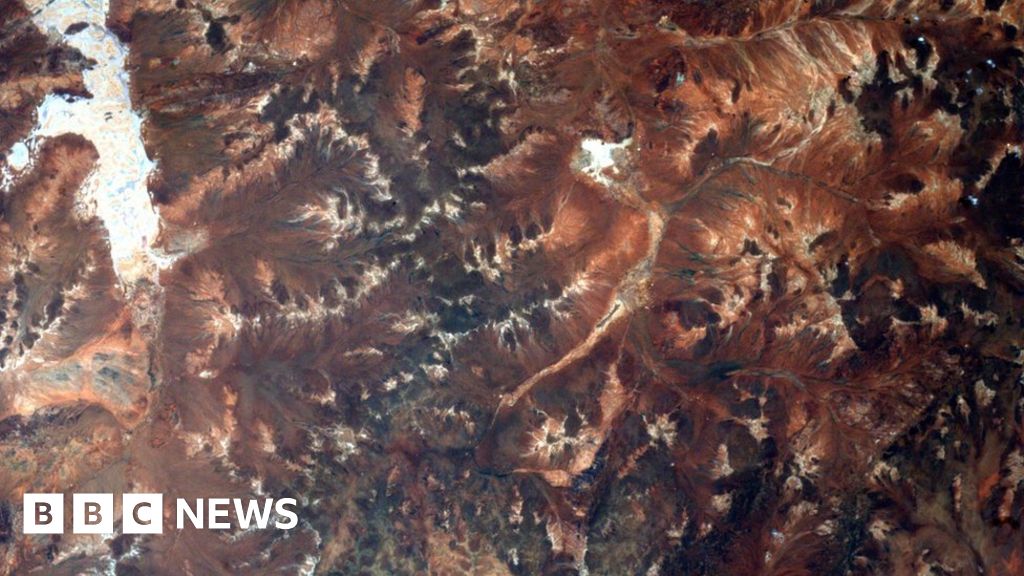 Scientists have identified the world's oldest asteroid crater in Australia, adding it may explain how the planet was lifted from an ice age.
The asteroid hit Yarrabubba in Western Australia about 2.2 billion years ago – making the crater about half the age of Earth, researchers say.
Their conclusion was reached by testing minerals found in rocks at the site.
The scientists say the find is exciting because it could account for a warming event during that era.
The Curtin University research was published in the journal Nature Communications on Wednesday.
How did they date it?
The crater was discovered in the dry outback in 1979, but geologists had not previously tested how old it was.
Due to billions of years of erosion, the crater is not visible to the eye. Scientists mapped scars in the area's magnetic field to determine its 70km (43 miles) diameter.
"The landscape is actually very flat because it's so old, but the rocks there are distinctive," researcher Prof Chris Kirkland told the BBC.
To determine when the asteroid hit Earth, the team examined tiny zircon and monazite crystals in the rocks. They were "shocked" in the strike and now can be read like "tree rings", Prof Kirkland said.
These crystals hold tiny amounts of uranium. Because uranium decays into lead at a consistent pace, the researchers were able to calculate how much time had passed.
It is at least 200 million years older than the next most ancient impact structure – the Vredefort Dome in South Africa.
"We were interested in the area because the Western Australian landscape is very old but we didn't expected [the crater] to be as old as this," Prof Kirkland said.
"It's absolutely possible that there's an older crater out there just waiting to be discovered, but the difficulty is in finding the crust before it erodes and you lose that early Earth history".
Could it have ended an ice age?
The timing of the impact could also explain why the world warmed around this time, according to the researchers.
Scientists believe the planet was previously in one of its "Snowball Earth" periods, when it was largely covered in ice. At some point, the ice sheets melted and the planet began to rapidly warm.
"The age of the [crater] corresponds pretty precisely with the end of a potential global glacial period," Prof Kirkland said.
"So the impact may have had significant changes to our planetary climate."
Using computer modelling, the team calculated that the asteroid struck a kilometres-thick ice sheet covering the Earth. The event would have released huge volumes of water vapour, a greenhouse gas, into the atmosphere.
This could have helped the planet's warming during the Proterozoic era – a stage when oxygen had just appeared in the atmosphere and complex life had not yet formed.
"Obviously we were very excited just with the age itself," Prof Kirkland said. "But placing that right with the context of Earth's other events makes it become really very interesting."
There is not enough modelling from the time to comprehensively test the theory, but "the rocks tell a story about the massive impact into the planet".
Another theory for the warming event is that volcanic eruptions may have pushed carbon dioxide into the atmosphere.
Live coverage: Next SpaceX launch expected no earlier than Friday – Spaceflight Now
Live coverage of SpaceX's next Falcon 9 rocket launch from pad 40 at Cape Canaveral Air Force Station in Florida. The mission will launch SpaceX's fourth batch of Starlink broadband satellites. Text updates will appear automatically below. Follow us on Twitter.
Spaceflight Now members can watch a live feed of the launch pad. Our live coverage is made possible by the support of our members and we thank them for their support.