Hands-On With Logitech's New Keyboard Case With Trackpad for iPad Air – MacRumors
When Apple debuted the new Magic Keyboard with Trackpad for the iPad Pro, Logitech also announced new keyboards with trackpads that take advantage of the trackpad functionality in iPadOS 13.4 but are designed for older iPads, including the most recent iPad Air, the 10.5-inch ‌iPad Pro‌, and the 7th-generation ‌iPad‌.
Subscribe to the MacRumors YouTube channel for more videos.
We got our hands on one of the new Logitech Combo Touch Keyboard Cases with Trackpad designed for the ‌iPad‌ Air, and we thought we'd check it out to see how it works and whether it's worth the $150 purchase price.
Design wise, this is a high-quality keyboard case that's got a Microsoft Surface look and feel to it thanks to the fabric build, offering full protection for the ‌iPad‌ except for the section where the keyboard connects. With the keyboard attached, though, the ‌iPad‌ is protected when the case is closed up and not in use.

A pop-out kickstand provides 40 degrees of adjustment so it can be set to different angles for typing, watching media content, and browsing the web, and it's a solid kickstand that works well. There's also a handy Apple Pencil holder at the top to keep that accessory tucked away when not in use.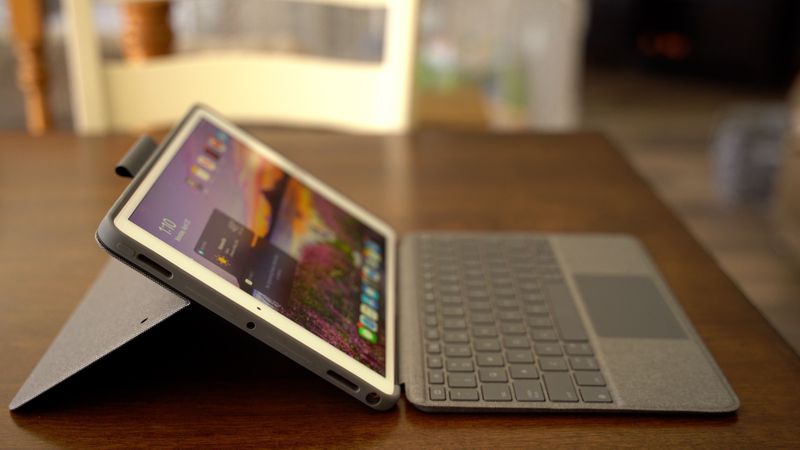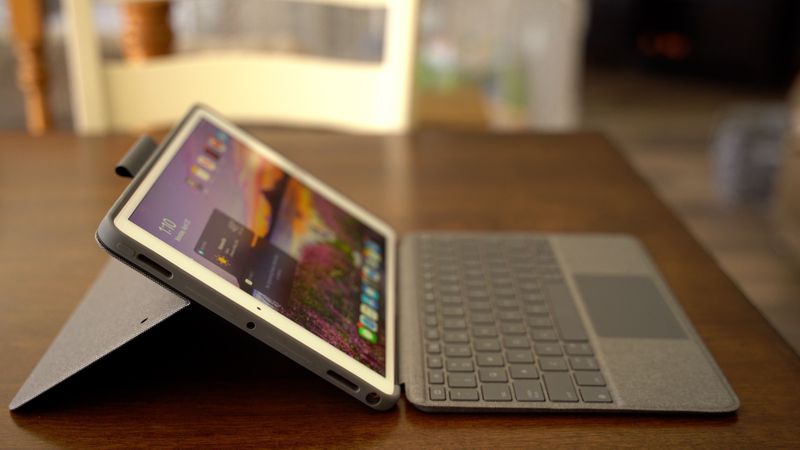 The trackpad and keyboard combo is fantastic with the iOS 13.4 trackpad integration, and it adds a new level of productivity to cases that just offer keyboards. The trackpad is a bit firm and there's a small zone at the top where it can't be clicked, but that doesn't hinder every day use.
Smooth scrolling, tap to click, and gesture support make it a pleasant usage experience, and it's clear that this was designed from the ground up with iOS 13.4 in mind. It's a solid experience that outperforms the Brydge Pro+ with trackpad that we also recently looked at.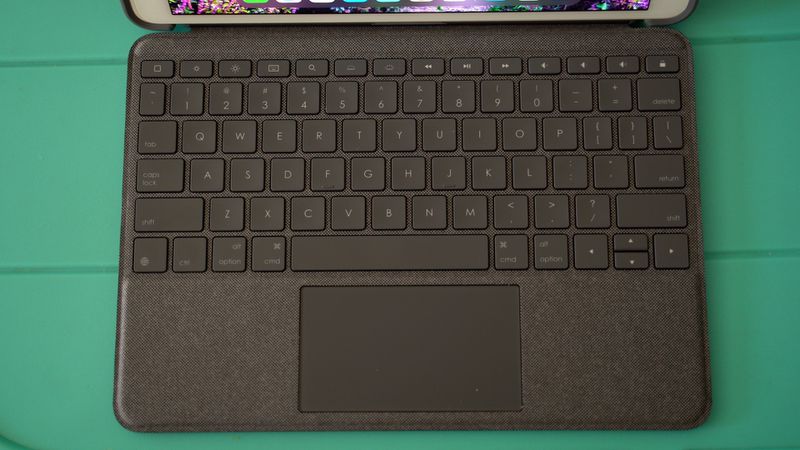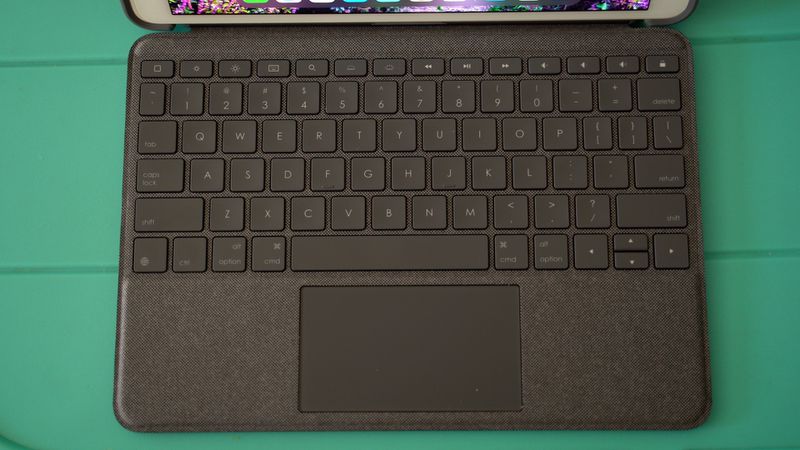 The Logitech Combo Touch Keyboard Case supports the same gestures that you get with a Magic Trackpad 2. A three finger swipe to the left or the right swaps between apps, a three finger swipe down goes to the Home screen, a two finger swipe down brings up Spotlight search, and a three finger swipe up opens up the multitasking interface.
The keyboard is a little bit cramped when typing, but the keys feel great under the fingers with a decent amount of key travel. We did run into an issue where some keys occasionally failed to work (but then worked later), which could be an issue with this particular keyboard or a problem that may be able to be fixed at a later date with a firmware update.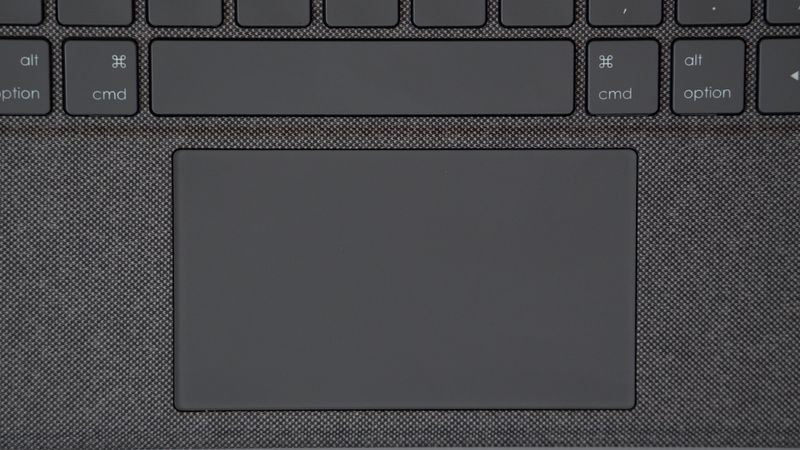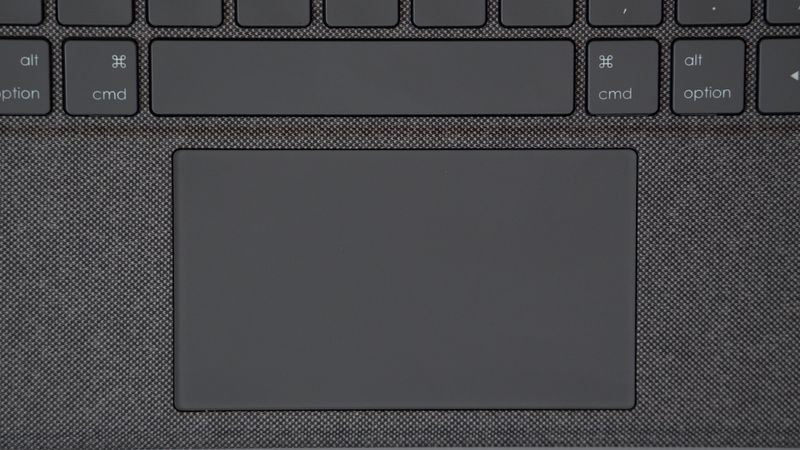 As an example, the dollar sign failed to work at first, but a day later it was a functional key. Later, the apostrophe key failed to work, but not the quotation as it worked fine with the shift key held down.
The keys are backlit and brightness can be toggled using function keys, with other options available for accessing the Home screen, adjusting screen brightness, accessing search, and accessing media controls.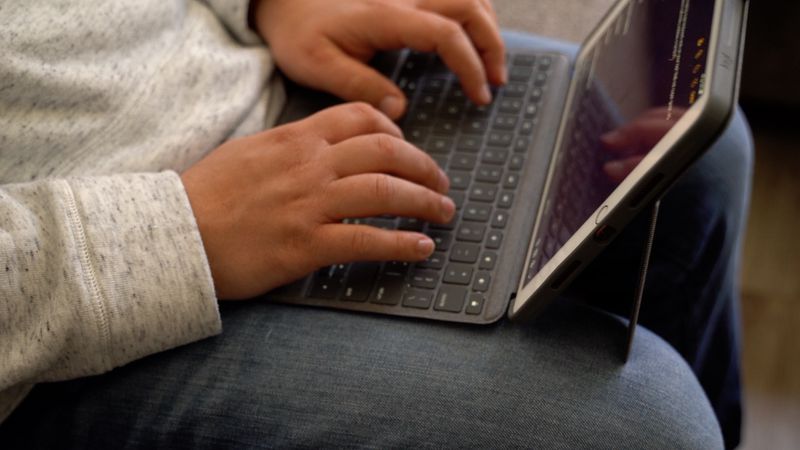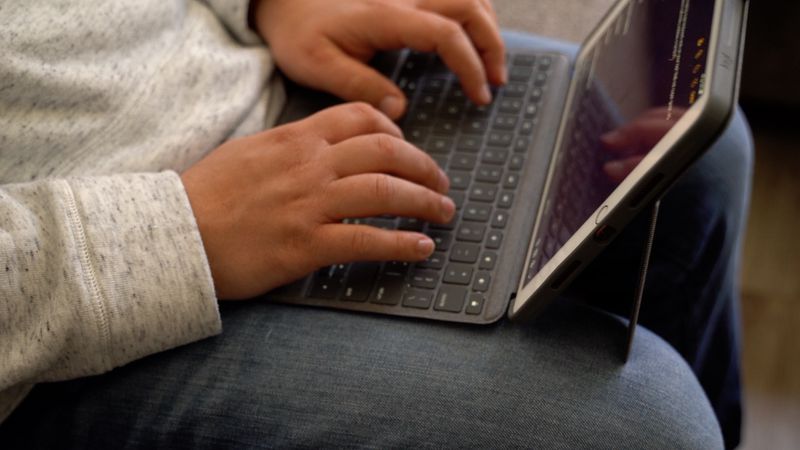 When using this keyboard in the lap without a flat surface, it works, but it's not the best experience. It's simple to type, but there is some screen wobble depending on how hard you're typing.
All in all, this is a solid keyboard option for those who don't have an ‌iPad Pro‌ and won't be able to get the Magic Keyboard. For those who want to add more functionality to their iPads and use them for a lot of typing and tasks where a trackpad would come in handy, Logitech's Combo Touch Keyboard Cases with Trackpad are well worth the purchase price and can be picked up from the Apple Store.
Google faces US$5b lawsuit in US for tracking 'private' Internet use – The Straits Times
NEW YORK (REUTERS) – Google was sued on Tuesday (June 2) in a proposed class action accusing the Internet search company of illegally invading the privacy of millions of users by pervasively tracking their Internet use through browsers set in "private" mode.
The lawsuit seeks at least US$5 billion (S$7 billion), accusing the Alphabet Inc unit of surreptitiously collecting information about what people view online and where they browse, despite their using what Google calls Incognito mode.
According to the complaint filed in the federal court in San Jose, California, Google gathers data through Google Analytics, Google Ad Manager and other applications and website plug-ins, including smartphone apps, regardless of whether users click on Google-supported ads.
This helps Google learn about users' friends, hobbies, favourite foods, shopping habits, and even the "most intimate and potentially embarrassing things" they search for online, the complaint said.
Google "cannot continue to engage in the covert and unauthorised data collection from virtually every American with a computer or phone", the complaint said.
Mr Jose Castaneda, a Google spokesman, said the Mountain View, California-based company will defend itself vigorously against the claims.
"As we clearly state each time you open a new incognito tab, websites might be able to collect information about your browsing activity," he said.
While users may view private browsing as a safe haven from watchful eyes, computer security researchers have long raised concern that Google and rivals might augment user profiles by tracking people's identities across different browsing modes, combining data from private and ordinary Internet surfing.
The complaint said the proposed class likely includes "millions" of Google users who since June 1, 2016 browsed the Internet in "private" mode.
It seeks at least US$5,000 of damages per user for violations of federal wiretapping and California privacy laws.
Boies Schiller & Flexner represents the plaintiffs Mr Chasom Brown, Ms Maria Nguyen and Mr William Byatt.
The case is Brown et al v Google LLC et al, US District Court, Northern District of California, No. 20-03664.
Google facing $5bn lawsuit for tracking in 'private' mode – The Irish Times
Google surreptitiously amasses billions of bits of information – every day – about internet users even if they opt out of sharing their information, three consumers alleged in a proposed class action lawsuit.
"Google tracks and collects consumer browsing history and other web activity data no matter what safeguards consumers undertake to protect their data privacy," according to the complaint filed Tuesday in federal court in San Jose, California.
Even as it scoops up information, the search-engine giant assures users – falsely – that they're in control of what they share with the company, according to the suit, which includes claims for invasion of privacy and violations of federal wiretapping law.
The case was filed by Boies Schiller Flexner, a high-profile litigation firm that previously defended Uber when the ride-hailing company was accused three years ago by Alphabet's self-driving unit of stealing trade secrets.
Google didn't immediately respond to a request for comment.
According to the suit, the company collects information, including IP addresses and browsing histories, whenever users visit web pages or use an app tied to common Google services, such as Google Analytics and Google Ad Manager. This makes "Google 'one stop shopping' for any government, private, or criminal actor who wants to undermine individuals' privacy, security, or freedom," the consumers allege.
A consumer suit accusing Google of illegally tracking and storing geolocation data with its mobile apps and operating system was thrown out by a California federal judge in December. Arizona's attorney general filed a similar complaint last month. Google disputed the claim and said it's looking forward to setting the record straight. – Bloomberg
Remove China Apps Removed From Google Play for Violating Its Deceptive Behaviour Policy – Gadgets 360
Remove China Apps has been pulled from Google Play. According to Google's Deceptive Behaviour rules, an app cannot encourage users to remove third party apps, and do it was suspended, as the app was designed to help users uninstall Chinese apps from their Android smartphones. It was published on Google Play on May 17, and came into the limelight last week. The Remove China Apps even emerged as the top trending app on Google Play and crossed over 50 lakh downloads.
The app notably came to its existence at a time when anti-China sentiment is at peak in the country, for reasons including the coronavirus outbreak and India-China border dispute.
This is the second high profile app to be removed from the Google Play store this week. Just a few hours before Remove China Apps was removed, the Mitron app was also removed from the store. The app was removed for violating the store policies, after surging past 50 lakh downloads fuelled by anti-China sentiments.
The Indian Express first reported about the removal of the Remove China Apps app, but since then more details about the reasons for the removal have come to light. The makers of the Remove China Apps, OneTouch AppLabs, confirmed its suspension from Google Play through a tweet posted on late Tuesday. The Jaipur-based company claims on its website that while a large number of people were using the app to remove apps made by Chinese developers, it wasn't aimed to "promote or force people to uninstall any of the application(s)" and developed "for educational purposes only."
Google confirmed to Gadgets 360 that it took the decision to pull the Remove China Apps for violating Google Play's Deceptive Behaviour Policy that doesn't allow apps that "encourage or incentivise users into removing or disabling third-party apps" and "mislead users into removing or disabling third-party apps".
However, Google declined to provide further comment on the suspension.
Received public praise
The Remove China Apps received a large amount of positive reviews on Google Play, with an average rating of 4.9 stars. Its downloads also reached new levels shortly after getting popular on social media. The quick growth of the app suggested how a large number of smartphone users in India are looking for a solution to stay away from Chinese offerings. It's clearly coincided with the ongoing measures by the government to cut off its ties with Beijing due to cross-border tensions.
Apps including TikTok have already faced a public outrage for being a Chinese platform. In contrast, the rise of the anti-China sentiment helped TikTok alternative Mitron that was initially believed to be an Indian app, though a recent report highlighted its link with Pakistan. The latter was, however, also recently pulled from Google Play for violating spam and repetitive content policies.
---
In 2020, will WhatsApp get the killer feature that every Indian is waiting for? We discussed this on Orbital, our weekly technology podcast, which you can subscribe to via Apple Podcasts or RSS, download the episode, or just hit the play button below.