'Happy Hanukkah from space,' Jewish astronaut says wearing menorah socks – The Jerusalem Post
Since the holiday kicked off on Sunday, Hanukkah wishes and pictures are flooding social media, including many messages from international leaders and celebrities from all over the world. However, an exceptional Hanukkah greeting was even able to transcend the Earth's borders."Happy Hanukkah to all those who celebrate it on Earth!" astronaut Jessica Meir tweeted straight from the International Space Station.
— Jessica Meir (@Astro_Jessica) December 23, 2019
Meir, the daughter of an Israeli doctor who moved to Sweden and later to the US, joined the crew of the ISS in September. Two weeks later she participated in the very first all-female spacewalk.As lighting candles every night is the core tradition of the festival, Hanukkah offers plenty of opportunities for evocative pictures and compelling posts on social media (every possible variation of the theme "a light in the dark" gets explored). But lighting fires in outer space can be especially challenging, considering that flames can react to the absence of gravity in an uncontrolled manner. Perhaps for this reason, for her messageMeir opted for a picture of her feet wrapped in a pair of entertaining socks featuring pink menorahs and green stars of David on a blue background. And she did follow the tradition of placing the menorah close to the window, since behind her feet, the earth is visible thousands of kilometers away. One question stands: did Meir bring the designed socks from the earth when she left several months ago or did she get them delivered to space with one of the regular shipments to the ISS? The bottom line is: it's never too early to get ready for the holidays.
ISS forced to move to avoid collision with space junk – Sky News
Astronauts aboard the International Space Station had to carry out an "avoidance manoeuvre" to prevent it from being hit by space junk, NASA has said.
Its trajectory was changed to move it further away from the "unknown piece of space debris", the US space agency wrote in a blog post on Tuesday.
The three crew members – two Russians and an American – relocated to their Soyuz spacecraft attached to the ISS during the operation, so they could evacuate if necessary.
Experts expected the space junk to pass within "several kilometres" of the ISS, but decided to move it "out of an abundance of caution".
Russian and US flight controllers worked together to adjust the station's orbit in an operation which took minutes.
The crew were able to continue with their regular activities after the manoeuvre was complete.
NASA said the crew were not in danger at any time.
"Maneuver Burn complete. The astronauts are coming out of safe haven," NASA administrator Jim Bridenstine said on Twitter.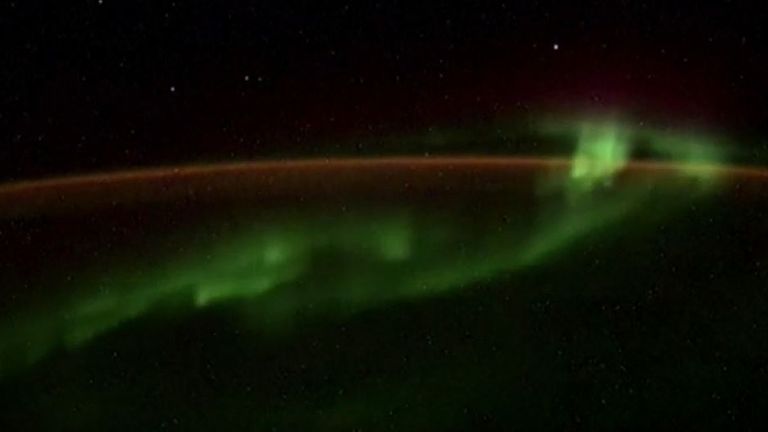 It is the third time this year the International Space Station (ISS) has had to manoeuvre to avoid space debris, he said.
He tweeted: "In the last 2 weeks, there have been 3 high concern potential conjunctions. Debris is getting worse!"
Astronomer Jonathon McDowell, at the Harvard-Smithsonian Center for Astrophysics, tweeted the unknown object was a part of a 2018 Japanese rocket which broke into 77 pieces last year.
The ISS is orbiting around 260 miles (420km) above the Earth, travelling at a speed of about 17,130mph (27,568km/h).
At this velocity, even a small object has the ability to cause serious damage to the space station.
NASA has said these kinds of manoeuvres occur on a regular basis, with 25 having occurred between 1999 and 2018.
An Asteroid Will Get Closer to Earth Than The Moon This Thursday, But Don't Panic – ScienceAlert
An asteroid will get awfully close to Earth this Thursday (September 24), when it whizzes by our planet closer than the Moon orbits.
The asteroid – known as 2020 SW – isn't expected to collide with Earth, according to the Center for Near Earth Object Studies (CNEOS) at the Jet Propulsion Laboratory in Pasadena, California. But it will get close, passing about 16,700 miles (27,000 kilometers) away from Earth, according to the Virtual Telescope Project.
To put this in perspective, the moon hangs out at an average of 238,900 miles (384,000 km) from us, or about 30 Earths away. This asteroid will pass at a distance of about 2.1 Earths.
This means that asteroid 2020 SW will pass even closer than TV and weather satellites, which orbit at about 22,300 miles (35,888 km) away from Earth, according to EarthSky.
Scientists have yet to pin down the asteroid's exact size, but it's not that large, likely between 14 feet and 32 feet (4.4 and 9.9 meters) long, according to CNEOS.
This potentially RV-size asteroid was discovered only last week, on September 18, by the Mount Lemmon Survey in Arizona, and announced the next day by the Minor Planet Center, a NASA-funded group that monitors minor planets, comets and natural satellites. (It's not unusual to find unknown asteroids; in September alone, the Minor Planet Center has announced the discovery of 244 near-Earth objects.)
The orbit of asteroid 2020 SW is seen here in gray. (JPL/NASA)
Passing by Earth will actually be a life-changing event for asteroid 2020 SW. It's such a small asteroid that Earth's gravity is expected to change the space rock's course when it zooms by our planet at 7:18 am EDT (11:18 UTC), according to EarthSky.
After asteroid 2020 SW's close shave with Earth, it won't pay our planet another visit until 3 June 2029, according to the Jet Propulsion Laboratory.
That said, the asteroid is certainly rushing to see us this Thursday (we hope it has a face mask), traveling at a velocity of about 17,200 mph (27,720 km/h, or 7.7 km/second) relative to Earth, the Jet Propulsion Laboratory reported.
The asteroid will appear brighter as it nears Earth, but it won't be visible to the naked eye.
If you want a clear view of the space rock, visit The Virtual Telescope website, which is showing a live feed starting at 6 pm EDT (22:00 UTC) on Wednesday, September 23.
This article was originally published by Live Science. Read the original article here.
ISS moves to avoid space debris – Space Daily
Astronauts on the International Space Station carried out an "avoidance maneuver" Tuesday to ensure they would not be hit by a piece of debris, said US space agency NASA, urging better management of objects in Earth's orbit.
Russian and US flight controllers worked together during a two-and-a-half-minute operation to adjust the station's orbit and move further away, avoiding collision.
The debris passed within about 1.4 kilometers (nearly one mile) of the ISS, NASA said.
The three crew members — two Russians and an American — relocated to be near their Soyuz spacecraft as the maneuver began so they could evacuate if necessary, NASA said, adding that the precaution was taken "out of an abundance of caution."
The astronauts were able to return to their normal activities after the procedure, according to NASA.
"Maneuver Burn complete. The astronauts are coming out of safe haven," NASA chief Jim Bridenstine said on Twitter.
The threatening scrap was actually a piece of a 2018 Japanese rocket, astronomer Jonathan McDowell said on Twitter. The rocket broke up into 77 different pieces last year.
The ISS usually orbits roughly 260 miles (420 kilometers) above the Earth, at a speed of about 17,000 miles per hour.
At such a velocity, even a small object could seriously damage a solar panel or other facet of the station.
This type of maneuver is necessary on a regular basis. NASA said 25 such maneuvers had occurred between 1999 and 2018.
Bridenstine wrote on Twitter that this was the third such maneuver on the ISS just this year.
The operations could become even more frequent as Earth's orbit becomes littered with pieces of satellites, rockets and other objects launched into space over the last sixty years.
Accidental or deliberate collisions, including anti-satellite missile launches by India in 2019 and China in 2007, can break objects apart even further and create added risk.
"Debris is getting worse! Time for Congress to provide @CommerceGov with the $15 mil requested by @POTUS for the Office of Space Commerce," Bridenstine tweeted.
The Office of Space Commerce is a civilian organization that supporters want to take over the surveillance of space junk, a job currently occupied by the military.
ico/sst-caw/jm
ISS A/S
Related Links

Space Tourism, Space Transport and Space Exploration News


Thanks for being there;


We need your help. The SpaceDaily news network continues to grow but revenues have never been harder to maintain.

With the rise of Ad Blockers, and Facebook – our traditional revenue sources via quality network advertising continues to decline. And unlike so many other news sites, we don't have a paywall – with those annoying usernames and passwords.

Our news coverage takes time and effort to publish 365 days a year.

If you find our news sites informative and useful then please consider becoming a regular supporter or for now make a one off contribution.


SpaceDaily Monthly Supporter
$5+ Billed Monthly

SpaceDaily Contributor

$5 Billed Once

credit card or paypal



Small leak of ammonia detected at US Segment of ISS

Moscow (Sputnik) Sep 18, 2020


A small leak of ammonia has been detected at the US segment of the International Space Station (ISS), Roscosmos confirmed to Sputnik, adding that the incident poses no threat to crew members.
Ammonia is used in transferring heat from the US segment on the ISS to space. Moderate levels of ammonia are not so dangerous, but exposure to high concentrations of it can be a health hazard.
"Experts have registered an ammonia leak outside the US segment of the ISS. We are speaking about the leak with … read more