US Economy Finishes 2019 Strong – DTN The Progressive Farmer
The government's estimate Friday that GDP grew at a 2.1% annual rate in the July-September quarter was unchanged from its previous estimate. Though the overall growth figure was unchanged, some of the individual components of GDP were revised.
Consumer spending for the quarter, for example, grew at a 3.2% annual pace, the government estimated, up from its previous estimate of 2.9% growth. The new strength was led by higher spending on personal services such as barber shops and nail salons. And housing, which had fallen for six straight quarters, posted a solid 4.6% increase in the third quarter.
On the other hand, the government revised down its estimate of business inventory restocking. Business investment was revised to show a slightly smaller 2.3% annual decline, still the second straight quarterly drop in that key category.
Economists are forecasting moderate growth in the current quarter and for at least the first three months of next year. But they say annual growth could be reduced by about one-half percentage point to 1.5% in the first quarter, reflecting Boeing's temporary production shutdown of its troubled 737 Max jetliner, before regaining that lost output later.
Though 2% annual growth is below the gains of 3%-plus growth that Trump has pledged, it is far stronger than the recession many analysts feared just a few months ago, when concerns were escalating over the tensions in the U.S.-China trade dispute and weak growth overseas.
For all of 2019, the expectation is that GDP growth will come in at 2.3%, down from the 2.9% gain of 2018, which was the best since 2015. For next year, analysts generally think growth will slow further to 1.8% as the boost from the $1.5 trillion tax cut measure passed in 2017 fades further.
The economy may be getting some help from a preliminary trade deal announced last week that should at least cool tensions between the United States and China. That announcement, along with better economic data recently, has helped lift stock markets to new highs.
Three rate cuts by the Fed this year, partly reversing four rate increases last year, have helped fuel the rebound. And a budget agreement passed this week is expected to shower billions of dollars in increased spending on the military and domestic programs in the coming year, helping to support growth.
Yet even with those gains, analysts are forecasting that growth will slow further in 2020, hurt by continued overseas weakness.
Another headwind could be the 2020 presidential election. It is expected to raise business anxiety about the course of government policies, given the sharp differences between Trump and his Democratic challengers.
(KR)
Canadian economy contracted 5.4 per cent in 2020, worst year on record – The Tri-City News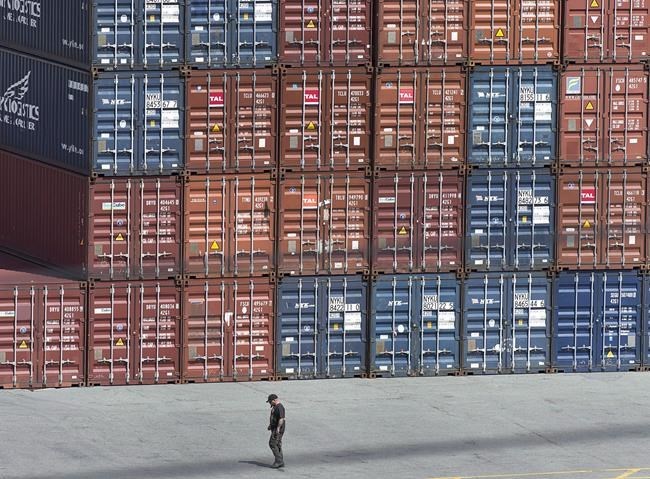 OTTAWA — The Canadian economy posted its worst showing on record in 2020 as the COVID-19 pandemic swept across the country, shutting down businesses and putting millions out of work.
Statistics Canada says real gross domestic product shrank 5.4 per cent in 2020, the steepest annual decline since comparable data was first recorded in 1961.
The drop for the year was due to the shutdown of large swaths of the economy in March and April during the first wave of the COVID-19 pandemic that crushed the economy.
Since then, economic activity has slowly and steadily grown.
Statistics Canada says the economy grew at an annualized rate of 9.6 per cent in the fourth quarter of last year, down from an annualized growth rate of 40.6 per cent in the third quarter.
That was higher than expected, with the average economist estimate at 7.5 per cent, according to financial data firm Refinitiv.
However, despite the better-than-expected result for the quarter as a whole, December eked out a 0.1 per cent increase, which followed a 0.8 per cent increase in November.
Statistics Canada noted that total economic activity in December was about three per cent below the pre-pandemic level in February 2020.
Looking ahead to January, Statistics Canada said its early estimate was for growth in the economy of 0.5 per cent.
CIBC chief economist Avery Shenfeld wrote in a note that the early January figure should set aside fears of an outright downturn in the first quarter.
Statistics Canada said wholesale trade, manufacturing and construction sectors led the increase, while retail trade fell to start the year.
BMO chief economist Douglas Porter said the economy soldiered through second-wave restrictions better than anticipated, and may signal a better-than-anticipated quarter, and potentially year overall.
"Look for new growth drivers to kick into gear as the economy re-opens in stages through this year, leading to roughly (six-per-cent) growth — a nice mirror image to last year's deep dive," he wrote in a note.
"It's not precisely a V-shaped recovery, but it's very close."
This report by The Canadian Press was first published March 2, 2021.
The Canadian Press
2020 was the worst year on record for Canada's economy. It shrank by 5.4% – CBC.ca
Canada's economy shrank by 5.4 per cent last year, official data from Statistics Canada showed Monday, making 2020 the worst year for the country's economic output since record keeping began.
The data agency said Tuesday that Canada's gross domestic product — the total value of all goods and services it produced — grew by 2.3 per cent during the last three months of the year, but that was nowhere near enough to offset the record-setting plunge it experienced during the the middle half of 2020.
Since bottoming out in the spring and early summer, economic activity has slowly, steadily grown.
For comparison purposes, Canada's economy contracted almost twice as much as the U.S. did during the COVID-19 pandemic, despite the U.S. seeing far more cases per capita.
Preliminary data suggests the U.S. economy shrank by 3.5 per cent last year.
More to come
Canada's economy heats up in January after 5.4% 2020 contraction – BNN
Canada's economy picked up momentum at the start of this year after a pandemic-ravaged 2020.
A flash estimate released by Statistics Canada Tuesday morning indicates gross domestic product rose approximately 0.5 per cent in January.
By contrast, the economy expanded just 0.1 in December. According to StatsCan, the mining and energy industries led the way in the month with a gain of 2.9 per cent. Meanwhile, the retail, accommodation and food services industries experienced another month of contraction as public health restrictions designed to curb the spread of COVID-19 continued to limit activity.
For 2020 as a whole, Statistics Canada said the economy shrank 5.4 per cent after a 1.9 per cent expansion in 2019.