Hidden chamber found in Vanguard Cave – part of Gorham's Cave Complex in Gibraltar – Phys.org
A team of researchers with the Gibraltar National Museum has found a hidden chamber in one of the caves that make up Gorham's Cave Complex in Gibraltar. They have posted a press statement on their website describing what they have found in the chamber thus far.
Prior research has shown that both modern humans and Neanderthals lived in parts of Gorham's Cave Complex in Gibraltar, though not at the same time. Both groups left behind a treasure trove of artifacts, including tools, butchered remains of animals and fossils. For that reason, the site has been designated as a UNESCO World Heritage Site. In 2012, a team at the Gibraltar National Museum studied the caves. As part of that mission, they sought chambers they believed were hidden in the caves. Such chambers are common in caves formed close to the sea due to environmental factors. Over the course of nearly a decade, the search for hidden chambers came up empty. Then, as one group was searching the back of Vanguard Cave, they found evidence of soft sediment, which they believed could be hiding a chamber. Some digging proved their hunch to be correct; behind the sediment plug, they found a large chamber.
The chamber was located higher up than the cave and was approximately 13 meters long. The amount of sediment in the plug suggested that the chamber had been sealed for tens of thousands of years. On its floor, they found the remains of a Griffon vulture, a hyena and a lynx, animals fully capable of climbing up into the chamber. But they also found the shell of a dog whelk—a type of sea snail, which the researchers note would not have been able to climb up into the chamber. This, they note, suggests something carried it up there. The team also found scratches on the walls of the chamber, though they were unable to discover their source.
Initial estimates suggest Neanderthals likely were living in the area during the time the chamber was open, though the researchers have not yet found any evidence. They plan to begin digging in the chamber floor to see what other evidence might be found.
---
---
© 2021 Science X Network
Citation:
Hidden chamber found in Vanguard Cave – part of Gorham's Cave Complex in Gibraltar (2021, September 30)
retrieved 30 September 2021
from https://phys.org/news/2021-09-hidden-chamber-vanguard-cave-gorham.html
This document is subject to copyright. Apart from any fair dealing for the purpose of private study or research, no
part may be reproduced without the written permission. The content is provided for information purposes only.
Australia must commit to carbon cuts to keep green energy advantage -Fortescue's Forrest
Australia risks losing its advantage in the green energy revolution if its leaders don't promptly commit to cutting carbon emissions by 2050, the country's richest man, Fortescue Metals Group founder Andrew Forrest said on Monday.
Forrest, who grew Fortescue from a minnow to rival the world's biggest mining giants in less than two decades, has spearheaded his company's global green energy drive, signing deals from Brazil to Indonesia to Democratic Republic of Congo.
The company aims to build a 250 megawatt hydrogen electrolyser at Bell Bay in Tasmania — 25 times the size of the biggest existing electrolysers in the world — for less than A$1 billion ($740 million), Forrest said, putting a price on the project for the first time.
Fortescue is ready to make a final investment decision this year, as promised, but is waiting for support from the state government before going ahead with the project.
While Forrest told Reuters that Australia is the best place to realise his green vision, the country's failure to commit to a policy to cut emissions is risking that advantage.
"I would say 2050 neutrality is a certainty for Australia. If we support it by COP26 the dividend flow to regional Australia will be substantial. If we don't support it by COP26, the future will remain uncertain," Forrest said, referring to the COP 26 climate conference in Glasgow at the end of October.
"The renewable energy, green hydrogen, green ammonia, green electricity industry is very, very mobile," he said.
"It is where the will is strongest – they will be the first to be developed."
Australia's energy policy is again in the spotlight as Prime Minister Scott Morrison prepares to attend the conference, where global leaders will meet to set further climate goals to follow on from the landmark 2015 Paris accord.
But Morrison is short on updated climate ambitions to bring to the table given his reliance on the junior partner in Australia's coalition government which said it would not be rushed into a decision on whether to support a target of net zero emissions by 2050.
The Nationals who represent coal and farming heartlands worry that stronger emissions targets will cost jobs. Coal is the country's second biggest export earner.
But Forrest, speaking to Reuters from London, said that rural Australians were set to be the biggest winners in the move to green energy – if agreements are made in time.
"I have demonstrated investment into the regions despite the fact Australia is dragging the chain," Forrest told Reuters.
Fortescue is investigating the potential to convert top Australian fertiliser maker Incitec Pivot's Brisbane ammonia plant to use green hydrogen as a feedstock instead of natural gas, with an on-site electrolysis plant that will produce up to 50,000 tonnes of hydrogen a year.
The plant's future had been under threat due to soaring gas prices, however setting up a green hydrogen production site to feed the existing plant could save 400 jobs and create many more, Forrest said.
At the same time, the product from the plant will be cheaper for local farmers.
"So farmers in Australia long into the future can plan for the next season, or even for the next generation … knowing that fertilisers are coming from a hydrogen molecule that is infinite," Forrest said.
(Reporting by Melanie Burton and Sonali Paul; Editing by Kirsten Donovan)
Russian filmmakers back on Earth after shoot aboard space station – World News – Castanet.net
Photo: Roscosmos Space Agency
A Soyuz space capsule carrying a cosmonaut and two Russian filmmakers has landed after a 3 1/2-hour trip from the International Space Station.
The capsule, descending under a red-and-white striped parachute after entering Earth's atmosphere, landed upright in the steppes of Kazakhstan on schedule Sunday with Oleg Novitskiy, Yulia Peresild and Klim Shipenko aboard.
Actress Peresild and film director Shipenko rocketed to the space station on Oct. 5 for a 12-day stint to film segments of a movie titled "Challenge," in which a surgeon played by Peresild rushes to the space station to save a crew member who needs an urgent operation in orbit. Novitskiy, who spent more than six months aboard the space station, is to star as the ailing cosmonaut in the movie.
After the landing, which sent plumes of dust flying high in the air, ground crews extracted the three space flyers from the capsule and placed them in seats set up nearby as they adjusted to the pull of gravity. They were then taken to a medical tent for examination.
All appeared healthy and cheerful. Peresild smiled and held a large bouquet of white flowers as journalists clustered around her. But she said she also felt a touch of melancholy.
"I'm feeling a bit sad today. It seemed that 12 days would be a lot, but I did not want to leave when everything was over," Peresild said on state TV.
The transfer to the medical tent was delayed for about 10 minutes while crews filmed several takes of Peresild and Novitskiy in their seats, which are to be included in the movie. More scenes remain to be shot on Earth for the film whose release date is uncertain.
Seven astronauts remain aboard the space station: Russia's Anton Shkaplerov and Pyotr Dubrov; Americans Mark Vande Hei, Shane Kimbrough and Megan McArthur; Thomas Pesquet of the European Space Agency; and Japan's Aki Hoshide.
$10bn James Webb Space Telescope unpacked in Kourou – BBC News
Engineers have unboxed the James Webb Space Telescope in French Guiana and will now prepare it for launch.
The $10bn successor to the Hubble observatory arrived at Europe's Kourou spaceport five days ago after being shipped from the US.
It's now been relieved of its transport container and raised into the vertical to allow preflight checks to begin.
JWST is one of the grand scientific projects of the 21st Century and will ride to orbit on 18 December.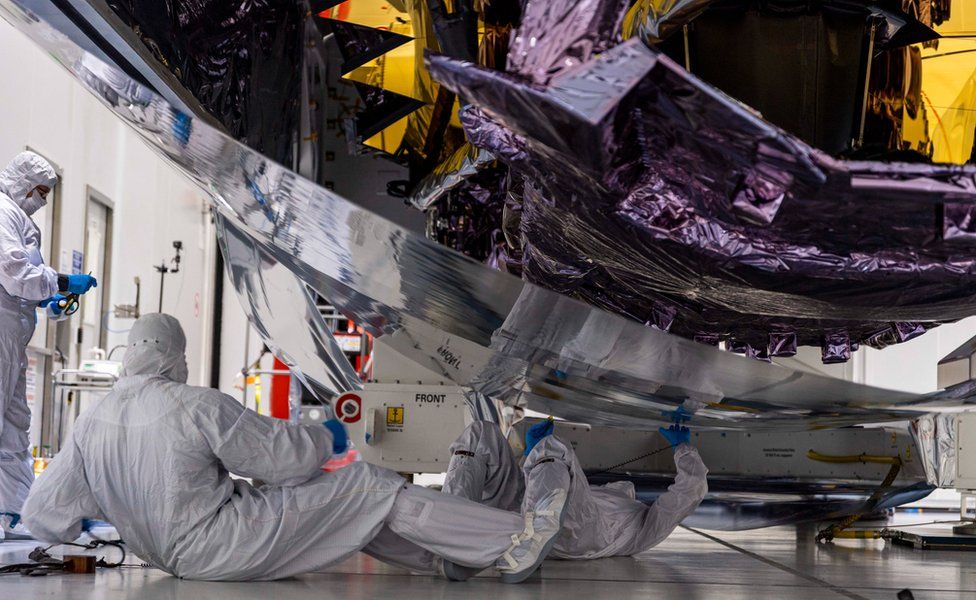 An Ariane-5 rocket will throw the telescope out to an observing position about 1.5 million km from Earth.
From there, it will look deeper into the cosmos – and thus further back in time – than is possible with Hubble.
It will do this with a much bigger mirror (6.5m in diameter versus 2.4m) and instruments that are tuned to the infrared.
Scientists hope this set-up can detect the light from the very first population of stars in the Universe to switch on more than 13.5 billion years ago.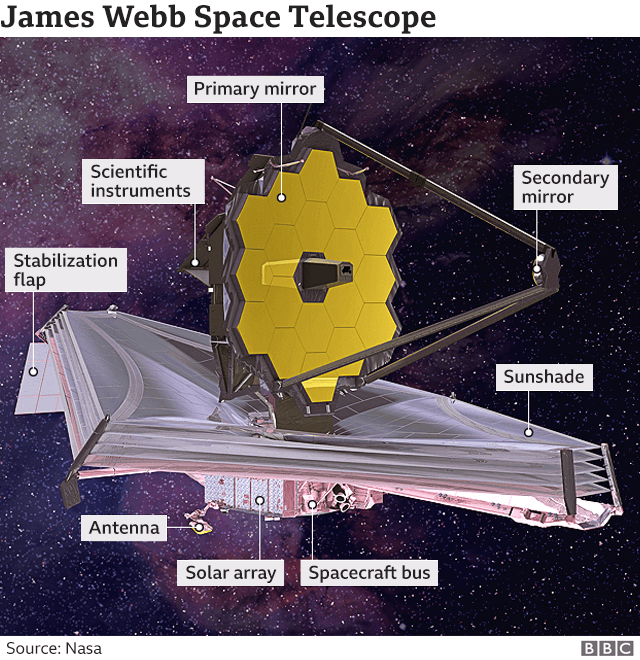 JWST is a joint venture between the US (Nasa), European (Esa) and Canadian space agencies (CSA).
It's taken more than three decades from the original conception to get to this point.
Final assembly and testing was completed in August at the Northrop Grumman factory in Redondo Beach, California, after which the telescope was made ready for a 16-day, 2,500km journey by sea to French Guiana, a trip that took the observatory through the Panama Canal.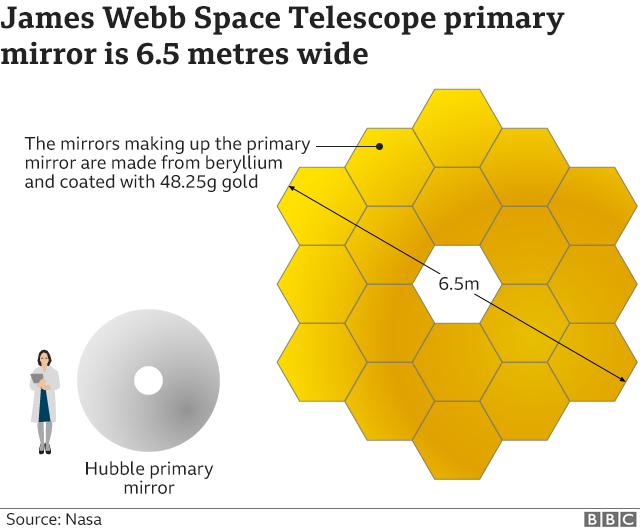 Teams at Europe's spaceport will first inspect JWST to confirm no damage was picked up in transit. The telescope will then be fuelled and mated to the Ariane 5.
Recent weeks have seen cargo planes arrive in French Guiana with the tools and support equipment needed to work on Webb over the coming weeks.
A key milestone in the preparations comes this Friday when another Ariane-5 is due to launch two communications satellites from Kourou. This has to take place to free up the launch table on which Webb's rocket will be integrated.