How likely is a Canadian real estate crash in 2021? – Mortgage Broker News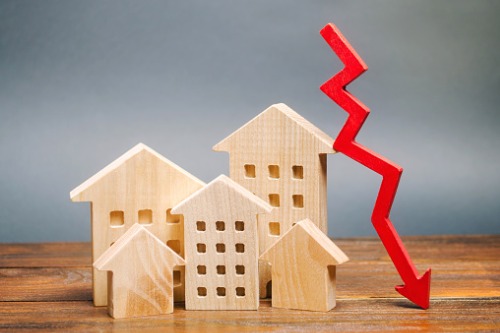 Ah, the Canadian housing crash. Always just around the corner, yet never seeming to materialize. People write and talk about the derailing of the real estate gravy train so frequently that a person could be forgiven for thinking some portion of the population is secretly rooting for it to happen.
So, what then to make of Lowestrates.ca's report: Will the Canadian Housing Market Crash in 2021?
To the credit of authors Lisa Coxon and Zandile Chiwanza, the report tries to present the possibility of a housing crash from opposing angles – one arguing the unlikelihood of a crash and the other saying a crash has "already started".
Why a crash isn't likely
For the pro-crash perspective, Coxon and Chiwanza lean heavily on the fact that both corporations and households are more indebted now than they were in 1990, the last time the Canadian housing bubble was said to have popped due to a recession. While debt levels in Canada are far higher today than they were 30 years ago, interest rates are also far lower. According to Statistics Canada, the conventional rate on a five-year mortgage was 13.35% in 1990, which would give borrowers far less breathing room in the case of financial disruption. And lest we forget, the recession triggered by COVID-19, deemed "the deepest but shortest recession in history", is technically already over.
Even taking into account the inflated prices homeowners are paying now compared to 1990, few experts see a wave of delinquencies, defaults, or foreclosures hitting the Canadian market in 2021.
"Generally speaking, we've seen a flat pattern coming out of [mortgage] deferrals in terms of consumer delinquency overall," Matt Fabian of TransUnion told MBN. "Certainly, with mortgages, we're actually seeing a little bit of a drop in delinquency rates."
But Coxon and Chiwanza argue that the end of programs like mortgage deferrals and government wage subsidies leave the market at risk. They turn to Hilliard MacBeth's, author of When the Bubble Bursts: Surviving the Canadian Real Estate Crash, comments on the condo market for confirmation that trouble is already brewing.
"'It's showing up in the condo market first," it is stated. "There's a huge surplus in the condo market, both on condos for rent and condos for sale. And then related to that, there's a huge number of new purpose-built rentals either on the market or are about to hit the market.'"
Here is where theories of a market crash typically start breaking down, in this author's opinion. They assume, possibly because Canada's population is as modest as it is, that the Canadian real estate market is a tiny, self-contained ecosystem where a single pollutant can contaminate the entire thing. That's not the case. There is no "Canadian real estate market."
The condo market and the detached market are entirely separate entities. The price of one does not directly impact the price of the other. Sure, if home prices grow too quickly buyers will be forced to start purchasing condos, a trend that will drive condo prices up; but the phenomenon doesn't work the other way. If condo prices fall, that has no impact on the prices of other housing types. Has anyone reading this article seen evidence that Canada's falling condo prices slowed the growth of townhouse, detached, or semi-detached prices in 2020?
It's also important to keep in mind that local real estate markets in Canada are insulated by geography. Falling home prices in Alberta, for instance, will not affect prices in any other province. Why would they?
A nationwide housing crash would require a financial calamity – think 2008 in the US – that threatens the livelihoods (and mortgages) of many of the country's homeowners, forcing tens of thousands of them spread across every major Canadian real estate market to sell their homes simultaneously, thereby dragging home values down in each one. Those values would then have to be brought low enough that homeowners holding on to their properties would see the entirety of their equity wiped out and be forced to sell into a tanking market. That's not likely to happen in communities where home values have risen by 5-10% annually over the last several years, and there is no shortage of those.
To be fair, MacBeth isn't the only person expecting prices to drop. The Real Estate Investment Network recently released a report encouraging investors to prepare for a rise in delinquencies and foreclosures in the third quarter of 2021.
"Housing prices are the last to be affected," by factors such as decreased economic growth, higher unemployment, and falling immigration numbers, REIN's Jennifer Hunt said. "They're lagging indicators. So yes, you're seeing in many cities in Canada these frothy markets. But that's exactly the behaviour we look for in a market that is entering a slump."
A more probable outcome
Even LowestRates.ca CEO Justin Thouin isn't expecting anything resembling a crash to hit Canadian real estate in 2021.
"Personally, I don't think we're going to see a crash," Thouin told MBN, but added that the amount of debt being carried by Canadians does pose a threat to their ability to pay their mortgages.
"If I were to be most concerned, it would be in the prairies, specifically in Alberta, where the economy is far worse off than the rest of Canada," he said.
In Thouin's opinion, low interest rates will continue protecting homeowners from delinquency, while the rebound in immigration and employment expected by many in 2021 should help the economy recover from what has already been almost a full year of COVID-19-related nausea.
This more optimistic view is the predominant theme in LowestRates.ca's report, which includes Moody's Analytics economist Abhilasha Singh's view that home prices in Canada could fall this year, but only by 5% or so.
"'We expect home prices to fall,' said Singh. 'But the recovery is going to be very quick, especially after looking at the results of the vaccines.'"
She told LowestRates that a crash isn't on the cards.
"We are expecting a modest correction," she said. "But not a crash."
With housing top-of-mind for Ontarians as election looms — Windsor's real estate market cools – CBC.ca
With the Ontario election less than one week away and interest rates rising, the real estate market in Windsor-Essex is experiencing a cool down.
However, the price of a home is still significant, leaving many constituents feeling left out of the market, yet hopeful that the election might bring with it some improvements.
"Optimism and hope is always there because that's all we have, right?" said Shanike Gordon, a single mom with two kids renting an apartment in Windsor.
Gordon hopes to get into the housing market soon.
"That's the goal at the end of the day — you have somewhere for you and your kids to be able to call home," she said.
The latest numbers indicate a shift in the local real estate climate, with buyers taking a more conservative approach, and sellers not seeing as much competition for their houses as before, according to Windsor realtor Abe Alhakim.
"We've noticed a slowdown in the market over the past few months," explained Alhakim, who works with LC Platinum Realty.
"We've noticed buyers have put their plans on hold, especially with the increase in interest rates from the Bank of Canada, which has already had one interest rate increase and more is planned over the next few months. And also there's an Ontario election coming up, so people want to kind of see how things work out over the next few months."
After months of prices climbing, the average price of a home in Windsor-Essex dipped to $692,759 in April. It was the first decline in the average sale price of a home since September 2021. At its peak, the average price of a home reached $723,739 in March.
The number of sales also dipped by 16 per cent in April compared to the month prior. Sales also dropped by nearly 19 per cent compared to April 2021.
Alhakim describes it as a "mixed market" where some homes are still selling significantly over asking price with multiple offers and bidding wars, while other houses aren't seeing the same kind of demand.
As for what's anticipated for the coming months, Alhakim noted, "that's the golden question."
"I anticipate the market will stay stabilized and balanced over the next few months, but it remains to be seen how expected interest rate increases are going to affect the market — and also the Ontario elections."
He noted that the decline has some feeling "fearful" while others are jumping at the opportunity to buy a home at a cheaper price point.
Housing key election issue
Housing costs are a key issue for voters across Ontario, with bidding wars and low supply having driven prices up in recent years. To address the issue, the PC Party, NDP and Liberal Party leaders have all pledged to build 1.5 million homes if elected.
For Leamington's Terry Maiuri, it's particularly concerning as he considers the impact the soaring prices are having on his son.
"It's just getting ridiculous for the younger generation, I'd say, to afford housing," Maiuri said.
His 20-year-old son is close to completing his university studies, and Maiuri is concerned about what comes next.
"I told my wife the other day, with the price of houses, I said, 'My God, he's going to be living with us until he's 40.' Like, how does someone starting out as an adult afford housing, let alone apartment rentals?" he asked.
"It just seems a little ridiculous."
He added that while politicians say they realize there's a problem, he doesn't think any party is doing enough to address the issue.
Single mom Shanike Gordon shares her hope of buying a home one day.
Windsor voter Lisa Lum says affordable housing is key for her this election. She said, after living in her Walkerville home for eight years, she was recently evicted after her landlord sold the duplex she was renting.
Now, she's in a new home in the same neighbourhood, but it's significantly smaller, paying $500 more in rent.
As for whether she might want to buy down the road, she doesn't believe that to be realistic given the state of the market.
"I wouldn't be able to with the bidding wars that are here," she said.
"I mean, how do you even get the down payment when homes that were bought, you know, five years ago for $120,000, and now they're going for five and $600,000?"
While she's optimistic more can be done by political leaders to address rent control, she doesn't have confidence much will change when it comes to real estate.
As for Gordon, she's not sure she'll be voting at all in the provincial election, but explained stronger action on housing could sway her.
"Anything that caters for housing, families, single families especially, I'm all for it," she said.
Meanwhile, Alhakim continues to monitor the market, adding that he doesn't expect a major correction in the market, but envisions the market settling into a plateau this year.
Ottawa's commercial real estate market to 'remain vibrant' in 2022, Re/Max says – Ottawa Business Journal
Ottawa's commercial real estate sector is "gaining momentum" thanks to a booming industrial market and a retail industry that's roared back to life in recent months as pandemic-related restrictions have lifted, according to a new report.
After topping $3.8 billion in a record-setting 2021, commercial investment activity in the National Capital Region is on pace to exceed that amount this year, Re/Max says in its 2022 Commercial Real Estate Report released on Thursday.
Citing the Conference Board of Canada's projection that Ottawa-Gatineau's GDP will grow by 3.4 per cent in 2002 as the tech and construction sectors heat up, the firm said that sunny forecast should bode well for real estate investors.
"Against this backdrop, the city's commercial market should remain vibrant, with improvements projected in the office sector as the pandemic recedes from the forefront," the report said.
Re/Max singled out the red-hot industrial sector as the star performer in Ottawa's commercial real estate scene.
1.7% availability rate
The report cited the city's close proximity to 400-series highways and the U.S. border as prime reasons for the ongoing surge in industrial activity, adding the limited stock of available properties is "presenting serious challenges" for investors seeking to capitalize on the sector's growth.
According to the Altus Group, Ottawa's industrial availability rate sat at 1.7 per cent in the first quarter of 2022, down from 3.1 per cent during the same period a year earlier.
"While intent (to invest) exists, a shortage of available inventory for both lease and sale has fallen short of demand, especially in the popular west end," Re/Max said.
The company said the space crunch has pushed industrial lease rates to a new record average high of a net $15.50 per square foot – a 30 per cent increase over the average of $12 per square foot just two years ago.
"In the city's east end, smaller space is almost impossible to find, with listings that do come on stream snapped up quickly, often at a premium," the report said.
Meanwhile, Re/Max said Ottawa's retail real estate sector has "rebounded with a vengeance" after a difficult two-year stretch in which COVID-19 wreaked havoc with brick-and-mortar stores, restaurants and other mainstreet businesses.
Smaller spaces have been almost completely snapped up in major malls such as the Rideau Centre, Bayshore Shopping Centre and St. Laurent Shopping Centre, the report says, adding that vacant storefront properties in areas like the ByWard Market, Glebe and Westboro are also being occupied at a brisk pace.
"Negotiations with landlords are more complicated than in years past, with many wanting guarantees in the form of personal covenants," Re/Max said. "The glut of space available last year has been absorbed, albeit at a slightly lower lease range."
Suburban mall revival
The report said suburban retail complexes are also undergoing a renaissance, with fitness facilities, restaurants and fast-food outlets among the major tenants taking over space in big-box malls.
The company isn't as bullish on the office sector, which still has an overall vacancy rate above 10 per cent. With many civil servants still working from home, Re/Max said it could be a while before Ottawa's office towers are teeming with tenants again.
As a result, the company said, landlords have started offering incentives such as free rent for a year and various leasehold improvements in a bid to fill vacant properties.
"At the same time, the relatively low interest rate environment has generated an upswing in demand for office buildings in suburban areas like Kanata," Re/Max added. "Most are smaller, commercial buildings ideal for professional offices, generally sought-after by end users."
3-day 'cooling off' period, transparent bidding recommended to transform B.C. real estate sector – CBC.ca
The regulator for British Columbia's real estate sector has recommended that the province adopt a so-called "cooling-off" period of three business days to protect people buying a home, through legislation tabled this spring.
A report from the B.C. Financial Services Authority released Thursday advises that sellers be required to provide reasonable access for a property inspection during the three-day homebuyer protection period, which would start the day after an offer is accepted.
It also advises that B.C. implement a "modest" termination fee of 0.1 to 0.5 per cent of the price of a home to be paid by buyers who pull out of a deal.
The fee "strikes a balance between discouraging frivolous offers and recognizing the disruption in the selling process," the report said.
Additional recommendations include a five-day "pre-offer" period after a property is listed, when a seller may not accept any offers, along with suggestions aimed at enhancing transparency in the transaction process.
For example, the report advises that key strata documents should be made available when a strata property is listed. The province could also require buyers to disclose to sellers any other active offers they've made, it suggests.
The report also recommends ending blind bidding and exploring an open bidding process used in many Scandinavian countries.
Homebuyers pressured to take 'unreasonable risks'
The B.C. government introduced amendments to property legislation in March. Finance Minister Selina Robinson tasked the independent regulator with consulting the real estate industry on the parameters of a cooling-off period and other potential measures.
Robinson says the province is reviewing the report, and her aim is to move "relatively quickly" with the bill that passed its third reading last month, but the real estate industry also needs time to adjust and adapt to the changes.
The province has heard in recent years about homebuyers feeling pressured to take "unreasonable risks," such as waiving home inspections, which has led to "horror stories," Robinson said at a news conference on Thursday.
"I'm eager to move on these elements. I do need to have more discussion with [the B.C. Financial Services Authority] and others around what time frame is needed to act, certainly around the buyer protection period," Robinson said, noting there's a "whole range" of other recommendations.
Aims to increase transparency, consumer protections
Blair Morrison, CEO of the B.C. Financial Services Authority, said at a news conference there would be "adjustments" to the current real estate transaction process to bring the homebuyer protection period into force.
In developing the report, Morrison said the authority hosted 20 consultation sessions with more than 140 people from across B.C.'s real estate sector.
"We think this is core, basic, good consumer protection that should apply throughout British Columbia," he said.
"We want to make sure this works for the sector, for the real estate [agents], for the lawyers and other parts of that process," he added.
He said the review was not intended to address housing affordability in B.C.
The report also considers "blind bidding," a common practice in which sellers are not compelled to tell prospective buyers about competing offers.
That lack of transparency can "skew the perception of market fairness and potentially lead to distrust in the real estate transaction process," it said, pointing to concerns about inflated valuations or buyers overpaying for a home by offering a price that significantly exceeds the next highest offer.
The regulator looked at open-bidding alternatives, advising B.C. to consider options such as live auctions and anonymous disclosure of other offers.